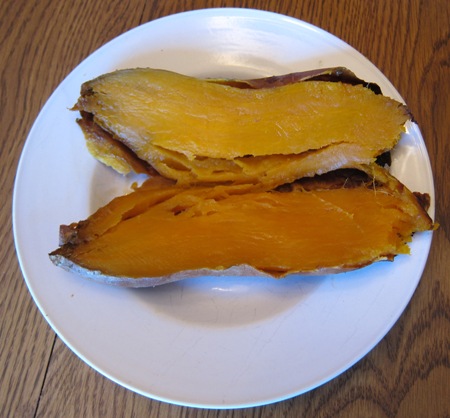 Oven baked sweet potatoes a.k.a yams makes such a delicious and healthy side dish.  Baking the sweet potato in the oven caramelizes some of the natural sugar in it, resulting in the deep taste paired with the smooth velvety texture of the potato!
Baked sweet potatoes are so flavorful that they taste complete even without any toppings.  If desired, you can serve a baked sweet potato with butter and brown sugar, or for the healthiest option, just eat it plain.
Baking sweet potatoes in the oven is super easy – it's a true set-it-and-forget-it recipe.  Just wash the potatoes, rub them with a little olive oil and put in the oven.  When the timer beeps, the baked yams are ready!
Oven Baked Sweet Potatoes Recipe
Recipe Ingredients
Sweet potatoes (yams)
Olive oil (1/2 tsp for each sweet potato)
Instructions How To Make Baked Sweet Potatoes
Preheat the oven to 400F. Line the baking sheet with parchment paper or foil.
Wash the sweet potatoes and dry them with a paper towel.
Put the sweet potatoes on a baking sheet.
Drizzle the sweet potatoes with olive oil, and rub the oil on them with your hands.
Pierce each sweet potato one time with a fork, so the steam can escape when the sweet potatoes are baking.
Put the sweet potatoes in the oven and bake for 1 hour.
When serving the sweet potatoes, split them in half and season with a little salt and pepper. You can also top them with butter and brown sugar.
Here's the picture of the whole baked sweet potato – right out of the oven: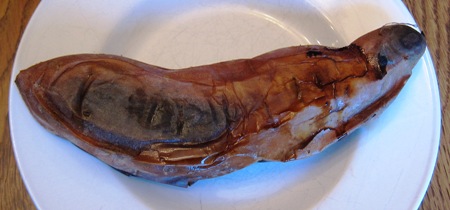 For a shortcut recipe for baked sweet potatoes, see microwave baked sweet potato recipe.  You can cook a sweet potato in a microwave in 5 minutes!  While the microwaved yams don't have that deep caramelized flavor that oven baked sweet potatoes have, it's still a great recipe if you are in a hurry, so check it out!
Other great recipes with sweet potatoes are: double baked stuffed sweet potato and sweet potato shepherd's pie – yum!
Get Melanie's FREE Recipes In Your Inbox!
http://www.melaniecooks.com/wp-content/uploads/2013/06/baked-sweet-potato-recipe.jpg
418
450
Melanie Mendelson
http://www.melaniecooks.com/wp-content/uploads/2015/11/logo-new2.png
Melanie Mendelson
2013-06-26 07:26:31
2013-07-09 15:37:03
Oven Baked Sweet Potatoes Recipe