Baked Sweet Potato Chips Recipe
This post may contain affiliate links (disclosure).
Healthy chips? Yes! These oven baked sweet potato chips are actually good for you! So easy to make just using your oven, these crunchy homemade sweet potato chips will become your favorite healthy snack!
Everyone knows that packaged potato chips are not exactly a "health food". They have a lot of calories and fat, they are fried and processed, plus they have virtually no nutritional value. But we all crave chips sometimes just because they are so yummy, crunchy and addictive. I have great news for you – you don't have to eat unhealthy to get your chips fix. These baked sweet potato chips are actually good for you! You can eat as many as you want without steering away from your healthy diet :)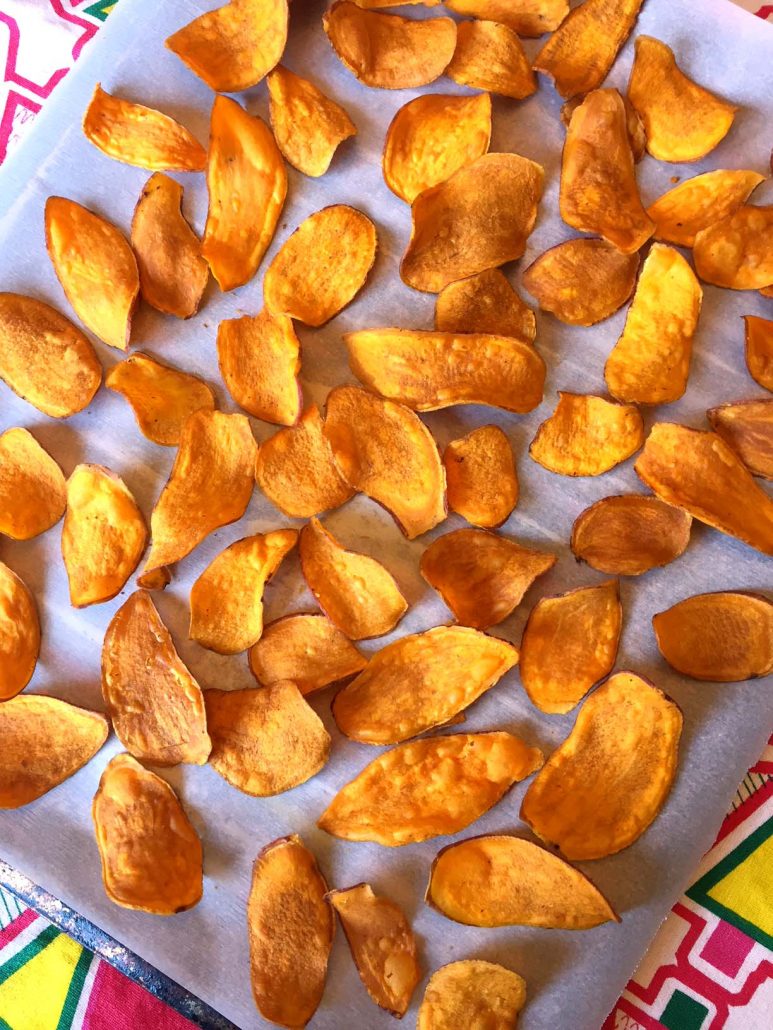 These baked sweet potato chips are very low in calories, since they are baked in the oven instead of fried. Also, sweet potatoes are more nutritious than white potatoes, and also they have a lower glycemic index. If you like sweet potatoes as much as I do, you will also love these other yummy recipes with them: hasselback sweet potatoes, microwave sweet potatoes, sweet potato rice bowl and sweet potato muffins – yum!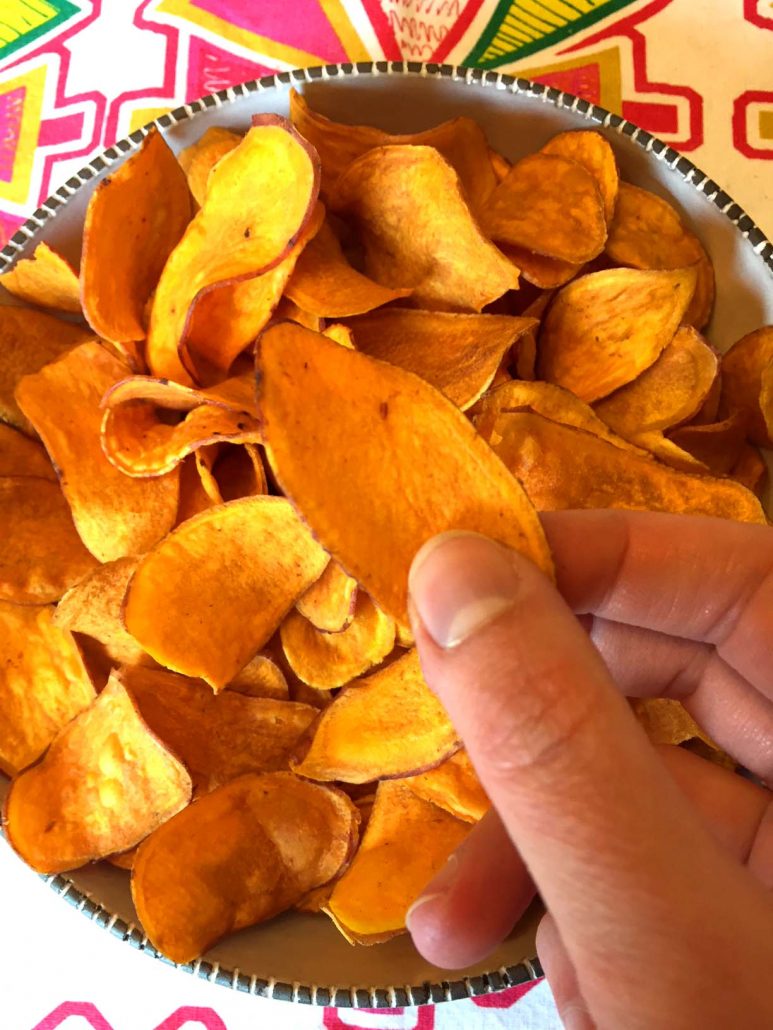 Finally, these homemade baked sweet potatoes are all natural and have no preservatives, no chemicals and no artificial ingredients! The only ingredients for these sweet potato chips are sweet potatoes, olive oil and your favorite seasonings. Compare it to packaged chips – if you read the ingredients list on the bag of chips, it's absolutely scary! No scary ingredients for the homemade stuff – what you see is what you get, and what you put in is what you'll take out! Also, check out my homemade kale chips – you'll love them!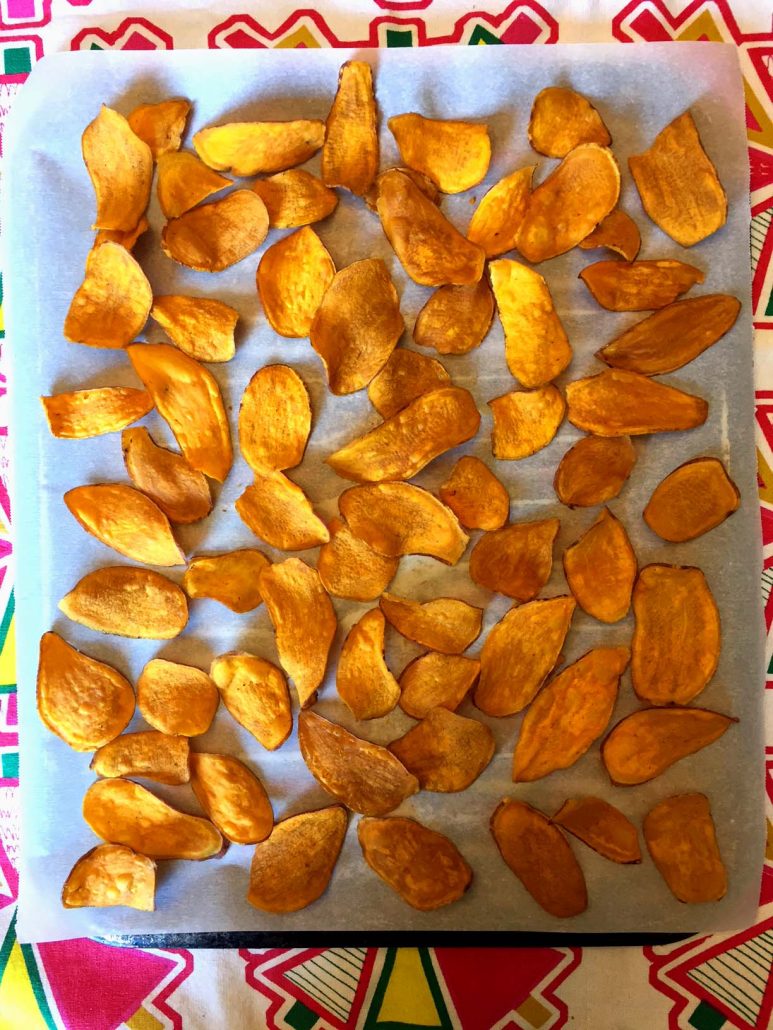 How To Make Baked Sweet Potato Chips In Your Oven
Making crispy baked sweet potato chips is very easy! You don't need any fancy equipment, no special "chip makers" or food dehydrators needed. All you need is your good ol' oven!
All you need to do is slice the sweet potato into extremely thin slices, toss in a bit of olive oil, layer on a baking sheet and bake at 200F for 2 hours. If you own a mandoline slicer, slicing the sweet potatoes will be very quick. If you don't have a mandoline, you can just use a regular knife, just take care to make the slices very thin and uniform.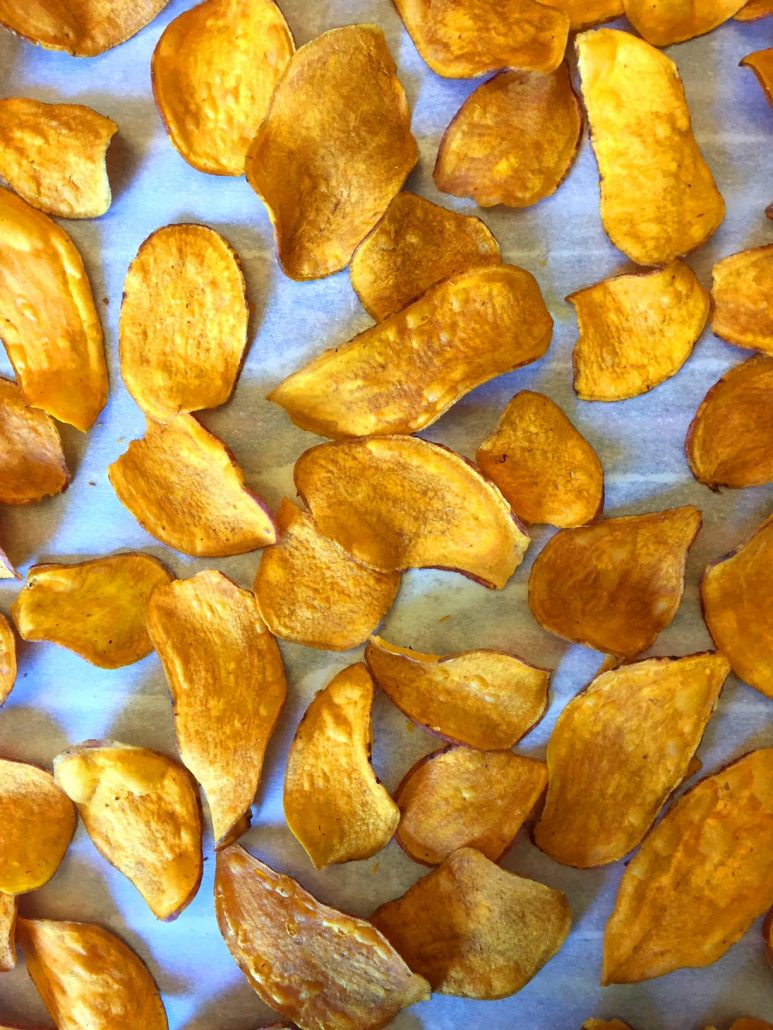 Many recipes for baked sweet potato chips call for baking the sweet potato slices at a high oven temperature for 20 minutes. That doesn't work quite well as it's not enough time to fully dehydrate the sweet potatoes, so the sweet potato slices don't become as crispy – they start burning before getting crunchy. When you use a low oven temperature for 2 hours, it dehydrates the sweet potatoes without burning them, resulting in amazing crispy and delicious sweet potato chips! I also use the same process to make baked zucchini chips – they are also super healthy, crunchy and tasty!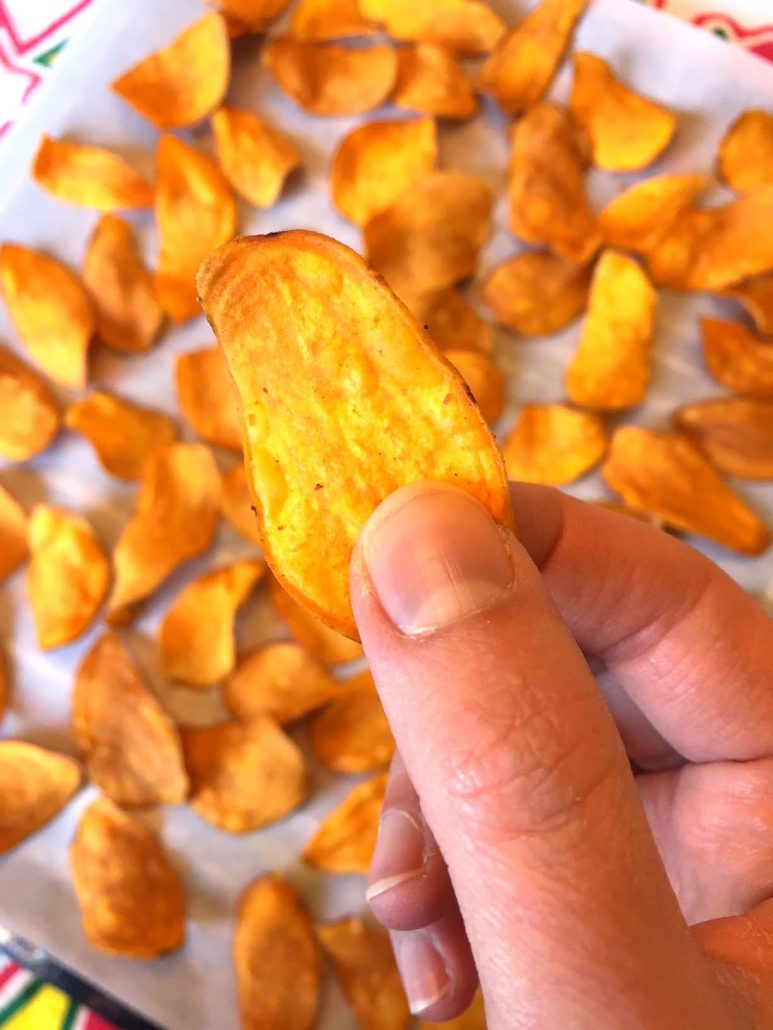 Click Here To Pin This Recipe
Baked Sweet Potato Chips Recipe
These homemade sweet potato chips are so crispy and delicious! These baked sweet potato chips are so crunchy, it's hard to believe they are actually healthy and good for you! With this easy recipe, you can make perfect baked sweet potato chips using your oven!
Instructions
Preheat the oven to 200F. Line 2 baking sheets with parchment paper.

Peel the sweet potatoes and slice them in uniformly thin 1/8-inch slices (the thinner you can slice them, the crispier they'll be).

Put the sweet potato slices in a bowl and toss with the olive oil.

Put the sweet potato slices on the baking sheets in a single layer, making sure they are not touching.

Put the baking sheets in the oven and bake the sweet potato chips for 2 hours.

Take the sweet potato chips out of the oven and sprinkle with salt, pepper and cinnamon to taste.
Save This Recipe
Save this for later on your social media:
Get Melanie's FREE Recipes In Your Inbox!
https://www.melaniecooks.com/wp-content/uploads/2017/11/sweet_potato_chips_homemade2.jpg
1632
1224
Melanie Mendelson
https://www.melaniecooks.com/wp-content/uploads/2015/11/logo-new2.png
Melanie Mendelson
2017-11-10 07:23:10
2021-12-08 09:01:29
Baked Sweet Potato Chips Recipe