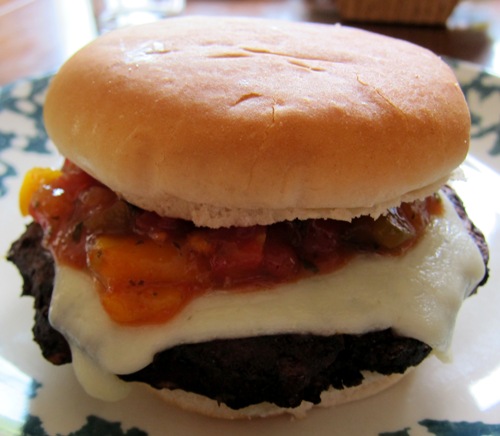 Even meat eaters will love biting into this delicious black bean cheeseburger!
I am not a vegetarian, but I really enjoy the black been cheeseburgers as a nice change from the traditional cheeseburgers.  In fact, when I first got the black bean veggie burger patties at Costco, my original plan was to get the regular beef burger patties.  After looking at the calories and fat content on the back of the package of the beef patties, I decided that maybe this time I should get something healthier 🙂 That's how I got the black bean patties for the first time.  Everybody in the house, including kids, liked the black bean cheeseburgers, so I started making them on a regular basis!
Recipe: Black Bean Cheeseburger Recipe
Preparation time: 5 minute(s)
Cooking time: 10 minute(s)
Ingredients:
Frozen black bean burger patty (I like Morningstar Chipotle Black Bean Burgers)
Slice of cheese
Bun
Salsa (my favorite for this recipe is Chachies Mango Peach Salsa)
Directions How To Make The Black Bean Cheeseburger:
Preheat the oven to 475F.  Put the black bean patty on a baking sheet lined with parchment paper.  Put in the oven and bake for 10 minutes.
After the black bean burger patty comes out of the oven, put it on a microwave-safe plate.  Put the slice of cheese on top of the patty.  Put it in a microwave and microwave for 30 seconds, or until the cheese melts.
Split the burger bun.  Put the black bean burger patty with melted cheese on the bottom bun, top with salsa, then top with the top bun.  Enjoy the black bean cheeseburger while it's hot!
http://www.melaniecooks.com/wp-content/uploads/2015/04/black-bean-burger-costco.jpg
436
500
Melanie Mendelson
http://www.melaniecooks.com/wp-content/uploads/2015/11/logo-new2.png
Melanie Mendelson
2011-09-23 06:10:15
2011-09-30 21:21:55
How To Make A Black Bean Cheeseburger - Easy Recipe