Instant Pot Candied Orange Peel (Works With Lemon Peel Too!)
This post may contain affiliate links (disclosure).
These chewy candied orange peels are like a citrus explosion in your mouth! Homemade candied orange or lemon peel has never been easier – Instant Pot is a life-saver!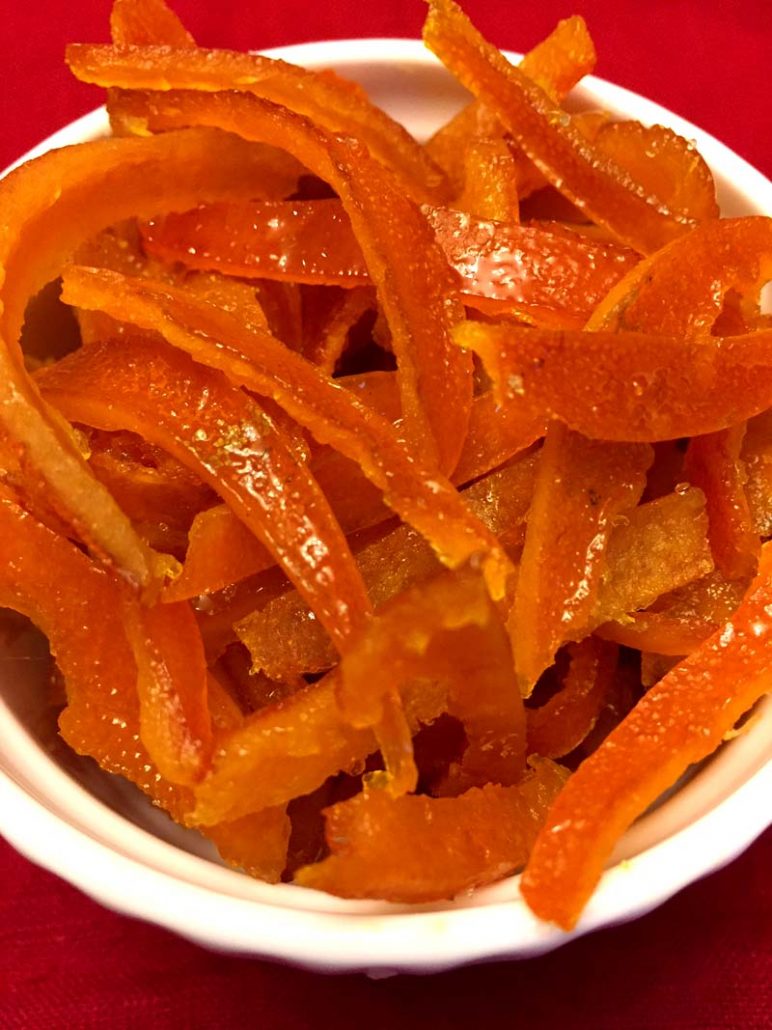 These Instant Pot candied orange peels are so mouthwatering! Imagine the sweet citrus flavor in your mouth that is getting released as you are chewing on those candied peels. Inhale the concentrate orange smell that is so liberating. Taste the citrus aftertaste that will linger in your mouth long after the candied orange peels are gone. Feel the urge to eat more and more of those amazing chewy strips until there is no more left.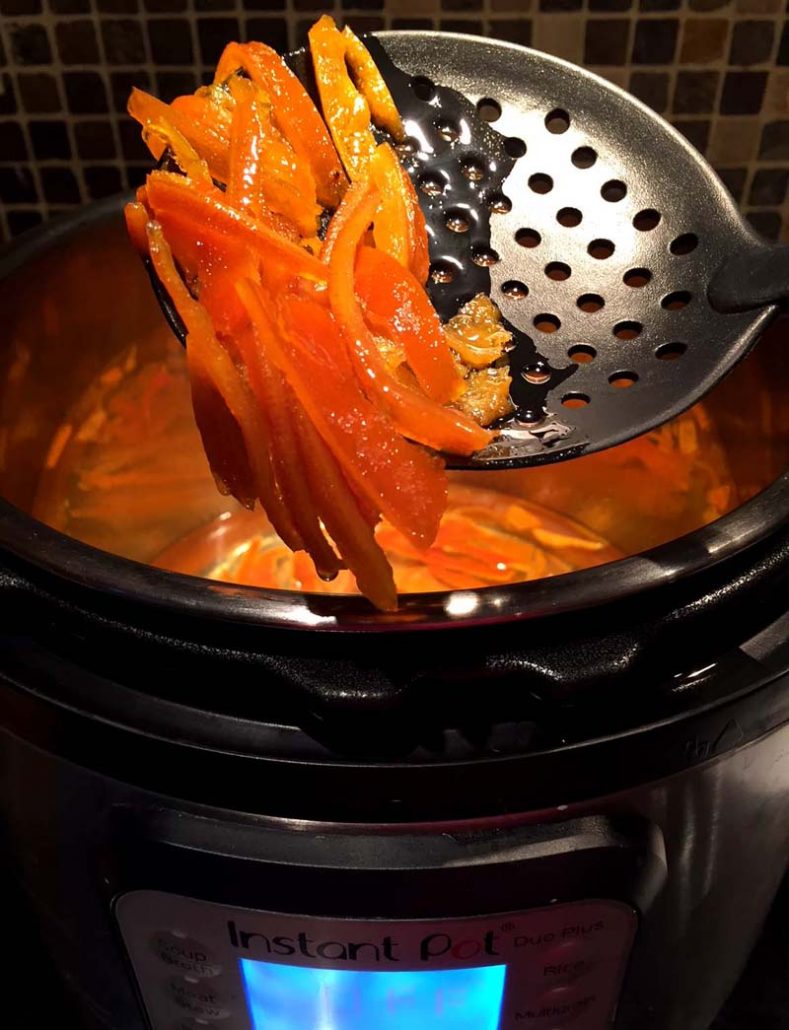 Candied citrus peels are so cheerful and bright! Their color will warm you on a cold dreary day (just like Mexican hot chocolate). Their smell will awaken you. Their taste will energize you. You totally need these Instant Pot candied orange peels in your life!
With the invention of Instant Pot, the formerly long process of making candied lemons or oranges has been simplified dramatically! I have a recipe on my site for classic candied lemon slices that is made on a stove-top and requires simmering them in a pot for 1 hour. With the Instant Pot, you just set it to pressure cook the lemon peels for 20 minutes and you don't have to watch the pot – it surely beats 1 hour of boiling the pot on the stove!
This candied citrus peel recipe is very simple and needs only 3 ingredients – orange or lemon peels, sugar and water. All you need to do is pressure cook citrus peels, water and sugar in the Instant Pot for 20 minutes, then lay the candied peels out on a parchment-paper-lined baking sheet and bake in a pre-heated 200F oven for 30 minutes (the baking step is done to dry the peels so they are not too wet and sticky).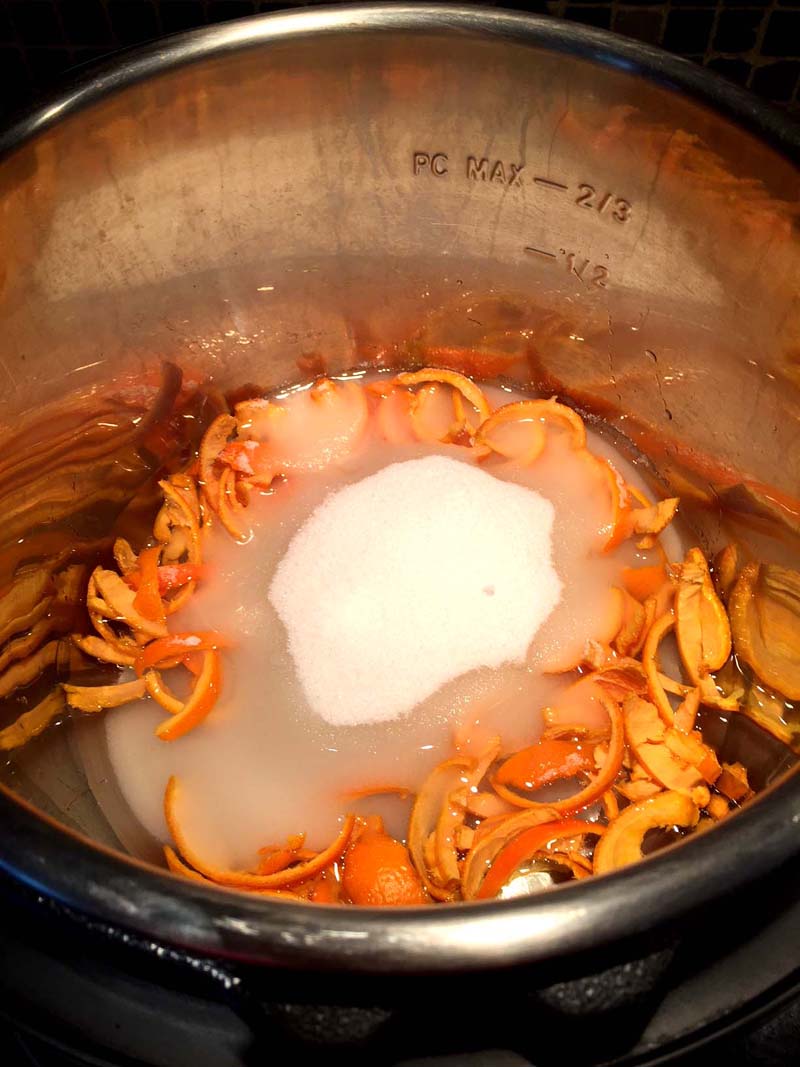 No Instant Pot? No problem! You can make candied orange peel without the Instant Pot by boiling the orange peels in a pot on the stove with 1 cup of water and 2 cups of sugar for 1 hour, and then baking them in the oven to dry.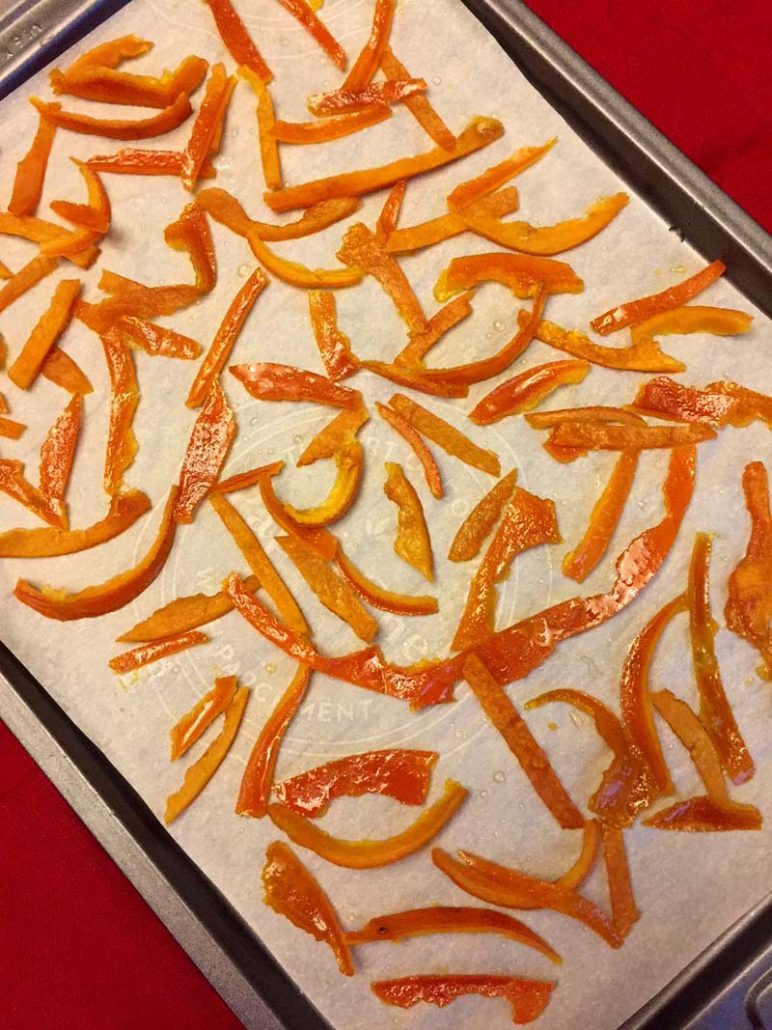 Candied orange peel is actually pretty healthy! It is gluten-free and low in calories. Most of the sugar stays in the water and only some of it ends up in the peels :) Plus you get all the vitamins and anti-oxidants from the citrus.
Since you'll be eating those citrus peels, I recommend using organic oranges or lemons, as the non-organic ones are coated with wax. The easiest orange peels I made were from thin-skinned clementines – the peels were so thin that they hardly any white pith, so I didn't even have to remove the pith.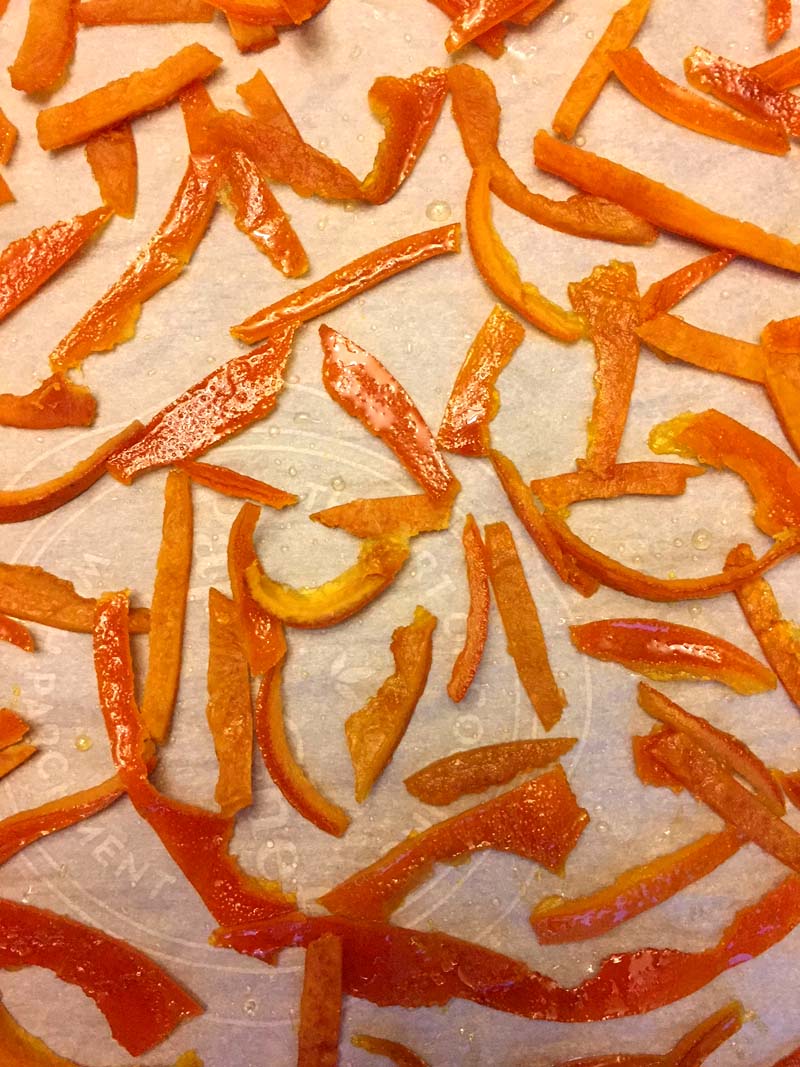 Another awesome thing about candied orange peels as it reduces food waste and uses up something that you'd normally throw out! Making something from nothing – that's my kind of recipe :) I have a bunch of other recipes that use up food scraps! Now, think about how much candied orange peels would cost at a gourmet store :) You can laugh all the way to the bank by making them at home!
You can accumulate the orange peels by storing them in a ziploc bag after each time you eat an orange. When you've accumulated enough, turn them into candied orange peels!
Candied orange or lemon peel can be stored at room temperature for up to 1 month, so this is a great make ahead recipe. It also makes a great holiday gift – just put the candied citrus peels in a little clear bag (like what is used for party favors), tie it with a ribbon and an awesome homemade food gift is ready to go! Check out my other food gift recipes.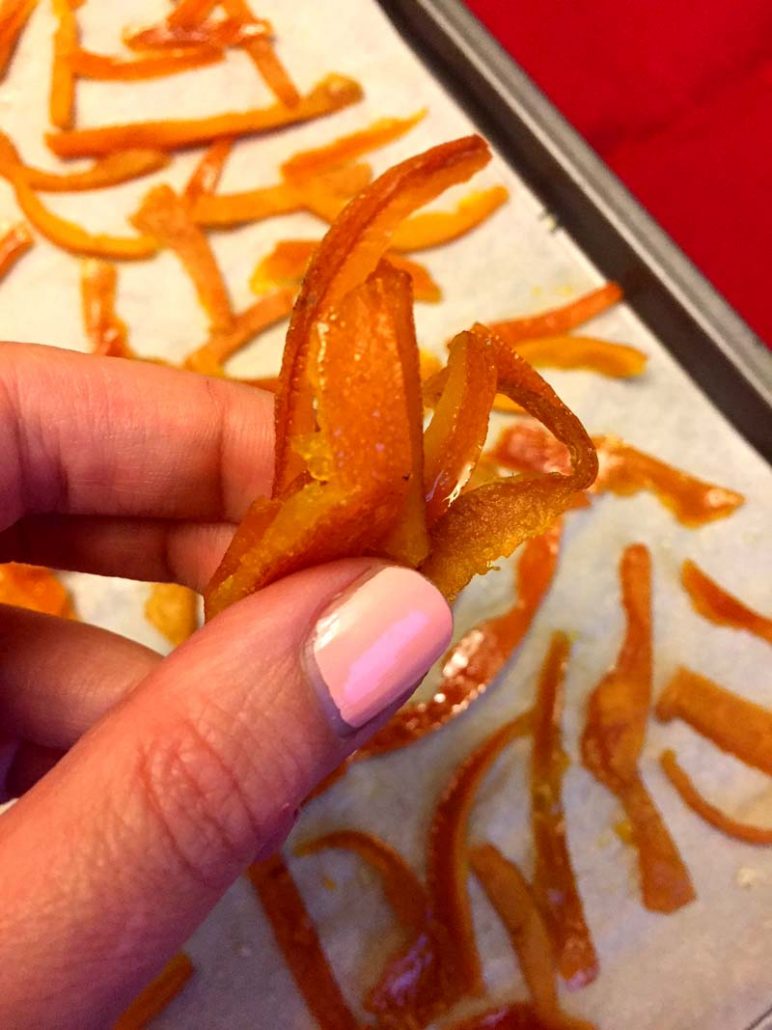 If you like Instant Pot candied orange peels, you will also love these easy recipes:
Instant Pot Baked Apples – another awesome gluten-free dessert made in your Instant Pot!
Orange Bundt Cake – perfect moist and fluffy bundt cake with intense orange flavor!
Lemon Pound Cake – looks and tastes just like the Starbucks lemon loaf!
Italian Lemon Cookies – these cookies are super lemony and gluten-free!
Cranberry Orange Bread – this is going to be your favorite holiday bread, perfect for homemade gifts too!
Looking for more Instant Pot recipes? Check out my whole Instant Pot recipe collection!
Click Here To Pin This Recipe
Instant Pot Candied Orange Or Lemon Peel
These Instant Pot candied citrus peels are amazing! So sweet and chewy and bursting with citrus flavor! This recipe works with orange or lemon peels and is super easy!
Ingredients
4

large oranges or lemons

preferably organic

2

cups

sugar

1

cup

water
Recommended Kitchen Tools (click the links below to see the items used to make this recipe)
Instructions
Using vegetable peeler, peel the oranges, making the peel as thin as possibly. Avoid leaving the inner white part of orange peel (called pith) as it's bitter. Or alternatively, remove the pith from the peel with a knife and discard the pith.

Slice the orange peel into thin strips.

Put water, sugar and orange peels in the Instant Pot. Close the Instant Pot lid and set the valve to a Sealing position. Press the "Pressure Cook" or "Manual" button and set the time to 20 minutes on High pressure.

Preheat the oven to 200F. Line a baking sheet with parchment paper.

When the Instant Pot is done cooking, quick release (QR) the steam.

Remove the candied orange peels from syrup with a slotted spoon and put them on a parchment-paper-lined baking sheet in a single layer. (Reserve the syrup for sweetening drinks, it has amazing orange flavor!)

Put the candied orange peels in the oven and bake for 30 minutes.

Let the peels cool completely and store in an airtight container at room temperature for up to 1 month.
Nutrition
Calories:
199
kcal
|
Carbohydrates:
51
g
|
Protein:
1
g
|
Fat:
1
g
|
Saturated Fat:
1
g
|
Sodium:
2
mg
|
Potassium:
13
mg
|
Fiber:
1
g
|
Sugar:
50
g
|
Vitamin A:
25
IU
|
Vitamin C:
8
mg
|
Calcium:
10
mg
|
Iron:
1
mg
Save This Recipe
Save this for later on your social media:
Get Melanie's FREE Recipes In Your Inbox!
https://www.melaniecooks.com/wp-content/uploads/2018/09/instapot_candied_orange_peels.jpg
1067
800
Melanie Mendelson
https://www.melaniecooks.com/wp-content/uploads/2015/11/logo-new2.png
Melanie Mendelson
2018-09-29 07:22:54
2020-12-08 16:00:05
Instant Pot Candied Orange Peel (Works With Lemon Peel Too!)