Homemade Healthy Baked Chicken Nuggets Recipe With Crispy Panko Crust
This post may contain affiliate links (disclosure).
These homemade chicken nuggets are a hit with the picky kids! These all natural baked chicken nuggets make a much healthier alternative to frozen processed chicken nuggets from a factory!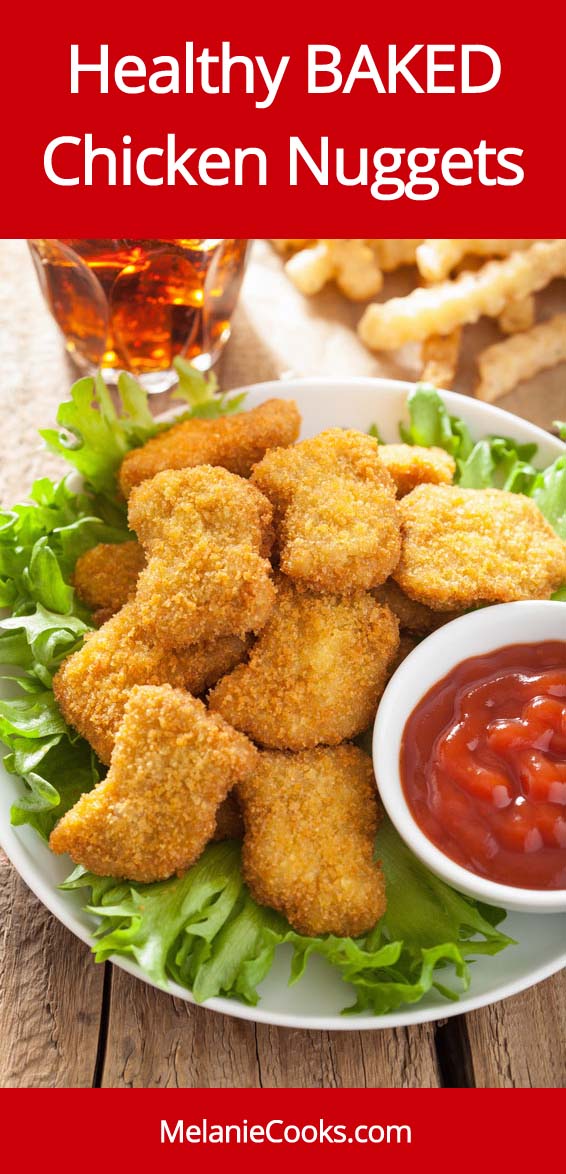 With this easy chicken nuggets recipe, we are bringing the CHICKEN back into the chicken nuggets, so you don't have to feel guilty feeding the chicken nuggets to your kids :)
Chicken nuggets are often used as an example of unhealthy processed food. After all, they are often made out of the ingredients other than chicken – some mechanically separated processed "mystery meat". However, chicken nuggets can be a healthy nutritious meal if they are made at home with all natural ingredients.
This easy chicken nuggets recipe uses just 3 ingredients – chicken, egg and bread crumbs! Now compare this short list of 3 ingredients to the ingredients list on the package of frozen chicken nuggets :) Reading the ingredient lists on processed food packages is truly terrifying!
Another great thing about these homemade chicken nuggets is that they are baked instead of fried. Baking is so much healthier than frying, and easier too – no messing around with splattering oil!
It is so easy to make chicken nuggets yourself, that even an absolute beginner can make this recipe. It only requires 10 minutes of prep and 20 minutes of baking, making it a 30-minute recipe – perfect for busy weeknight! The oven does all the work – all you need to do is dip the chicken pieces in egg, then roll them in bread crumbs and put them in the oven. After the oven is done baking, the chicken nuggets are ready to eat!
Click Here To Pin This Recipe
Homemade Baked Chicken Nuggets Recipe
These homemade chicken nuggets are very easy to make and are very healthy! Finally - a kids favorite that is all natural and made from scratch!
Instructions
Preheat the oven to 425F.

Line a cookie sheet with parchment paper.

Whisk the egg in a bowl with a fork.

Cut the chicken into 1-inch pieces and put in a bowl.

Add the egg to the chicken, and toss with your hands to coat the chicken with the egg.

Put the chicken in a 1-gallon Ziploc bag. Add the bread crumbs to the bag. Close the Ziploc bag and shake it until all the chicken is coated with bread crumbs.

Put the chicken nuggets on a lined cookie sheet in a single layer.

Put in the oven and bake the chicken nuggets for 20 minutes.
Save This Recipe
Save this for later on your social media:
Get Melanie's FREE Recipes In Your Inbox!
https://www.melaniecooks.com/wp-content/uploads/2016/04/homemade_chicken_nuggets_recipe.jpg
849
566
Melanie Mendelson
https://www.melaniecooks.com/wp-content/uploads/2015/11/logo-new2.png
Melanie Mendelson
2016-04-19 08:53:19
2021-12-08 09:12:15
Homemade Healthy Baked Chicken Nuggets Recipe With Crispy Panko Crust