Welcome to week 12 of Melanie's
FREE weekly meal plans
!  Here are this week's recipes:
Easy Crockpot Chili
Stuffed Pita Pocket Sandwiches
Gluten-Free Eggplant Lasagna
Chicken Quesadillas
Caribbean Jerk Chicken Stir Fry
And for dessert there is Upside-Down Peach Cake – yummy!
FREE Family Meal Plan – Week 12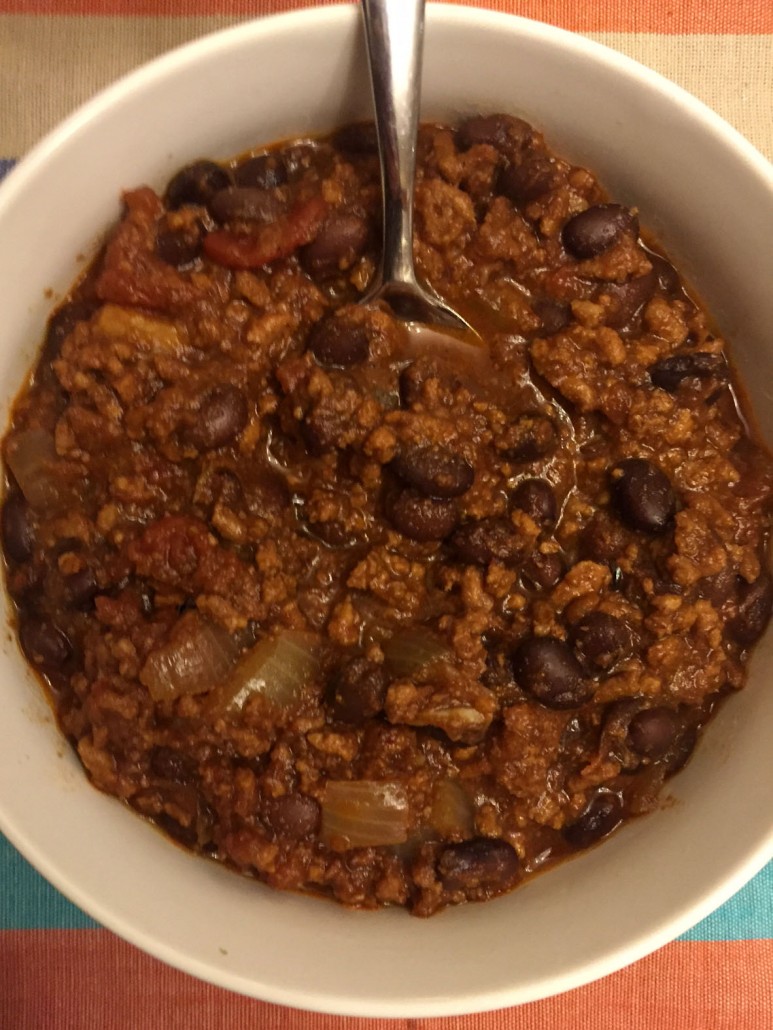 This mouthwatering chili is made entirely in a slow cooker – no browning required!  Just put all the ingredients in a crockpot in the morning, and come back in the evening to a delicious dinner!  The original recipe uses ground beef, but if you'd like you can substitute it with ground turkey – either way, it will taste amazing!  And for an awesome accompaniment to the chili, try this homemade golden fluffy cornbread 🙂
Recipe Link: Easy Crockpot Chili Recipe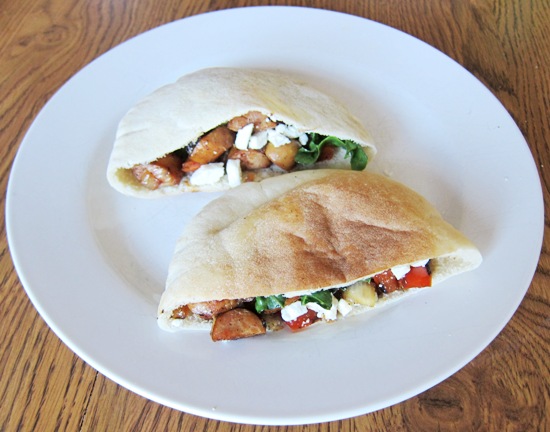 These tasty pita pockets are stuffed with a mixture of pan-fried turkey sausage, bell peppers, onions, feta cheese and lettuce.  They are so easy to make, flavorful and pretty healthy too!  This easy meal will quickly become one of your favorites!
Recipe Link: Stuffed Pita Pocket Sandwich Recipe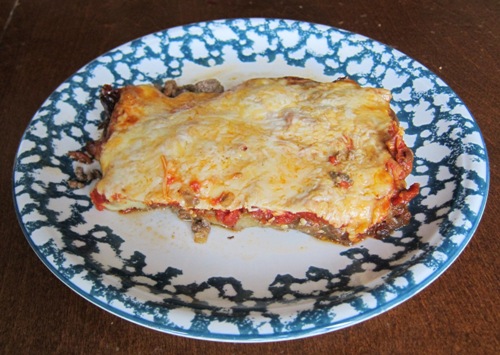 Lasagna without the gluten?  Look no further!  This healthy lasagna recipe is using eggplant slices instead of the regular lasagna noodles 🙂  This recipe is healthy, vegetarian, low-carb and gluten-free, but it has a full flavor that certainly doesn't taste like a typical "health" food 🙂  Modeled after the Greek moussaka dish, this eggplant lasagna is very delicious!
Recipe Link: Gluten-Free Eggplant Lasagna Recipe
This dinner is ready on the table in less than 15 minutes!  Chopped rotisserie chicken and shredded cheese make an amazing filling for these chicken quesadillas!  Flour tortillas are pan-fried with the chicken and shredded cheese for a couple of minutes on each side until the cheese melts and the quesadillas are golden brown.  What a great speedy dinner this is!
Recipe Link: Chicken Quesadillas Recipe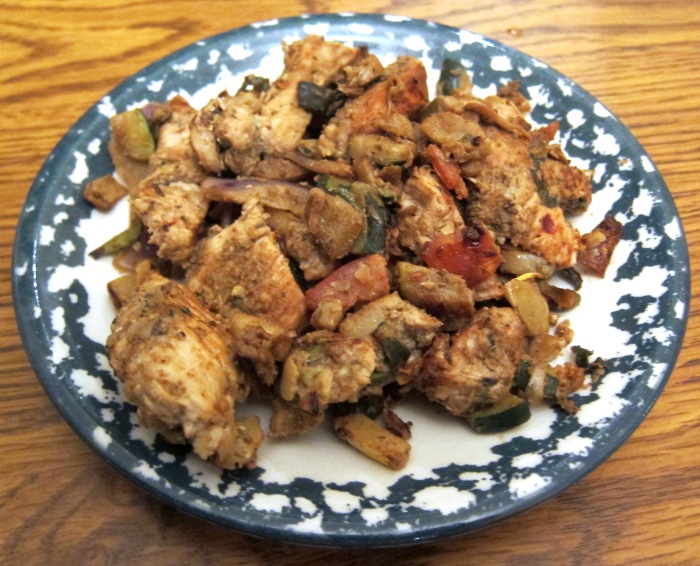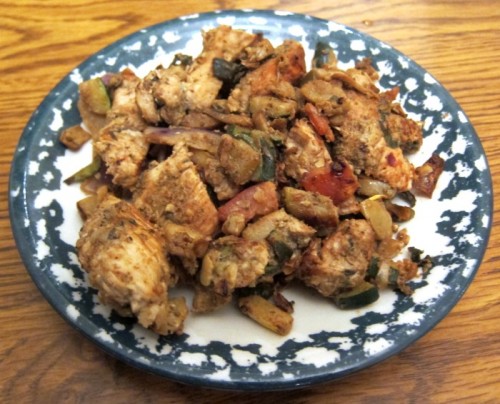 This chicken and vegetable stir-fry is seasoned with Caribbean Jerk seasoning, making it burst with flavor!  Chicken is first marinated in a mixture of Caribbean Jerk seasoning, sugar, Jalapeno pepper and lime juice, then stir fried with zucchini, onion and bell pepper.  This chicken stir fry is so healthy and tasty!
Recipe Link: Caribbean Jerk Chicken Stir-Fry Recipe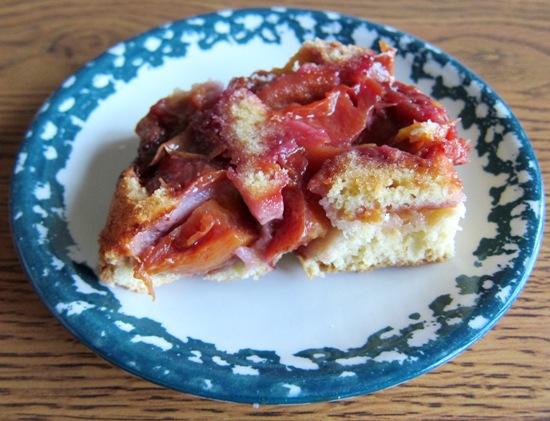 Before baking this yummy cake, the peaches are layered on the bottom of the baking dish and the dough on top.  After you bake it, you flip the cake over, bringing the peaches to the top and turning it into an upside-down cake 🙂  Delicious baked peaches with a tender cake crumb make an amazing dessert – you'll love it!
Recipe Link: Upside Down Peach Cake Recipe
Meal Plan Shopping List
Easy Crockpot Chili

1 lb extra-lean ground beef
2 cans (15 oz each) black or pinto beans, drained and rinsed
1 can (14 oz) tomato sauce
1 can (14 oz) diced tomatoes
1 onion, chopped
3 garlic cloves, minced
1½ tbsp chili powder
1 tsp cumin
1 tbsp Worcestershire sauce
Stuffed Pita Pocket Sandwiches
1 lb lean turkey sausage
2 bell peppers
2 onions
1/4 cup feta cheese
1 cup lettuce leaves
1/2 tsp dried oregano (or Italian herbs seasoning)
1/2 tbsp oil
Salt and pepper to taste
4 pita pockets
Gluten-Free Eggplant Lasagna
1 large eggplant (or 2 small eggplants)
1 package (8 oz) ricotta cheese
1 cup shredded mozzarella cheese
1 jar (1 lb) pasta sauce
1 tbsp oil
Salt and pepper
Chicken Quesadillas
8 flour tortillas, 8-inch size
1 rotisserie chicken (or 1 lb cooked chicken)
1 package (8 oz) shredded cheese
1 tbsp oil
Caribbean Jerk Chicken Stir-Fry
2 lbs chicken breast or thighs, cut into pieces
2 onions, sliced
2 zucchinis, sliced
2 bell peppers, sliced
3 tbsp Caribbean Jerk seasoning
1 tbsp sugar
1 Jalapeno pepper, minced (seeds discarded)
1/4 cup freshly squeezed lime juice
1 tbsp oil
1/2 tsp salt
1/8 tsp pepper
Upside-Down Peach Cake
6 large peaches
3 eggs
1 stick butter, melted
1 cup sugar
1 cup flour
1 tsp baking powder
https://www.melaniecooks.com/wp-content/uploads/2016/03/meal_plan_dinner_ideas12a.jpg
642
1226
Melanie Mendelson
https://www.melaniecooks.com/wp-content/uploads/2015/11/logo-new2.png
Melanie Mendelson
2016-03-28 10:12:03
2017-03-09 17:26:32
FREE Weekly Meal Plan - What's For Dinner (Week 12)