Easy Golden Fluffy Cornbread Recipe
This post may contain affiliate links (disclosure).
This easy cornbread recipe makes delicious fluffy cornbread that is worthy of a holiday table. The texture of this sunny golden cornbread is amazing – light, fluffy and full of corn flavor!
This recipe makes a true golden cornbread that doesn't pretend to be anything other than a bread with deep corn flavor. Some people make a cake with a little bitty sprinkling of corn meal and a pound of sugar and call it a cornbread. Not me! This cornbread has the whole cup of yellow corn meal, so the corn flavor really comes through. It is not a cake, it is not a muffin, it is not dessert – it is a BREAD that will elevate your meal to the whole new level!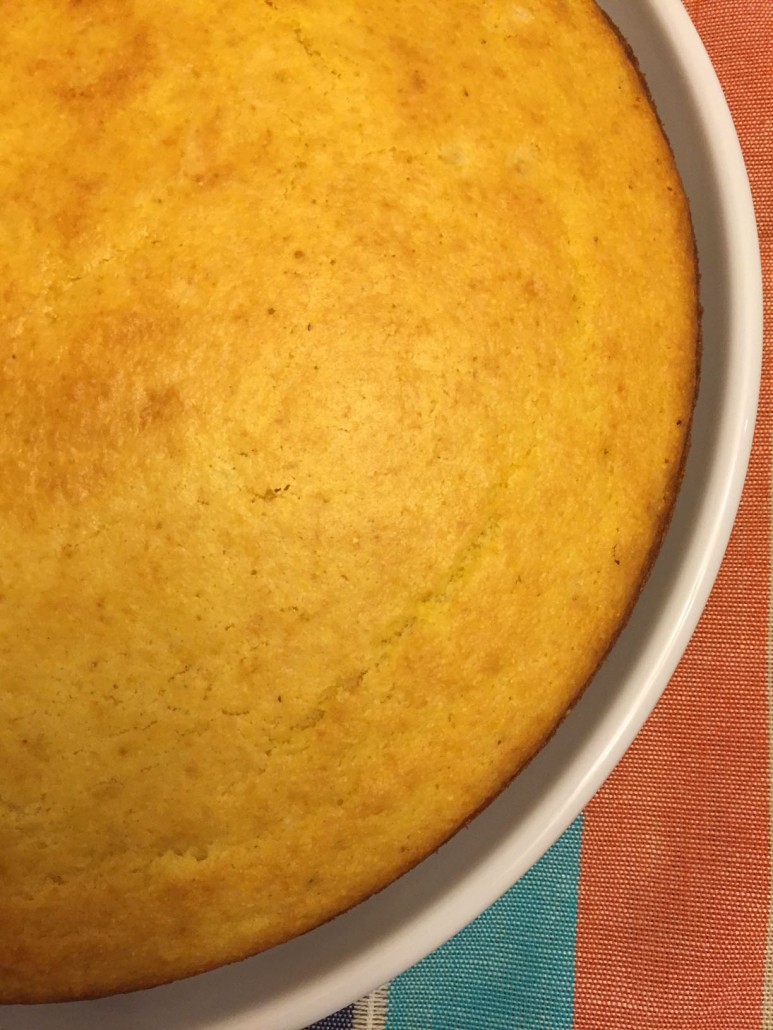 Any beginner can make this cornbread easily, even if you never bake and don't even own a mixer! No mixer or special tools are needed – just put all the ingredients in a bowl, mix (a fork will work for the mixing!), pour in a baking pan and bake. In comes the mixture, out comes the cornbread – golden-yellow, light and fluffy!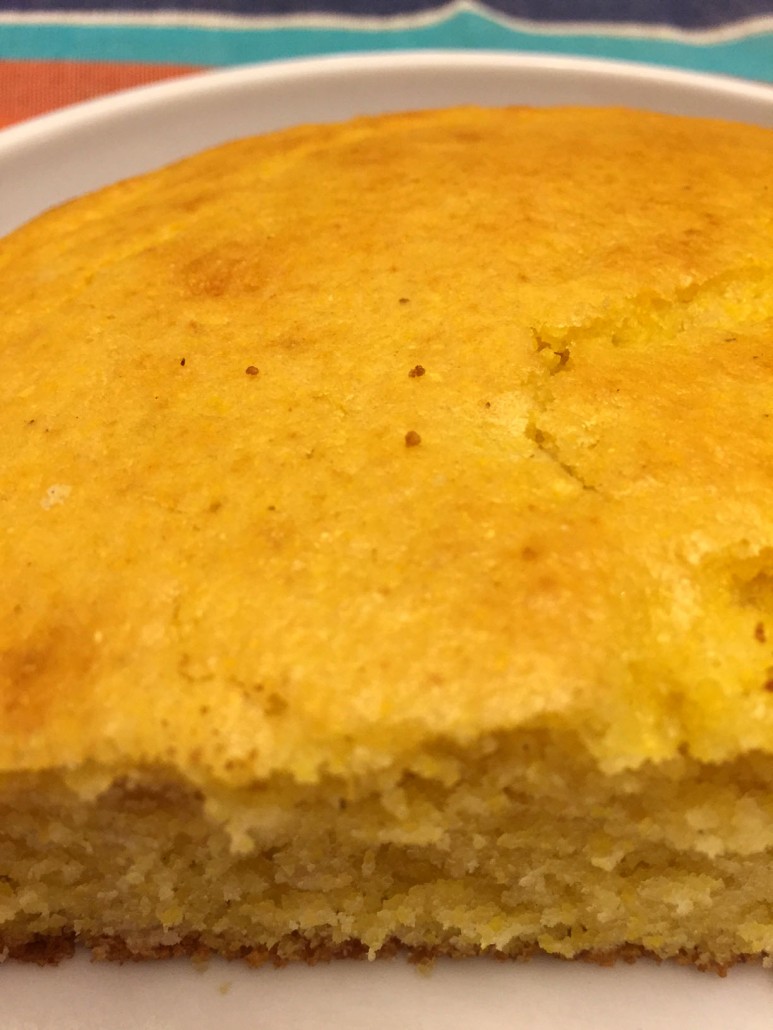 The best feature of the cornbread is the CRUMB! What other kind of bread has such large, soft, yellow, mouthwatering crumb full of sweet corn flavor? Only cornbread can produce a crumb that just stands on its own and actually gets noticed. It will just crumble inside your mouth, melting away in deliciousness.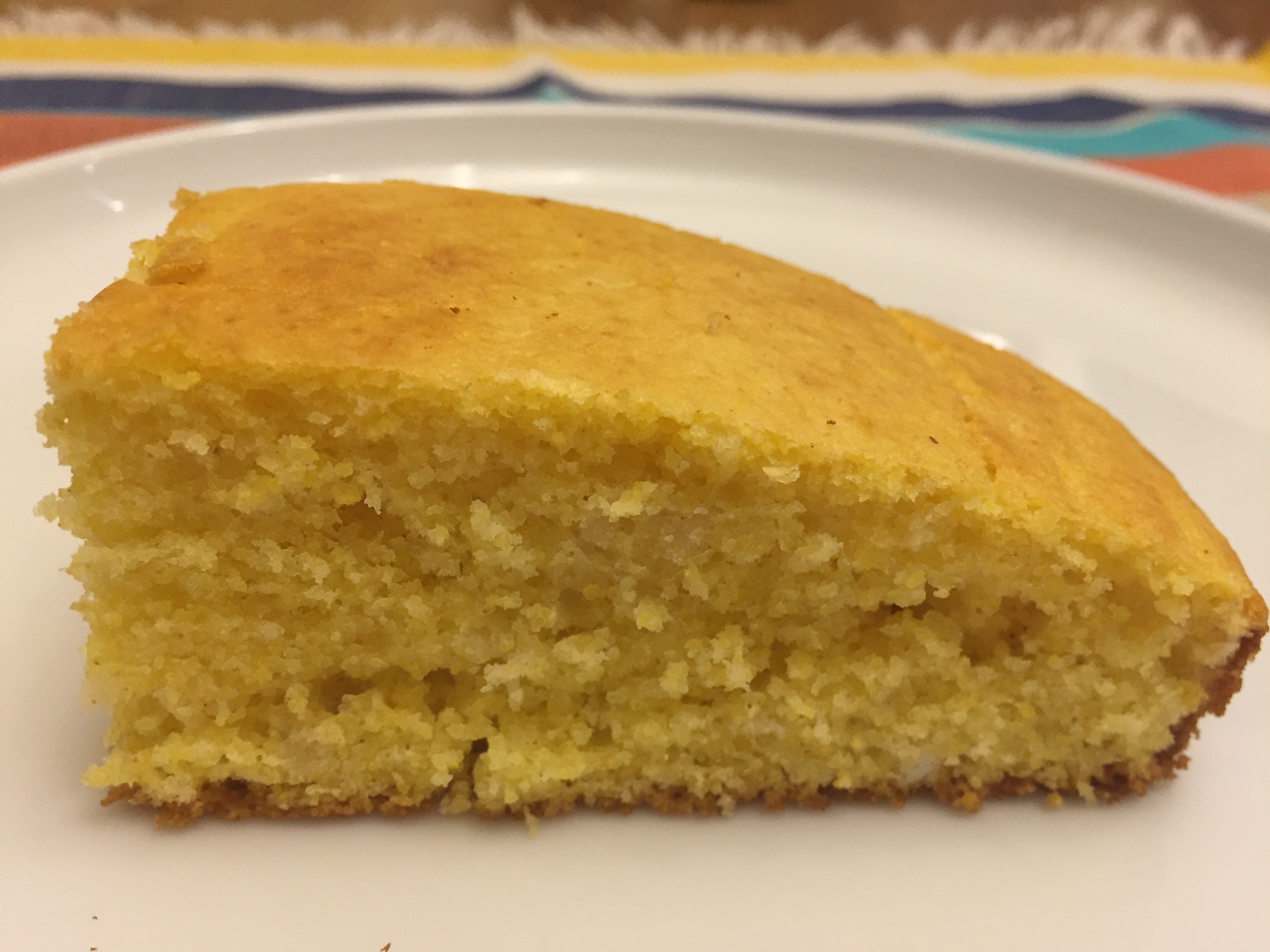 My favorite way of eating this cornbread is with a hearty bowl of chili. Chili and cornbread are just made for each other! In fact, cornbread is great with any kind of soup – it turns a bowl of soup into a complete meal! If you are looking for a perfect chili recipe to go with this delicious cornbread, look no further – I've got an amazingly easy crockpot chili recipe for you!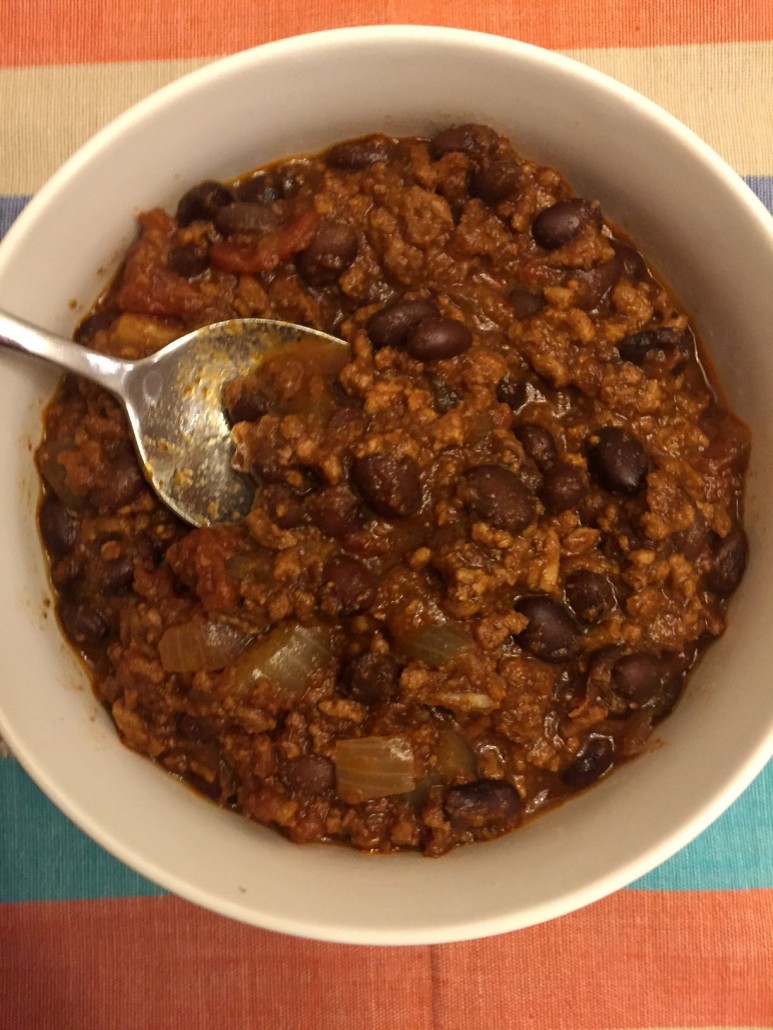 This hearty warm chili with a side of delicious golden cornbread – mmmmmm! Doesn't get any better than that!
Got an Instant Pot? I have an Instant Pot version of this corn bread for you, check out my Instant Pot cornbread recipe.
Click Here To Pin This Recipe
Easy Golden Fluffy Cornbread Recipe
This recipe makes a perfect cornbread - golden yellow in color, light and fluffy in texture and delicious and satisfying in flavor! Full corn flavor comes through - delicious!
Instructions
Preheat the oven to 400F.

Spray a 9-inch round baking pan with a non-stick cooking spray.

In a large bowl, whisk the egg with a fork. Add milk and oil and mix until combined.

Add flour, cornmeal, sugar, baking powder and salt. Mix until combined.

Pour the batter in a baking pan.

Put in the oven and bake for 25 minutes.
Save This Recipe
Save this for later on your social media:
Get Melanie's FREE Recipes In Your Inbox!
https://www.melaniecooks.com/wp-content/uploads/2016/02/cornbread_recipe5.jpg
1632
1224
Melanie Mendelson
https://www.melaniecooks.com/wp-content/uploads/2015/11/logo-new2.png
Melanie Mendelson
2016-02-02 13:14:27
2021-12-08 09:13:12
Easy Golden Fluffy Cornbread Recipe