Free Weekly Meal Plan – What's For Dinner! (Week 10)
This post may contain affiliate links (disclosure).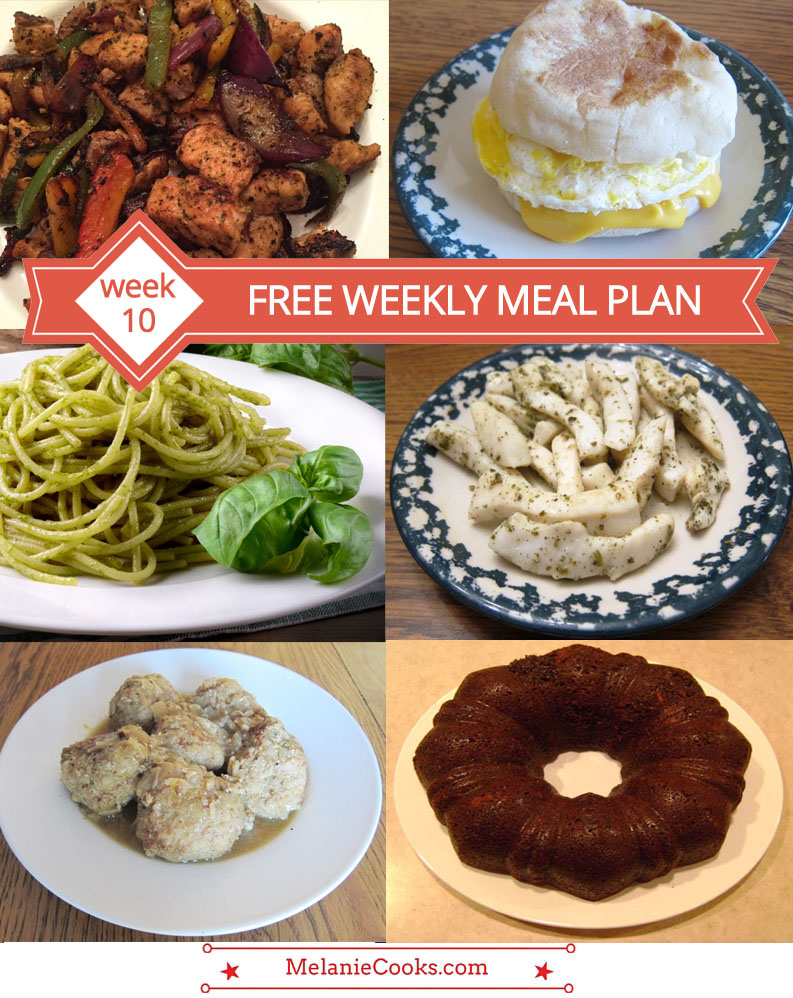 Welcome to week 10 of Melanie's
FREE weekly meal plans
! Here's what's cooking this week:
Spicy Chicken Vegetable Stir Fry
Egg McMuffin Sandwiches
Pasta With Pesto
Grilled Calamari
Swedish Meatballs
And for dessert we'll be having Chocolate Bundt Cake!
Never wonder what's for dinner again :) Use all the recipes, or pick a couple of your favorites, double the portions and enjoy the leftovers the next day!
Every recipe includes the picture of the finished dish, and there is also a handy shopping list with all the recipe ingredients!
FREE Family Meal Plan – Week 10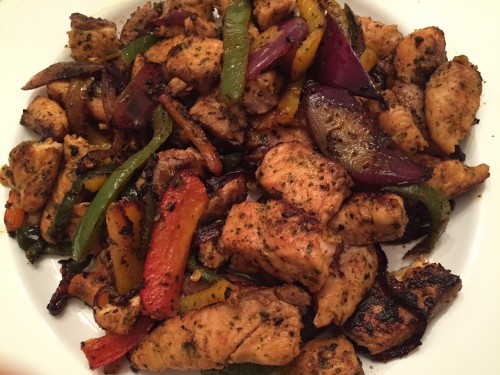 This chicken stir fry is packed with flavor from seasoning it with a homemade spice mix! Chicken breast pieces are stir fried with onions and bell peppers – what a perfect healthy meal using all whole foods with virtually no carbs!
Recipe Link: Spicy Chicken And Vegetable Stir Fry Recipe
Who says Egg McMuffin is just for breakfast? Breakfast for dinner is always a fun change! You don't need to go to McDonald's to get these Egg McMuffin sandwiches. You can make them at home – much quicker, easier and healthier than getting them from a fast food joint! For a side dish, I recommend easy roasted potatoes.
Recipe Link: Homemade Egg McMuffin Recipe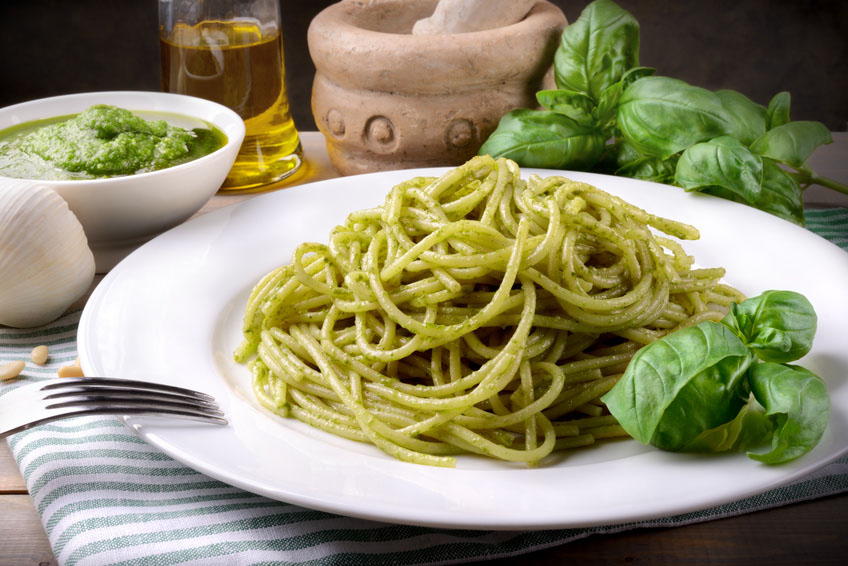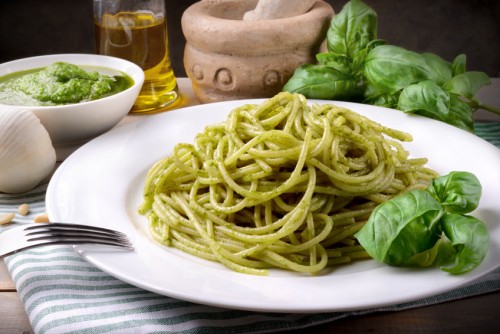 In this delicious meal, I'm tossing the cooked pasta with fresh homemade classic basil pesto, made with fresh basil leaves, garlic, olive oil, Parmesan cheese and pine nuts! Pesto is super-easy to make – just process all the pesto ingredients in the food processor while the pasta is cooking, then toss it while it's piping hot and serve immediately. Or for the ultimate shortcut you can use a store-bought pesto too :)
Recipe Link: Pasta Recipe With Classic Basil Pesto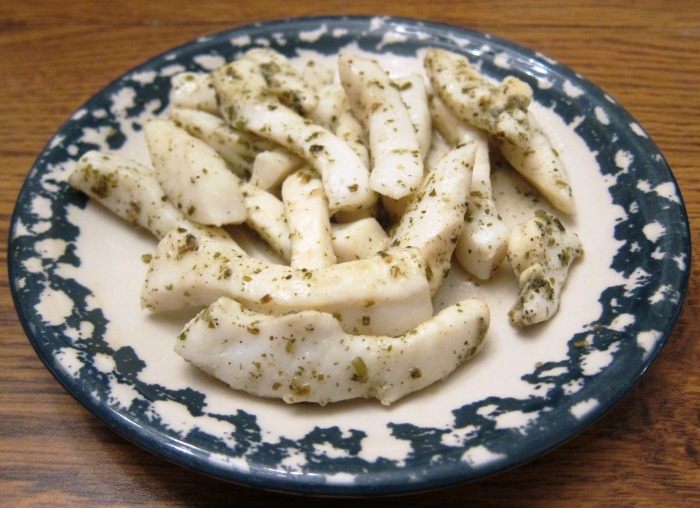 Don't be intimidated by cooking calamari! It sounds exotic, but is super easy to make! Cooking calamari is easier than cooking chicken :) All you need to do is stir fry it on the frying pan, and it cooks really quickly – under 5 minutes!
Recipe Link: Grilled Calamari Recipe
These delicious Swedish meatballs are made from the mixture of ground meat (beef or turkey) with breadcrumbs and grated onions. The meatballs are first pan-fried, then simmered for hours in a slow cooker with the gravy – what a yummy comfort food!
Recipe Link: Crockpot Swedish Meatballs Recipe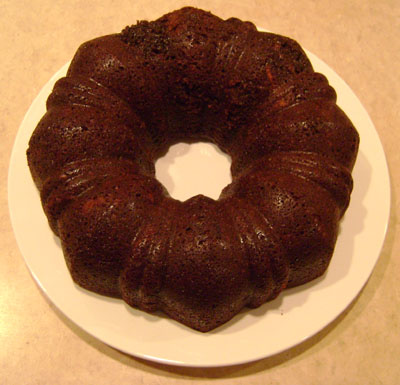 This chocolate bundt cake is very easy to make – just mix all ingredients in a bowl, pour into a bundt pan and bake! A slice of these yummy cake is perfect for dessert or for breakfast with a cup of coffee!
Recipe Link: Chocolate Bundt Cake Recipe
Meal Plan Shopping List
Spicy Chicken Stir Fry

1 lb skinless boneless chicken breasts
1 large red onion
2 bell peppers
1 tbsp oil
1 tsp paprika
½ tsp garlic powder
1 tsp salt
½ tsp onion powder
½ tsp oregano
½ tsp ground red pepper
½ tsp ground black pepper
Homemade Egg McMuffin Sandwiches
4 English muffin
4 eggs
4 slices of cheese
Pasta With Pesto
2 cups packed fresh basil leaves
1 garlic clove
½ cup grated Parmesan cheese
⅓ cup extra virgin olive oil
¼ cup pine nuts
1 lb pasta
Grilled Calamari
4 calamari steaks
1 tbsp olive oil
2 tsp garlic
½ tsp Italian herb seasoning
Crockpot Swedish Meatballs
2 lbs ground beef
1 cup dry bread crumbs
1 onion, grated
2 eggs
1½ tsp salt
⅛ tsp pepper
1 tbsp oil
4 tbsp butter
2 tbsp flour
4 cups beef stock
Chocolate Bundt Cake
¾ cup cocoa powder
1 cup chocolate chips
¾ cup hot water
1½ sticks butter
1 cup yogurt
1 tbsp vanilla
5 eggs
2 cups packed brown sugar
1¾ cup flour
1 tsp salt
1 tsp baking soda
https://www.melaniecooks.com/wp-content/uploads/2016/03/meal_plan_dinner_ideas10a.jpg
643
1220
Melanie Mendelson
https://www.melaniecooks.com/wp-content/uploads/2015/11/logo-new2.png
Melanie Mendelson
2016-03-07 07:39:48
2017-03-09 17:30:42
Free Weekly Meal Plan – What's For Dinner! (Week 10)