This is not your usual plain meatloaf – this meatloaf has a surprise inside!  Slice the meatloaf to reveal the stuffing of boiled eggs, green peas and melted cheese!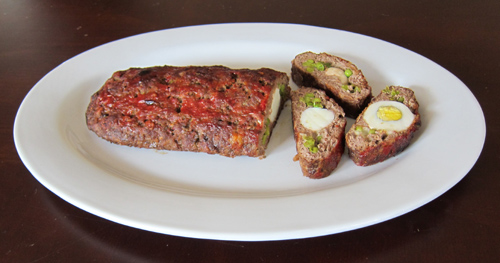 Ingredients For Stuffed Meatloaf Recipe:
1 lb lean ground beef
4 hard-boiled eggs
1/2 cup frozen green peas (thawed in a microwave)
Cheese slices
1 small onion, minced
2 slices of bread
3/4 tsp salt
1/4 tsp pepper
2 tbsp ketchup
Directions How To Make Stuffed Meatloaf:
Preheat oven to 350F.
Put the bread in a bowl with water.  Take the bread out and pour out the water.  In a bowl, put the wet bread, meat and minced onion.  Sprinkle with salt and pepper.  Mix with your hands until everything is combined.
Cut a large rectangle of a plastic wrap and put it on the counter.  Spread the meat mixture on it.  Sprinkled the peas on top of the meat layer.  In the middle of the meat layer, put the eggs and cheese slices (see the illustration below):

Lift the plastic wrap on the sides and roll the meat so the filling is inside the roll: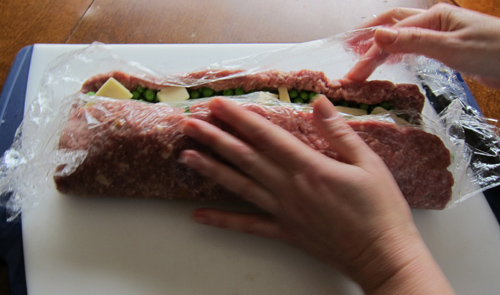 Here's a picture of the rolled meatloaf: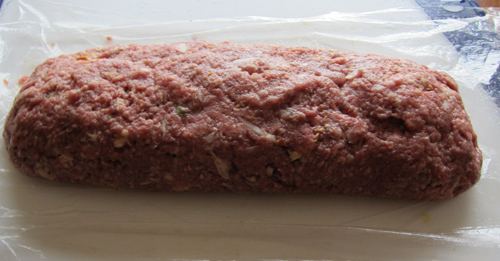 Spread the ketchup on top of the meatloaf: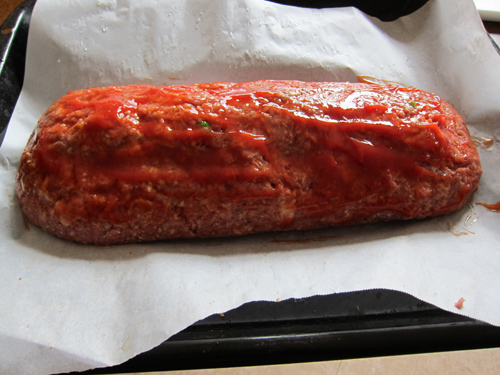 Bake the meatloaf for 1 hour, or until the meat thermometer registers 170F.