This post may contain affiliate links (disclosure).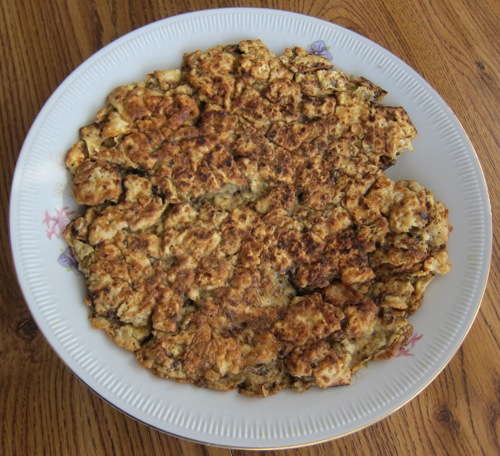 Matzah Babka is a giant pancake made out of matzah. The recipe for Matzah Babka is similar to Matzah Brie, except the Babka makes one huge pan-sized pancake and Matzah Brie makes individual fried matzah pancakes. Matzah Babka is a traditional Passover recipe for Russian Jews.
To make matzah babka, the matzo pieces are moistened with water, then mixed with the egg and then fried on a frying pan. The whole Babka pancake is then flipped and fried on the other side. As a result, you get a nicely browned fried matzah babka – perfect for Passover table!
Matzah Babka Recipe
Preparation time: 3 minutes
Cooking time: 6 minutes
Matzah Babka Ingredients
6 sheets of matzah
1/2 cup hot water
4 eggs
1/4 tsp salt
2 tbsp oil
Instructions How To Make Matzah Babka
To make matzah babka, first break the matzo into pieces. Pour water over the matzah, then drain the water right away.
Whisk the eggs with a fork, then mix in the salt.
Mix the eggs with the matzah.
Heat the oil on a small 8-inch frying pan over medium-high heat.
Press the matzah and eggs mixture into the bottom of the frying pan, forming one large pancake.
Cook the babka for 3 minutes on one side, or until golden brown.
To flip the matzah babka without breaking it, you need a large plate. Carefully flip the babka pancake onto a plate, then put back on a frying pan to cook the other side.
Cook the babka on another side for 3 minutes, or until browned.
Slide the matzah babka from the frying pan onto a plate.
Enjoy this yummy fried matzah babka – so crispy and browned! For a baked matzah option, check out baked matzah kugel recipe.
Save this for later on your social media:
Get Melanie's FREE Recipes In Your Inbox!
https://www.melaniecooks.com/wp-content/uploads/2013/05/matzah-kugel-babka-whole.jpg
456
500
Melanie Mendelson
https://www.melaniecooks.com/wp-content/uploads/2015/11/logo-new2.png
Melanie Mendelson
2013-05-13 07:00:33
2013-07-09 15:42:05
Matzah Babka Recipe