This post may contain affiliate links (disclosure).
This mango salsa is so healthy, juicy and delicious! This stuff is seriously addictive, before you know it you'll eat the whole bowl!
Mango salsa sounds pretty exotic, but it is extremely easy to make. All you need to do is chop some mangoes with the onion, bell pepper, cilantro and Jalapeno. That's it – simple and delicious! This salsa is so good, it disappears from the table in no time!
There are so many ways to eat mango salsa – it's a universal favorite! Mango salsa can be served on top of chicken, steak, pork chops or fish. You can also eat this yummy healthy salsa as an appetizer with chips or on it's own as a side salad. You can also add it to a green salad. In addition, mango salsa goes great on top of tacos!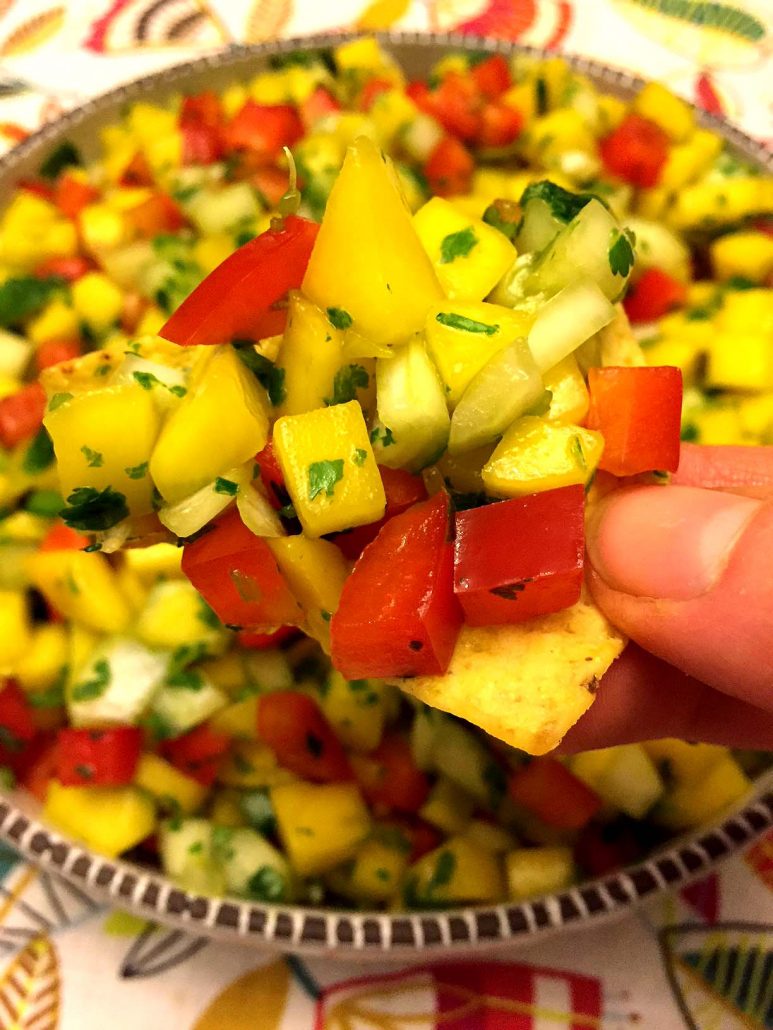 I got the initial idea of making mango salsa after trying a sample in Whole Foods. Their mango salsa was delicious, but it was crazy expensive for a tiny jar! I just looked at the ingredients and decided that it was easy enough to make my own version of mango salsa at a fraction of the cost!
I make a big bowl of mango salsa using 4 mangoes, 1 onion, 1 bell pepper, 1 jalapeno and 1 bunch of cilantro. Of course, you can half the recipe – but then you'll have to deal with having remaining halves of onion, bell pepper and jalapeno :) You can store halved vegetables in refrigerator in plastic wrap for future use – see my article how to store half of onion. But personally, I just make one huge batch as it doesn't last long in our house :)
This mango salsa can be stored in a refrigerator for up to 3 days, so don't worry if the portion is too big for you to eat in one sitting! The fact that you can make it ahead makes your life so much easier if you are making mango salsa for a party or potluck! When you serve this colorful delicious mango salsa, people will think you are a hero!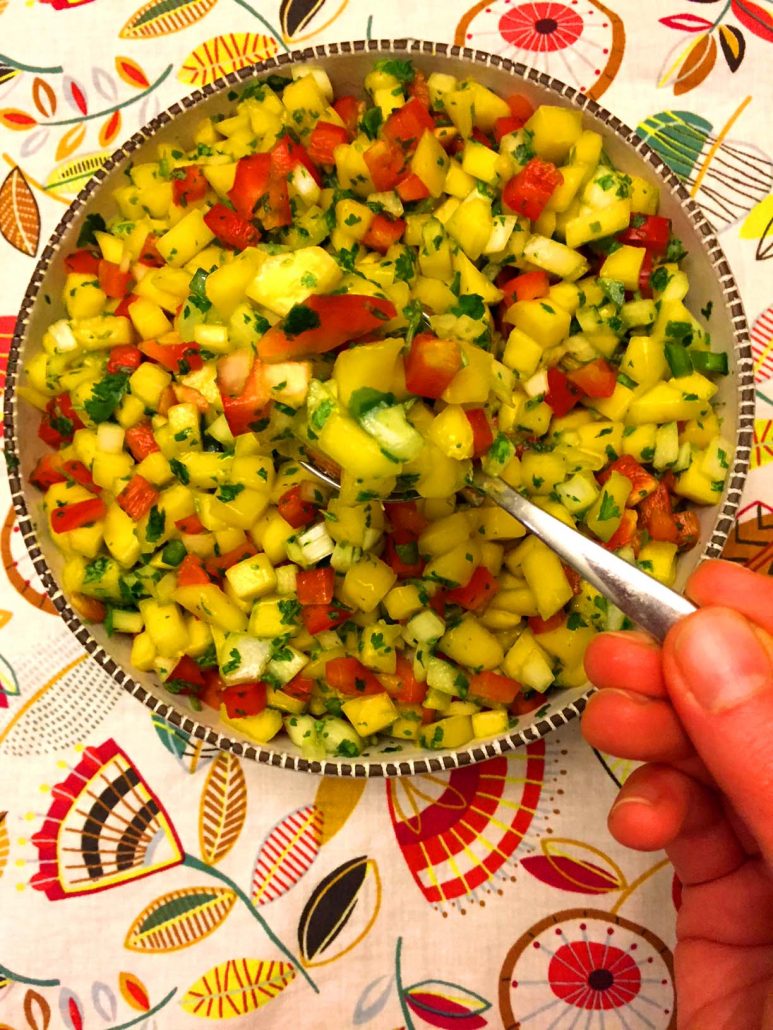 If you don't eat mangoes very often, here's some refresher articles on mangoes: how to pick a ripe mango, how to ripen a mango faster and how to cut a mango.
You can easily make modifications to this mango salsa according to your taste preference. Don't like it spicy? Omit the jalapeno! Want it extra spicy? Use two jalapeno peppers instead of one! Not a fan of cilantro? Use parsley instead! The basic ingredients are mango and onion, and other additions are totally up to you!
If you like this easy mango salsa, you will also love these other easy healthy recipes:
Easy Pineapple Salsa – this amazing tropical salsa is served in a bowl made from fresh pineapple shell!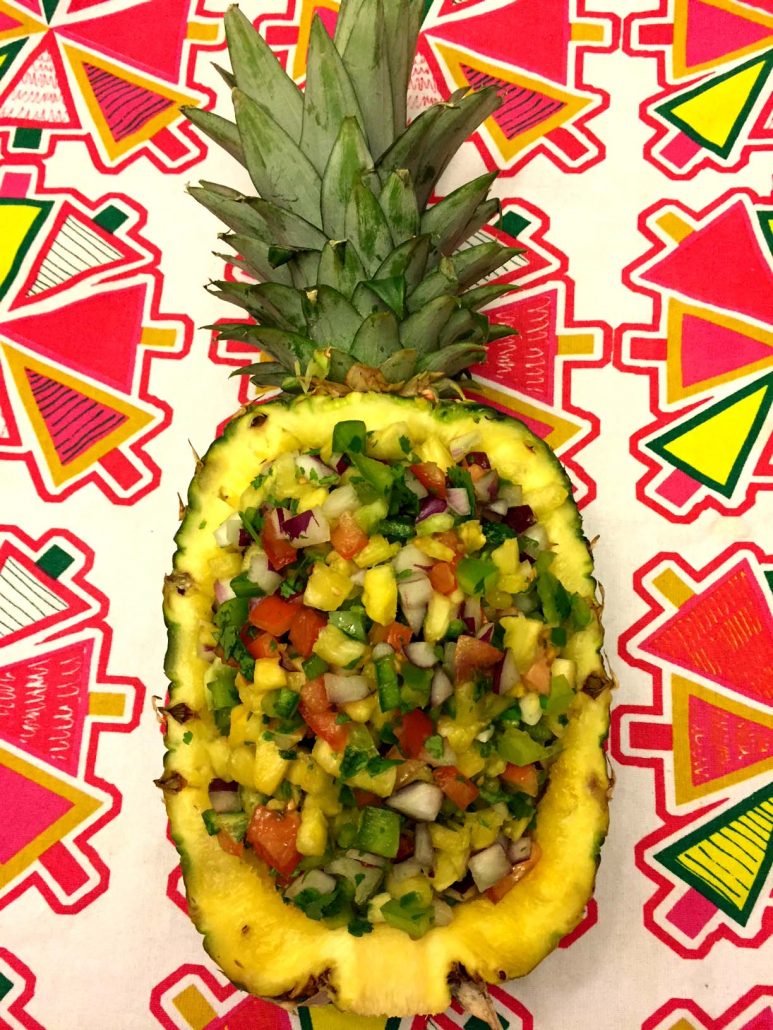 Authentic Mexican Guacamole – this is the best guacamole recipe ever! Tastes just like the one from a Mexican restaurant!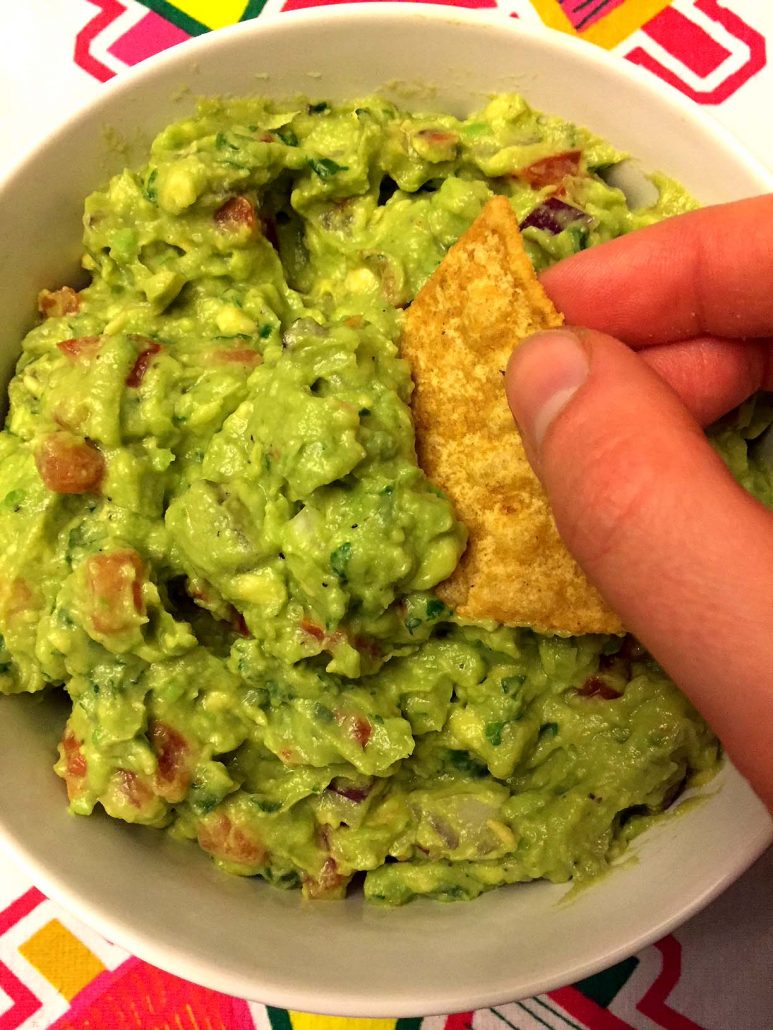 Pico De Gallo Fresh Salsa – this yummy Mexican salsa is made with fresh tomatoes, onions, jalapeno and cilantro. Super healthy and tastes amazing!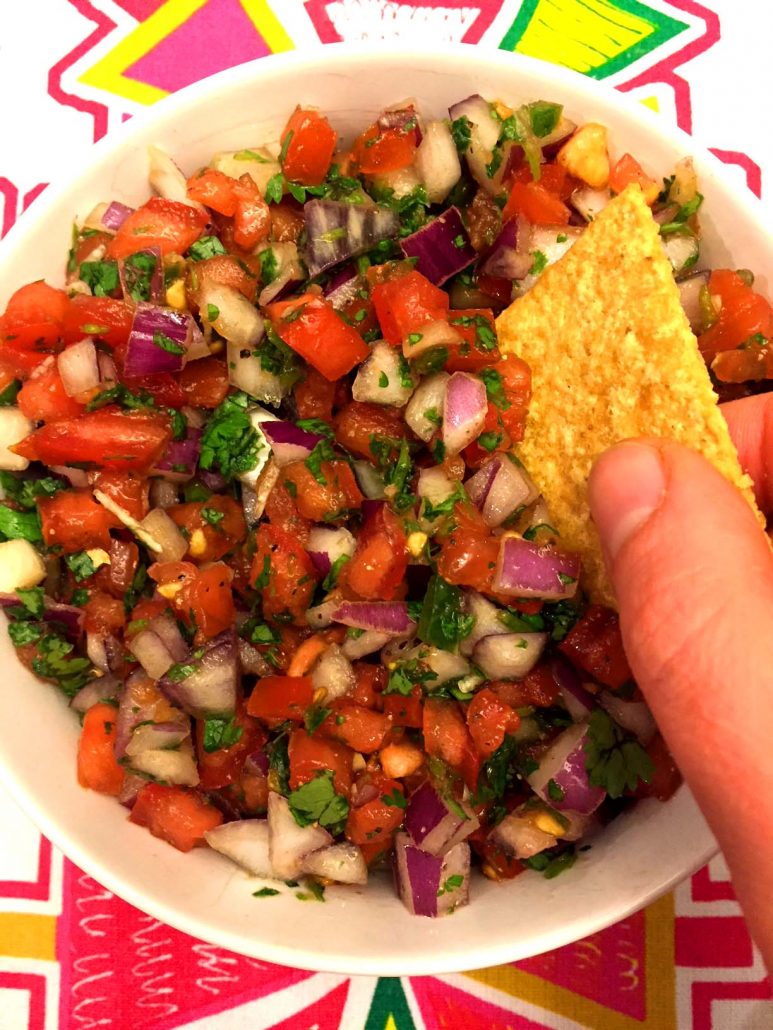 Fish Tacos With Mango Salsa – this delicious mango salsa go so well with fish tacos! Yummy in my tummy!
Mexican Chicken Tortilla Soup – this stuff is go good, I can eat the whole pot in one sitting!
Click Here To Pin This Recipe
Mango Salsa Recipe
This mango salsa is so easy to make, healthy and delicious! This is the only mango salsa recipe you'll ever need!
Instructions
Put all mango salsa ingredients in a bowl and toss to combine.
Save This Recipe
Save this for later on your social media:
Get Melanie's FREE Recipes In Your Inbox!
https://www.melaniecooks.com/wp-content/uploads/2010/10/mango_salsa_best_ever.jpg
1632
1224
Melanie Mendelson
https://www.melaniecooks.com/wp-content/uploads/2015/11/logo-new2.png
Melanie Mendelson
2010-10-08 09:07:51
2021-12-08 09:18:04
Easy Mango Salsa Recipe