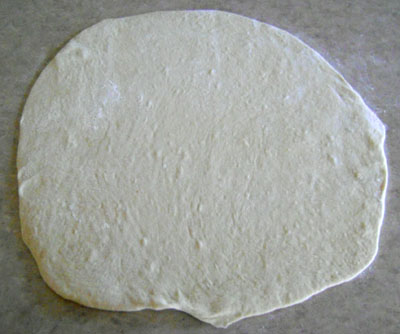 Homemade Pizza Dough Recipe For Bread Machine
This post may contain affiliate links (disclosure).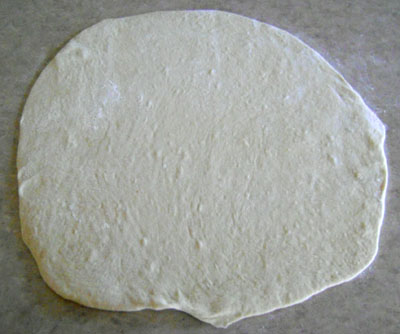 Homemade pizza dough sounds like a lot of effort, but in reality it is very easy to make your own homemade pizza dough. Here's the trick: use a bread machine to make the pizza dough!
Here's a lazy way to make homemade pizza dough from scratch – just dump the ingredients in the bread machine, and let the bread machine do all the work! It takes less than 5 minutes to put the ingredients in a bread machine. After you put the ingredients in, close the lid on the bread machine, set the bread machine for "Dough" cycle, press the Start button and walk away. When the machine beeps, the "Dough" cycle is finished. On my bread machine, it takes 1.5 hours to complete the "Dough" cycle.
When you hear the machine beep, take the pizza dough out. You can make the pizza with it right away, or you can refrigerate it and make pizza later. You can refrigerate homemade pizza dough for up to 3 days. Just put it in a ziploc plastic bag and squeeze the air out.
When I discovered this super-easy way of making homemade pizza dough in a bread machine, I stopped buying pizza dough in the store. When going grocery shopping, I'd have to plan ahead so I don't forget to buy pizza dough. Now I can make pizza dough spontaneously – all the ingredients for the homemade pizza dough are always available in my pantry. Homemade pizza dough recipe uses very simple common ingredients: water, flour, oil, sugar, salt and yeast. You don't need to make any special trips to the store to find those ingredients – most people already have them in the house at all times. So if one day you just feel like having some pizza – pop those ingredients in a bread machine, and the machine will make you a delicious pizza dough – without you lifting a finger!
Ingredients For Homemade Pizza Dough Recipe For Bread Machine:
2/3 cup water (lukewarm)
2 tbsp oil
2 cups flour
1/2 tsp sugar
1 tsp salt
1 1/2 tsp active dry yeast
Directions For Making Homemade Pizza Dough Recipe In A Bread Machine:
Pour water and oil in the bread machine pan. Add flour. Add sugar, salt and yeast.
Start the "Dough" cycle on the bread machine. When the cycle finishes, the dough is ready.
Take it out and roll into a circle for your pizza. If the dough is sticky, sprinkle the counter and the rolling pin with some flour, so it doesn't stick while you roll it. This portion makes one large thin-crust pizza or one medium thicker-crust pizza.
If you want to make 2 pizzas, just double the portion of the ingredients when you load them in a bread machine. It will make double the dough! Then divide the dough into 2 parts. You can make 2 pizzas right away, or make one pizza and refrigerate the second dough ball to use later in the week.
To make excellent homemade pizza with your homemade pizza dough, use my Easy Homemade Cheese Pizza Recipe. Enjoy your yummy pizza!
Save this for later on your social media:
Get Melanie's FREE Recipes In Your Inbox!
https://www.melaniecooks.com/wp-content/uploads/2008/11/pizza-dough.jpg
334
400
Melanie Mendelson
https://www.melaniecooks.com/wp-content/uploads/2015/11/logo-new2.png
Melanie Mendelson
2008-11-19 13:34:53
2020-04-17 10:00:34
Homemade Pizza Dough Recipe For Bread Machine