All Natural Sweet Pie Crust Dough Recipe Using The Food Processor
This post may contain affiliate links (disclosure).
Making your own pie crust dough is so easy that I don't see the point of store-bought pie crusts. With the food processor, turning the ingredients into dough takes just a few seconds!
This sweet pie crust dough recipe uses all natural ingredients that are found in a pantry and freezer – flour, butter, sugar and salt. This pie crust has no vegetable shortening and no trans fats!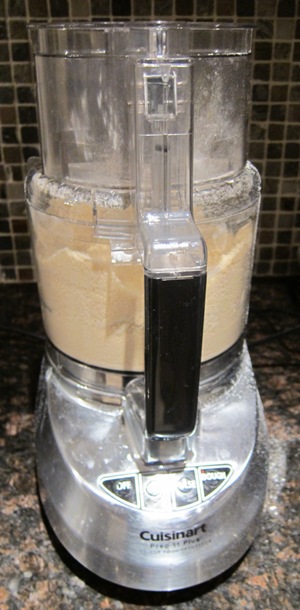 All Natural Sweet Pie Crust Dough Recipe Using The Food Processor
Preparation time: 5 minute(s)
Ingredients
2 1/2 cups flour
1 tsp salt
2 tbsp sugar
2 1/2 sticks butter
7 tbsp cold water
Directions For Making Pie Crust Dough In A Food Processor:
Cut the butter into 1/4-inch pieces.
Put flour, salt and sugar in the food processor fitted with a steel blade inside the bowl. Pulse 3 times. Add butter pieces to the food processor bowl. Process until the butter is incorporated into flour and the mixture resembles coarse sand. Add the cold water to the food processor and pulse 5 times.
Remove the dough from the food processor onto a counter. Divide the dough into 2 parts, and shape into 2 balls. Press down on each ball to shape it into a 4-inch-wide disk. You should now have 2 disks – one will be for the bottom pie crust and the other for the top pie crust.
Put the dough disks into ziploc bags and refrigerate for at least 30 minutes, or for up to 3 days.
Picture of the 2 pie dough balls: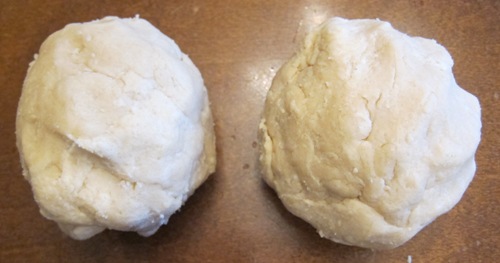 Picture of the pie dough disk:

Picture of the pie dough disks in ziploc bags, ready to go to the refrigerator:

Save this for later on your social media:
Get Melanie's FREE Recipes In Your Inbox!
https://www.melaniecooks.com/wp-content/uploads/2015/04/pie-dough-foodprocessor.jpg
610
300
Melanie Mendelson
https://www.melaniecooks.com/wp-content/uploads/2015/11/logo-new2.png
Melanie Mendelson
2011-11-29 06:12:49
2011-11-29 06:23:13
All Natural Sweet Pie Crust Dough Recipe Using The Food Processor