Chocolate Chip Cookie Dough Truffles With No-Bake Edible Cookie Dough
This post may contain affiliate links (disclosure).
Attention raw cookie dough lovers! You can now have your cookie dough fix safely in a form of chocolate chip cookie dough truffles! Edible cookie dough coated with a layer of dark chocolate – biting into one of these truffles is pure ecstasy!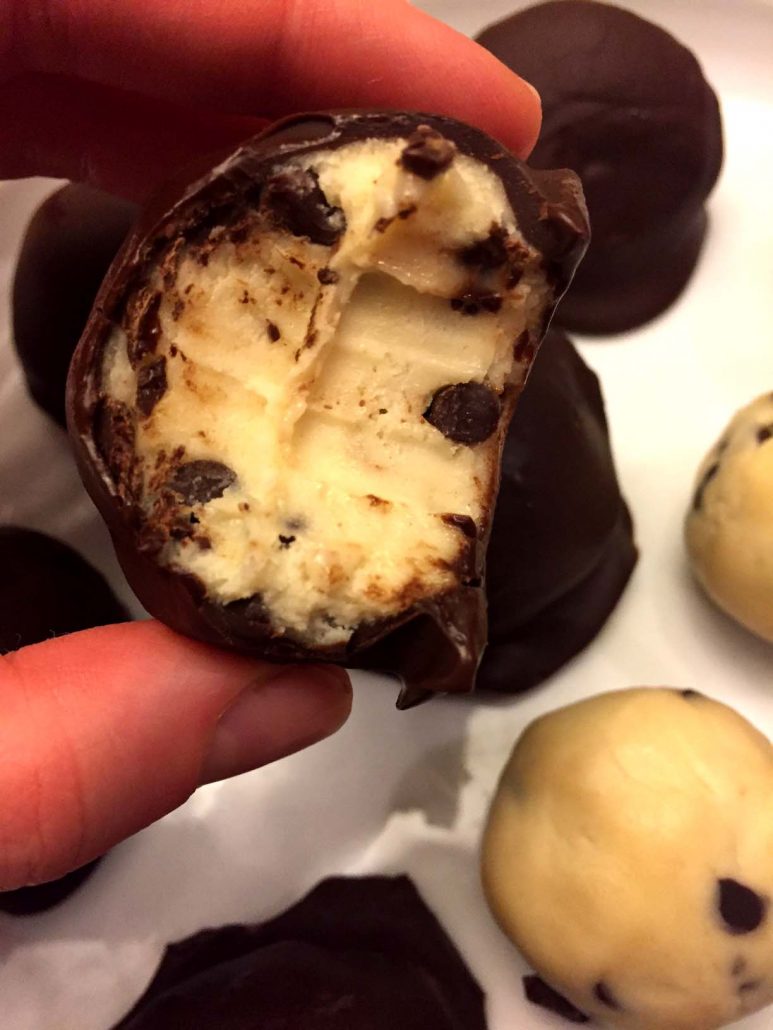 Instead of hiding your love for raw cookie dough, now is the time to celebrate it! You can put your finger in this sticky edible chocolate chip cookie dough with abandon and lick it off without the fear of food poisoning :) This no-bake chocolate chip cookie dough is made with the eater like you in mind. This raw cookie dough is perfectly safe to eat, and it presents itself to you rolled into the truffle balls and dipped into dark chocolate.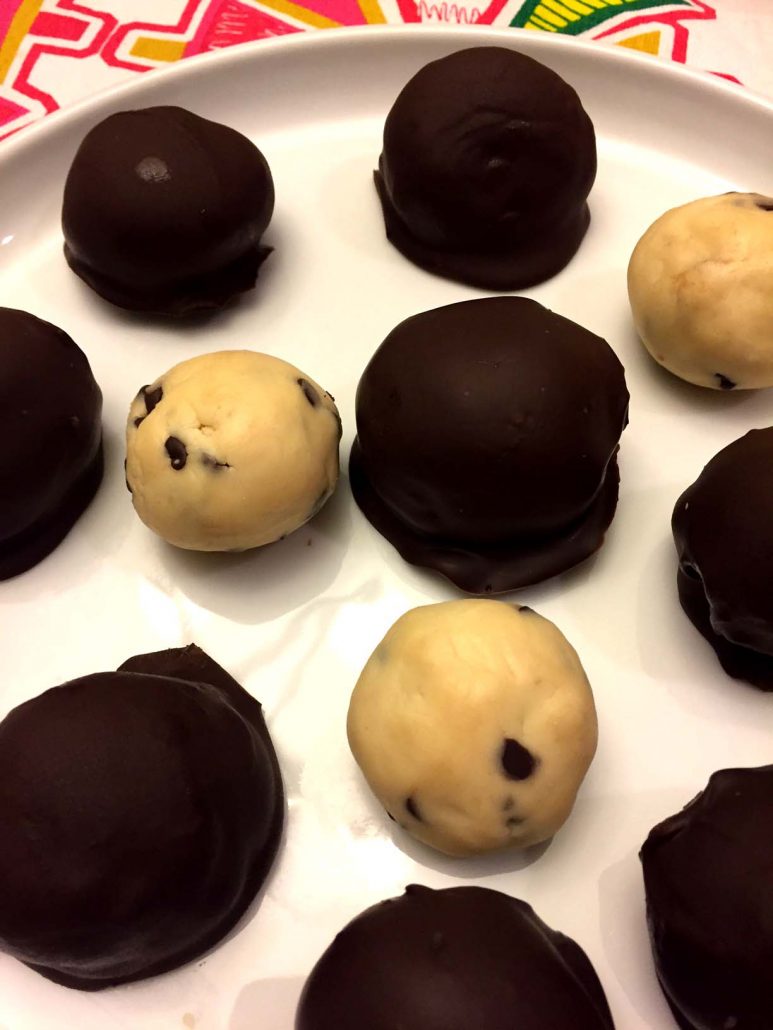 What could be a better way to eat the cookie dough than in a truffle form? Break through the dark chocolate crust and sink your teeth into raw sweet chocolate chip cookie dough to move into the cookie dough trance. All the cookie dough you can eat – pinch yourself, you are not dreaming!
How do we make this cookie dough safe to eat? Number one thing is no raw eggs. You don't need eggs to make amazing tasting chocolate chip cookie dough, and best of all, no fear of salmonella! Another thing I do to make the cookie dough 100% edible is pasteurize the raw flour. Yeah, it might be going a little bit overboard, but with all the recent flour recalls and the rumors of bacteria in raw flour, it's better to be safe than sorry. Just put the flour in a microwave and microwave on High for 1 minute. That's it, the germs are dead! Now you can eat that raw flour without a second thought :)
Making these cookie dough truffles is super easy and doesn't require any cooking or baking. All you need to do is mix the ingredients for cookie dough, roll into balls and dip in melted chocolate. Just follow my simple step-by-step instructions and you'll impress everyone with these homemade truffles. These truffles are so outstanding, people will be in awe! Round pure joys of dark chocolate with a surprise inside!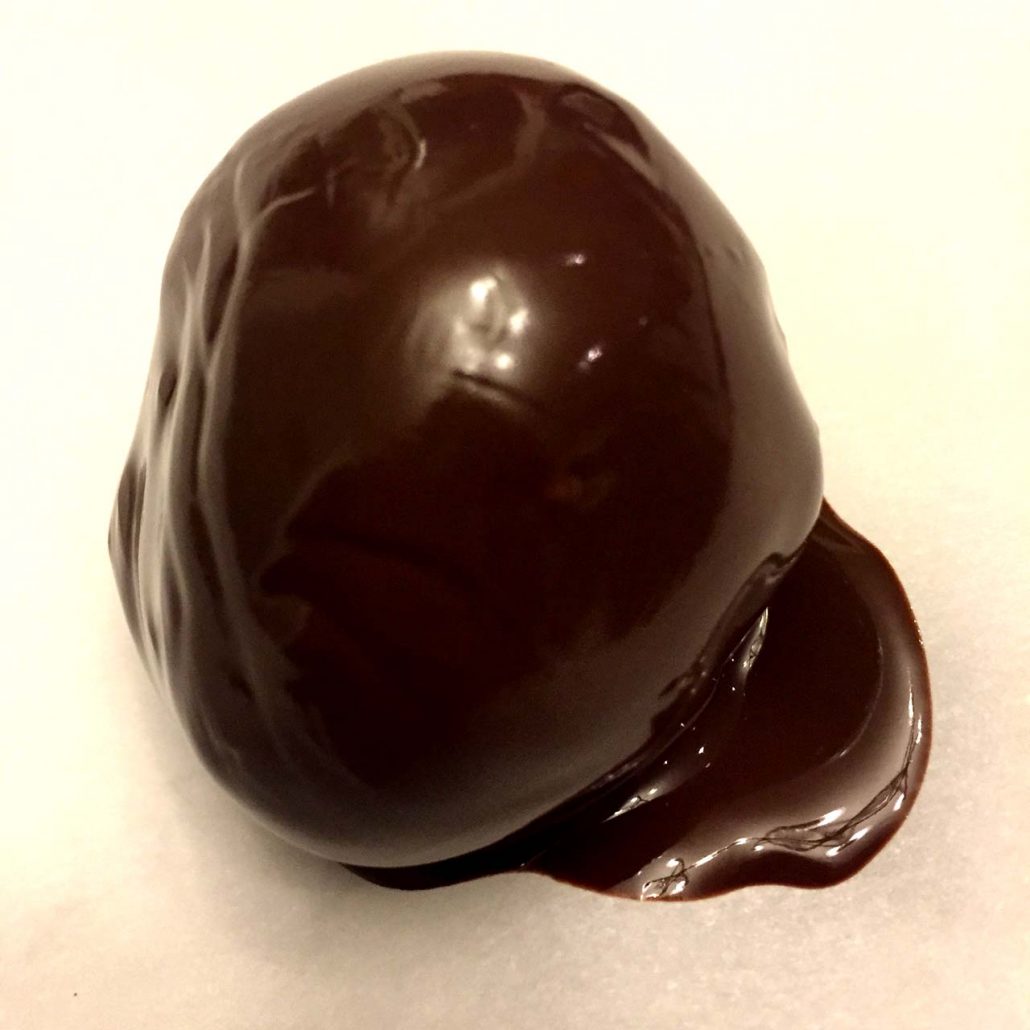 YUMMMMMM!!!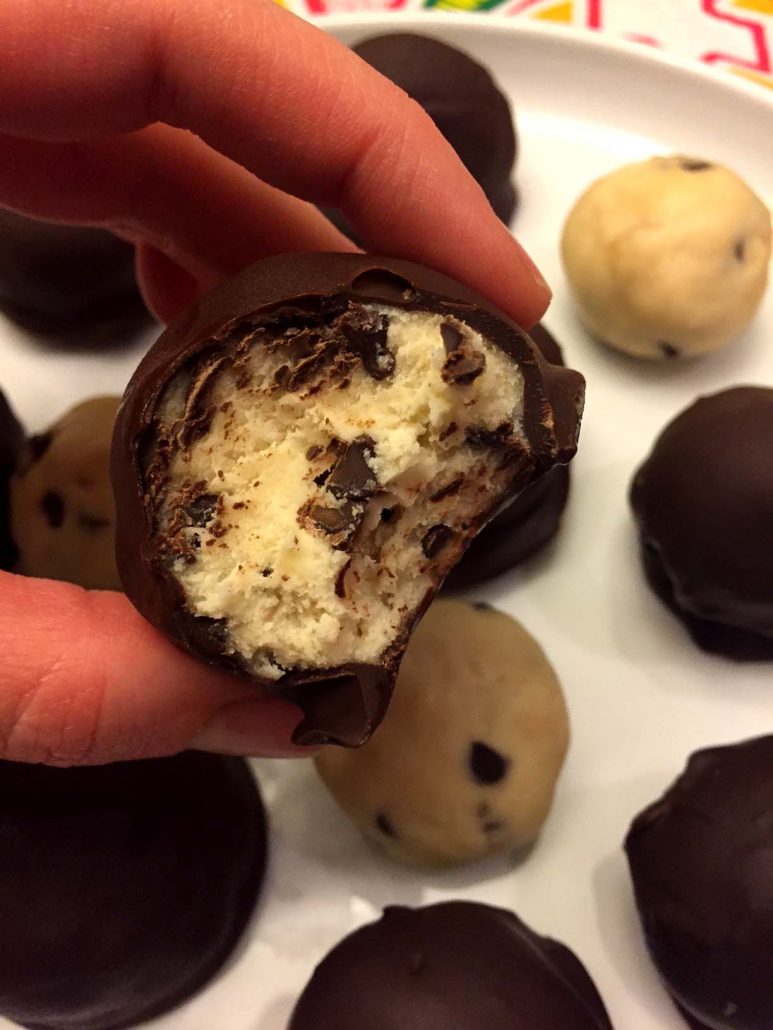 How To Make Cookie Dough Truffles
Step 1: Pasteurize the flour
Raw flour can carry bacteria, so to make this cookie dough 100% safe to eat we pasteurize the flour by heating it in the microwave for 1 minute.
Step 2: Make chocolate chip cookie dough
Mix butter, sugar, sweetened condensed milk, vanilla, flour and chocolate chips to make delicious edible cookie dough!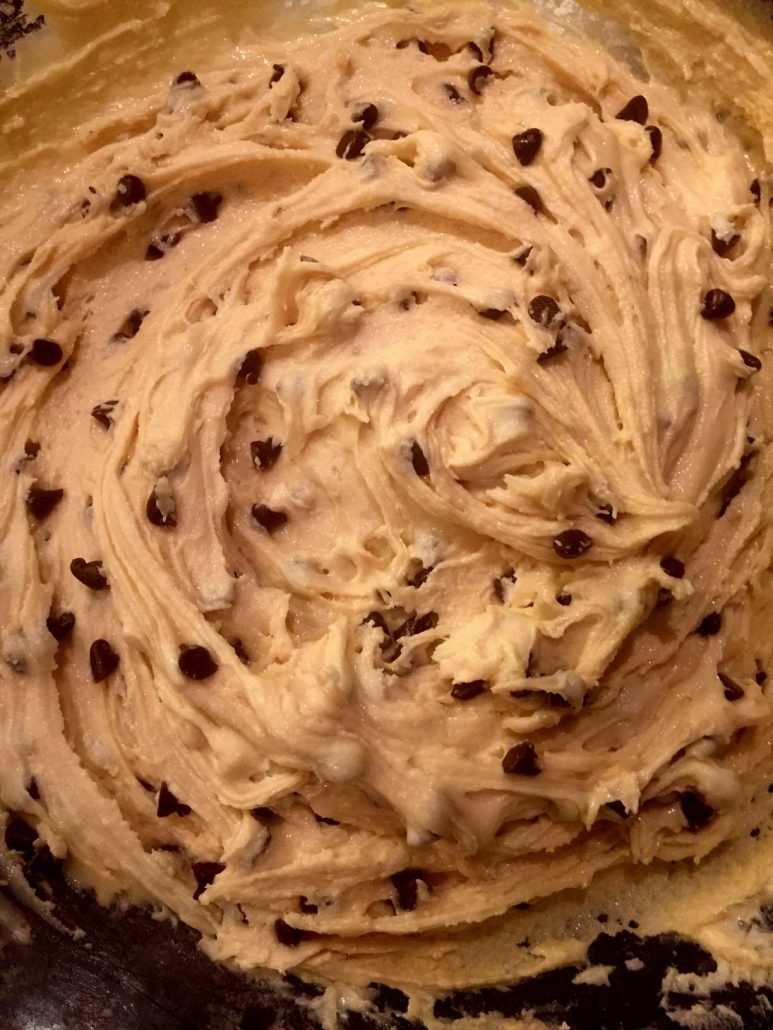 Refrigerate the cookie dough for 30 minutes so it gets hard enough to roll into truffles.
Step 3: Roll cookie dough into truffles
Roll the chilled cookie dough into balls to make the truffles, put truffles on parchment paper and freeze for 20 minutes.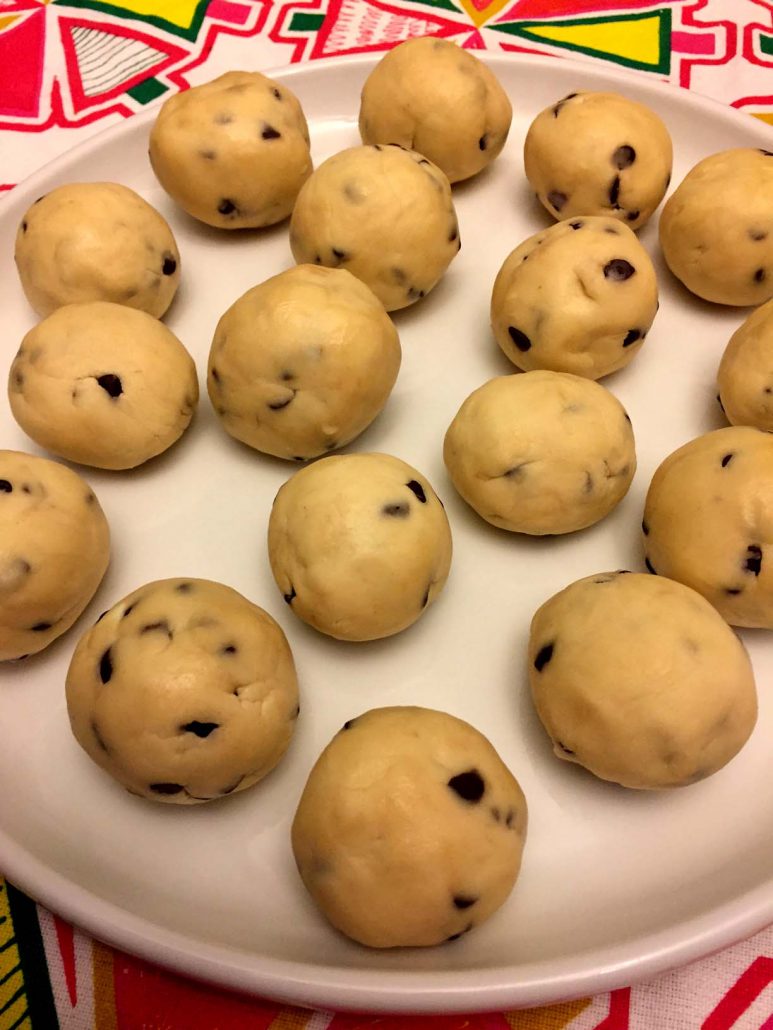 You can eat them at this point if you'd like :) Or be patient enough and save them to be coated with chocolate.
Step 4: Melt chocolate for coating
Break the chocolate into small pieces and put in a microwave-safe bowl.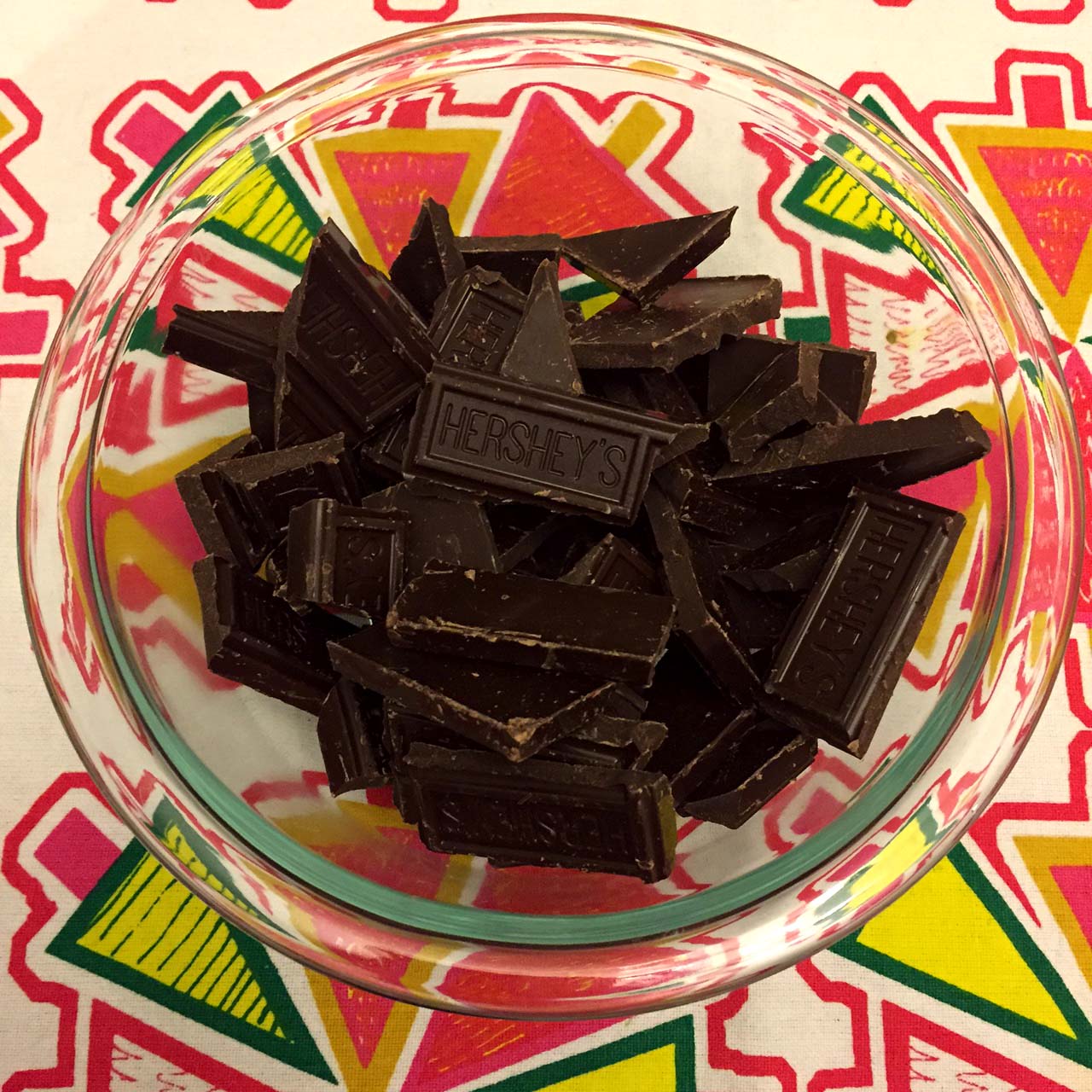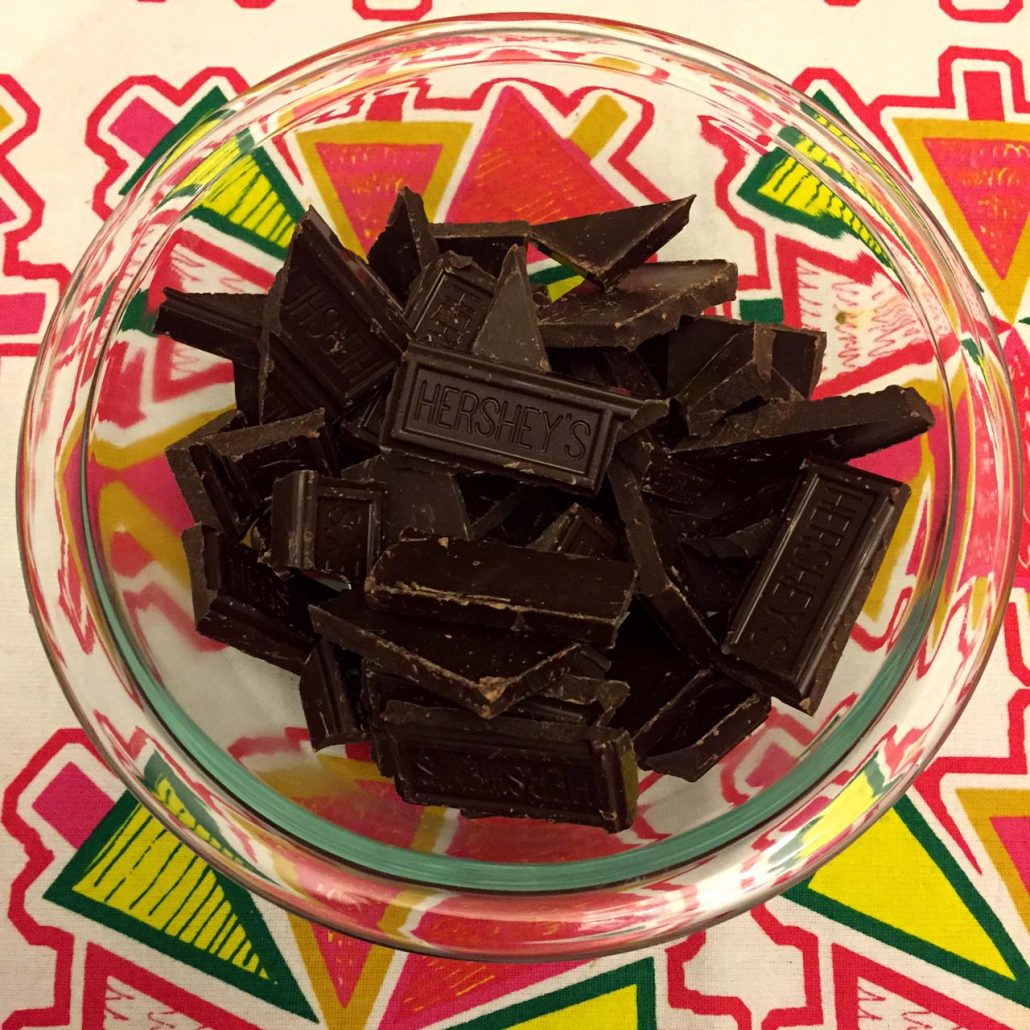 Next, microwave the chocolate on Defrost (Low) setting, stirring periodically, until melted and smooth.
Step 5: Dip the cookie dough truffles in chocolate
Using a spoon, lower each cookie dough truffle into melted chocolate.
Turn the truffle with the spoon so it's completely covered in chocolate, then take it out.
Put dipped truffles on parchment paper.
Refrigerate the truffles for 20 minutes so the chocolate chip coating hardens.
Enjoy the deliciousness!
Click Here To Pin This Recipe
Chocolate Chip Cookie Dough Truffles With No-Bake Edible Cookie Dough
Finally you can have your cookie dough and eat it too! These amazing truffles are made with edible no-bake chocolate-chip cookie dough and coated with dark chocolate! Mouthwatering!
Ingredients
1/2

cup

1 stick butter, softened

1/2

cup

powdered sugar

1

can

14 oz sweetened condensed milk

1

tsp

vanilla

2

cups

flour

1/2

cup

mini chocolate chips

10

oz

dark chocolate
Instructions
Pasteurize the flour
First, pasteurize the flour in a microwave so it's safe to eat. Prepare 2 microwave-safe bowls, and put 1 cup of flour into each bowl. Microwave each bowl (one at a time) for 1 minute.
Prepare the cookie dough
Put butter and powdered sugar in a large bowl and mix with a mixer until well combined.

Add sweetened condensed milk and vanilla and mix until combined.

Add flour and mix until the dough is well combined and smooth.

Add the mini chocolate chips and stir with a spoon to incorporate them into the cookie dough.

Put the cookie dough in a refrigerator for 30 minutes, so it gets firm enough to roll into the truffles.
Roll the truffles
Line a large plate or a baking sheet (that fits in a freezer) with parchment paper.

Take the cookie dough out of the refrigerator.

Using a tablespoon, take the pieces of dough, and then roll them with your hands to make a ball.

Put the cookie dough balls onto parchment paper.

Freeze for 20 minutes.
Melt chocolate for coating
Break the dark chocolate into small pieces and put them into a microwave-safe bowl.

Microwave the chocolate for 5 minutes on Defrost setting. Stir with a spoon.

If the chocolate is not fully melted, microwave more on Defrost setting in 1-minute increments and stir after each minute, until the chocolate is completely smooth and melted.
Dip truffles in chocolate
Line a baking sheet in parchment paper.

Put each truffle on a table spoon and lower the spoon into the melted chocolate. Turn the truffle with the spoon until it's fully coated with chocolate. Using the spoon, take out the chocolate-covered truffle and put on the parchment paper.

When all the truffles are dipped, put the baking sheet that holds them in a refrigerator. The chocolate coating will harden after 20 minutes in a refrigerator and the truffles will be ready to eat. Store the cookie dough truffles in a refrigerator.
Save This Recipe
Save this for later on your social media:
Get Melanie's FREE Recipes In Your Inbox!
https://www.melaniecooks.com/wp-content/uploads/2016/12/cookie_dough_truffles_raw_recipe.jpg
1632
1224
Melanie Mendelson
https://www.melaniecooks.com/wp-content/uploads/2015/11/logo-new2.png
Melanie Mendelson
2016-12-02 11:41:14
2021-12-08 09:09:41
Chocolate Chip Cookie Dough Truffles With No-Bake Edible Cookie Dough