How To Make Chocolate Chip Cookie Cake – Best Recipe Ever!
This post may contain affiliate links (disclosure).
This chocolate chip cookie cake is basically a giant chocolate chip cookie in a cake form. The texture is perfectly cookie-like – soft, chewy and delicious, with chocolate chips throughout! It literally melts in your mouth, with your favorite chocolate chips on your tongue.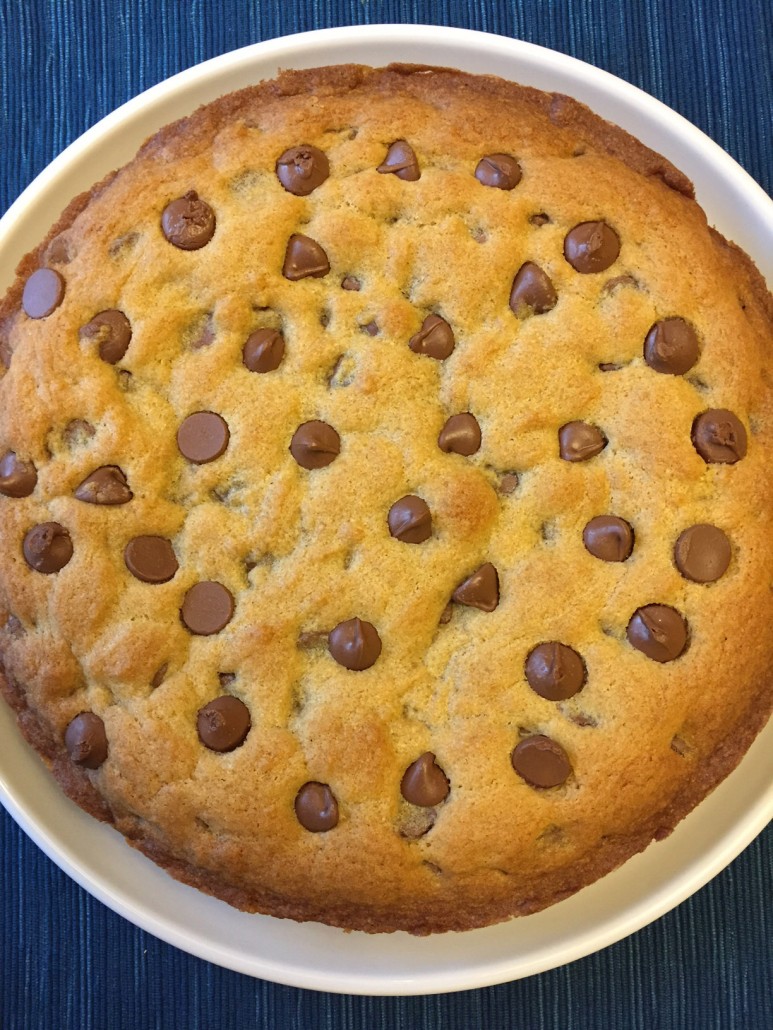 This easy foolproof recipe makes the best chocolate chip cookie cake ever! The resulting cookie cake is better than any cookie cakes I ever tried – including those from a fancy bakery!
Chocolate chip cookie cake is very easy to make – in fact, it's much quicker and easier than making the individual cookies, as there is no dough to roll or to drop, as all the dough is going into one big round pan. All you need to do is mix the ingredients in a bowl, then pour the dough into a baking dish and bake it in the oven – it's that easy, that's why this chocolate chip cookie cake recipe is perfect for beginners.
This recipe makes a 9-inch round cookie cake that's about 1 inch tall – that would be a one huge cookie! Here's the side view of this cookie cake, giving you an idea of the height:
Chocolate chip cookie cake is always a hit at the kids' birthday parties! Children are fascinated with the idea of a giant cookie in the form of cake, not to mention that they love the chocolate chip cookie taste. A homemade cookie cake is quite a memorable party dessert – it's unique, yet crowd pleasing – at the end, there is never a crumb left :)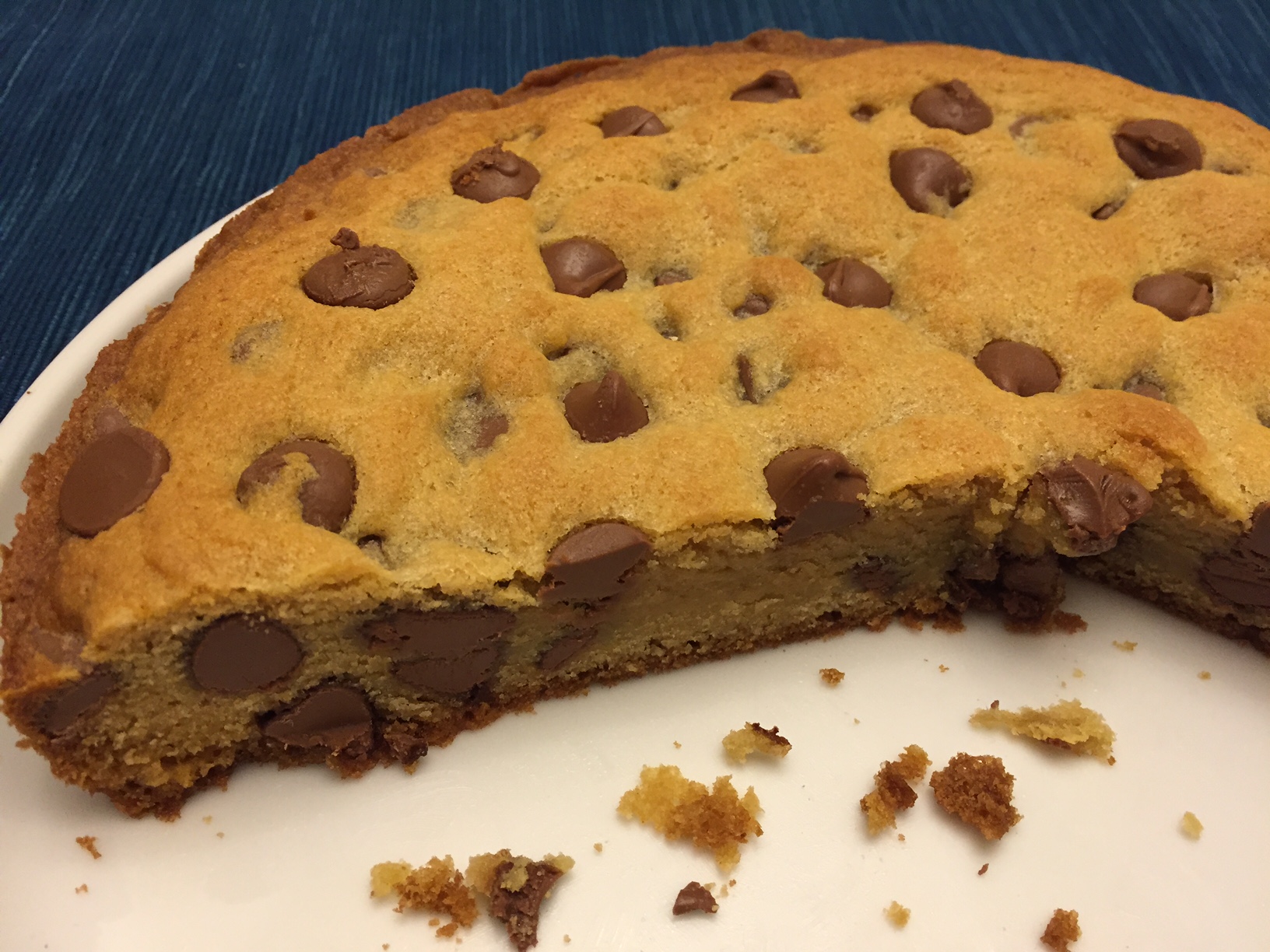 I personally don't frost the cookie cake, as I want the "cookie" factor to shine through. Covering up this cake with frosting will make it look just like an ordinary cake, defeating the whole purpose of the cookie cake which is to look and taste like a cookie. If you do want to add frosting, a good way to frost the cookie cake is to only put the frosting on the sides around the circumference, making swirly designs with the frosting piping bag as you go. This way, the middle of the cake will still be uncovered, so everyone can see the cookie top with the chocolate chips!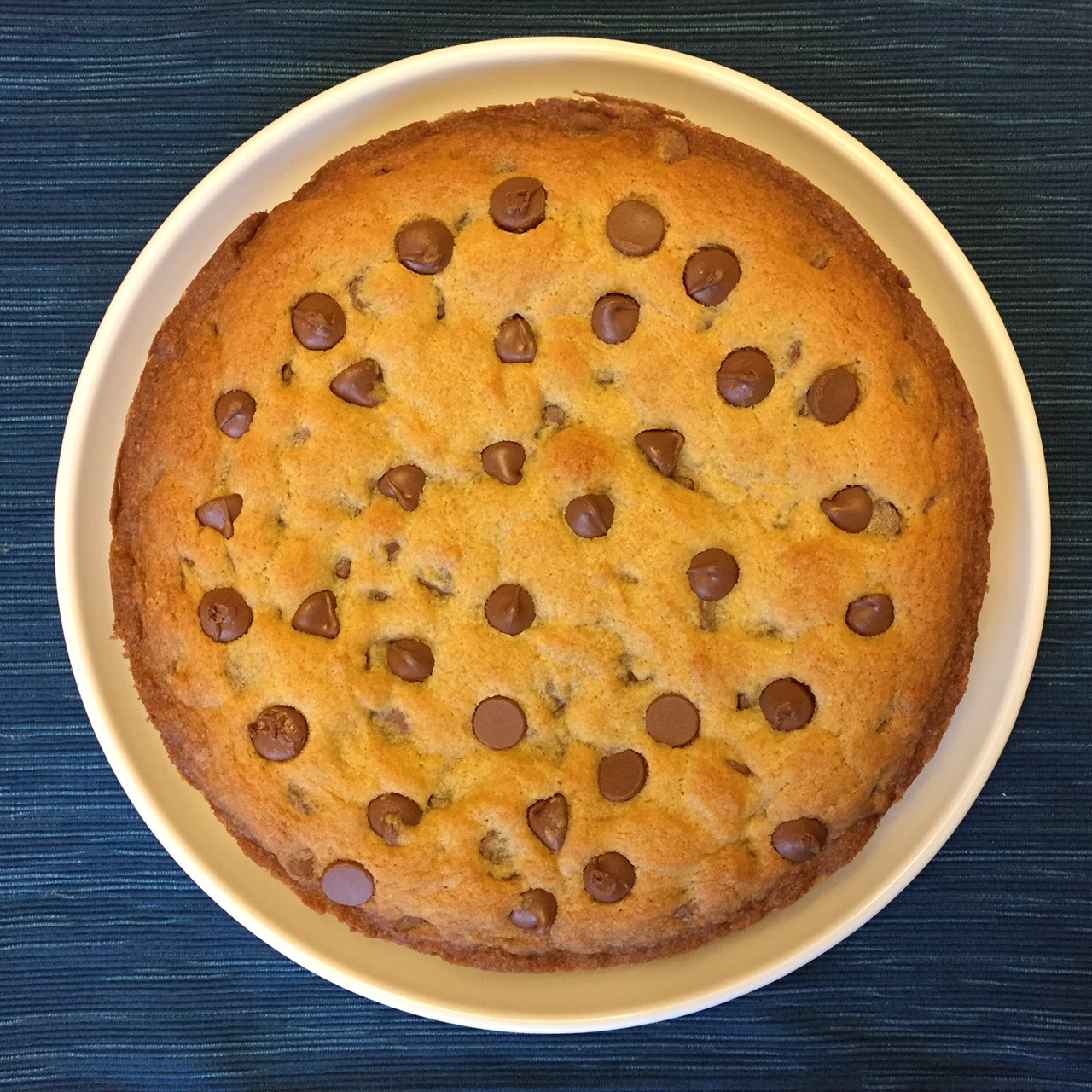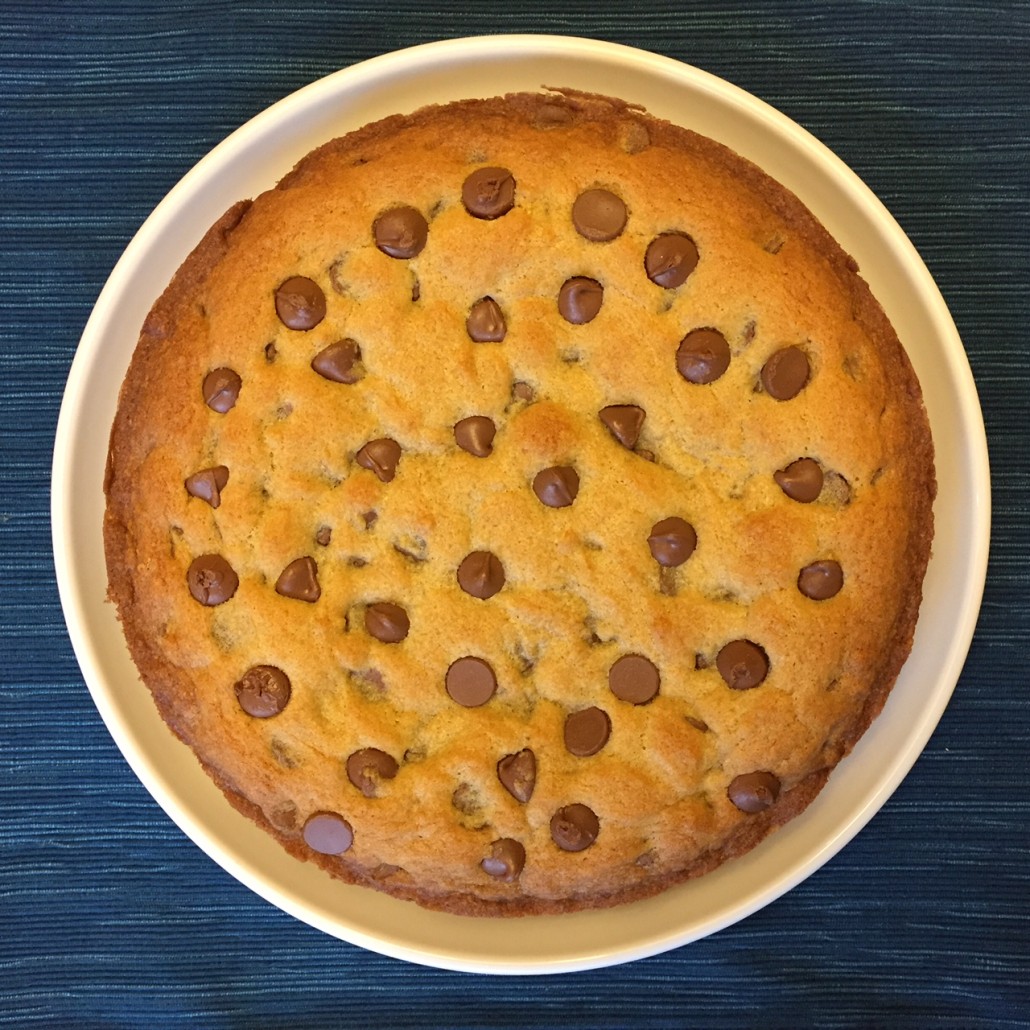 And see all those cute chocolate chips on top? I have a secret of keeping them from sinking into the cookie dough. If you simply mix the chocolate chips into the dough, they'll be hiding inside – which won't affect the taste, but won't make as good of a presentation. What I do is this – I mix most chocolate chips into the dough, but save a handful of them, and sprinkle this last handful of chocolate chips on top after I put the dough into the baking dish. Voila – those chocolate chips stay put on the top!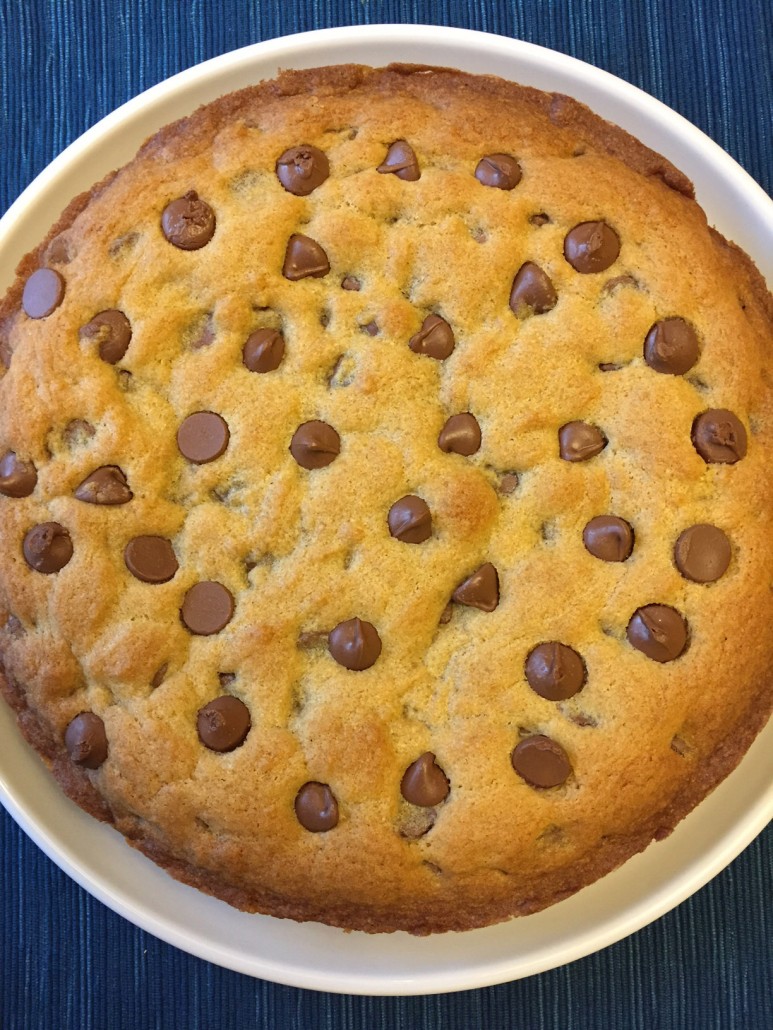 Click Here To Pin This Recipe
Best Easy Chocolate Chip Cookie Cake Recipe
This delicious chocolate chip cookie cake is always a hit! Soft, chewy, mouthwatering cookie that is in cake form - amazing! Perfect texture with chocolate chips throughout - there won't be a crumb left!
Instructions
Preheat the oven to 350F.

Spray a non-stick 9-inch round baking dish with a non-stick cooking spray.

In a large bowl, beat the butter and sugar with the mixer for several minutes until creamy.

Add the eggs and vanilla, and beat with a mixer for another minute.

In another bowl, combine the flour, baking soda and salt.

Add the flour mixture to the wet ingredients, and mix with the mixer on low speed until combined. (The dough will be thick and sticky, and if it gets stuck in your mixer blade just unplug the mixer and take out the dough from the mixing blade with a spoon.)

Add 1 1/2 cup of chocolate chips and mix for 10 seconds or until evenly combined.

Put the dough into the baking dish and spread it in an even layer, smoothing the top of the dough with a back of a spoon.

Sprinkle the remaining 1/4 cup of chocolate chips over the top of the cookie cake.

Put the cookie cake in the oven on the middle rack and bake for 25 minutes.
Save This Recipe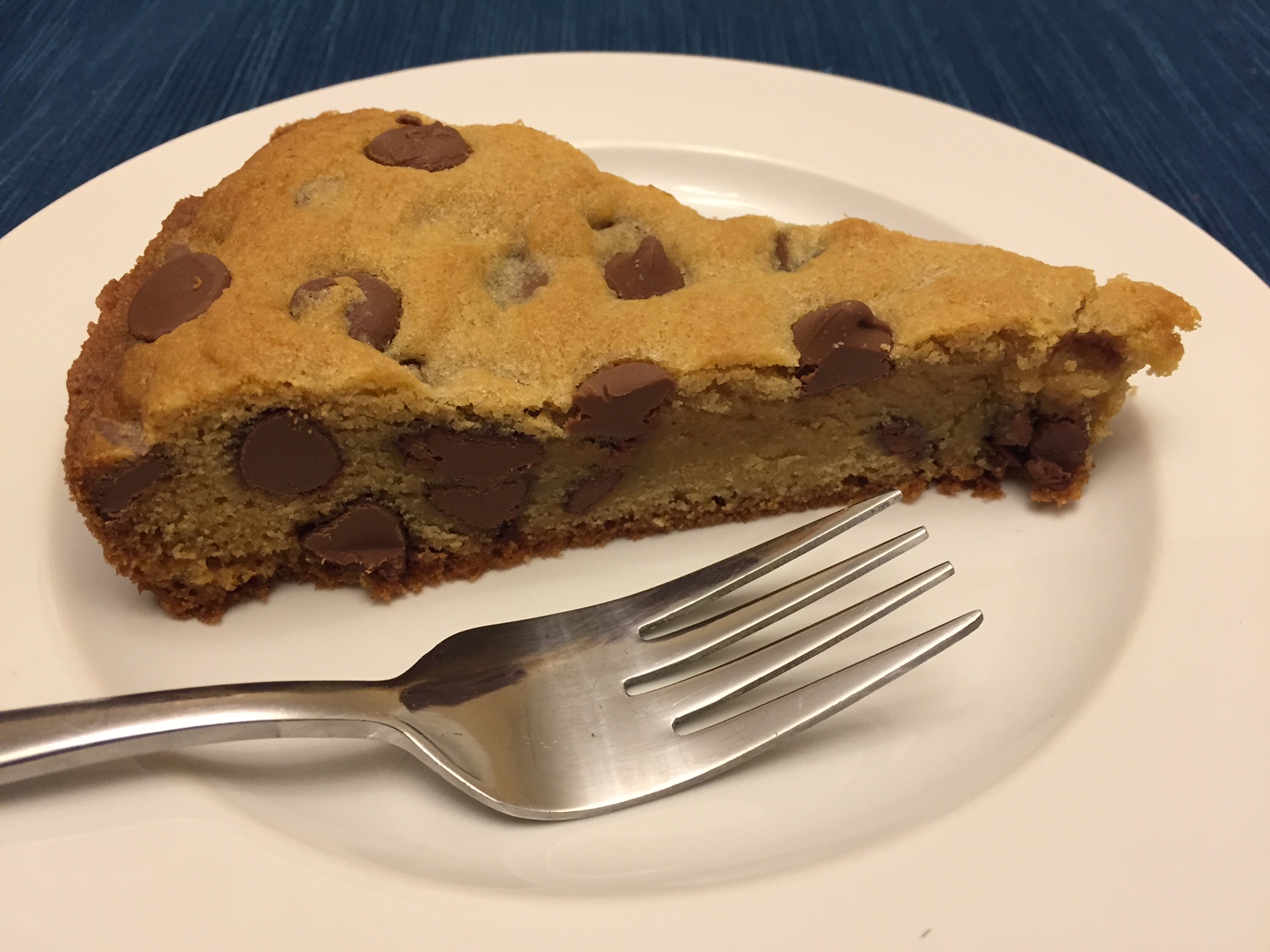 Save this for later on your social media:
Get Melanie's FREE Recipes In Your Inbox!
https://www.melaniecooks.com/wp-content/uploads/2015/12/cookie_cake_recipe7.jpg
1632
1224
Melanie Mendelson
https://www.melaniecooks.com/wp-content/uploads/2015/11/logo-new2.png
Melanie Mendelson
2016-01-21 00:05:18
2021-12-08 09:13:17
How To Make Chocolate Chip Cookie Cake – Best Recipe Ever!