This post may contain affiliate links (disclosure).
I just know that you are going to love this air fryer bread pudding recipe. Made with just 5 ingredients, this chocolate bread pudding is ready to serve in less than half an hour. The top is so wonderfully crispy and the middle is perfectly moist and soft.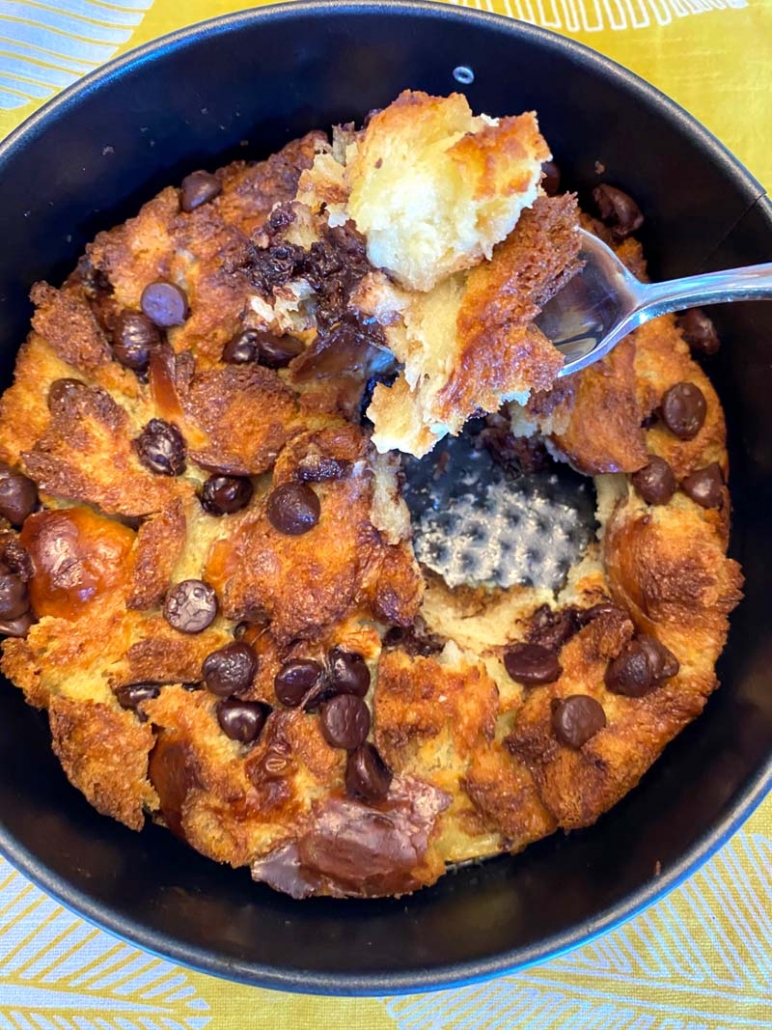 Bread pudding is one of my favorite comfort desserts. I love how easy it is to make and with simple ingredients you probably have to hand.
Cooking it in an air fryer results in the best bread pudding ever! It doesn't dry out and the topping is so wonderfully crispy, just look at those golden brown colors!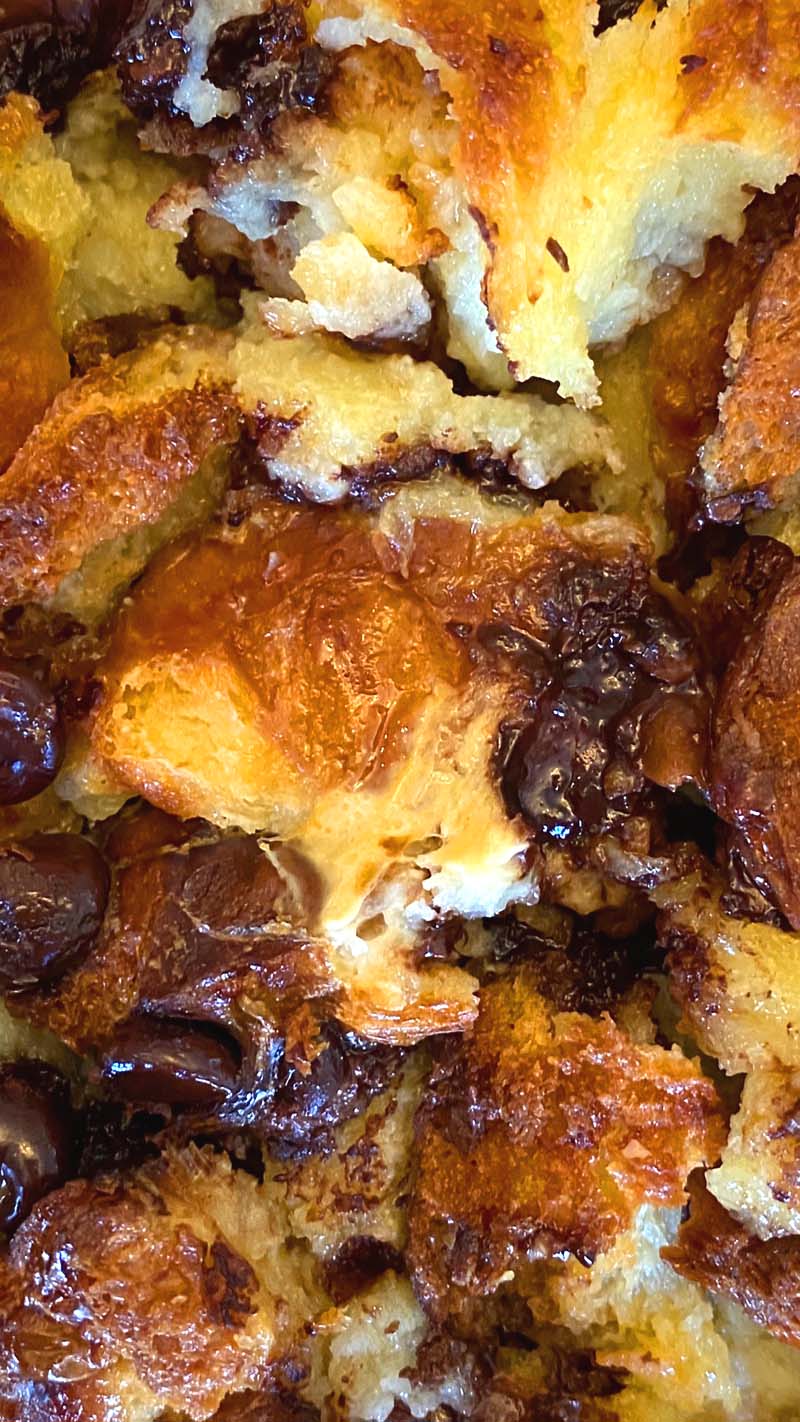 It's such a great way to use up older bread, and I love to add some chocolate chips to it. You can make it ahead of time too and enjoy it over several days.
If you don't have an air fryer, be sure to check out my Instant Pot Bread Pudding Recipe and leftover bread casserole in the oven. To buy an air fryer, click here for the model I recommend.
Ingredients to Make Bread Pudding
This classic dessert is made with just a few simple ingredients.
How To Make Air Fryer Bread Pudding
It's so quick and easy to make this bread pudding, no more than 10 minutes prep and it's ready to serve in half an hour.
Spay the inside of a 7″ baking dish with a non-stick cooking spray and place in the bread cubes and chocolate chips. Pour over the liquid mixture. Let stand for 5 minutes before cooking in the pre-heated air fryer.
Easy peasy! The results are so fantastic it's so worth a few minutes of prep!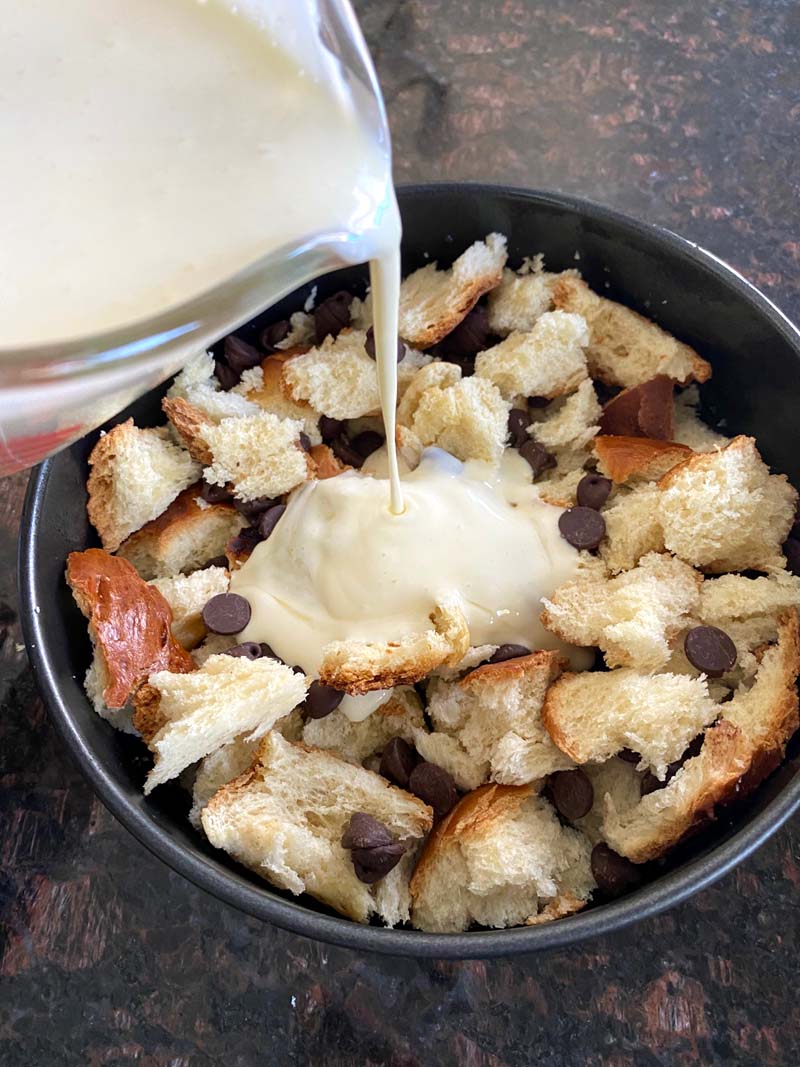 Can you make bread pudding ahead of time?
You can make this pudding up to a day ahead of cooking it. Make the dish up to the point of air frying it, cover it with plastic wrap and place in the fridge. When you are ready to cook it, let it come to room temperature before air frying.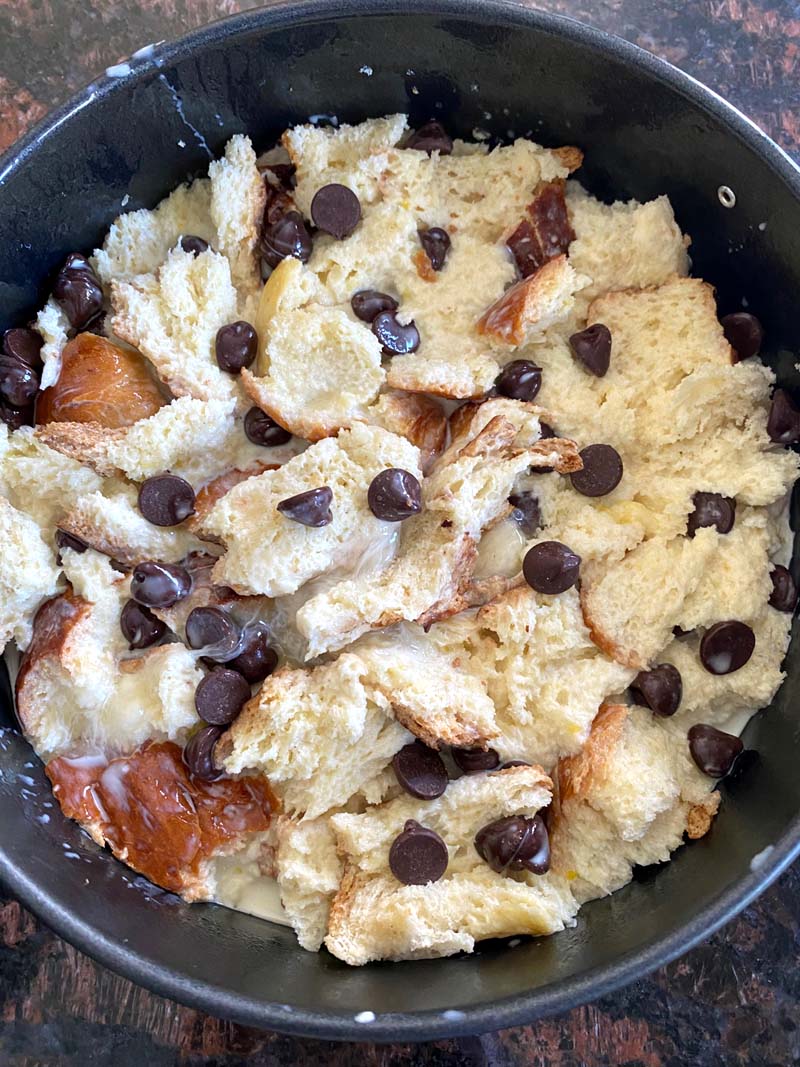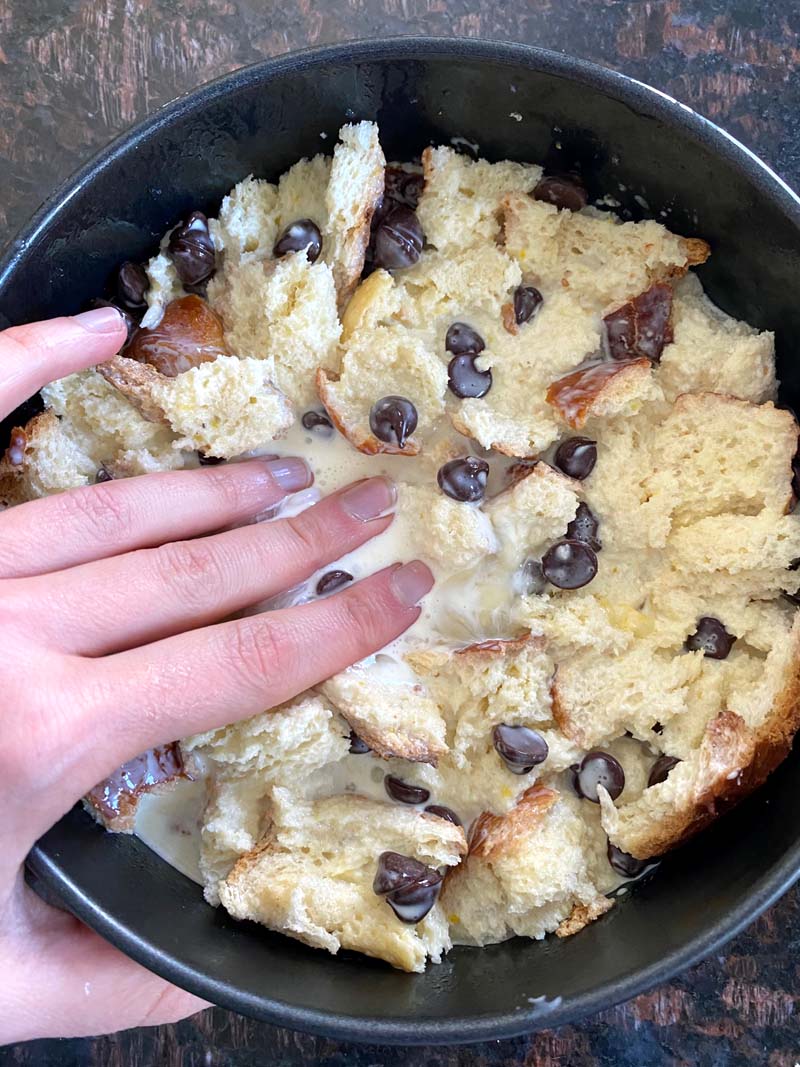 How long does bread pudding last?
This pudding makes enough for six servings and the leftovers keep well so you can enjoy it later in the week. It will keep well in the fridge for 3 to 4 days in an airtight container. You can then either reheat it in the air fryer for a few minutes or in the oven until heated through.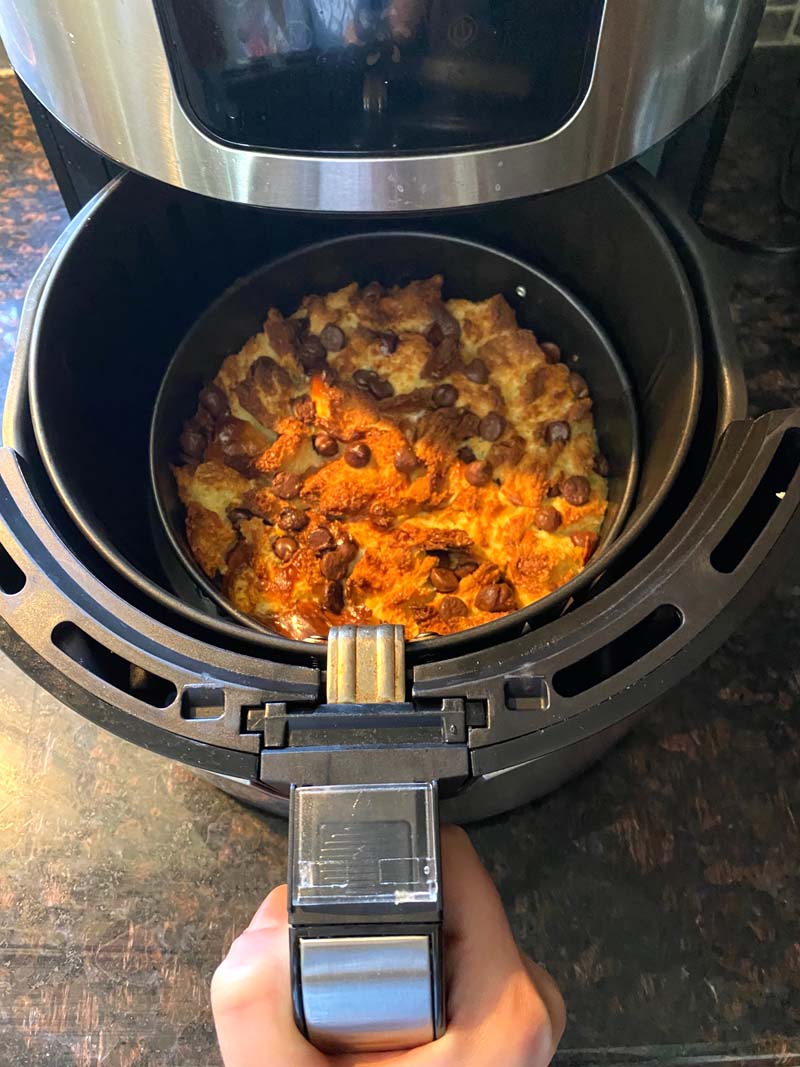 What's the best bread to use?
It's best to use day old bread for this recipe. It will have dried out and will soak up that custard mixture making it wonderfully moist. It's such a great way to use up bread you have. If you are planning ahead, you can slice it in to cubes and leave it out overnight to dry out.
Do you eat bread pudding hot or cold?
I much prefer the texture of warm bread pudding, but you absolutley can eat it cold if you prefer.
What do you serve with air fryer bread pudding?
You of course can enjoy this bread pudding just as it is, but I do like to add something a little extra for a real treat. A drizzle of cream, custard or vanilla sauce all work well.
What else can you add to bread pudding?
As you can see, I like to add chocolate chips to my pudding but there are lots of variations you can easily make. Dried fruit like sultanas and raisins work really well as do dollops of jam. Feel free to sprinkle over some brown sugar or a spice like cinnamon or nutmeg.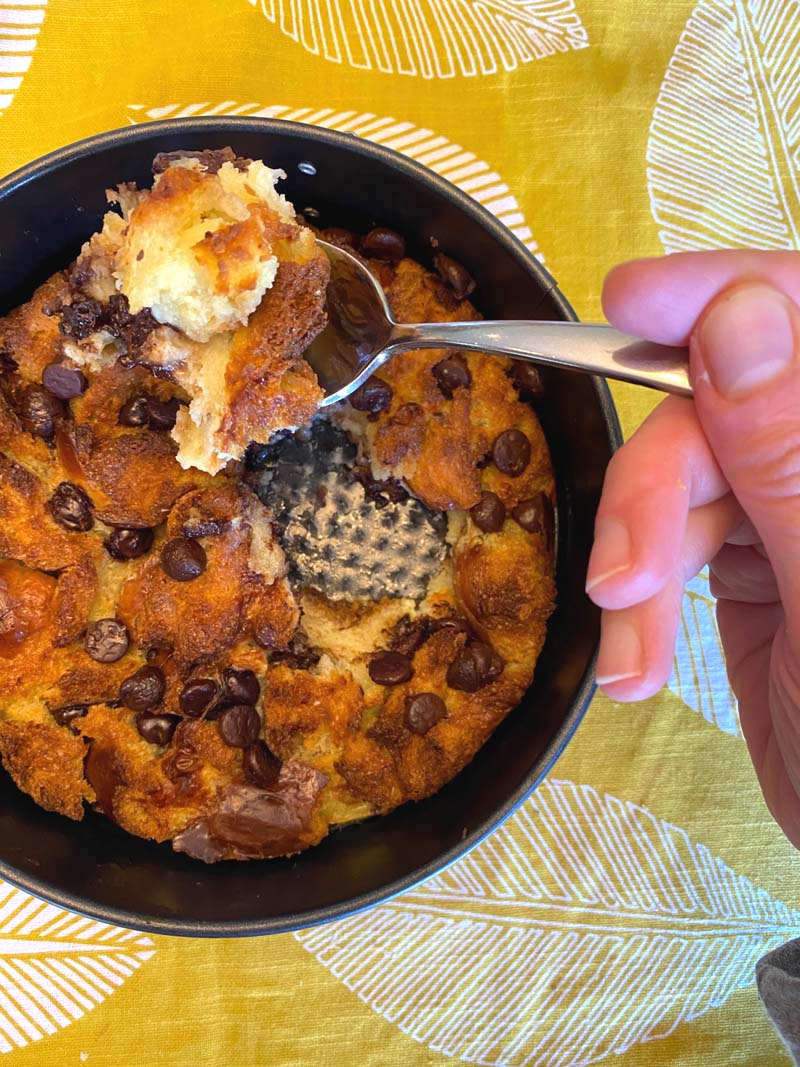 How do you make bread pudding in the oven?
If you don't have an air fryer, you can also cook the pudding in the oven, it will just take a little while longer. Make the recipe as per the instructions and then bake in a preheated oven at 375F for about 50 minutes. Cover the top with foil after about 30 minutes so that it doesn't brown too quickly.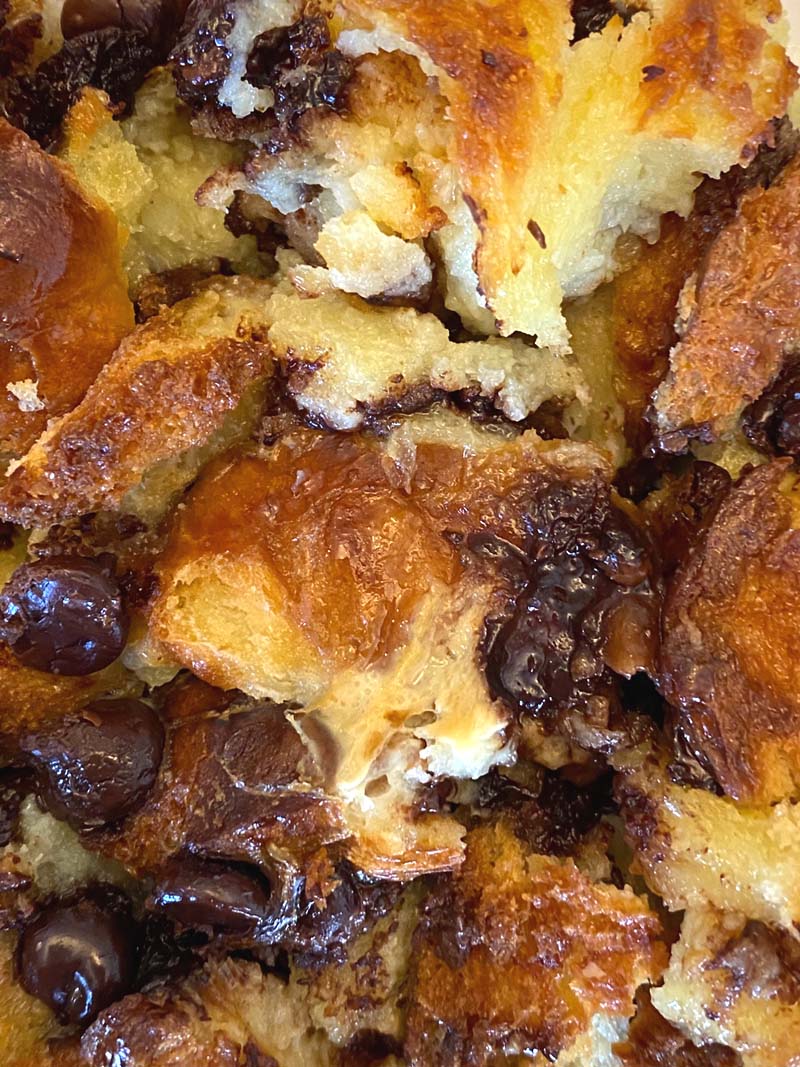 Why is my bread pudding watery?
If your pudding has a lot of liquid after cooking, this is because the bread hasn't soaked it up. To avoid this:
Make sure your bread is stale.
Be sure to let the pudding rest for at least 5 minutes before cooking it in the air fryer.
You can also warm up the milk a little in the microwave, this will help it to absorb easier.
More Air Fryer Recipes
Click Here To Pin This Recipe
Air Fryer Bread Pudding
This air fryer bread pudding is amazing! Golden and puffy on the outside, creamy and tender on the inside, what a perfect way to use up leftover bread!
Recommended Kitchen Tools (click the links below to see the items used to make this recipe)
Instructions
Spray the inside of a baking dish that fits inside the air fryer with cooking spray.

Put bread cubes into a baking dish. If using chocolate chips, sprinkle them over the bread.

In another bowl, mix the egg, whipped cream, vanilla and sugar.

Pour the egg mixture over the bread cubes and let stand for 5 minutes.

Put the baking dish inside the air fryer basket. Cook in the air fryer at 350F for 15 minutes, or until the bread pudding is cooked through.
Nutrition
Calories:
375
kcal
|
Carbohydrates:
53
g
|
Protein:
9
g
|
Fat:
14
g
|
Saturated Fat:
8
g
|
Cholesterol:
37
mg
|
Sodium:
425
mg
|
Potassium:
163
mg
|
Fiber:
4
g
|
Sugar:
18
g
|
Vitamin A:
406
IU
|
Vitamin C:
1
mg
|
Calcium:
135
mg
|
Iron:
3
mg
Save This Recipe
See also:
Save this for later on your social media:
Get Melanie's FREE Recipes In Your Inbox!
https://www.melaniecooks.com/wp-content/uploads/2020/04/chocolatechip_breadpudding_airfryer.jpg
1067
800
Melanie Mendelson
https://www.melaniecooks.com/wp-content/uploads/2015/11/logo-new2.png
Melanie Mendelson
2020-07-19 07:15:21
2021-06-08 21:58:30
Air Fryer Bread Pudding