Spicy Curried Whole Roasted Cauliflower Recipe
This post may contain affiliate links (disclosure).
A whole head of cauliflower makes an impressive-looking roast! This spicy curried whole roasted cauliflower is bursting with flavor in each bite!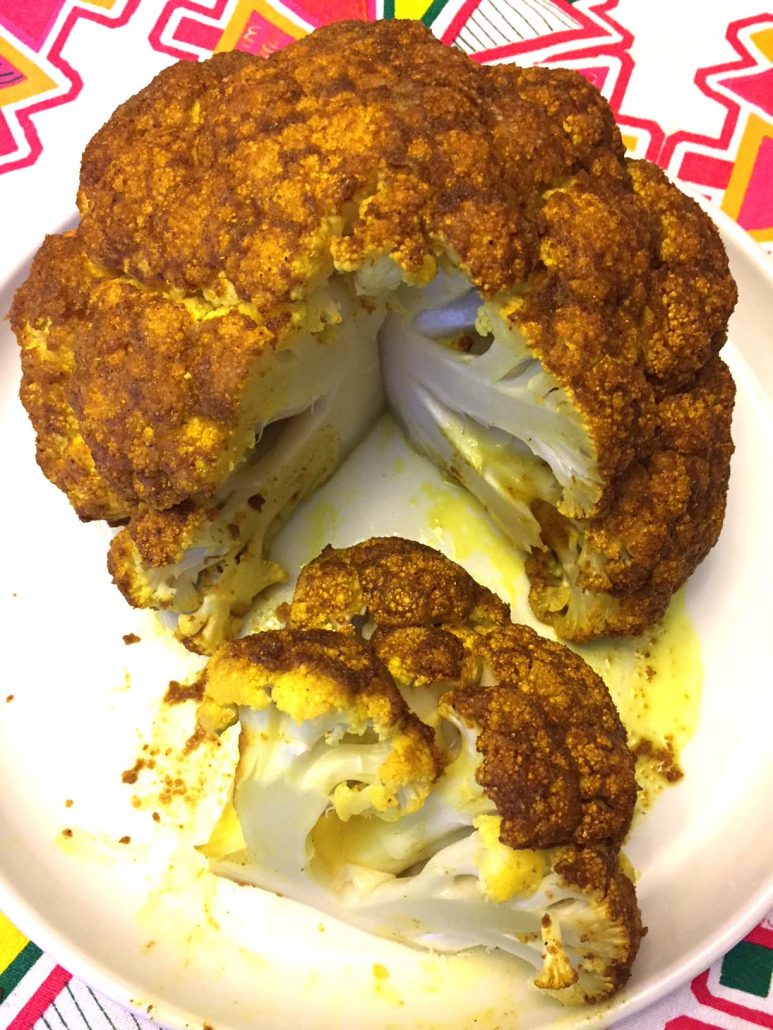 Who says cauliflower should be bland? This curried roasted cauliflower is just the opposite! The curried flavor is so deep and intense, you'll be totally satisfied with your fix of spicy!
Once you taste the first curried cauliflower bite, you'll be reaching for another and another and another. This spicy curry stuff is seriously addictive!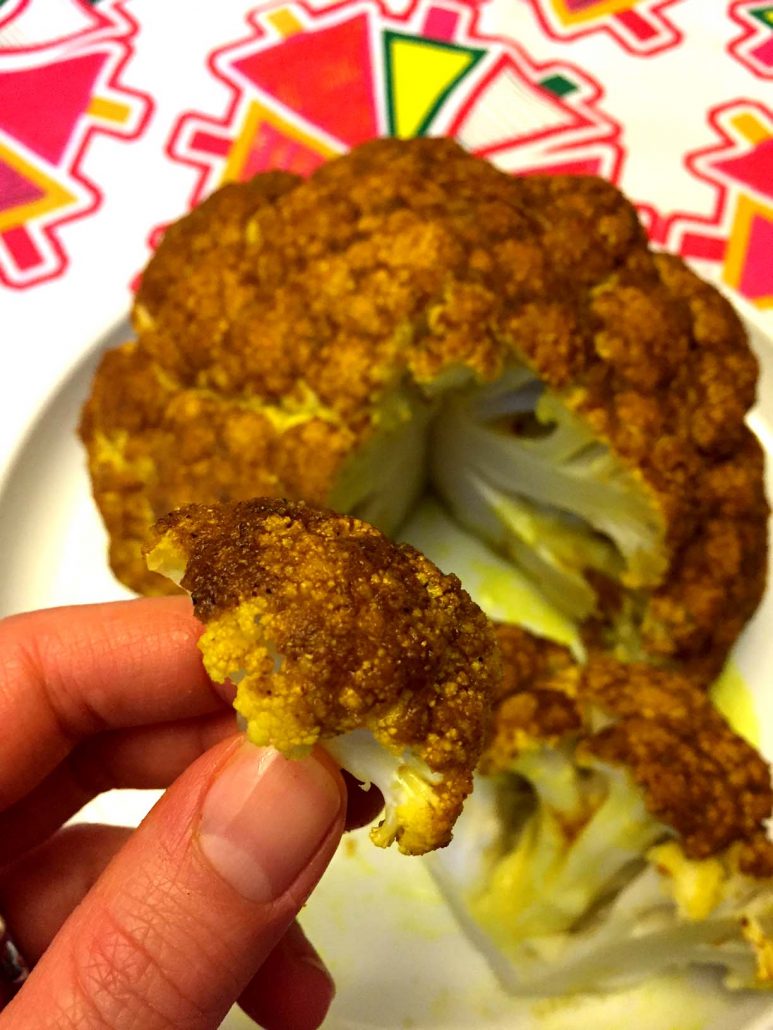 If you've never tried roasting cauliflower whole, you are in for a treat! Just stick the whole head of cauliflower in the oven and it will roast perfectly!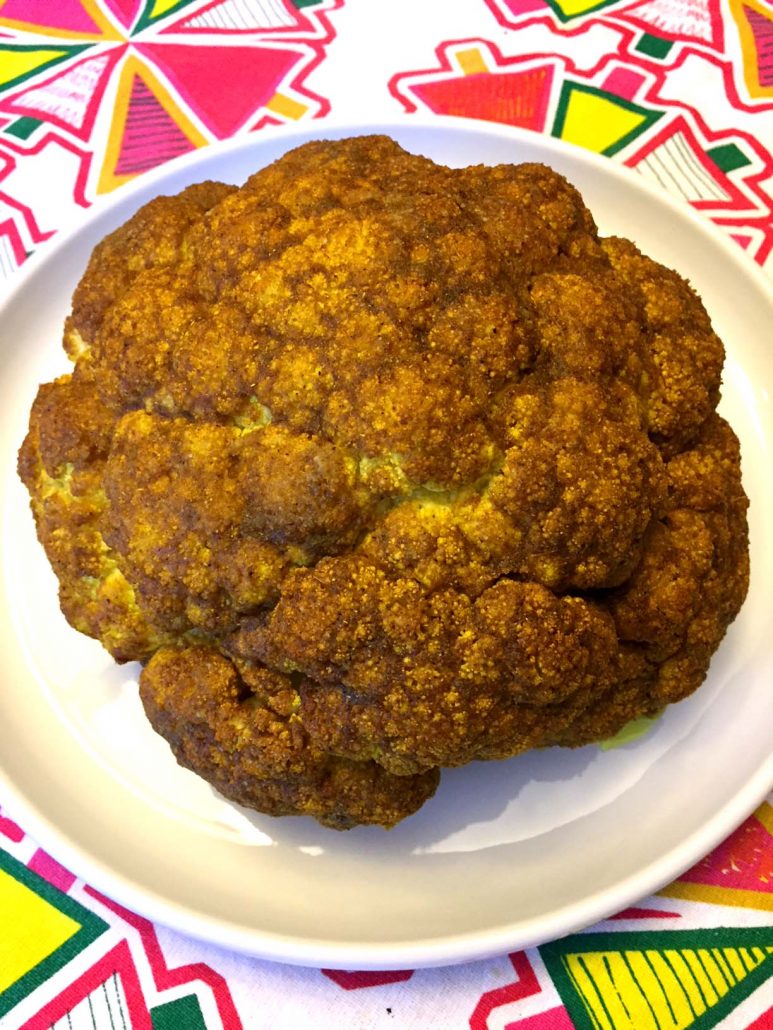 When I make regular roasted cauliflower, I break it up into florets. I've been doing it that way for years and didn't even think of roasting cauliflower whole until recently :) Baking cauliflower whole saves you a lot of work, since you don't have to separate and cut the florets – that's a great news for lazy cooks!
Whole roasted cauliflower looks so impressive! It's like a big meat roast, but vegan :) Whole roasted cauliflower would make an amazing centerpiece dish at a vegan holiday table!
Before the whole cauliflower is put in the oven to bake, it is rubbed with olive oil mixed with a curry spice mix. This homemade mixture colors the cauliflower such beautiful golden brown color!
I also love how this curried whole cauliflower looks when it's carved. It's golden-brown on the outside and white on the inside, so the slices are so beautiful!
How To Make Whole Roasted Cauliflower
Making this whole baked cauliflower is really easy. First, prepare the spicy coating – mix the curry powder, garlic powder, red pepper, salt and olive oil. If you want it less spicy, just leave out the red pepper – curry powder is spicy in itself, and red pepper makes it even spicier :)
Next, rub the spicy mix all over the whole head of cauliflower.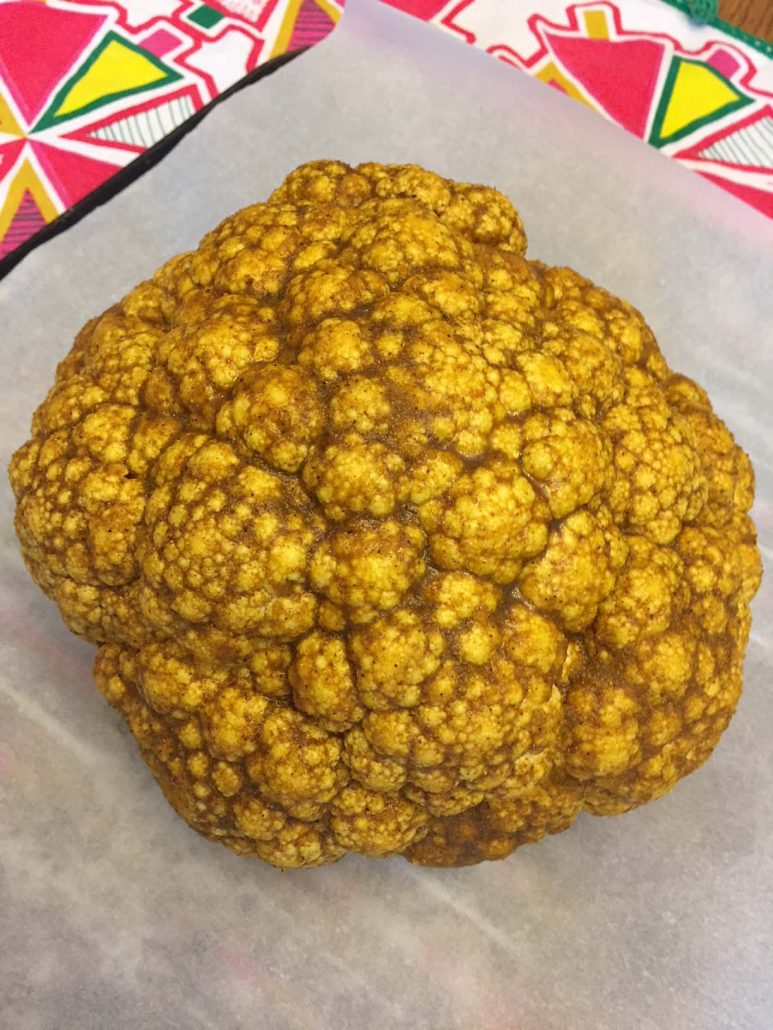 Put the whole cauliflower in the oven and bake at 375F for 40 minutes. Remove from oven, carve and serve!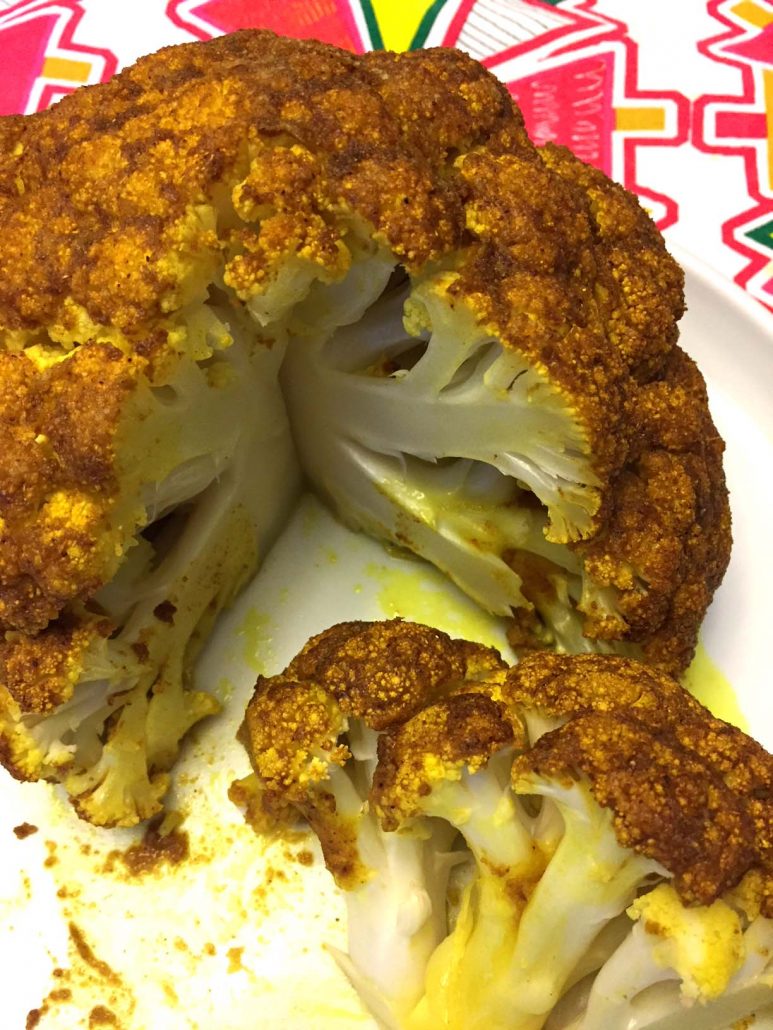 If you like this spicy curried whole roasted cauliflower, you will also love these easy healthy recipes:
Rainbow Roasted Vegetables – different color veggies arranged on the baking sheet in a rainbow manner and roasted to perfection! Perfect party dish!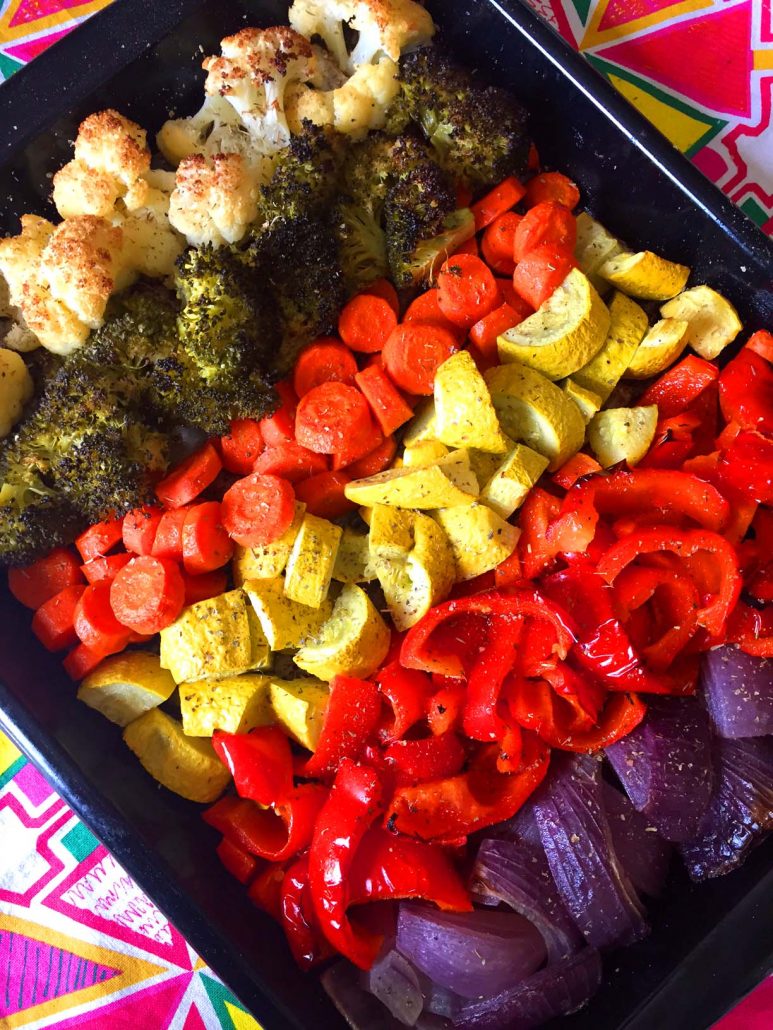 Roasted Parmesan Cauliflower – Parmesan cheese and cauliflower go so well together, mouthwatering!
Spicy Garlic Roasted Eggplant – these roasted eggplant slices are so spicy and addictive! It's my favorite way of eating eggplant!
Cranberry Roasted Brussels Sprouts – so colorful, vibrant and delicious! Tastiest way of eating brussels sprouts!
Parmesan Garlic Broccoli – broccoli is roasted in the oven in Parmesan, garlic and olive oil mixture, and sprinkled with roasted almonds!
Click Here To Pin This Recipe
Curried Whole Roasted Cauliflower
This curried whole roasted cauliflower looks gorgeous and tastes amazing! So easy to make and so full of flavor, you can eat the whole cauliflower yourself in one sitting!
Instructions
Preheat the oven to 375 F. Line a baking sheet with foil or parchment paper.

Remove the leaves from the bottom of the cauliflower and trim the base. Wash the cauliflower, then dry it with a paper towel.

Put olive oil, curry powder, garlic powder, red pepper and salt in a cup and mix until combined.

Put the whole cauliflower on a baking sheet.

Brush the curry mixture all over the cauliflower using the pastry brush.

Put the cauliflower in the oven and bake for 40 minutes.
Save This Recipe
Save this for later on your social media:
Get Melanie's FREE Recipes In Your Inbox!
https://www.melaniecooks.com/wp-content/uploads/2018/01/curried_whole_oven_roasted_cauliflower.jpg
1632
1224
Melanie Mendelson
https://www.melaniecooks.com/wp-content/uploads/2015/11/logo-new2.png
Melanie Mendelson
2018-01-29 07:25:24
2021-12-08 07:53:29
Spicy Curried Whole Roasted Cauliflower Recipe