Easy Lentil Spinach Soup – Healthy, Vegan, Gluten-Free & So Filling!
This post may contain affiliate links (disclosure).
This hearty lentil-spinach soup is so filling and full of flavor, you won't believe it's vegan! Comfort food that's healthy – yes please!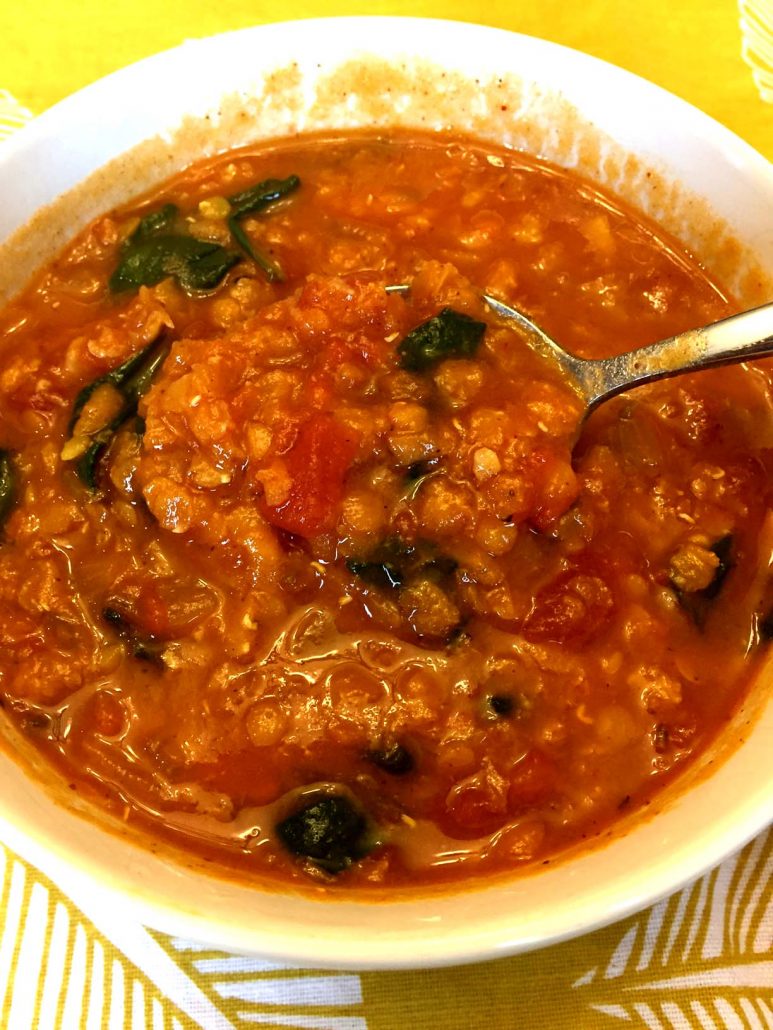 Take a mouthful of this thick lentil spinach soup and be comforted. The flavor explosion that is so rich, yet so smooth – amazing! Soft warm lentils simmered with onion, carrots, tomatoes and spinach, flavored with cumin, chili powder, garlic, pepper and fresh lemon juice – deliciousness!
This lentil spinach soup tastes so hearty and filling, it's hard to believe it has no meat and no animal products. The plant protein in lentils rivals the meat in its heartiness! All meat eaters love this vegan lentil soup! Vegan recipe that's filling and universally liked – that's a true winner!
What I especially love about this spinach lentil soup is the fact that it's a complete entree. This is not a little side soup – it's a true main dish soup that will make you stuffed! A large bowl of this hearty lentil soup is enough to feed the hungriest person!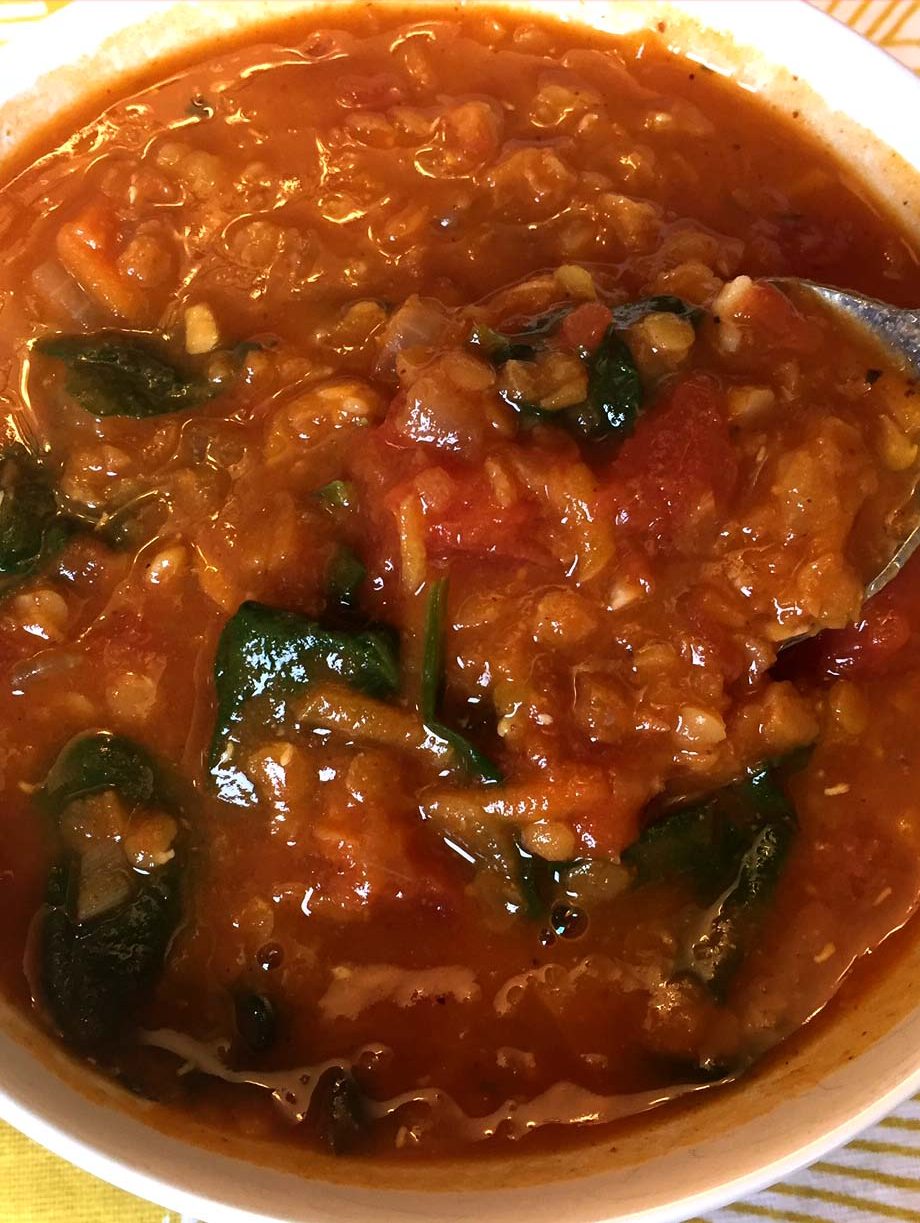 Another awesome thing about this amazing soup is you only need to wash one pot :) Everything is cooked in one pot – and the less work for you the better! Lentil spinach soup is super-easy to make – just cook onions and carrots in olive oil in a pot, then add garlic and spices, then add lentils, tomatoes and water, simmer for 30 minutes and add spinach at the end. Easy and yummy!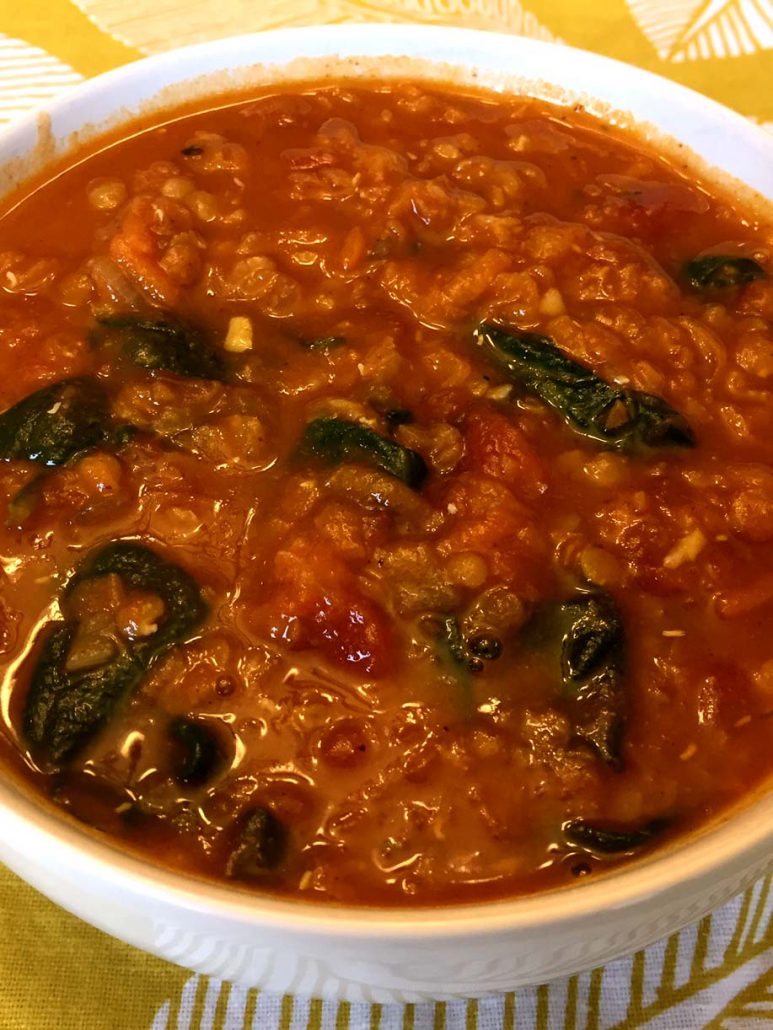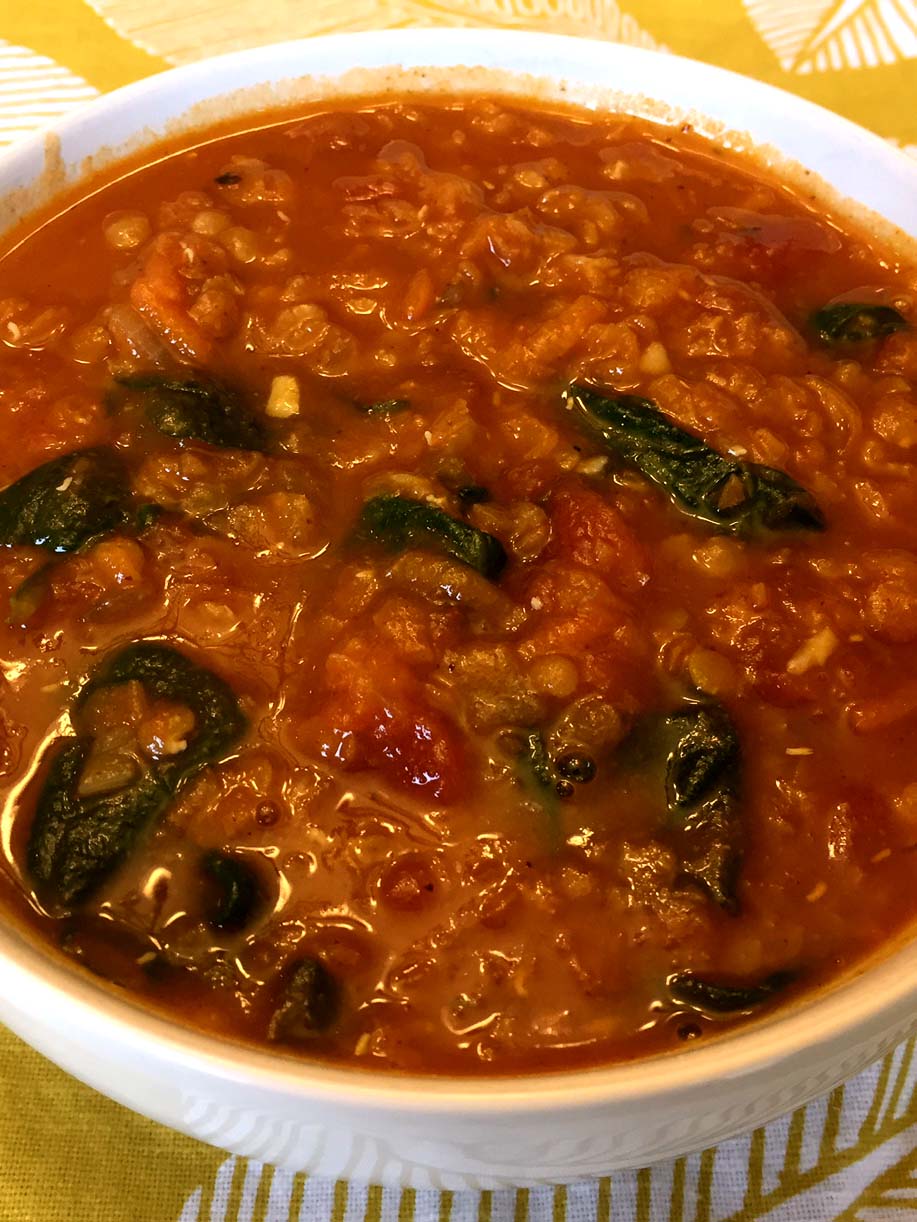 As I'm sure you noticed, this recipe is super healthy too. Lentil spinach soup is like a powerhouse of nutrition! Lentils and veggies are so good for you, and this soup with its wholesome natural ingredients will fit into any diet. It's gluten-free too!
Lentil spinach soup reheats extremely well, and freezes well too. You can pour it in mason jars and turn it into a mason jar lentil soup!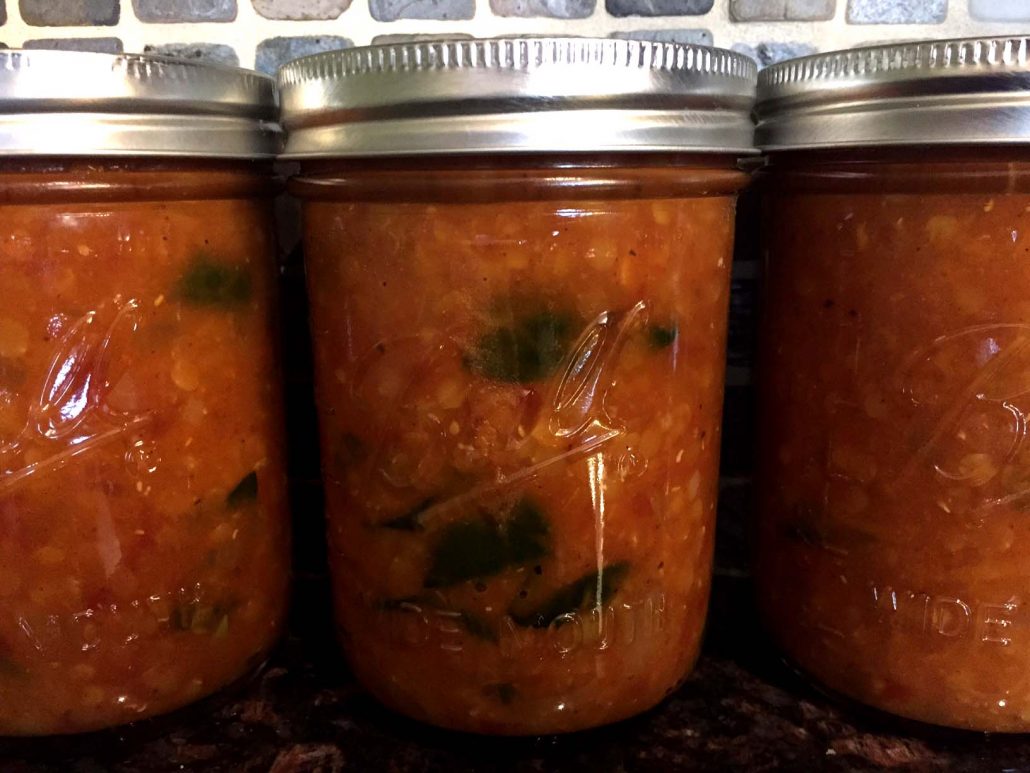 You can then eat this soup for lunch for the next few days – just heat the mason jar in a microwave. Or you can put the mason jar in a freezer (just make sure the jar is only three quarters full as the soup will expand when frozen) – this way you'll always have a meal on hand! If you froze the spinach lentil soup, you can defrost it in refrigerator overnight or on Defrost setting in a microwave. Enjoy!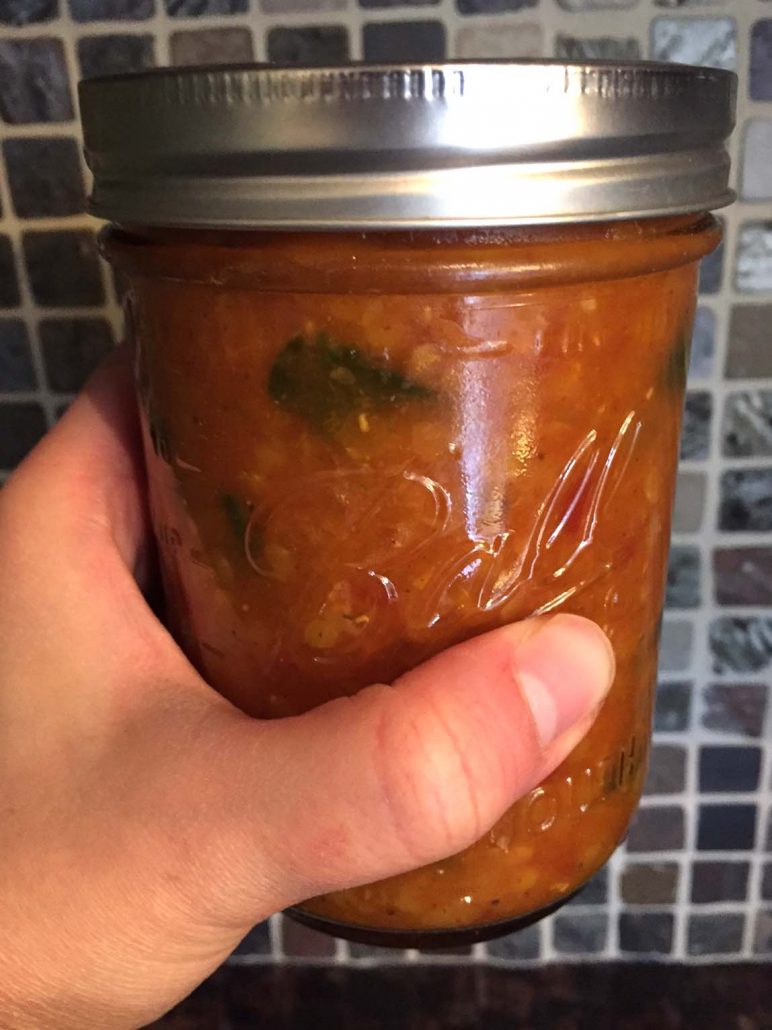 Click Here To Pin This Recipe
Best Ever Lentil Spinach Soup
This lentil spinach soup is so filling, warm and comforting! Full of flavor and so hearty - hard to believe it's vegan! Super healthy too and gluten-free - it's so good for you and absolutely delicious!
Instructions
Heat the oil in a large pot over medium-high heat. Add the onions and carrots and cook, stirring occasionally, for 5 minutes.

Add garlic, cumin, chili powder and oregano, and cook, stirring, for 30 seconds.

Add chopped tomatoes and their juice, stir, and cook for 2 minutes.

Add lentils, water, salt and pepper. Increase the heat to High and bring to boil. Loosely cover the pot and reduce heat to Simmer. Cook for 30 minutes.

Add spinach and cook for 2 minutes, or until spinach is wilted.

Squeeze the lemon juice into the soup and stir. Add more salt and pepper to taste if needed.
Save This Recipe
Save this for later on your social media:
Get Melanie's FREE Recipes In Your Inbox!
https://www.melaniecooks.com/wp-content/uploads/2017/01/lentil_spinach_soup_recipe.jpg
1632
1224
Melanie Mendelson
https://www.melaniecooks.com/wp-content/uploads/2015/11/logo-new2.png
Melanie Mendelson
2017-01-31 15:52:02
2021-12-08 09:09:12
Easy Lentil Spinach Soup – Healthy, Vegan, Gluten-Free & So Filling!