How To Make Heart Shaped Pizza
This post may contain affiliate links (disclosure).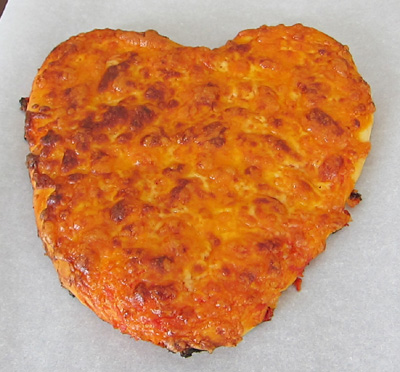 Heart shaped pizza is a fun pizza to make at home, and it's the most popular Valentine's day recipe. You can make heart shaped pizza as part of your Valentines Day's menu, anniversary, your loved one's birthday, or *just because* :)
To make a heart shaped pizza from scratch, you need pizza dough. You can make your own pizza dough at home, or you can buy pizza dough in some grocery stores. Trader's Joe's carries great pizza dough.
I always make pizza dough at home. Making your own pizza dough seems so gourmet and fancy, but in reality it's very easy. The secret to why it's easy is the bread machine. You put the ingredients in, and the bread machine does all the work. When the machine beeps, you take the pizza dough out – it's even easier than trying to find pizza dough at the grocery store :) Check out my bread machine pizza dough recipe.
Once you have pizza dough, you need to roll it in a circle. Sprinkle some flour on the counter. Shape the pizza dough into a ball. Place the dough on the counter. Sprinkle some flour on top of the dough ball, then roll with a rolling pin. You need the flour so the dough doesn't stick to the counter and to your rolling pin. If it sticks, sprinkle some more flour. Keep rolling the dough, pressing down on a rolling pin, until you make a large circle.
After you have a pizza dough circle, shape it into a heart! Just pull on the bottom on the circle to make a little triangle end, like the bottom of a heart shape. Then on top of the circle, make an indentation like the top of the heart shape. Now you have a heart-shaped pizza dough!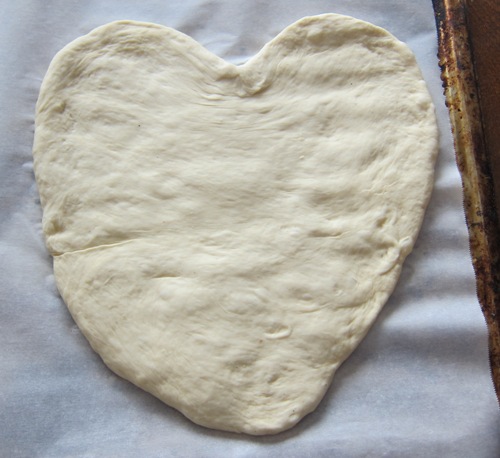 Heart shaped pizza dough, ready for toppings
Add the desired toppings on top of your heart-shaped pizza dough (like tomato sauce, cheese and other goodies) and bake in pre-heated 450F oven for 15 minutes. For more details on how to make pizza, see the recipe how to make cheese pizza at home.
Heart Shaped Pizza Recipe
Ingredients
Pizza Dough
Olive Oil
Tomato Sauce
Shredded Cheese
Instructions How To Make Heart Shaped Pizza
Preheat the oven to 450F.
Line the baking sheet with parchment paper.
Roll the pizza dough into a circle and put on the baking sheet.
Re-shape the dough into a heart.
Brush the dough with olive oil.
Spread the dough with tomato sauce.
Sprinkle the shredded cheese on top of tomato sauce.
Put the heart shaped pizza in the oven and bake for 15 minutes, or until the cheese is melted and golden.
Shortcut To Making A Heart Shaped Pizza

You can also make a heart shaped pizza out of the regular frozen pizza! Just bake the pizza according to package directions, and then cut it into a heart shape with scissors :)
Making a heart shaped pizza will make you look and feel so creative. Heart shaped pizza is a happy and upbeat meal, and tastes great too. Enjoy eating your heart-shaped pizza!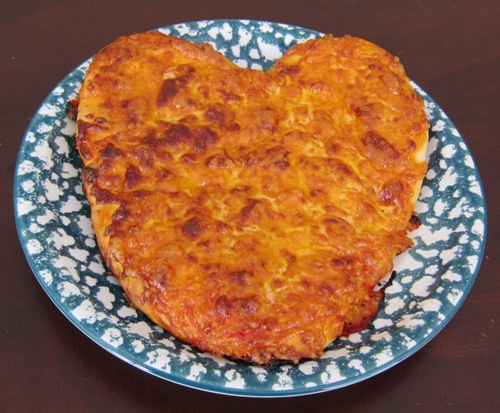 Heart shaped pizza on a plate, ready to be eaten!
Save this for later on your social media:
Get Melanie's FREE Recipes In Your Inbox!
https://www.melaniecooks.com/wp-content/uploads/2011/06/heart-shape-pizza2.jpg
413
500
Melanie Mendelson
https://www.melaniecooks.com/wp-content/uploads/2015/11/logo-new2.png
Melanie Mendelson
2014-02-12 14:26:51
2014-02-12 14:43:33
How To Make Heart Shaped Pizza