Walnut Pie Crust Recipe (Keto, Gluten-Free)
This post may contain affiliate links (disclosure).
This walnut pie crust is the healthiest pie crust you'll ever eat! It's low-carb, keto, paleo, sugar-free and gluten-free! Made with fresh walnuts, it tastes amazing!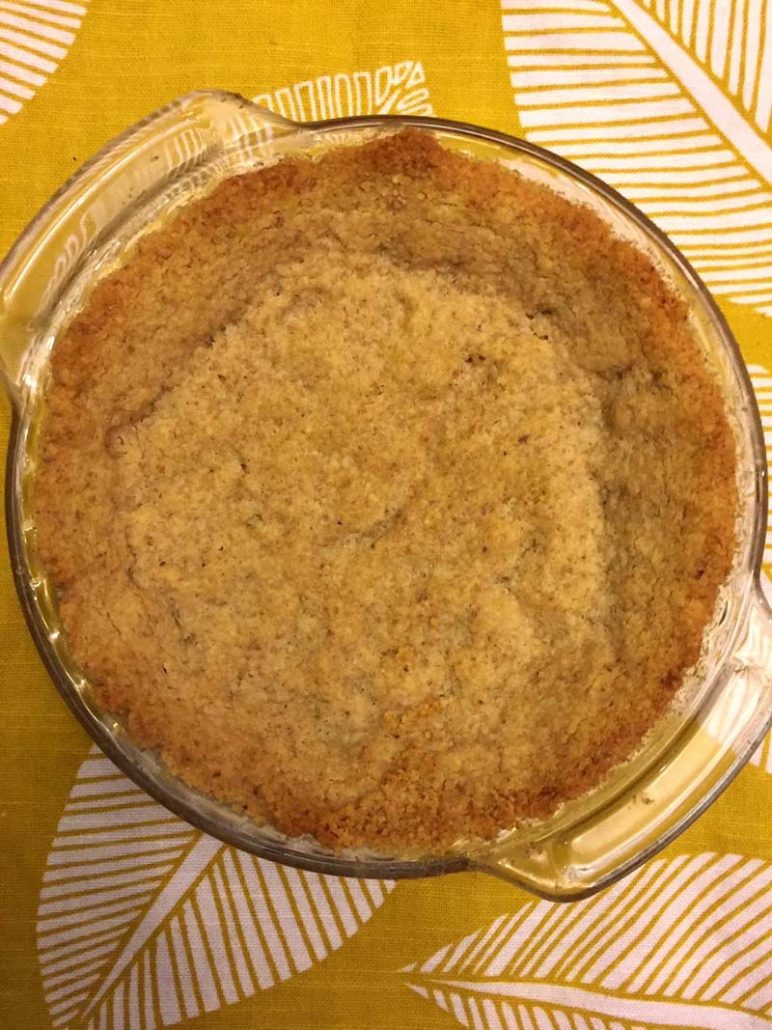 If you are looking for a healthy alternative to graham cracker crust, this walnut pie crust is as good of a substitute as it gets! Best of all, it actually tastes mouthwatering!
Many times the healthy alternative is a sad imitation of the real thing, but in this case I actually prefer it to the real thing :) Being gluten-free and low-carb is just a nice bonus to this delicious crust. The toasted walnut flavor is amazing with cheesecakes and pumpkin pie! The crumbs of this walnut crust are so tender and buttery, they just melt in your mouth. Use this walnut crust in any recipe that calls for graham cracker crust – you are going to love it as much as I do!
Walnuts make a great crust in general and are a perfect alternative to breadcrumbs. Check out my recipe for walnut crusted salmon – totally different from pie crust and so delicious :)
My walnut crust recipe has just 2 ingredients – walnuts and butter! Some other recipes for walnut crust call for adding sugar, but I find it unnecessary – after all, there is plenty of sugar or sweetener in the pie filling and the walnut flavor is delicious on its own. But if you'd like, add sugar or sweetener to taste for a sweet walnut crust. To make this crust vegan, substitute butter with coconut oil.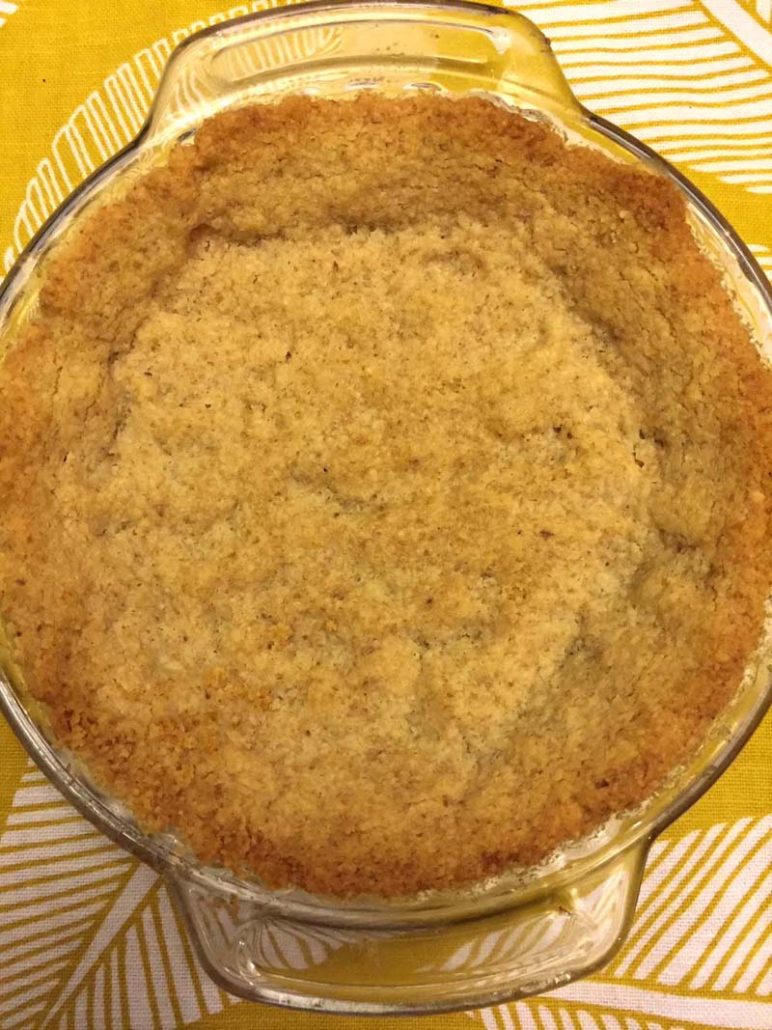 How To Make Walnut Crust
Making walnut pie crust is really easy. All you need to do to put 2 cups of walnuts and 4 tbsp of butter in a food processor and process until smooth (about 1 minute). Then press the walnut mixture into a non-stick 9-inch pie dish to form a crust, and bake in pre-heated 350F for 10 minutes, or until the walnut crust is nicely toasted and golden-brown. Yum!
Here are the step-by-step pictures of making a walnut crust:
Step 1: Walnuts and butter go in a food processor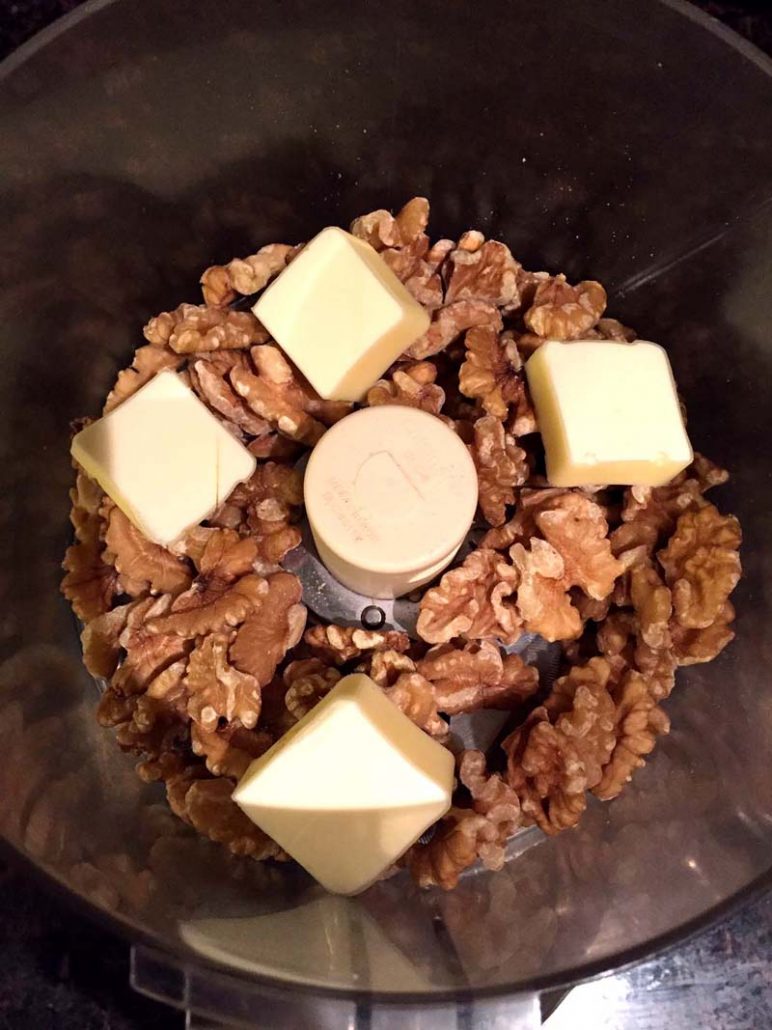 Step 2: Process until smooth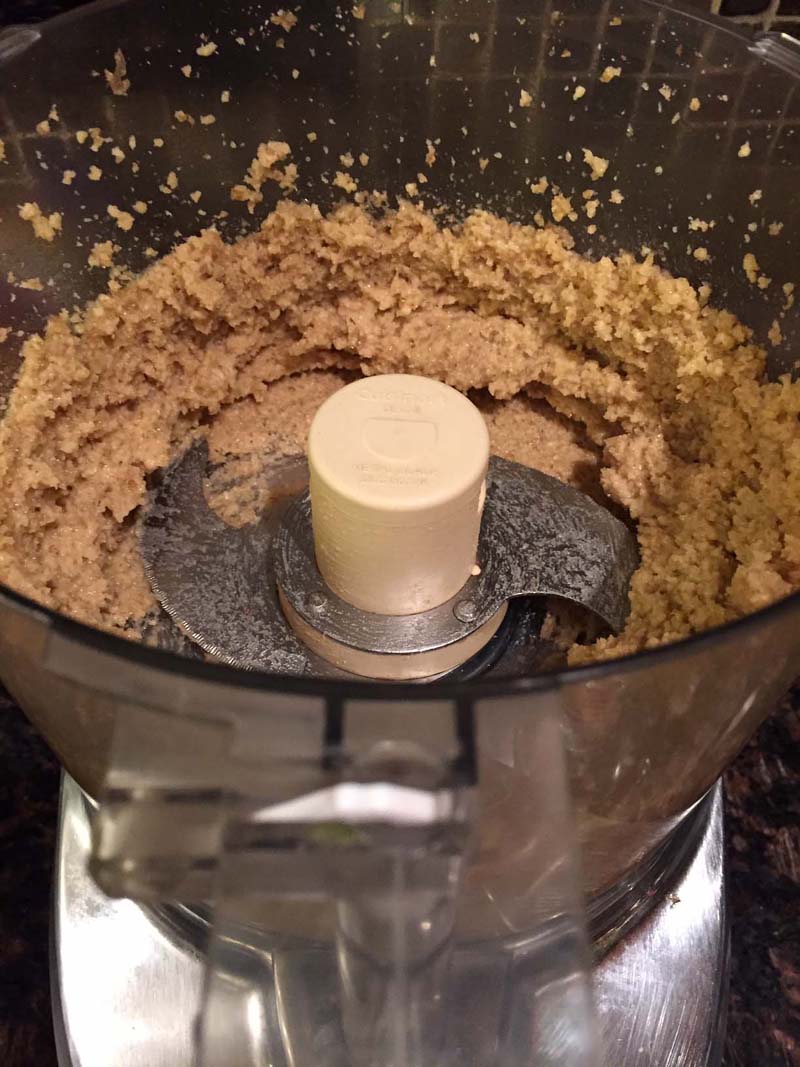 Step 3: Press walnut mixture into a pie dish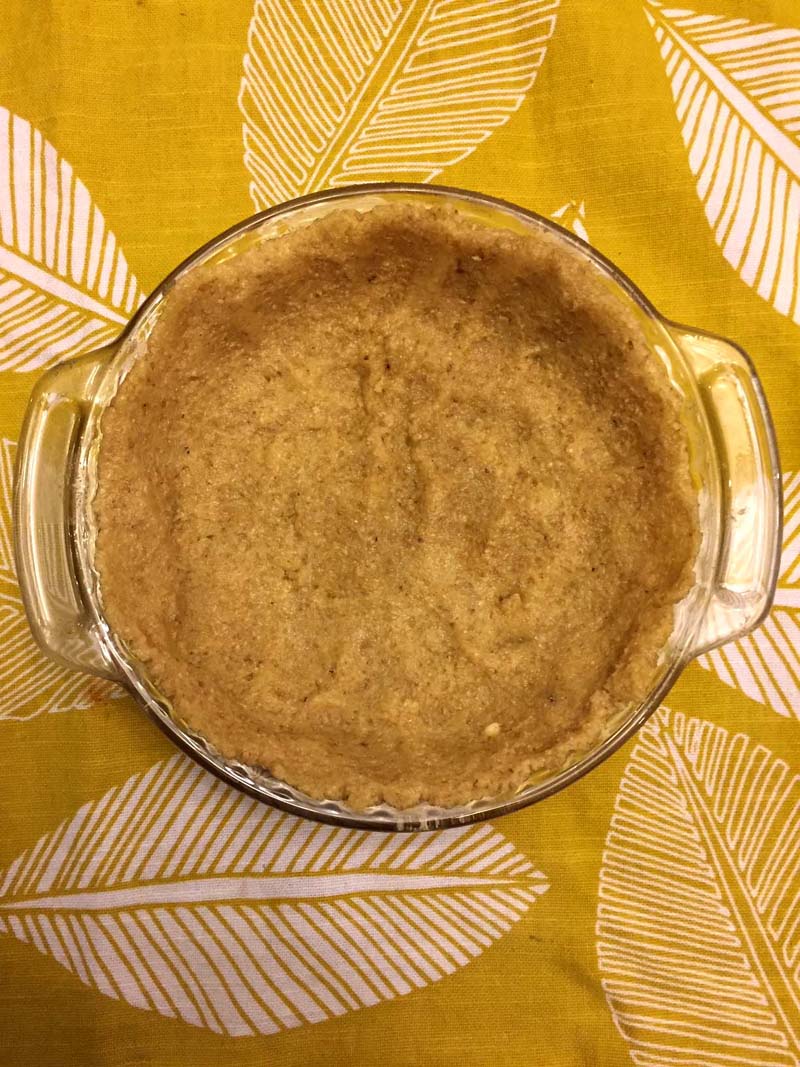 Step 4: Bake at 350F for 10 minutes or until golden-brown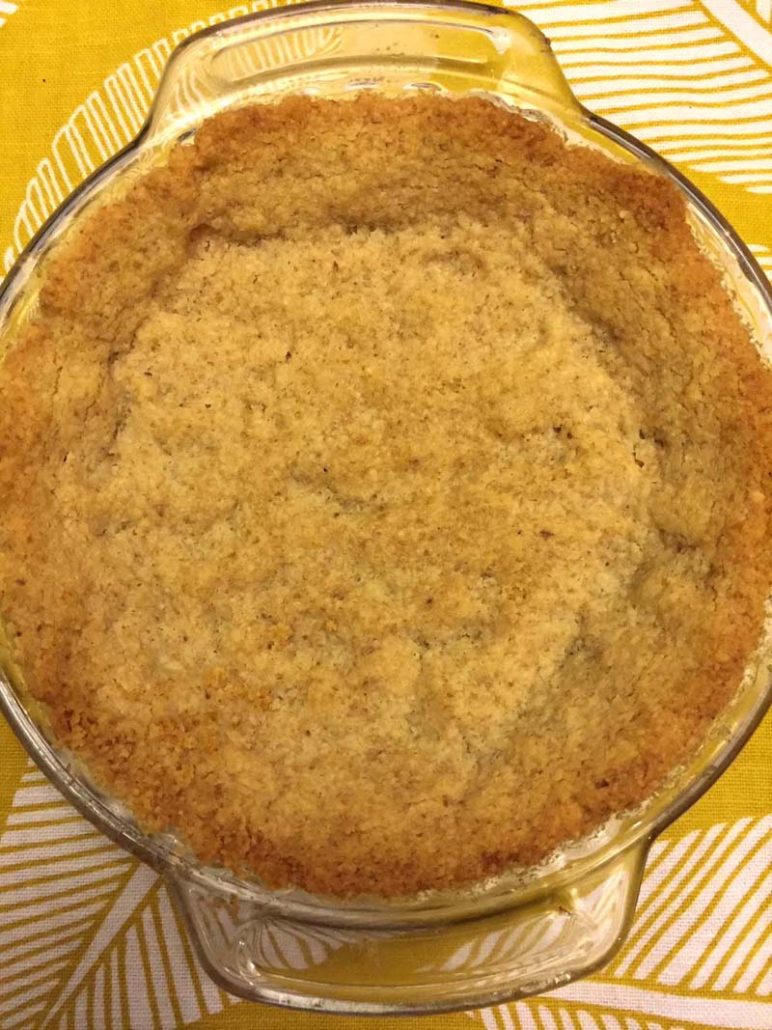 If you like this walnut crust, you will also love these healthy recipes:
Best Ever Keto Bread – I guarantee this is the best low-carb bread you'll ever taste! It tastes like real bread and is a true game changer!
Keto Yogurt Breakfast – tired of eggs for breakfast? This colorful low-carb yogurt bowl will be a welcome change!
Easy Keto Chips – made with just 2 ingredients, one of which is cheese :) If you love cheese, you will love these crunchy low-carb chips!
Bacon Wrapped Asparagus – perfect easy keto appetizer for parties! It looks so fancy and tastes amazing!
Ground Beef And Cabbage Casserole – this is a perfect keto dinner, it's a complete one-dish meal, so easy and yummy!
Click Here To Pin This Recipe
Walnut Pie Crust (Keto, Gluten-Free)
This walnut pie crust is amazing! It's low-carb, keto, paleo, sugar-free and gluten-free and tastes so mouthwatering! I like it even better than regular crust!
Recommended Kitchen Tools (click the links below to see the items used to make this recipe)
Instructions
Preheat the oven to 350F.

Put walnuts and butter in a food processor and process until combined and smooth (about 1 minute).

Put the walnut mixture into a 9-inch non-stick pie dish and press into bottom and sides to form a pie crust.

Put the walnut crust in the oven and bake for 10 minutes, or until golden-brown.
Nutrition
Calories:
241
kcal
|
Carbohydrates:
4
g
|
Protein:
5
g
|
Fat:
25
g
|
Saturated Fat:
5
g
|
Cholesterol:
15
mg
|
Sodium:
51
mg
|
Potassium:
129
mg
|
Fiber:
2
g
|
Sugar:
1
g
|
Vitamin A:
175
IU
|
Vitamin C:
1
mg
|
Calcium:
30
mg
|
Iron:
1
mg
Save This Recipe
Can't get enough? Check out my whole collection of low-carb recipes – I have a lot :)
Save this for later on your social media:
Get Melanie's FREE Recipes In Your Inbox!
https://www.melaniecooks.com/wp-content/uploads/2018/10/walnut_crust_recipe.jpg
1067
800
Melanie Mendelson
https://www.melaniecooks.com/wp-content/uploads/2015/11/logo-new2.png
Melanie Mendelson
2018-10-24 07:20:41
2020-02-15 16:16:33
Walnut Pie Crust Recipe (Keto, Gluten-Free)