Shrimp Stir Fry Recipe With Green Peas And Other Veggies
This post may contain affiliate links (disclosure).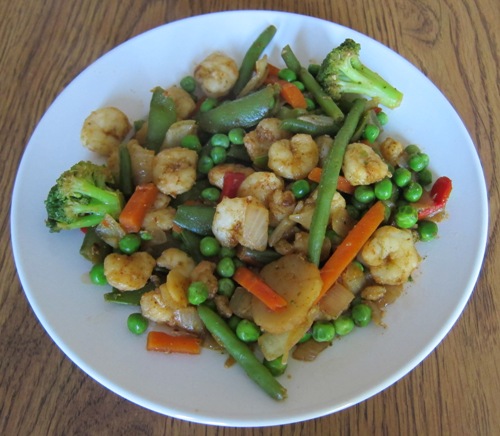 I often make shrimp stir fry with frozen vegetables that are labeled "stir fry vegetables". Those stir fry vegetables usually consist of a mix of broccoli, green beans, snow peas, carrots, mushrooms, baby corn and chestnuts, but they don't include green peas. I added green peas to this stir fry simply because I didn't have enough of the regular stir fry veggies, so I added some frozen peas :) The green peas tasted so good in a shrimp stir fry that now I often add them to the regular stir fry veggie mix simply because they are yummy!
Shrimp Stir Fry Recipe With Green Peas And Other Vegetables
Ingredients
1 lb frozen cooked tail-off shrimp
1/2 lb frozen stir-fry vegetables
1 cup of frozen peas
2 tbsp soy sauce
4 garlic cloves, minced
1 tbsp oil
1/4 tsp pepper
Instructions
Put frozen stir-fry vegetables and peas in a bowl and microwave for 4 minutes on High.
Heat the oil in a non-stick frying pan over medium-high heat.
Add shrimp, vegetables and peas and mix. Cook for 2 minutes.
Add soy sauce, garlic and pepper and mix. Cook, stirring, for 2 minutes.
Taste to see if there is enough salt, and if it's not salty enough, add more soy sauce to taste.
Green peas are great frozen veggies to have in your freezer, and they are great in stir-fries!
Here's the picture of this shrimp stir fry cooking in a frying pan:
And here's the picture of this shrimp stir-fry served over white rice – see how to make perfect rice.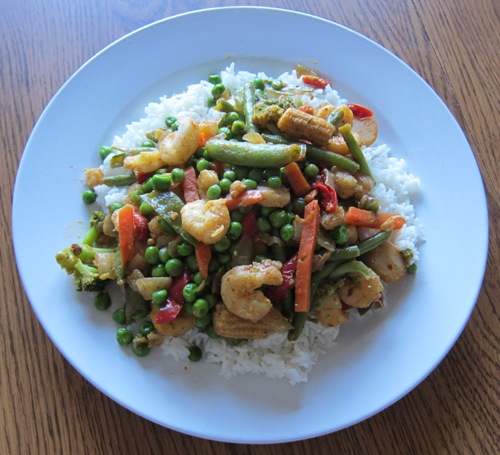 For more tasty shrimp stir-fry recipes, see shrimp stir-fry with mushrooms and green peppers and shrimp stir fry with peppers and onions.
Save this for later on your social media:
Get Melanie's FREE Recipes In Your Inbox!
https://www.melaniecooks.com/wp-content/uploads/2012/10/shrimp-stirfry-peas2.jpg
436
500
Melanie Mendelson
https://www.melaniecooks.com/wp-content/uploads/2015/11/logo-new2.png
Melanie Mendelson
2012-12-07 07:30:04
2012-11-22 16:53:08
Shrimp Stir Fry Recipe With Green Peas And Other Veggies