Instant Pot Sweet Potatoes Recipe
This post may contain affiliate links (disclosure).
These Instant Pot sweet potatoes are so soft and buttery, they taste amazing! Making sweet potatoes in the Instant Pot is so quick and easy!
Instant Pot is perfect for cooking sweet potatoes! It cooks sweet potatoes in less than half the time of oven baked sweet potatoes! Best of all, you get amazing soft sweet potato texture and mouthwatering taste!
The only way of cooking sweet potatoes quicker that the Instant Pot method is microwave sweet potato, but the microwave cooked ones are not as tender and buttery as the Instant Pot sweet potatoes!
How To Cook Sweet Potatoes In Instant Pot
Cooking sweet potatoes in the Instant Pot is so quick and easy! All you need to do is put the sweet potatoes in the Instant Pot with 1 cup of water and pressure cook for 10-30 minutes depending on the sweet potato size, followed by a quick release (QR). Why such a big time range? Because sweet potatoes dramatically vary in size and it takes much longer to cook a huge sweet potato as opposed to a tiny one :) How do you know what time to use? I explain it in the paragraph below :)
Instant Pot Sweet Potato Cooking Times
Here are the pressure cooking times I use for Instant Pot sweet potatoes: 10 minutes for small sweet potatoes, 20 minutes for medium sweet potatoes and 30 minutes for large sweet potatoes. How do you determine whether the sweet potatoes are small, medium or large? By how many potatoes fit on the bottom of the Instant Pot in a single layer!
4 sweet potatoes in a single layer = small, 3 sweet potatoes = medium, 2 sweet potatoes = large. As you can see on my pictures, I could only fit 2 sweet potatoes in a single layers, so my sweet potatoes are large and I cooked them for 30 minutes!
I also like to pierce the sweet potatoes with a fork in several places before cooking them, as it helps prevent splitting of the sweet potato skin. You can place the sweet potatoes on the trivet that came with the Instant Pot, or put them directly in the water – I have done it both ways and it didn't affect the outcome at all.
Most Instant Pot sweet potato recipes use natural release, but I like to use quick release (QR) whenever possible as I'm too impatient :) Why wait longer to have these delicious soft and tender sweet potatoes in your mouth?
Make the most of your Instant Pot with my easy Instant Pot recipes!
If you like Instant Pot sweet potatoes, you will also love these:
Instant Pot Corn On The Cob – perfectly cooked in 2 minutes and so juicy! Once you try this Instant Pot corn recipe, you'll never cook your corn on the cob any other way!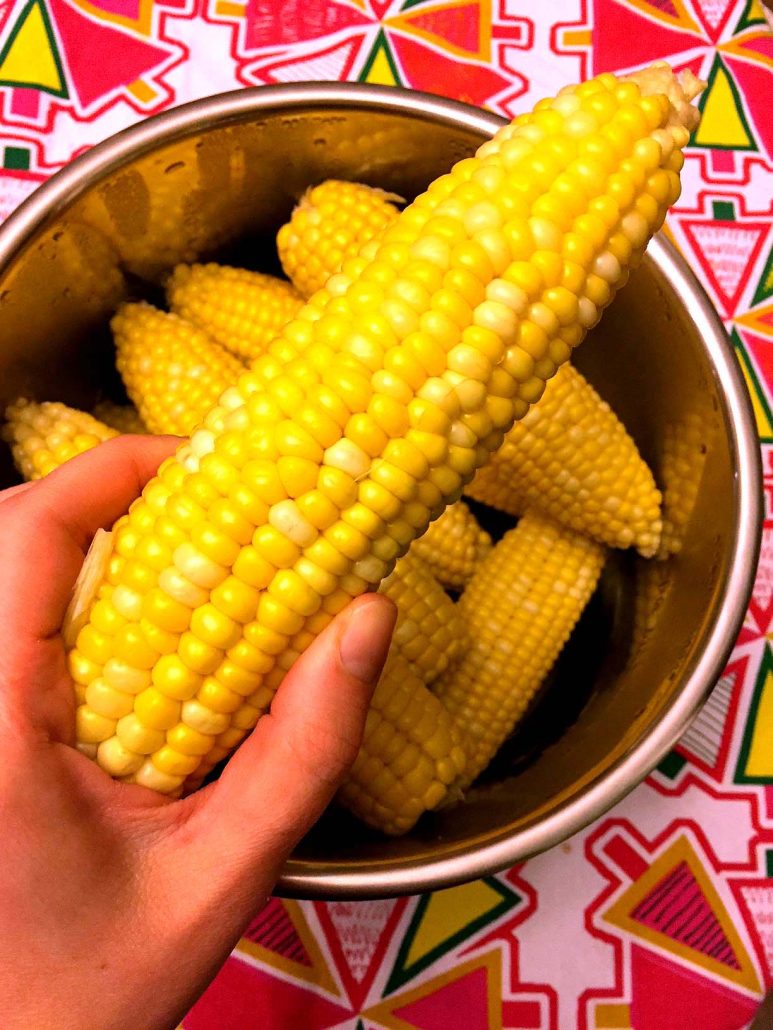 Instant Pot Mashed Potatoes – so quick and easy, and you don't need to drain the potatoes! It's truly life changing!
Instant Pot Brown Rice – perfectly cooked and fluffy every time!
Instant Pot Applesauce – mmmmm, you can spread this homemade applesauce over your sweet potatoes, add chopped nuts and eat them for breakfast!
How To Cook Frozen Chicken Breast In Instant Pot – if you are like me and always forget to defrost meat in advance, Instant Pot will come to the rescue!
Also, check out my growing collection of sweet potato recipes, such as sweet potato muffins, sauteed sweet potatoes, sweet potato chips and many more!
Click Here To Pin This Recipe
Instant Pot Sweet Potatoes
Instant Pot makes perfect sweet potatoes every time with no effort from you whatsoever! Super quick and easy! Just put sweet potatoes in a magic pot and take out soft buttery deliciousness!
Instructions
Determine the size of your sweet potatoes as follows: how many sweet potatoes fit into your Instant Pot in a single layer without overlapping? If 4, then the size of the sweet potato is small, if 3, then medium, if 2, it's large. Sweet potato size determines the cooking time.

Put sweet potatoes and water in the Instant Pot. Close the lid and turn the valve to Sealing position.

Press the "Pressure Cook" or "Manual" button and set the cooking time as follows: 10 minutes for small sweet potatoes, 20 minutes for medium or 30 minutes for large.

When the Instant Pot finishes cooking, quick release (QR) the steam and carefully remove sweet potatoes from the pot.

Cut sweet potatoes in half and serve with desired toppings (I love mine with butter, maple syrup and cinnamon).
Save This Recipe
Save this for later on your social media:
Get Melanie's FREE Recipes In Your Inbox!
https://www.melaniecooks.com/wp-content/uploads/2018/03/instant_pot_perfect_sweet_potatoes.jpg
1632
1224
Melanie Mendelson
https://www.melaniecooks.com/wp-content/uploads/2015/11/logo-new2.png
Melanie Mendelson
2018-03-12 10:35:12
2021-12-08 07:51:42
Instant Pot Sweet Potatoes Recipe