This post may contain affiliate links (disclosure).
Instant Pot cabbage is so tender and perfectly cooked in 10 minutes! What a yummy simple side dish!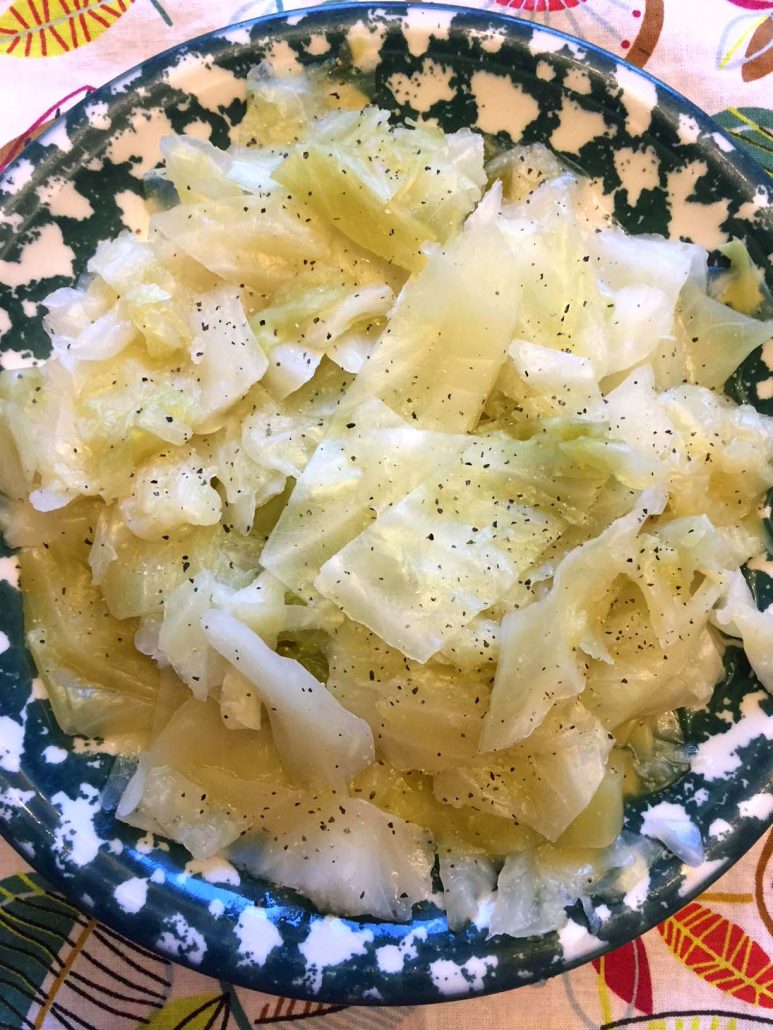 I make a lot of different side dishes in my Instant Pot – mashed potatoes, sweet potatoes, white and brown rice, pasta, quinoa, brussels sprouts, broccoli, green beans, you name it. Then I was craving something different for my side dish, and boiled cabbage came to mind. Instant Pot is perfect for cooking vegetables, and cabbage is no exception! It produces the most tender and delicious boiled cabbage and makes it super easy!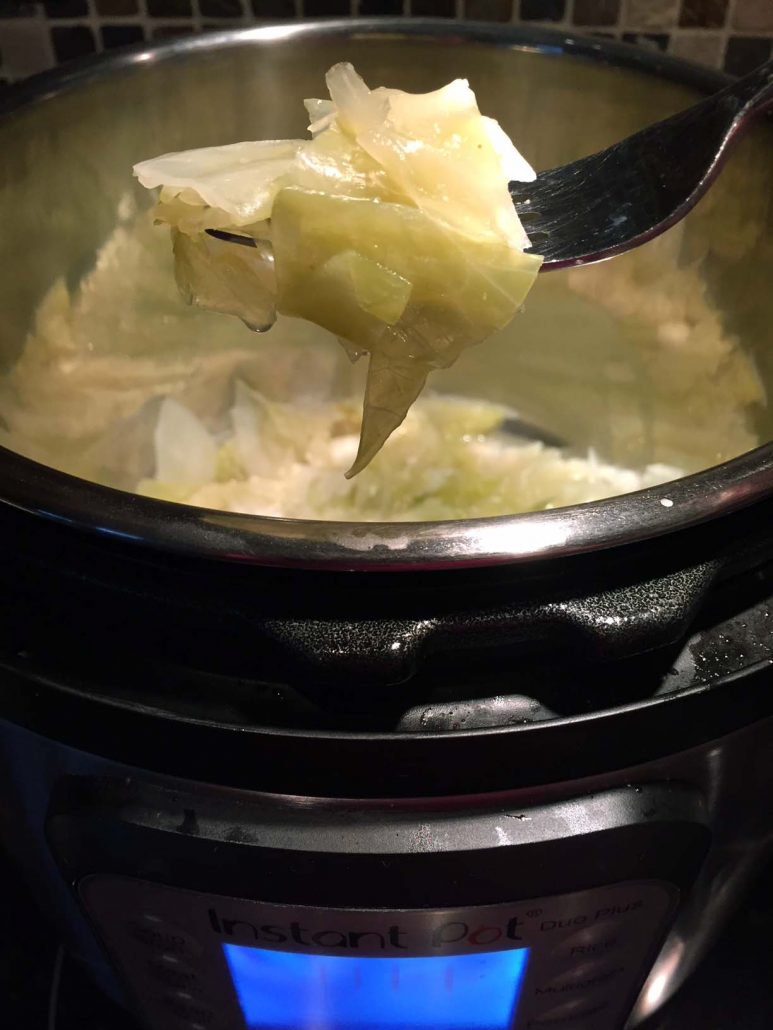 Boiled cabbage is a perfect low-carb side dish! An old-fashioned side dish that doesn't include carbs is quite a rare find :) Classic old-fashioned comfort food side dishes are usually starches, but this one is actually a vegetable! Boiled cabbage is a traditional comforting side dish in many cultures. Warm and tender cabbage goes so well with any type of meat, poultry or fish!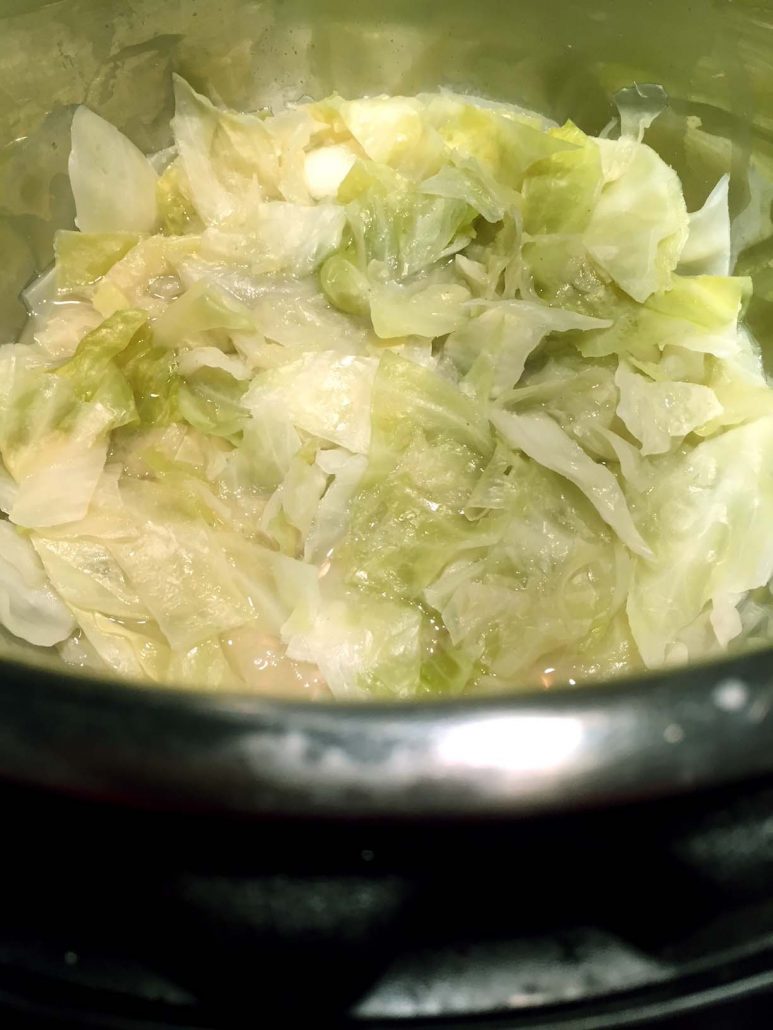 Cabbage is so healthy, low in calories and high in nutrients, and making this Instant Pot cabbage is a perfect way to include more cabbage in your diet! When the cabbage cooks, it shrinks dramatically, you won't believe how much cabbage you can eat at once in the a form of tender boiled cabbage!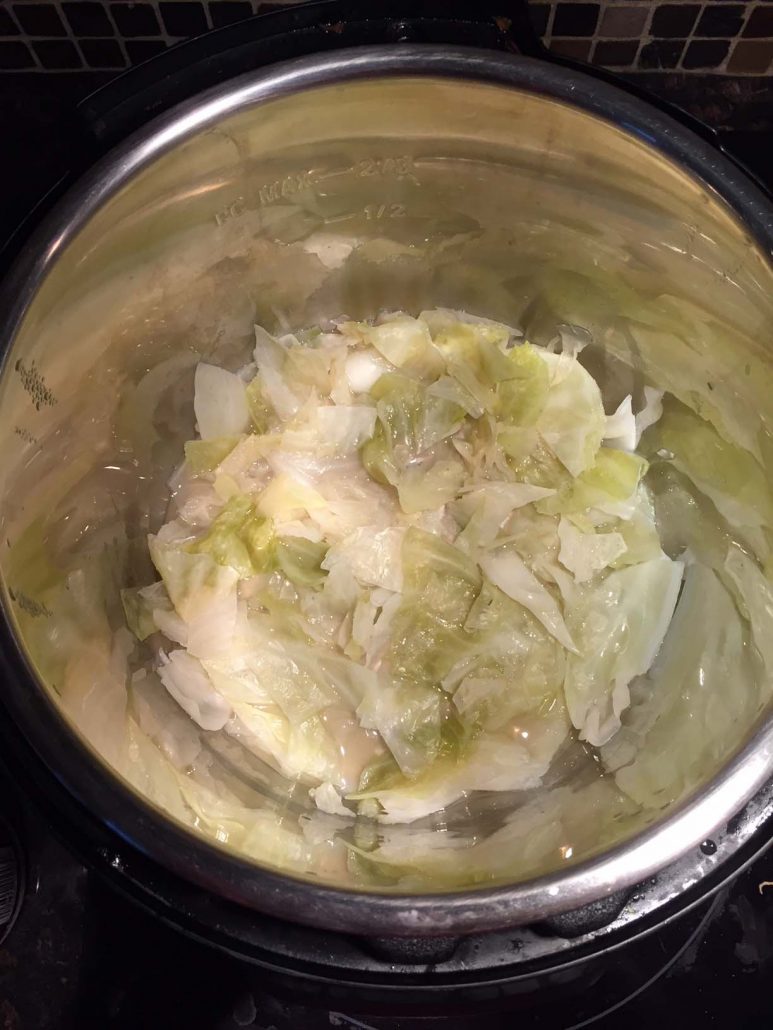 How To Cook Cabbage In The Instant Pot
Making cabbage in the Instant Pot is really easy. Just chop the cabbage into 2-inch pieces, put cabbage and 1/2 cup of water in the Instant Pot and cook for 5 minutes on High pressure for firmer cabbage (or for 10 minutes for very soft cabbage). I like my boiled cabbage soft, so I cook it for 10 minutes. Once the Instant Pot is done cooking, quick release (QR) the steam, drain the cabbage, season it to your liking and serve.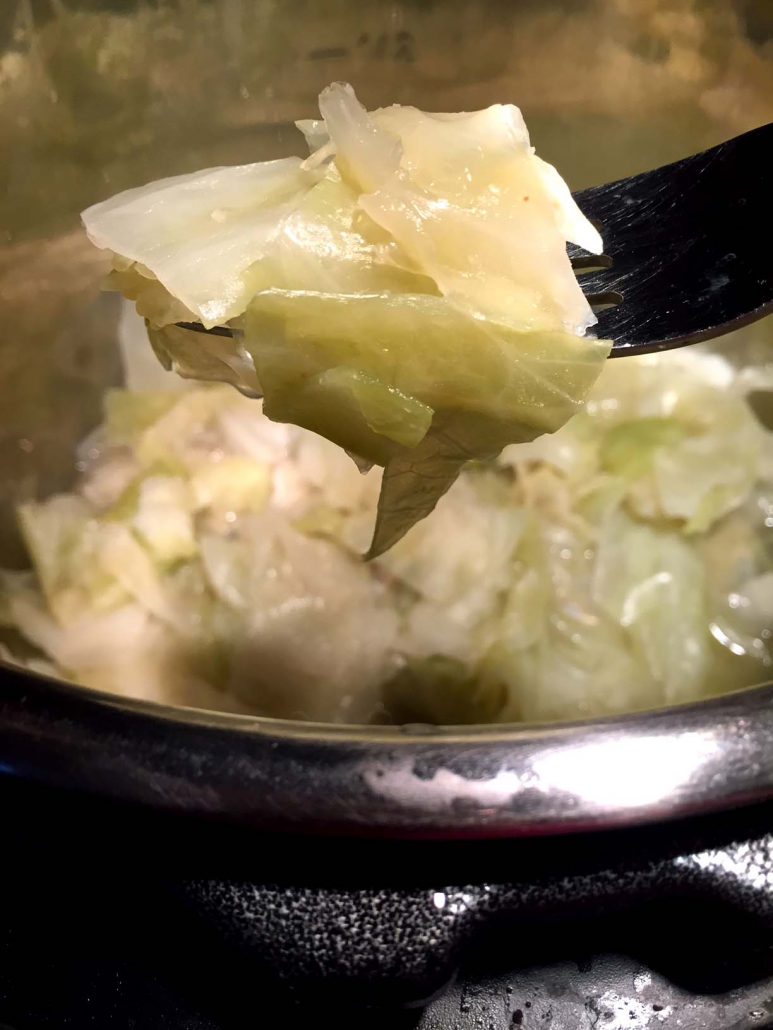 You can add seasonings to cabbage before cooking or after it's cooked. I like to sprinkle raw cabbage with garlic powder when I put it in the Instant Pot, so the cabbage is flavored with garlic really nicely. Then I sprinkle the cabbage with salt and pepper after it's done cooking, as it's hard to gauge the amount needed until the cabbage cooks and shrinks. You can also add a little melted butter to cooked cabbage – yum!
Like these sausages on the above picture? They are also made in the Instant Pot! Check out my Instant Pot sausage recipe, these sausages are soooo easy to make and go so well with cabbage!
If you like this Instant Pot cabbage, you will love these other easy recipes:
Instant Pot Egg Roll In A Bowl – another epic Instant Pot recipe that's using ground meat and a shredded cabbage!
Best Ever Coleslaw – got more cabbage? Make this mouthwatering sweet and creamy coleslaw, this is the only coleslaw recipe you'll ever need!
Instant Pot Brussels Sprouts – so healthy and delicious and perfectly cooked! As usual, Instant Pot rules!
Instant Pot Honey Mustard Chicken – a weeknight favorite, such an easy chicken dinner recipe!
Instant Pot Sausages – these are awesome with the cooked cabbage on the side!

Instant Pot Cabbage
This Instant Pot cabbage is so tender and delicious! Super easy and ready in 10 minutes!
Ingredients
1 head of cabbage, cut into 2-inch pieces
½ tsp garlic powder
½ cup water
Salt and pepper to taste
Instructions
Pour water in the Instant Pot and add cabbage. Sprinkle cabbage with garlic powder. Close the lid and turn the valve to Sealing position.
Press the "Pressure Cook" or "Manual" button and set the time to 5 minutes on High pressure for firmer cabbage (or 10 minutes for really soft cabbage).
When the Instant Pot is done cooking, quick release (QR) the steam, drain the cabbage, sprinkle with salt and pepper to taste and serve.
Save this for later on your social media:
Get Melanie's FREE Recipes In Your Inbox!
https://www.melaniecooks.com/wp-content/uploads/2018/05/instant_pot_cabbage_cooked.jpg
1632
1224
Melanie Mendelson
https://www.melaniecooks.com/wp-content/uploads/2015/11/logo-new2.png
Melanie Mendelson
2018-05-16 13:32:30
2019-10-01 11:48:51
Instant Pot Cabbage - How To Cook Cabbage In The Instant Pot