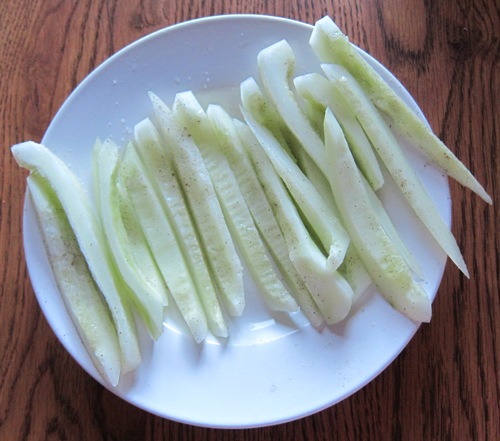 You can make many fancy salads that use cucumbers, but if you don't have the time to make a cucumber salad, you can serve cucumbers that are simply sliced into spears.  Cucumber spears are yummy and crunchy, and go really well with any main dish.  Cucumber spears will be a great accompaniment to meat, chicken or fish!
To make simple cucumber spears, first peel the cucumbers with a vegetable peeler.  After the cucumber is peeled, cut it in half lengthwise.  If the cucumber has small seeds (such as English seedless cucumber), leave the seeds alone.  If the cucumber has medium seeds, that depends on your preference whether to leave them or scoop them out.  If don't mind cucumber seeds, as long as they are not huge, so I just leave the medium cucumber seeds alone.  However, if the cucumber has huge seeds, even I scoop them out.  To scoop out cucumber seeds, just use a spoon – scoop out the seeds with a spoon and discard them.  On the picture above, the cucumber had very large seeds, so I got rid of them – the cucumber spears on that picture don't have the seeds.
To cut the cucumber into spears, cut each cucumber half in half lengthwise (so you'll have cucumber quarters).  Next, cut each quarter in half lengthwise.  If you are happy with the size of your cucumber spears, you can stop at this point.  If you'd like your cucumber spears to be even thinner, you can cut each spear in half lengthwise again.  If the cucumber spears are too long (let's say you were using a long English cucumber), you have cut the spears in half to make them normal size.
When you are done cutting cucumber into spears, sprinkle it with salt and pepper.  Salt and pepper really enhances the taste of cucumbers!
You can now serve cucumber spears with your lunch or dinner, or you can serve cucumber spears as an appetizer with a dipping sauce.
If you like cucumbers, also check out my easy cucumber lemon salad recipe.
http://www.melaniecooks.com/wp-content/uploads/2012/08/cucumber-spears.jpg
441
500
Melanie Mendelson
http://www.melaniecooks.com/wp-content/uploads/2015/11/logo-new2.png
Melanie Mendelson
2012-08-31 06:09:53
2012-12-28 08:22:19
Simple Cucumber Spears