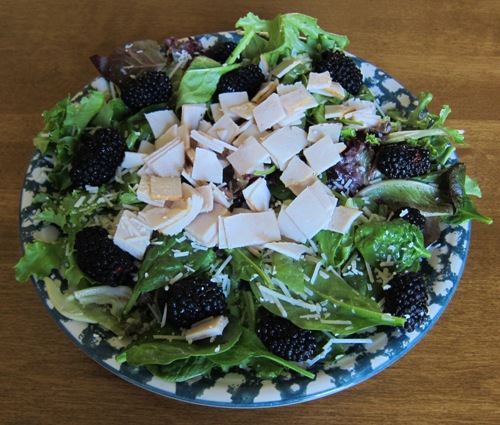 Here's a very yummy main dish salad recipe that uses lettuce leaves, deli turkey slices, parmesan cheese and blackberries.  If you never used blackberries in a salad, give it a try!  Blackberries are not too sweet and have a unique taste that goes really well with savory foods.  Blackberries make this salad pretty, tasty and memorable.
Turkey and parmesan cheese make this salad filling enough to be served as a main dish.  This main dish salad makes an excellent healthy lunch!
For the best tasting Parmesan cheese, buy the cheese labeled Parmigiano Reggiano (for the difference, see Parmesan cheese vs Parmigiano Reggiano).
Main Dish Salad Recipe With Turkey, Blackberries and Parmesan Cheese
Ingredients
2 cups salad greens
4 oz deli turkey, sliced
2 tbsp shredded parmesan cheese
1/4 cup blackberries
1/2 tbsp extra virgin olive oil
1/2 tsp vinegar
Instructions
Put the salad greens on the plate. Drizzle with oil and vinegar, then toss.
Sprinkle the salad green with parmesan cheese.
Put the turkey slices on top of the salad.
Put the blackberries around the sides of the salad.
Enjoy eating this beautiful, tasty and healthy main dish salad!  If you like main dish salads, you will also love my recipe for main dish salad with turkey, corn and avocado.