Instant Pot Meatloaf – How To Cook Meatloaf In A Pressure Cooker
This post may contain affiliate links (disclosure).
This Instant Pot meatloaf is so juicy and tender! Instant Pot is the quickest and easiest way of making meatloaf!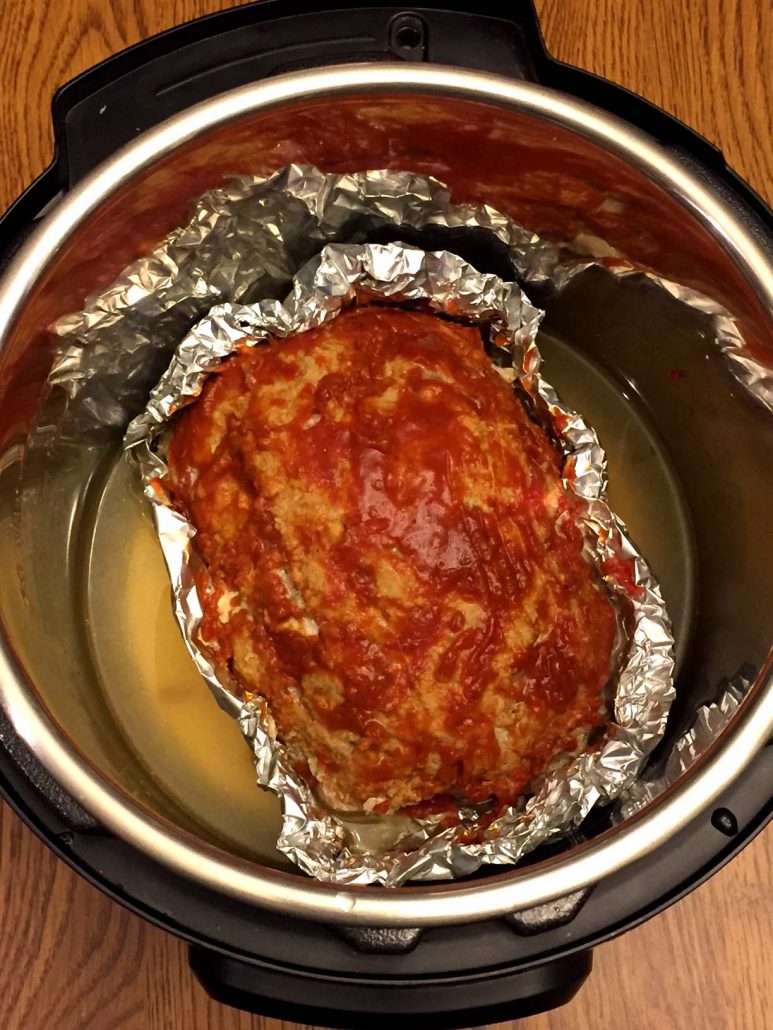 Instant Pot meatloaf cooks in less than half the time it would take to bake it in the oven! Instant Pot meatloaf pressure cooking time is 40 minutes, and baking meatloaf in the oven takes twice as much! That's over 30 minutes saved!
Would you rather spend an hour and a half or just 40 minutes for the same result? Yummy, yummy, meatloaf in your tummy!
To make the meatloaf in the Instant Pot, you don't need any special Instant Pot accessories. Just use tinfoil to make a crude meatloaf pan :) You can put the meatloaf in foil directly in the water inside the Instant Pot and it will cook perfectly!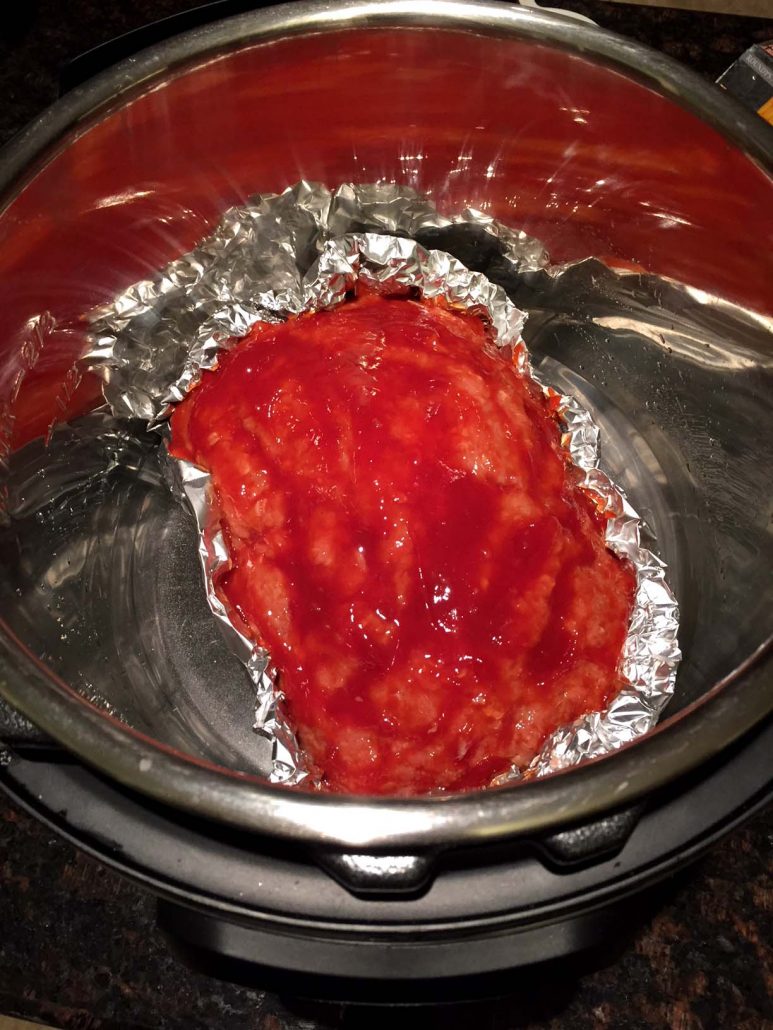 If you don't like to use foil, you can place your meatloaf on the Instant Pot steaming rack. I personally use foil, plus it makes the cleanup really easy too!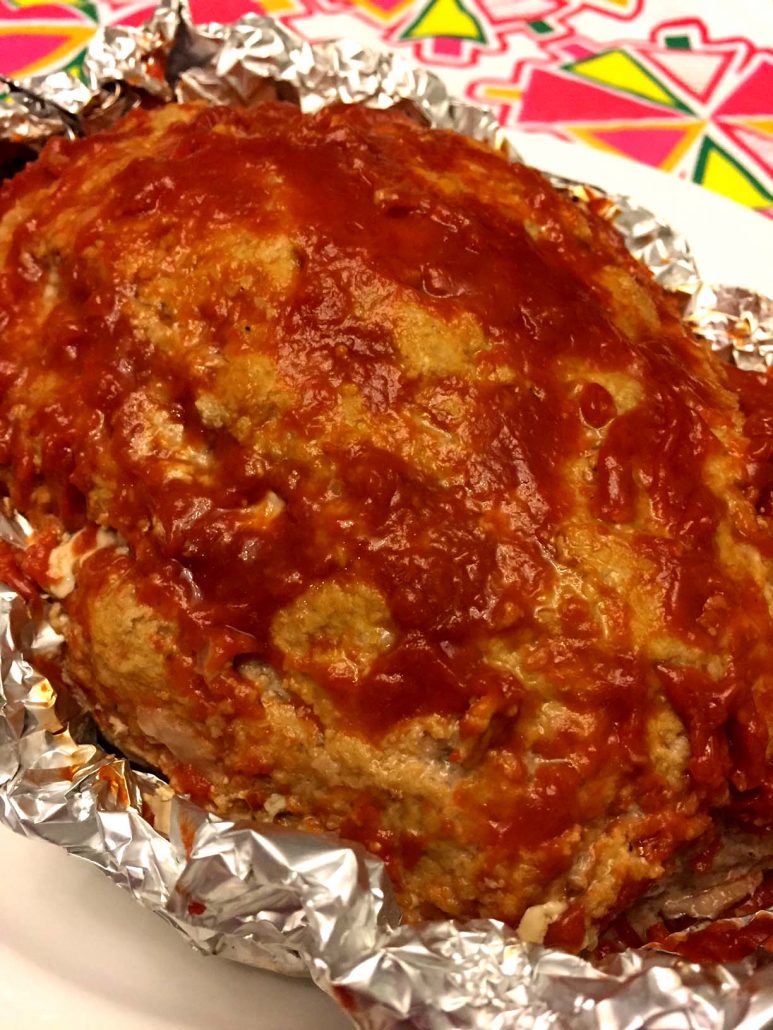 You can make Instant Pot meatloaf with any type of ground meat. You can use ground beef, pork or turkey, or a mixture of different types of ground meats. The recipe and cooking time stays the same no matter what type of meat you use for your meatloaf!
How To Make Meatloaf In The Instant Pot Pressure Cooker
Making pressure cooker meatloaf is really easy. First, make a meatloaf mixture using your regular meatloaf recipe. Then put it on a double sheet of foil and shape the foil into a meatloaf pan shape. Brush ketchup on top, and the meatloaf in a foil pan is ready to go into the Instant Pot.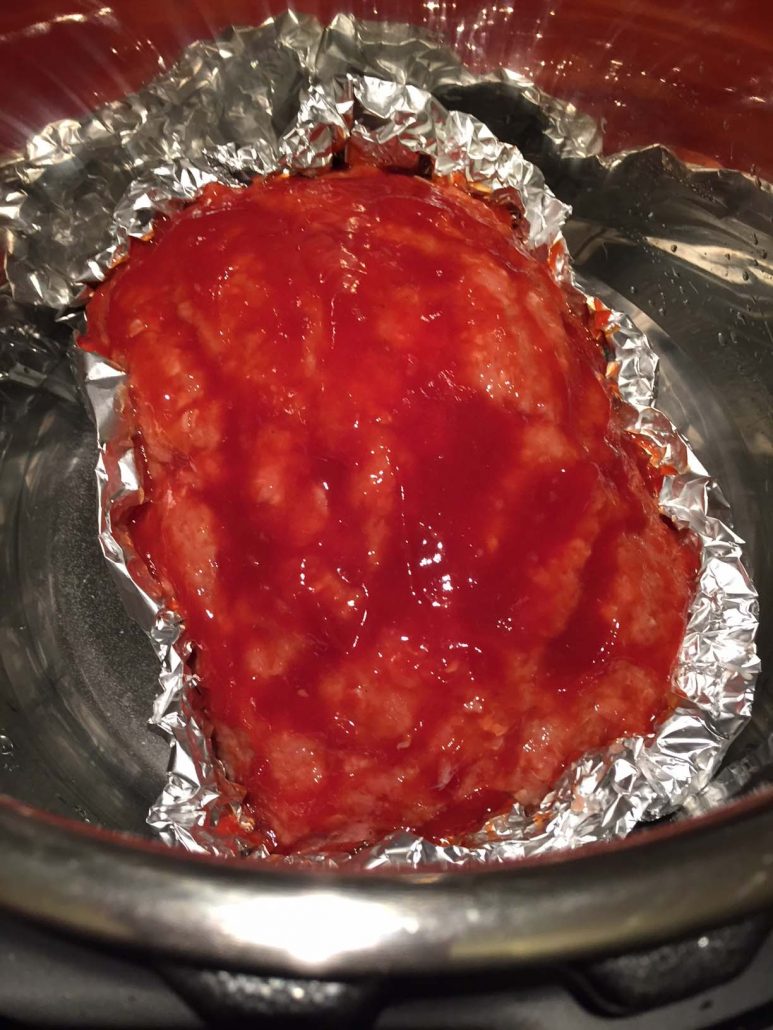 To pressure cook the meatloaf, pour 1 cup of water into the Instant Pot, then place the assembled meatloaf in a foil pan inside the Instant Pot. Close the lid, set the valve to Sealing position and use the "Pressure Cook" or "Manual" button to set the cooking time to 40 minutes on High pressure. When it's done cooking, do the Quick Release (QR) of the steam. Delicious meatloaf is ready!
If you like this Instant Pot meatloaf, you will also love these easy recipes:
Instant Pot Meatballs – make amazing meatballs in tomato sauce from scratch in your Instant Pot in 15 minutes!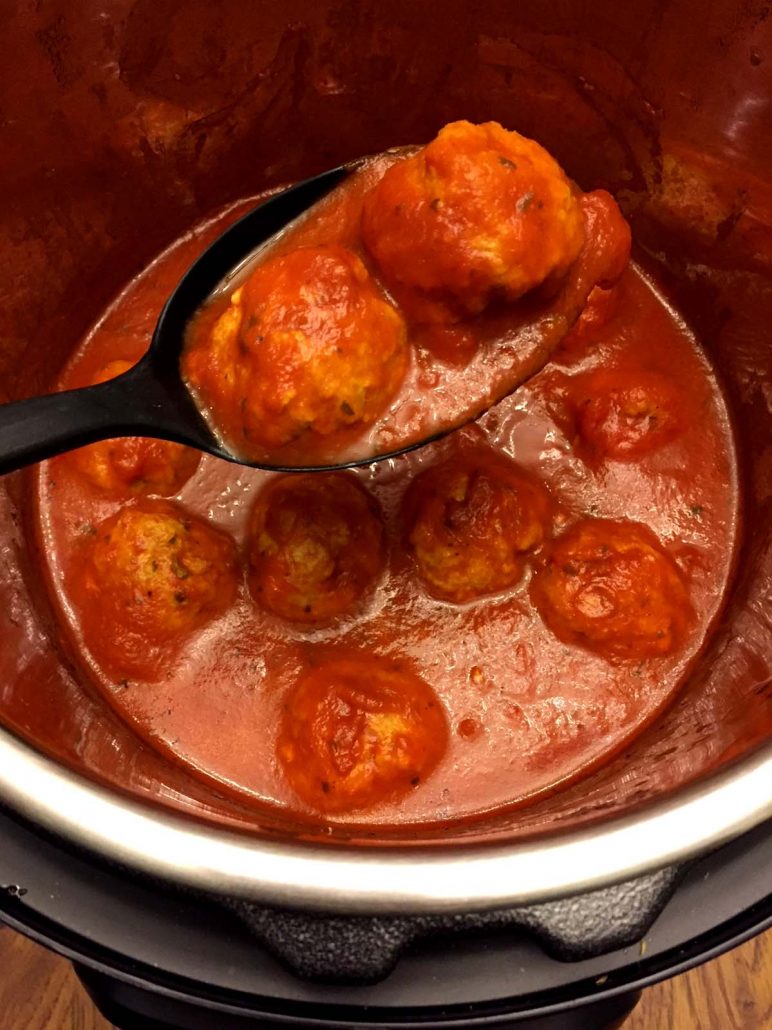 Cheese Stuffed Meatloaf – mouthwatering meatloaf recipe with gooey melted cheese inside!
Meatloaf In A Muffin Tin – individually portioned meatloaves are baked in a muffin tin, so clever!
Instant Pot BBQ Chicken – super easy crowd pleasing chicken recipe made in the Instant Pot!
Instant Pot Chicken Drumsticks – lemon garlic chicken legs are cooked in Instant Pot directly from frozen, doesn't get any easier than that!
Click Here To Pin This Recipe
Instant Pot Meatloaf
Instant Pot meatloaf is so easy to make, tender and juicy! The quickest and easiest way to have meatloaf for dinner is to make it in the Instant Pot pressure cooker!
Instructions
Mix ground beef, egg, minced onion, milk, bread crumbs, Worcestershire sauce, salt and pepper in a bowl to make a meatloaf mixture.

Put 2 sheets of foil on top of each other.

Put the meatloaf mixture on top of the foil and shape into a meatloaf.

Fold the sides of the foil up to create a foil pan for the meatloaf.

Spread the ketchup on top of the meatloaf.

Pour 1 cup of water in the Instant Pot. Put the meatloaf in a foil pan in the Instant Pot.

Close the lid on the Instant Pot and turn the valve to Sealing position.

Select "Pressure Cook" or "Manual" option and set the time to 40 minutes.

When the meatloaf is done cooking, do the Quick Release (QR) of the steam.
Save This Recipe
Save this for later on your social media:
Get Melanie's FREE Recipes In Your Inbox!
https://www.melaniecooks.com/wp-content/uploads/2018/01/instant_pot_meatloaf_pressure_cooker.jpg
1632
1224
Melanie Mendelson
https://www.melaniecooks.com/wp-content/uploads/2015/11/logo-new2.png
Melanie Mendelson
2018-02-06 07:27:44
2021-12-08 07:53:06
Instant Pot Meatloaf – How To Cook Meatloaf In A Pressure Cooker