Instant Pot Meatballs Recipe In Tomato Sauce
This post may contain affiliate links (disclosure).
These Instant Pot meatballs in tomato sauce are so tender and juicy and ready in 15 minutes! Yes, you heard it right – homemade meatballs from scratch in 15 minutes – amazing!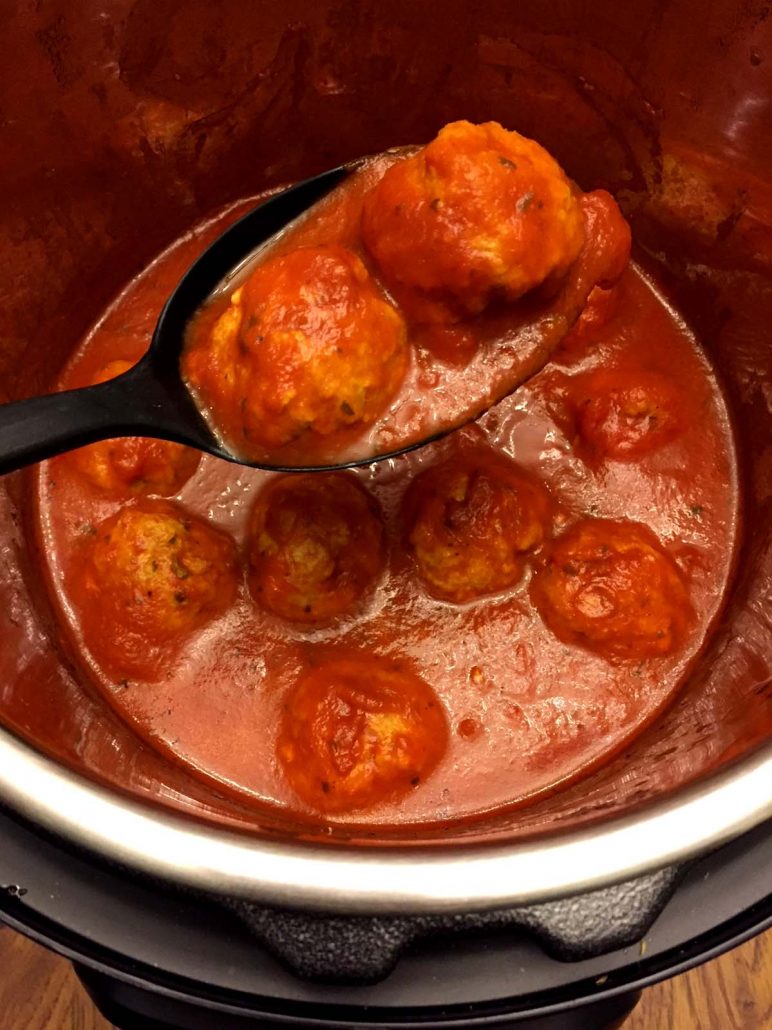 Making meatballs in the Instant Pot pressure cooker is truly life-changing! Normally it takes close to an hour simmering the meatballs on the stovetop, or baking them in the oven and simmering in sauce later. With Instant Pot, homemade from-scratch meatballs are completely cooked in 15 minutes!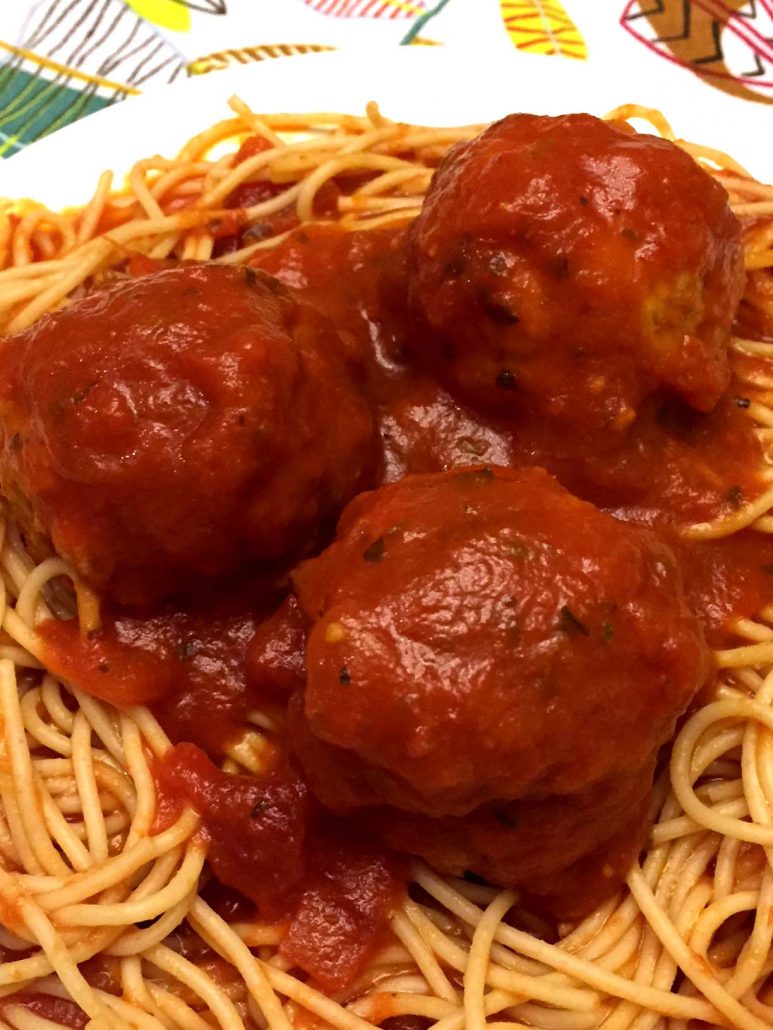 You can make these yummy meatballs with any type of ground meat – ground beef, chicken, turkey or pork. Or you can do a mixture of several different types of meat! On my pictures, I made these meatballs with ground turkey.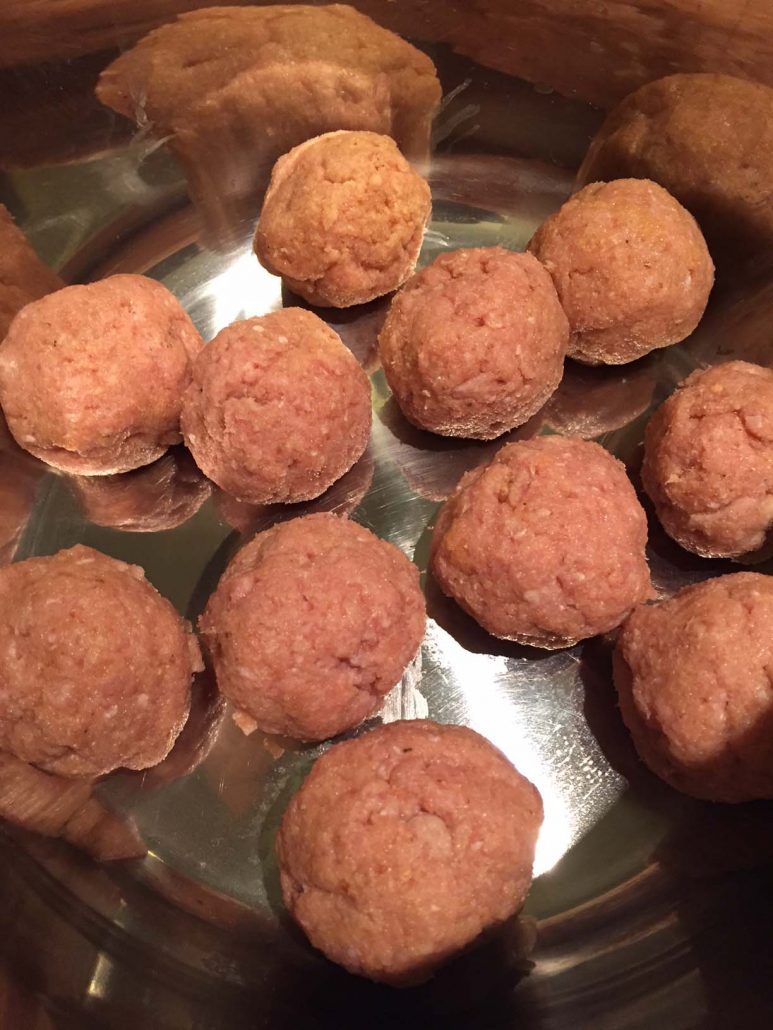 Making meatballs in tomato sauce in the Instant Pot is really easy. First follow your usual meatball recipe to make the meatball mixture, roll it into meatballs and put them in the Instant Pot.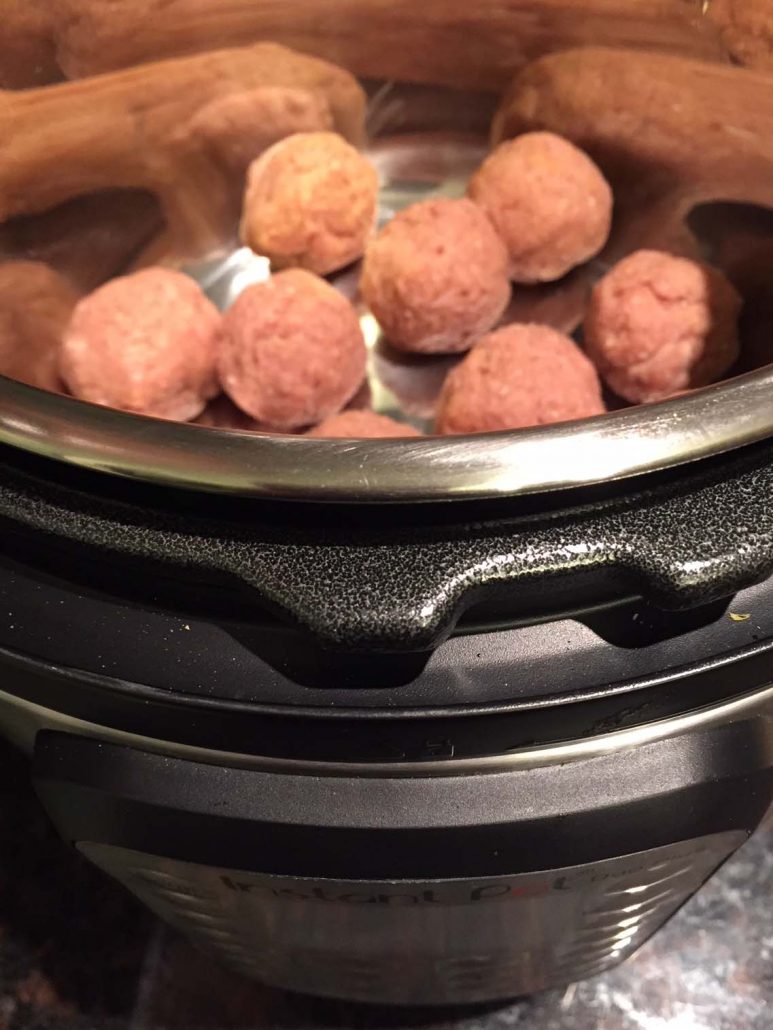 Next, pour a cup of water into the Instant Pot, followed by a large jar of pasta sauce.
Pressure cook the meatballs in tomato sauce for 10 minutes, then do a Quick Release (QR) of the pressure. Tender juicy meatballs are ready!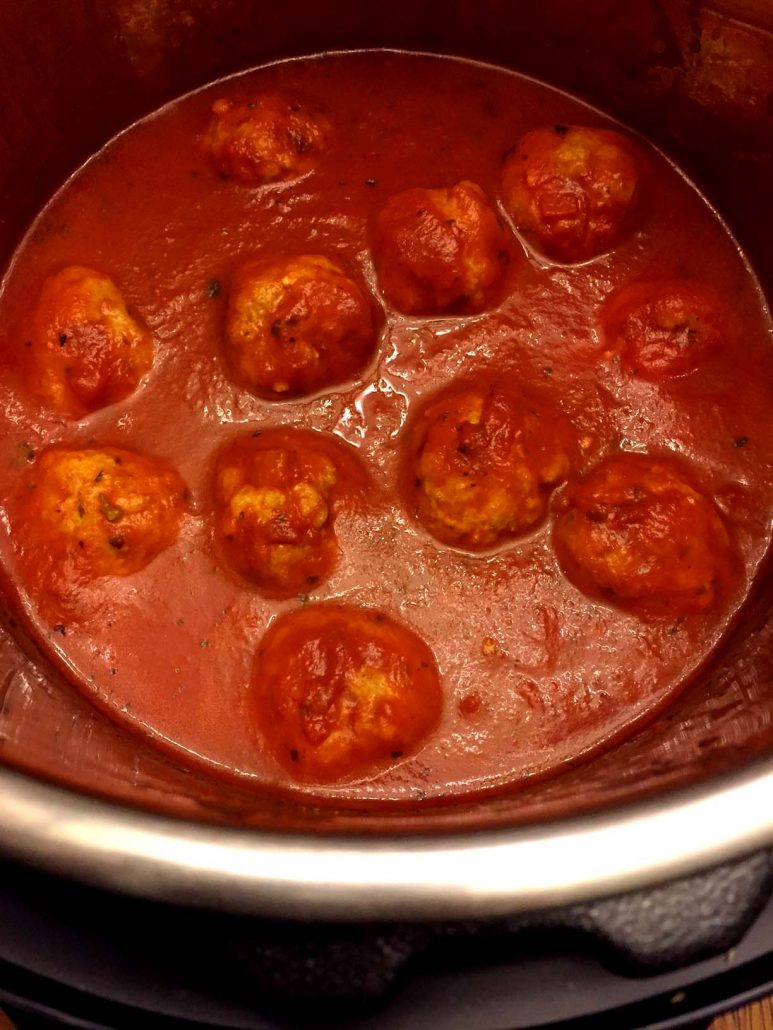 Your mouth will water when you open the Instant Pot and see these delicious homemade meatballs inside!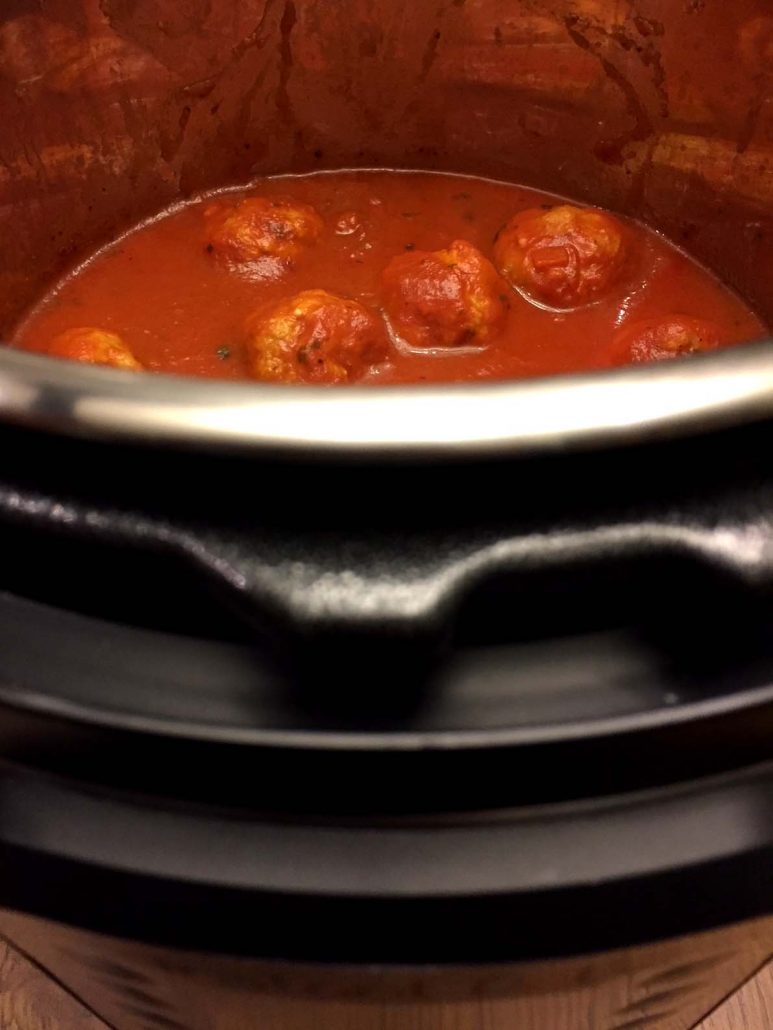 My recipe makes 1 pound of meatballs, but feel free to double it! If you use 2 lbs of meatballs, use 2 jars of pasta sauce but only 1 cup of water (not 2 cups of water). The cooking time will stay the same – 10 minutes on High Pressure. If the meatballs overlap into several layers in a pot, that's perfectly fine :)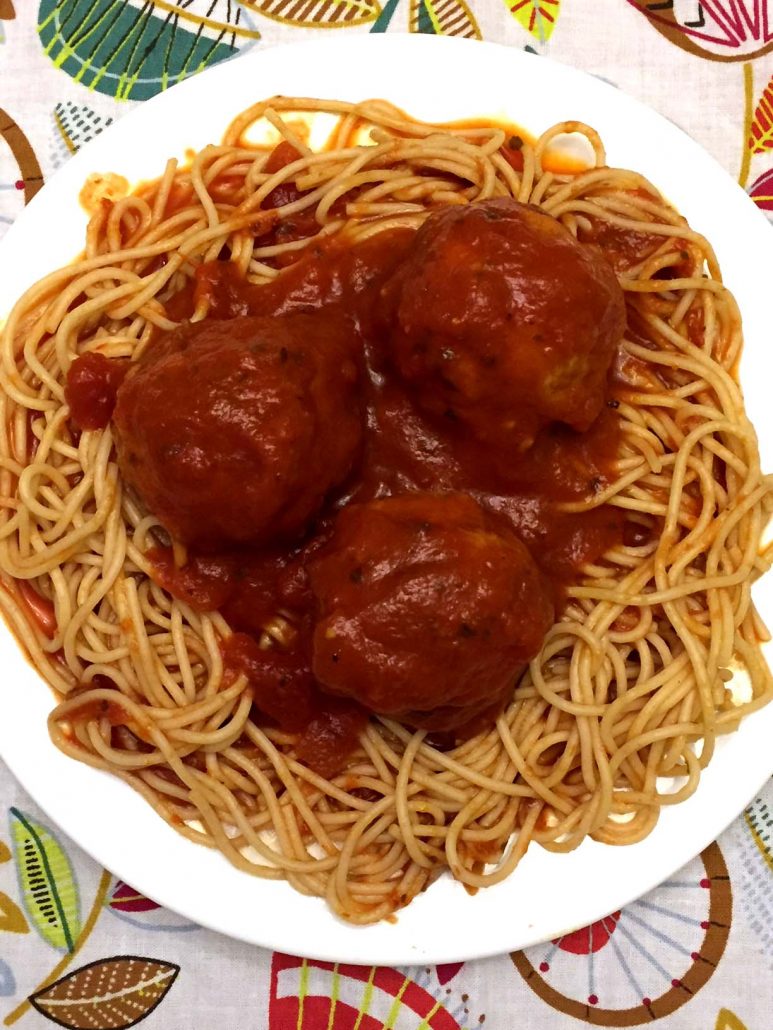 If you like these easy Instant Pot meatballs, you will also love these yummy simple recipes:
Gluten-Free Meatballs Recipe – this easy recipe makes classic meatballs gluten-free by substituting bread crumbs with oatmeal! Believe it or not, they taste the same and you won't even know the difference! You can cook them in Instant Pot too!
Turkey Spinach Meatballs – super healthy meatballs with spinach inside! You can make them in the Instant Pot with or without tomato sauce, they are so good for you and taste amazing!
Instant Pot BBQ Chicken – easy 2-ingredient Instant Pot chicken dinner ready in 15 minutes! Everyone loves this simple BBQ chicken!
Instant Pot Brown Rice – you'll no longer need your rice cooker once you learn how to cook rice in the Instant Pot!
Instant Pot Applesauce – if you never tried making homemade applesauce, you must try this recipe! It's so delicious and Instant Pot makes it in 5 minutes!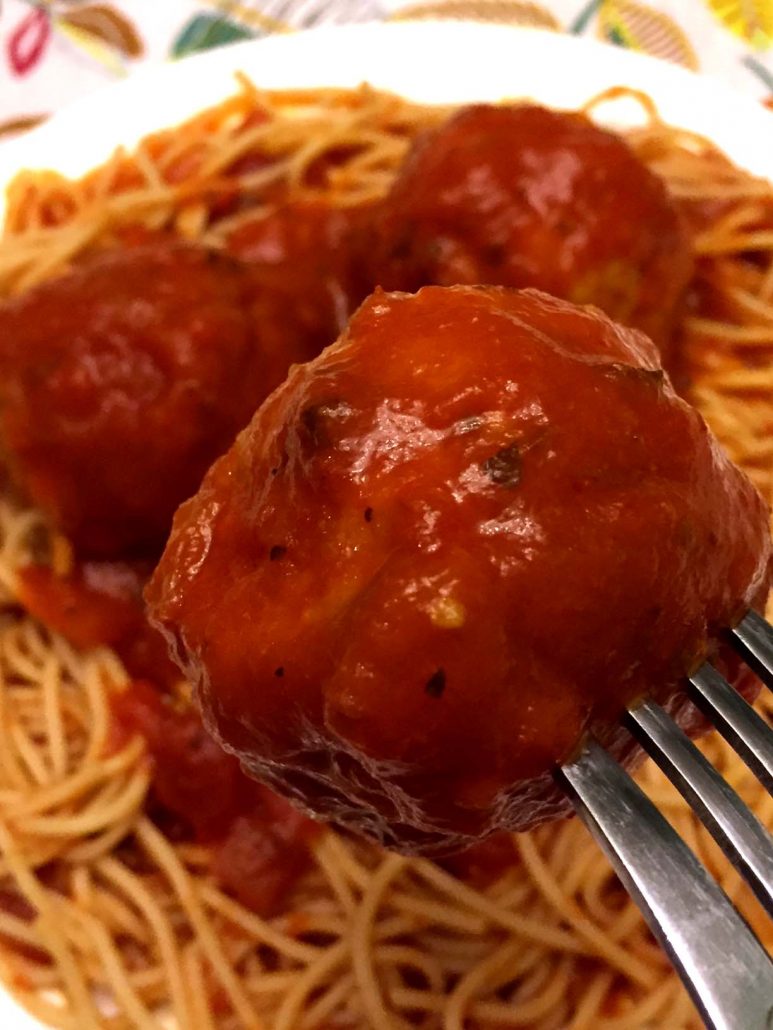 Click Here To Pin This Recipe
Instant Pot Meatballs In Tomato Sauce
These Instant Pot meatballs are so tender and juicy! Made from scratch with ground beef or turkey and cooked to perfection in a tomato sauce - mouthwatering! This is the only Instant Pot meatballs recipe you'll ever need!
Ingredients
Instructions
Put ground beef, egg, bread crumbs, salt and pepper in a bowl and mix until combined.

Pour 1 cup of water into the Instant Pot.

Shape the meat mixture into 1-inch meatballs and put in the Instant Pot.

Pour the pasta sauce over the meatballs.

Close the Instant Pot and set the pressure valve to Seal.

Press the "Pressure Cook" or "Manual" button and set the time to 10 minutes.

After the meatballs finished cooking, do the quick release of the pressure.
Notes
To double the recipe, use 2 lbs of meatballs, 2 jars of pasta sauce and 1 cup of water (not 2 cups). Use the same cooking time of 10 minutes.
Save This Recipe
Save this for later on your social media:
Get Melanie's FREE Recipes In Your Inbox!
https://www.melaniecooks.com/wp-content/uploads/2018/01/instant_pot_meatballs_best_recipe.jpg
1599
1199
Melanie Mendelson
https://www.melaniecooks.com/wp-content/uploads/2015/11/logo-new2.png
Melanie Mendelson
2018-01-24 07:10:34
2021-12-08 07:53:40
Instant Pot Meatballs Recipe In Tomato Sauce