This post may contain affiliate links (disclosure).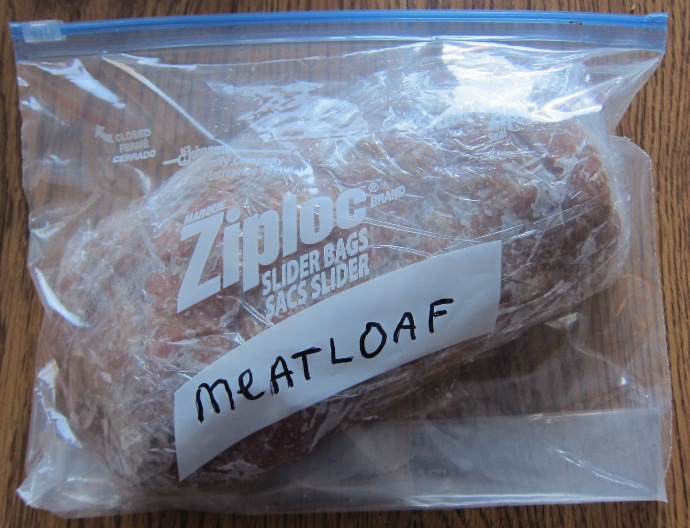 Meatloaf is a perfect food to freeze as it tastes just as good cooked from the freezer as the one that was freshly made. Making two meatloaves is just as easy as making one, so when I make a meatloaf, I always make two and freeze one of them for later. It's always great to have something in your freezer that you can just pop in the oven and have a fresh homemade meal on the table!
By making several meatloaves at a time, you'll have to mince the onions just once and only get your hands dirty mixing ground meat just once! If you have plenty of freezer space, you can even go further and make three, four, five or six meatloaves :)
So what is the best way to freeze meatloaf – cooked or uncooked? I freeze the meatloaf uncooked. Since the texture is such an important part of the meatloaf taste, it's best to only cook it once. The meatloaf that was frozen raw will only be cooked once, so it will have a better texture than a meatloaf that was cooked twice.
How To Freeze Meatloaf
Here are the steps I take for freezing meatloaf:
Step 1: Mix All Ingredients For Meatloaf

First I mix all meatloaf ingredients by following my favorite meatloaf recipe (this recipe uses ground turkey, but of course you can make it with ground beef, ground pork or any kind of ground meat).
Step 2: Shape The Meatloaf And Wrap In Plastic Wrap

Then I lay out the sheet of plastic wrap and put the meatloaf mixture on it and shape like a log. Then I wrap the meatloaf with plastic wrap, I use extra sheets of plastic wrap so it's wrapped all over. I don't put ketchup on top of the meatloaf at this time – I will add it later when I thaw and cook the meatloaf.
Step 3: Put Meatloaf In A Freezer Bag And Place In The Freezer

After I wrap the meatloaf in plastic wrap, I put it inside a large plastic freezer bag and label the bag. Then I put the freezer bag on the freezer shape, taking care not to mess up the shape of the meatloaf. After the meatloaf is frozen solid, you can put it anywhere in the freezer.
How To Thaw And Cook Frozen Meatloaf
I've heard of people cooking the meatloaf directly from frozen by adding 1 hour to the cooking time, but I like to thaw the meatloaf before cooking. I think if you bake the meatloaf in the oven directly from frozen, it will cook too unevenly where the sides will be overcooked and the middle still frozen.
There are two ways to thaw frozen meatloaf – overnight in the refrigerator or in the microwave. If you know that you'll be cooking frozen meatloaf the next day, just move the freezer bag to the refrigerator and it will thaw naturally.
If you realize at the last minute (like I usually do) that you want to cook meatloaf tonight, you can defrost it in the microwave. Just place the meatloaf on a microwave-safe plate and remove the plastic wrap. If the plastic wrap is stuck, put the meatloaf back in the freezer bag and place it under hot running water for a minute. To thaw the meatloaf in the microwave, microwave on Defrost setting (a 2 pound meatloaf usually takes about 10 minutes).
After the meatloaf is thawed, cook it the same way as if it was never frozen. Put the meatloaf on a lined baking sheet, spread it with ketchup and bake in pre-heated 350F oven for 1 hour or until the internal temperature of the meatloaf reaches 170F.
Here's a picture of a meatloaf wrapped in a plastic wrap, about to be frozen: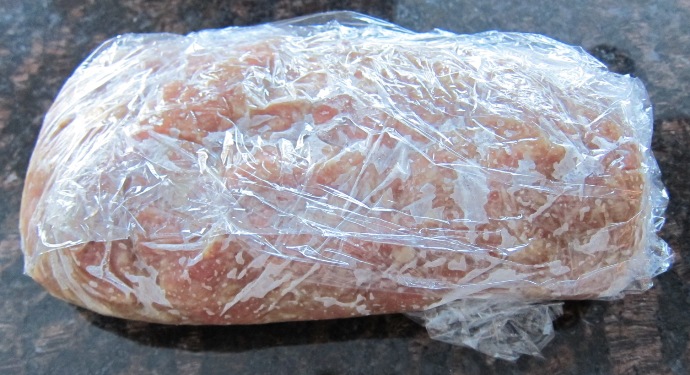 And here's the yummy cooked meatloaf: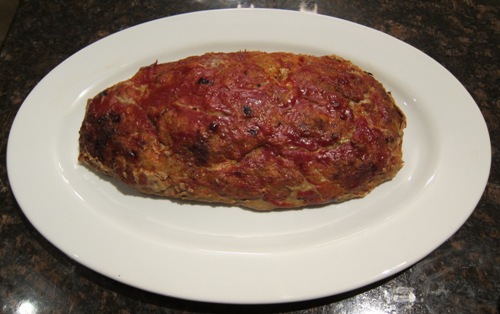 If you never froze meatloaf before, give it a try – it will save you a lot of time in the kitchen! If you see ground meat on sale at the store, just buy lots of it and make several meatloaves right away when you get home! A one-time effort will result in many tasty dinners to come :) Meatloaf is one of the easiest recipes to freeze and tastes so good! And don't forget to check out my yummy meatloaf recipe :)
Save this for later on your social media:
Get Melanie's FREE Recipes In Your Inbox!
https://www.melaniecooks.com/wp-content/uploads/2014/02/how_to_freeze_meatloaf.jpg
528
690
Melanie Mendelson
https://www.melaniecooks.com/wp-content/uploads/2015/11/logo-new2.png
Melanie Mendelson
2014-02-10 12:05:47
2014-02-10 13:51:15
How To Freeze Meatloaf