This post may contain affiliate links (disclosure).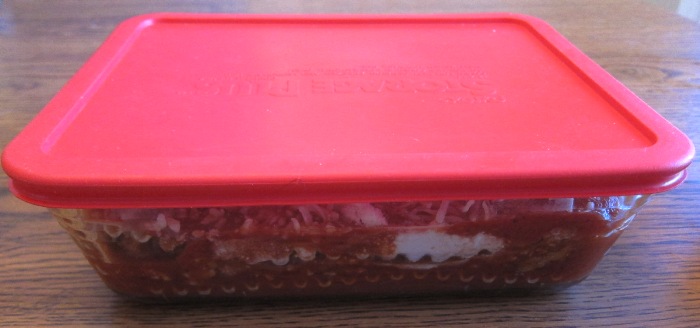 Lasagna freezes very well, so I follow the same strategy that I do as freezing meatloaf – when I make lasagna I always make two, and I serve one immediately and freeze the other. Making two lasagnas takes as much time as one – you just double the ingredients and assemble the lasagnas in two baking dishes side by side. Then stash one lasagna in a freezer and you'll have a delicious dinner at a later date when you don't have time or energy to cook!
Should you freeze lasagna cooked or uncooked? It can be done either way, but I always freeze my lasagna uncooked. I think baking it twice will make it taste worse.
By uncooked lasagna I mean unbaked – some ingredients in the lasagna (such as meat) are cooked :) Basically, I assemble the lasagna, and instead of putting it in the oven to bake I put it in the freezer. What I do is assemble the lasagna in a Pyrex dish, cover it with a plastic lid and put it in a freezer.
It doesn't really matter which lasagna recipe you use – all kinds of lasagna freeze well. I've frozen meat lasagna and vegetarian one, and they tasted great when I finally cooked them. Check out my foolproof lasagna recipe and step-by-step instructions how to make lasagna. I'm also a big fan of a no-boil lasagna cooking method – I soak lasagna noodles instead of cooking them and add extra tomato sauce so they continue cooking in the oven. It's just so much easier this way!
To cook frozen lasagna, you need to defrost it first for best results. I've heard of people cooking lasagna directly from frozen, but it makes it cook too unevenly. The best way to defrost a frozen lasagna is to move it to the refrigerator the day before you are planning to cook it, so it will thaw in a refrigerator overnight. If you didn't plan ahead, you can defrost frozen lasagna in a microwave – just microwave it on Defrost or Low setting for 10 minutes.
After you defrost frozen lasagna, you can cook it the same way as you would as if it was never frozen. Just bake the lasagna in a pre-heated 350F oven for about an hour.
So here's a picture of assembled uncooked lasagna – ready to go in a freezer!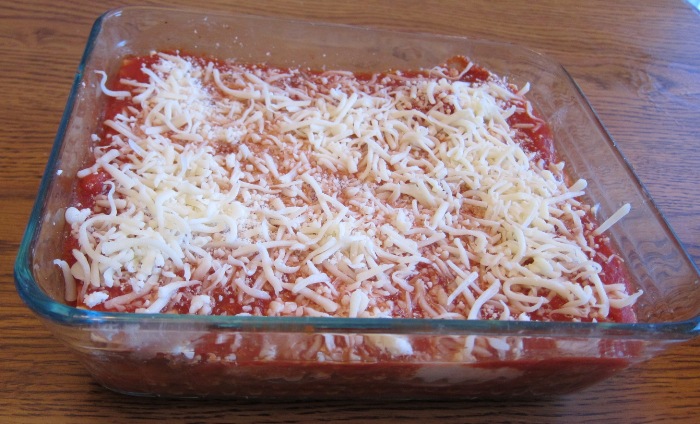 And here's the picture of this lasagna – cooked and ready to eat – yum!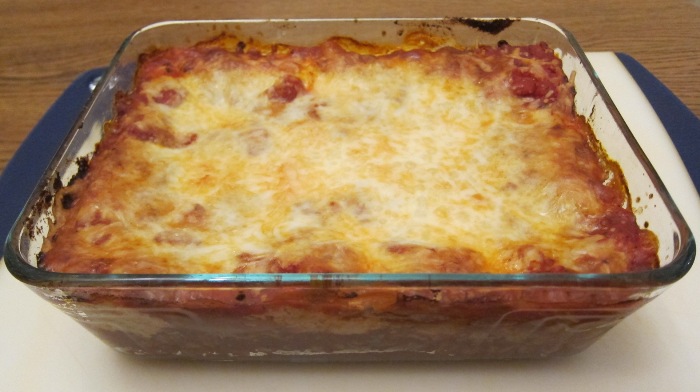 Enjoy this yummy lasagna! Freezing meals will really simplify your life! If you know you'll have a busy steak in your life, you can always plan ahead by freezing a bunch of meals – you'll be so happy you did. Also check out my other post in the freezer cooking series – how to freeze meatloaf and how to freeze meatballs.
Save this for later on your social media:
Get Melanie's FREE Recipes In Your Inbox!
https://www.melaniecooks.com/wp-content/uploads/2014/02/how-to-freeze-lasagna.jpg
328
700
Melanie Mendelson
https://www.melaniecooks.com/wp-content/uploads/2015/11/logo-new2.png
Melanie Mendelson
2014-02-14 13:11:19
2014-02-14 15:23:42
How To Freeze Lasagna