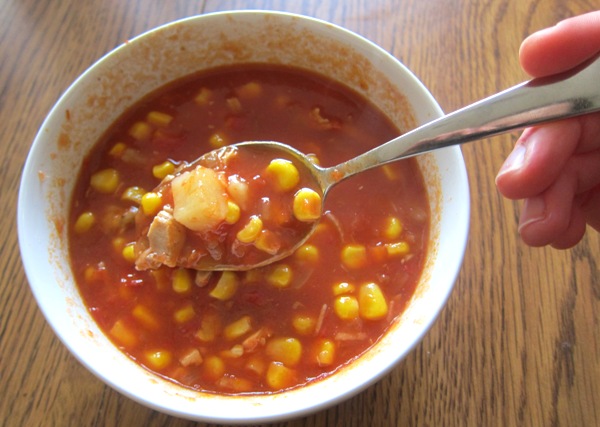 What could me more comforting than a warm bowl of this tasty corn, chicken and tomato soup?  This yummy soup is filling enough to be a main dish and is very easy to make.
The flavors of corn, chicken and tomatoes blend perfectly and remind you of summer.  For the cooked chicken, you can use leftover rotisserie chicken, canned chicken or just quickly cook a chicken breast or two.
Corn, Chicken And Tomato Soup Recipe
This tasty corn, chicken and tomato soup makes a perfect easy dinner. Great served with crusty bread!
Ingredients
1 small onion, very finely diced
3 garlic cloves, minced
28 oz can of crushed tomatoes
2 cups chicken broth
1 bag (1 lb) frozen corn
2 potatoes
2-4 cups cooked cut-up chicken (or meat from 1 rotisserie chicken, chopped)
2 tbsp olive oil
½ tsp cumin
Instructions
Cook the potatoes in the microwave - wrap each potato in a paper towel, put both of them in a microwave and microwave on High for 8 minutes.
In a pot, heat the oil over medium heat. Add the onion and cook, stirring occasionally, for 4 minutes.
Add garlic and cumin. Cook, stirring, for 30 seconds.
Add the tomatoes and chicken broth and bring to a boil.
Add frozen corn to the soup. Bring it back to a boil, then reduce heat to low, cover and simmer for 5 minutes.
Take the potatoes out of the microwave and carefully peel them. Cut the potatoes into pieces and add to the soup.
Add the cooked chicken to the soup. Cook the soup for 4 more minutes.
Add salt and pepper to the soup to taste.
Here's another picture of this yummy corn, chicken and tomato soup in a bowl: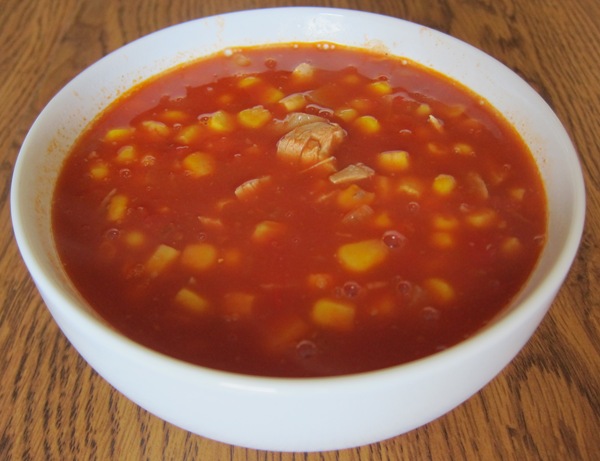 Serve this delicious soup with crackers for a perfect lunch or dinner!  I love to eat it with pretzel chips 🙂
http://www.melaniecooks.com/wp-content/uploads/2013/12/corn-tomato-soup.jpg
427
600
Melanie Mendelson
http://www.melaniecooks.com/wp-content/uploads/2015/11/logo-new2.png
Melanie Mendelson
2013-12-28 13:21:58
2016-01-31 10:47:21
Corn, Chicken And Tomato Soup Recipe