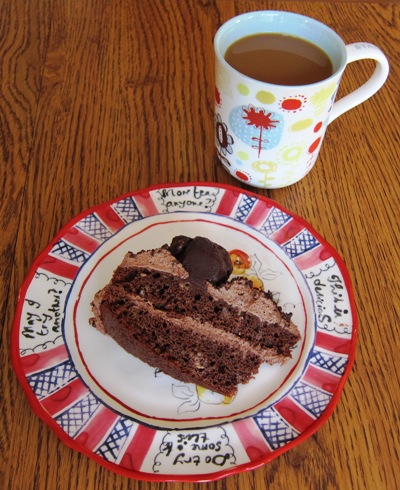 Cake for breakfast?  Even though I try to eat healthy most of the time, I occasionally indulge in a breakfast that consists of a slice of cake and a cup of coffee.  My absolute favorite cake is the homemade chocolate truffle cake, and having a slice of that chocolate cake with some great coffee is something to look forward to!  If I know that I have that chocolate truffle cake in my refrigerator, I love anticipating going in the kitchen in the morning – I know that I'll be brewing very strong coffee from freshly ground coffee beans, putting a slice of that chocolate cake on a beautiful plate, smelling the coffee, pouring the coffee in my cup, and finally tasting the cake and sipping the coffee!
This world's best chocolate truffle cake has chocolate cake layers, chocolate ganache cream, chocolate crumbs around the top and sides and the chocolate truffles on top!  On the picture of the cake slice above, it was a relatively small cake just for the family – it only had 2 layers.  The regular recipe for the chocolate truffle layer cake has 4 layers.  The day that I was making that chocolate cake I doubled the recipe and made 2 cakes –  a large cake with a whopping 6 layers for the party, and a small cake with 2 layers for the house 🙂  Can you imagine the huge super-tall cake – 6 layers of chocolate cake, with chocolate cream in between, plus the chocolate crumbs all around and the homemade truffles on top.  I made it with Hershey's dark chocolate. That was a show stopper, and just as tasty as it sounds!
Here's the picture of the 6-layer world's best chocolate truffle cake: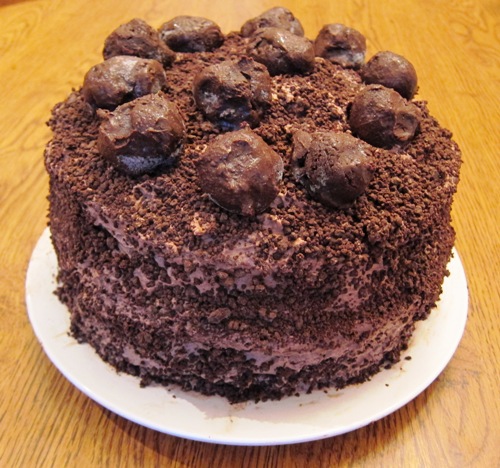 If you make this chocolate truffle cake, everybody will beg you for the recipe!  Check out my world's best chocolate truffle cake recipe.
http://www.melaniecooks.com/wp-content/uploads/2012/08/coffee-truffle-cake.jpg
490
400
Melanie Mendelson
http://www.melaniecooks.com/wp-content/uploads/2015/11/logo-new2.png
Melanie Mendelson
2012-08-26 10:15:23
2012-08-26 10:15:23
Chocolate Truffle Cake And A Cup Of Coffee For Breakfast