Vegetarian Dinner Of Veggie Patties, Quinoa, Tzatziki Sauce And Garlic Sugar Snap Peas
This post may contain affiliate links (disclosure).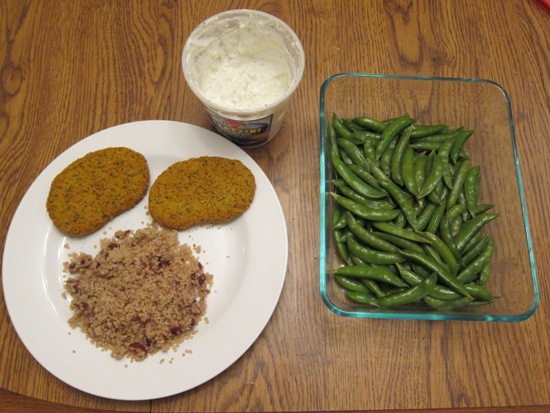 Here's a very yummy vegetarian dinner. Even though it doesn't have any meat in it, it's very filling and satisfying! I'm serving prepared Mediterranean veggie patties with a side of quinoa with raisins, prepared tzatziki sauce for dipping the patties and also garlic sugar snap peas.
Mediterranean Veggie Patties From Costco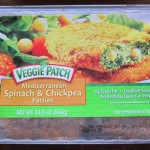 These veggie patties are called "Veggie Patch Mediterranean Spinach & Chickpea Patties", and they are so tasty that even meat eaters like them a lot. These veggie patties are already prepared, so all you need to do is to open a package and warm them in a microwave. These veggie patties are sold in Costco stores. Follow the link to learn more about Veggie Patch Patties.
Quinoa With Raisins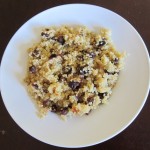 Quinoa with raisins is my favorite quinoa recipe. It's so flavorful, and is a perfect recipe to use if you want to introduce someone to quinoa. To make quinoa with raisins, just add some raisins to the quinoa and water when cooking quinoa. The raisins will cook together with quinoa and will become soft, and will make a very flavorful dish. Check out the full recipe for quinoa with raisins.
Tzatziki Sauce
I use the prepared tzatziki sauce from Hannah brand that I buy in Costco. Tzatziki sauce is very tasty and it's made out of yogurt, grated cucumber and garlic. Check out my page on Hannah tzatziki sauce.
Garlic Sugar Snap Peas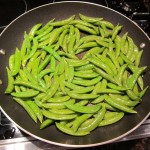 To make these yummy peas recipe, fresh sugar snap peas are stir-fried with a little oil and minced garlic. What an easy way to make such a tasty vegetable side dish! See complete recipe for garlic sugar snap peas.
Save this for later on your social media:
Get Melanie's FREE Recipes In Your Inbox!
https://www.melaniecooks.com/wp-content/uploads/2013/01/dinner-veggie-patties-quinoa-snow-peas.jpg
413
550
Melanie Mendelson
https://www.melaniecooks.com/wp-content/uploads/2015/11/logo-new2.png
Melanie Mendelson
2013-01-17 07:09:24
2013-01-17 07:16:16
Vegetarian Dinner Of Veggie Patties, Quinoa, Tzatziki Sauce And Garlic Sugar Snap Peas