Using Tzatziki Sauce As A Salad Dressing
This post may contain affiliate links (disclosure).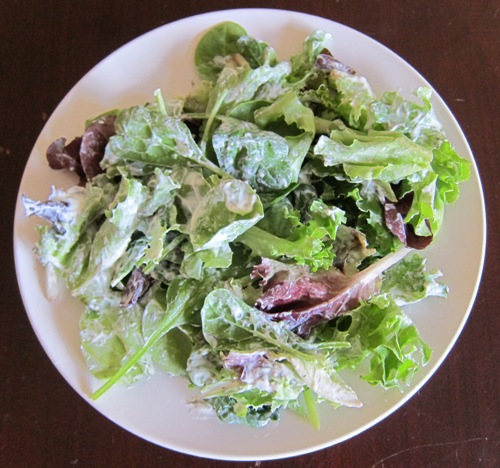 Greek tzatziki sauce is very versatile – you can have it as a sauce, as a dip and even as a salad dressing! If you never thought of using tzatziki as a salad dressing, try it – the salad greens with tzatziki are very tasty.
Tzatziki sauce is made out of greek yogurt, cucumber, lemon and garlic. These ingredients make a tangy and refreshing dressing! You can make tzatziki sauce yourself, or you can use store-bought tzatziki sauce – the Hanna brand of tzatziki is excellent.
Using tzatziki sauce as a salad dressing is easy – just put some dressing on a salad and toss so all salad ingredients are coated with the white tzatziki. The salad dressed with tzatziki sauce looks like it has a ranch dressing :)
Tzatziki transforms plain lettuce greens into an addictive salad. On the top picture all I used was plain salad leaves tossed with tzatziki, and I really enjoyed eating this salad with my meal. You can use tzatziki dressing in simple green salads or in complex salads that have lots of ingredients. Any salad that would taste good with Ranch dressing will taste good with tzatziki dressing.
If you think using tzatziki sauce as a salad dressing is creative, you will love other unique ways I have for using it. In fact, I came up with 12 different ways to serve tzatziki cucumber yogurt sauce – check out my page on ways to use Greek tzatziki sauce. If you love tzatziki as much as I do, you will enjoy all the different uses for this tasty sauce!
Save this for later on your social media:
Get Melanie's FREE Recipes In Your Inbox!
https://www.melaniecooks.com/wp-content/uploads/2012/07/tzatziki-salad-dressing.jpg
468
500
Melanie Mendelson
https://www.melaniecooks.com/wp-content/uploads/2015/11/logo-new2.png
Melanie Mendelson
2012-08-01 07:07:39
2012-12-28 08:23:10
Using Tzatziki Sauce As A Salad Dressing