Oven Baked Garlic Parmesan Potato French Fries Recipe
This post may contain affiliate links (disclosure).
Healthy fries? You've got it! These garlic Parmesan potato fries taste amazing, and they are baked, not fried! Golden brown, crispy and so full of flavor, this recipe is a must-make!
Healthy fries is not an oxymoron! These BAKED garlic Parmesan potato fries are so delicious, this recipe almost seems too good to be true! You don't have to FRY the fries to make them crispy and yummy. In fact, I don't even own a deep fryer – the oven can do an amazing job browning and crisping the fries if you use the right technique!
These baked fries are truly loaded with flavor. Salt, pepper, garlic, grated Parmesan and Italian seasoning – mmmmm! Biting into one of these oven fries is like a flavor explosion! I love baking things with garlic and Parmesan – you just can't go wrong with this combo :) I have other oven baked recipes that use similar technique – check out garlic Parmesan zucchini fries, Parmesan cauliflower and Parmesan-crusted salmon. Yes, when I find something that works so well, it's hard not to go overboard :)
How To Make Baked French Fries
Making these oven-baked Parmesan fries is super easy! And cutting the potatoes into fries is super-easy too – you don't need to have superb knife skills or a special slicing machine! You will laugh when you learn of my potato slicing trick below :)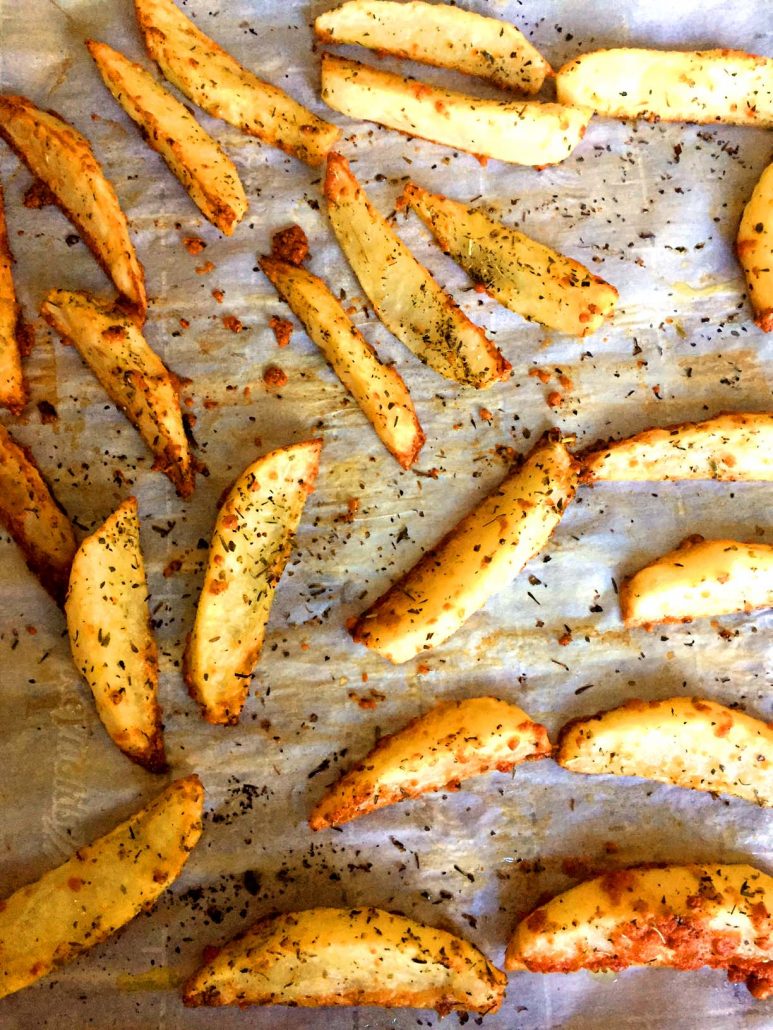 Slice the potatoes. To slice the potatoes into fries shape, you just cut them into eights lengthwise. That's it! No fancy shapes, no potato matchsticks, no nonsense! Yes, these are fairly large fries that are really potato wedges – so what, that's a "chef's special" home fries :)
Dry the potatoes with the paper towel to absorb all excess moisture. This will help the baked fries be crispy, not soggy!
Put the potato fries in a bowl and toss with olive oil, then toss with grated Parmesan cheese so they are evenly coated on all sides.
Spread the fries on a parchment-paper-lined baking sheets in a single layer, so the fries are not touching each other. Sprinkle with salt, pepper, garlic powder and Italian seasoning.
Baked in a pre-heated 425F oven to 30 minutes, or until the fries are golden-brown.
Sprinkle the baked fries with remaining Parmesan cheese.
There you have it – crispy, delicious and healthy oven-baked french fries! Serve these fries immediately for maximum crispness. Enjoy!
Click Here To Pin This Recipe
Crispy Baked Garlic Parmesan Potato Fries
These Parmesan garlic french fries are amazing! They are so addictive, you just can't stop eating them! Best of all, they are BAKED in the oven, not fried! Yes, yummy and healthy french fries - that's a must-make!
Instructions
Preheat the oven to 425F. Line a baking sheet with parchment paper.

Cut a potato in half lengthwise. Then cut each half in half lengthwise (so you have potato quarters). Then cut each quarter of the potato in half lengthwise again (so you have potato eighths, which are in the shape of large fries). Repeat with the remaining potatoes.

Take a large piece of paper towel and blot the potato fries on all sides so they are completely dry (wet potatoes will result in soggy fries).

Put the dry potatoes in a bowl and pour olive oil over them. Toss with your hands so the potatoes are completely coated with olive oil on all sides.

Add 1/4 cup of Parmesan cheese to the potatoes, and toss with your hands so the potatoes are evenly coated with Parmesan cheese.

Put the potatoes on a baking sheet in a single layer, so the fries are not touching. If there is not enough room, use another baking sheet.

Sprinkle the fries with salt, pepper, garlic powder and Italian seasoning.

Put the fries in the oven and bake for 30 minutes, or until golden-brown.

Remove the fries from the oven and sprinkle with remaining Parmesan cheese. Serve immediately.
Save This Recipe
Save this for later on your social media:
Get Melanie's FREE Recipes In Your Inbox!
https://www.melaniecooks.com/wp-content/uploads/2017/04/potatoes_garlic_parmesan_fries3.jpg
1632
1224
Melanie Mendelson
https://www.melaniecooks.com/wp-content/uploads/2015/11/logo-new2.png
Melanie Mendelson
2017-04-26 12:38:42
2021-12-08 09:08:29
Oven Baked Garlic Parmesan Potato French Fries Recipe