Grilled Marinated Onion Slices Recipe
This post may contain affiliate links (disclosure).
These amazing onions are marinated AND grilled! Can you imagine their awesome flavor? Yes, they are as yummy as they sound! You must make these onion slices next time you are grilling!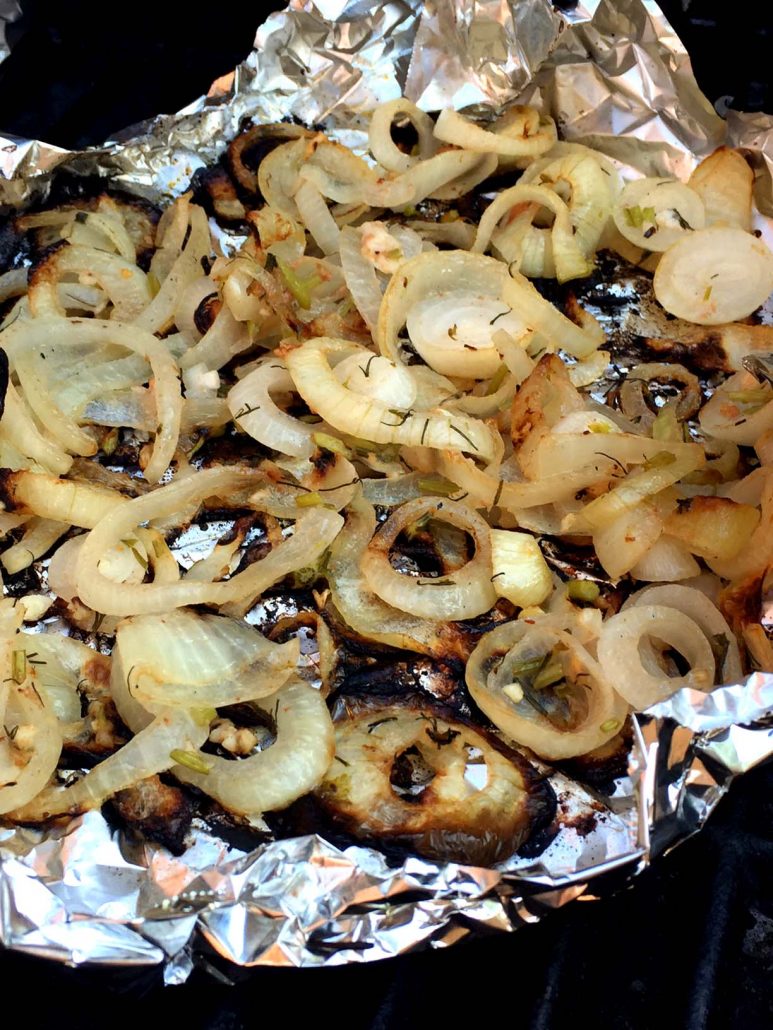 OMG smell them! They smell so grilled! And taste so marinated! These marinated grilled onions are mouthwatering! These onion slices are a perfect BBQ side dish along with my famous potato salad and grilled corn in husks. Everyone loves those yummy onions! Before you know it, all you have left is empty foil and all the onions are gone!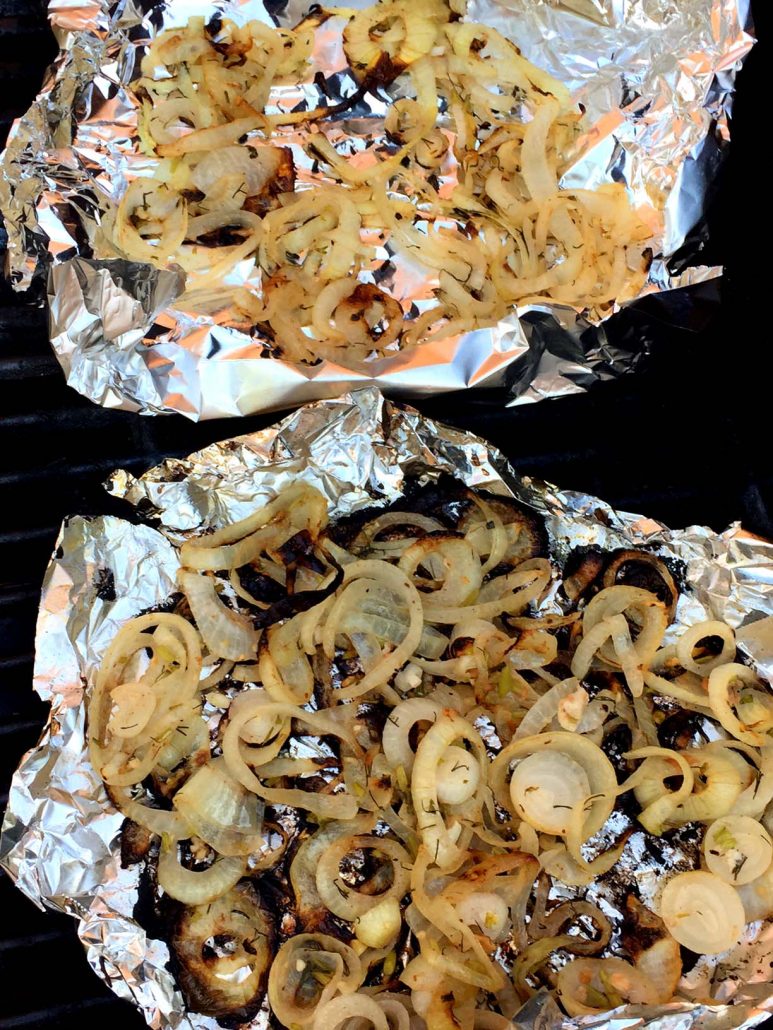 First, the onion slices are marinated in the mixture of extra-virgin olive oil, red wine vinegar and oregano, and then they are grilled on an open grill to perfection. YUM!
How do you grill onions slices without having them fall into the grill? Use foil! Just put the onion slices on top of the double sheet of foil and grill away – they won't be going anywhere :) This recipe is similar to my grilled onions in a foil pocket, except in this version they are cooked ON TOP of the foil as opposed to inside the sealed foil pocket.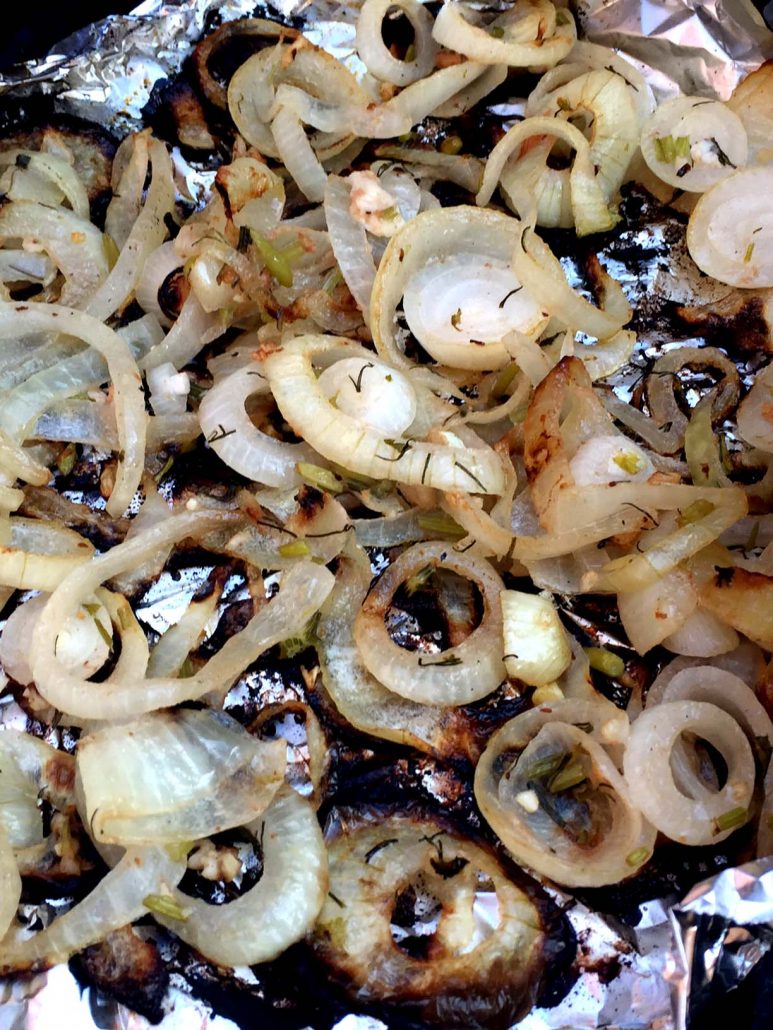 These grilled marinated onions are super easy to make and so flavorful! Red sweet onions work amazing for this recipe as well! For more unusual stuff to grill, try my grilled pita pizza – you'll love it!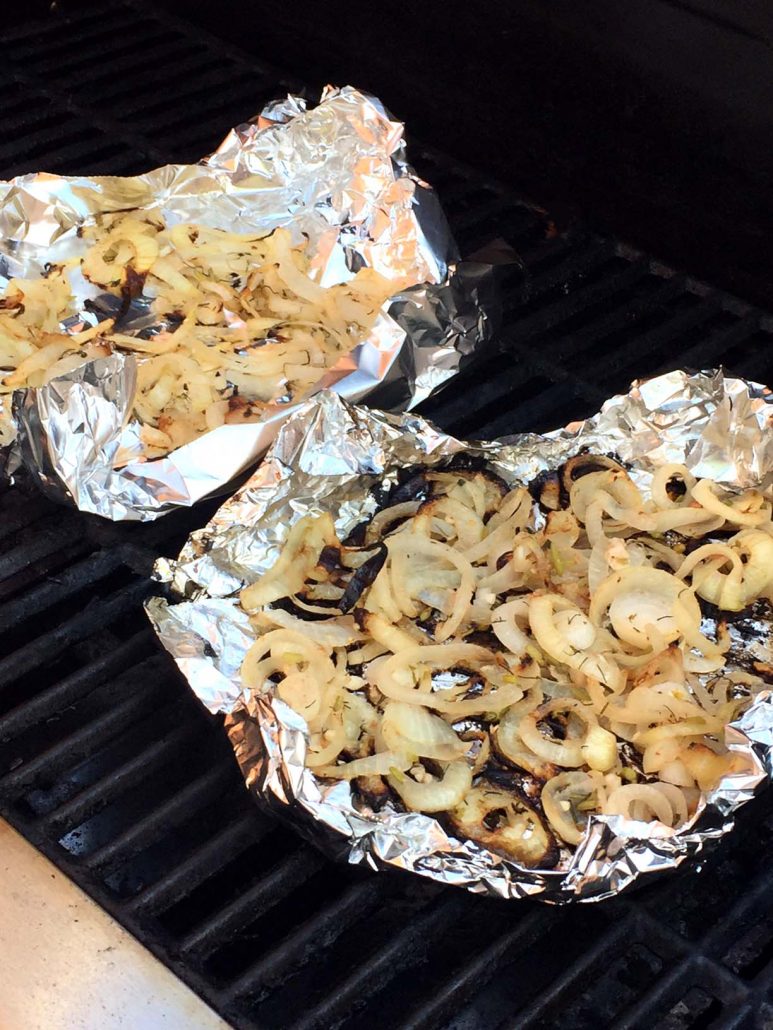 Click Here To Pin This Recipe
Grilled Marinated Onion Slices
These grilled marinated onions slices are so flavorful, you won't believe it! They have such a deep marinated flavor, and to top it off, they are grilled! These are the best onions ever, you'll never taste the onions better than these!
Instructions
Put the onion slices in a bowl.

Mix the olive oil, vinegar and oregano in a cup.

Pour the oil mixture over the onions and toss with your hands to coat.

Marinate onions in a refrigerator overnight or on the counter for 30 minutes.

Preheat the grill to medium-high.

Put the onion slices on several double sheets of foil and shape the sides of the foil so it resembles a plate (to make a double-sheet of foil, just take a big piece of oil and fold it in half).

Put the foil with the onions on the grill, and grill the onions uncovered for 15 minutes.
Save This Recipe
Save this for later on your social media:
Get Melanie's FREE Recipes In Your Inbox!
https://www.melaniecooks.com/wp-content/uploads/2017/07/grilled_onions_recipe.jpg
1632
1224
Melanie Mendelson
https://www.melaniecooks.com/wp-content/uploads/2015/11/logo-new2.png
Melanie Mendelson
2017-08-02 10:51:15
2021-12-08 09:02:40
Grilled Marinated Onion Slices Recipe