Enchilada Casserole With Ground Beef And Refried Beans
This post may contain affiliate links (disclosure).
This Mexican enchilada casserole is amazing! Made with ground beef, corn tortillas, refried beans, salsa and cheese, it's like a party in your tummy!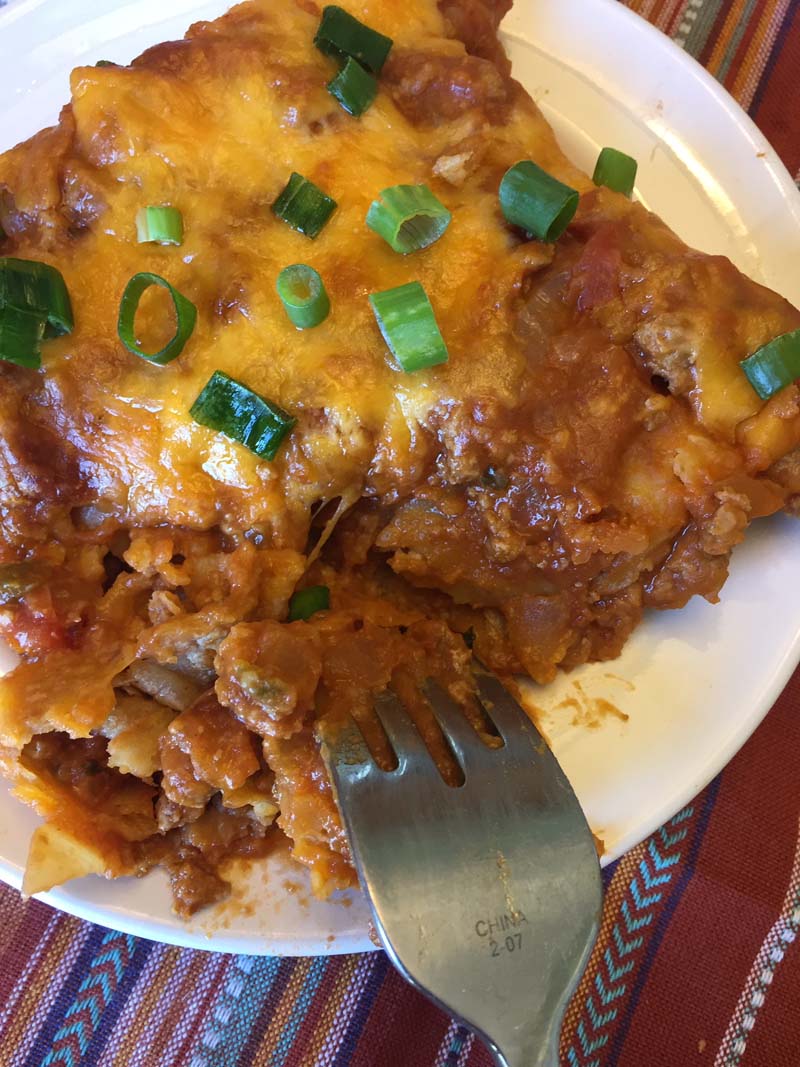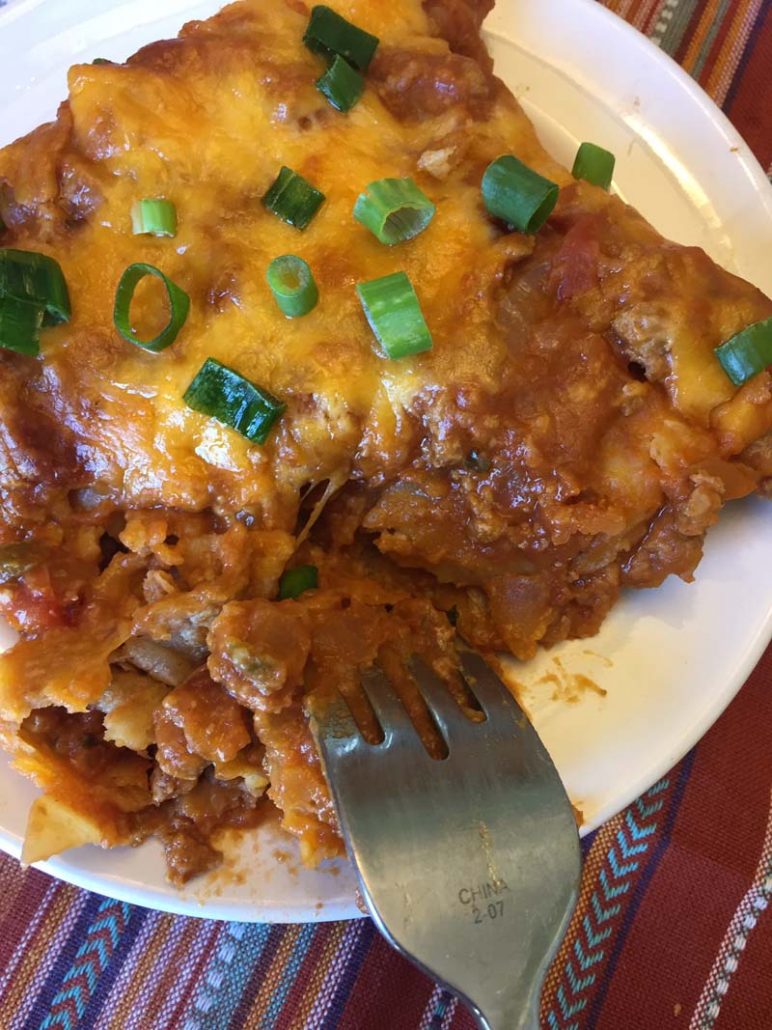 Get your fix of Mexican food without leaving your house! I love casserole dinners because they are so easy!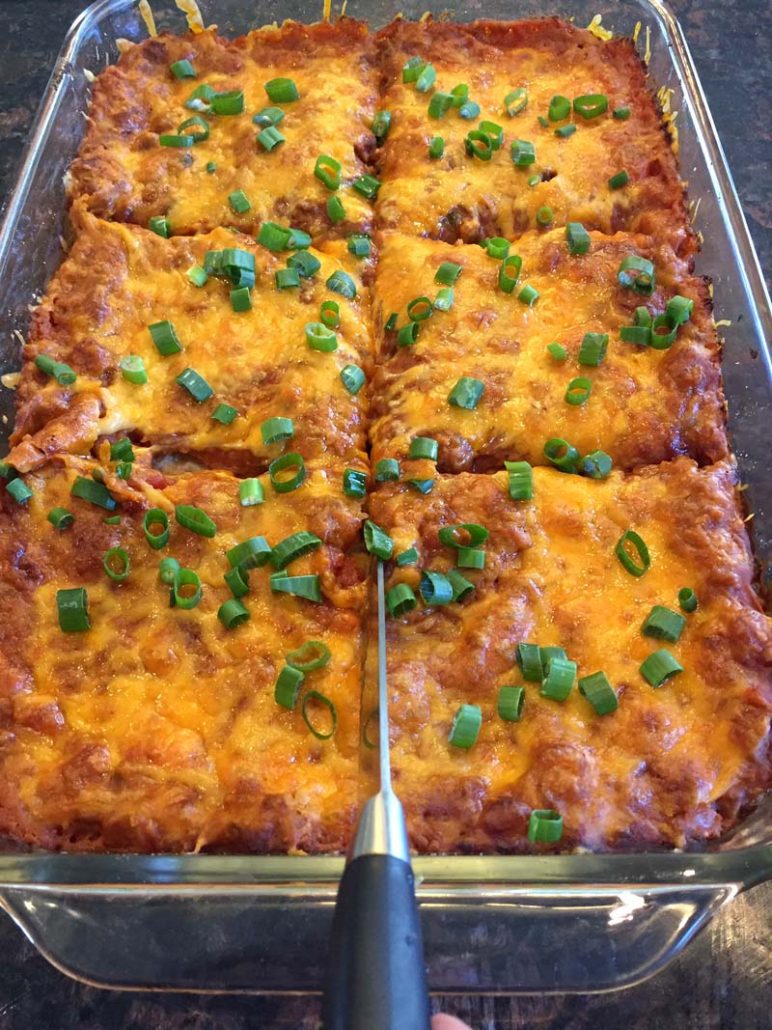 Enchilada casserole is a twist on classic Mexican enchiladas. While classic enchiladas are made by wrapping the filling in corn tortillas, enchilada casserole is made by layering the filling between corn tortillas (basically, using the same technique as making lasagna, but using corn tortillas pieces instead of lasagna noodles.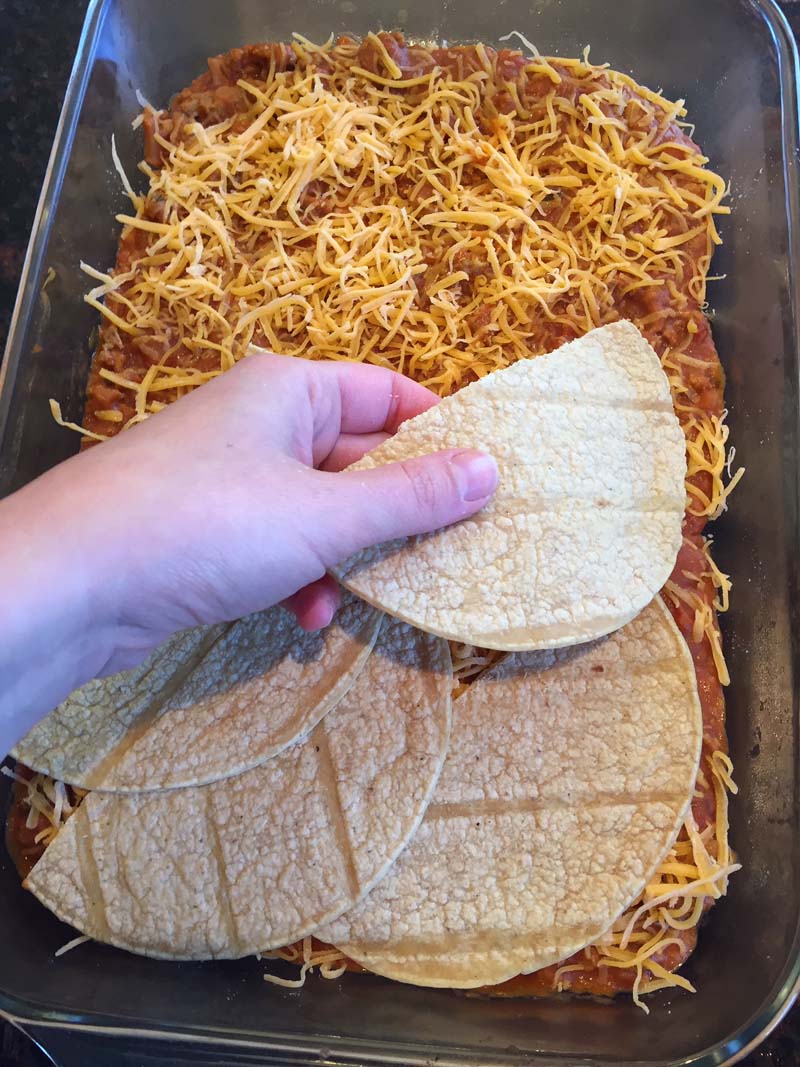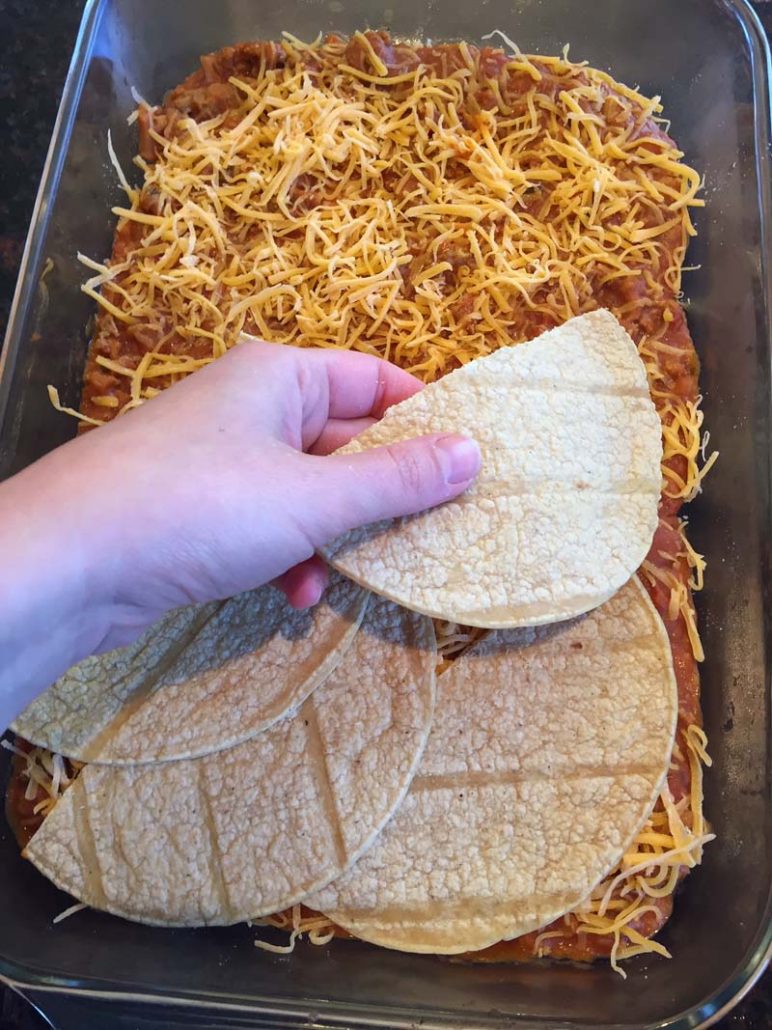 How To Make Enchilada Casserole
Step 1: Make a filling (meat sauce)
Cook ground beef and onion in a frying pan. Add garlic, Taco seasoning, salsa, tomato sauce and refried beans and cook for several more minutes (see the recipe card on the bottom of this article for the exact ingredient proportions).
TIP: take this recipe to the next level by making your own Taco seasoning and refried beans from scratch. Of course you can use store-bought too :) If you are an Instant Pot owner, you owe it to yourself to try my Instant Pot refried beans recipe – it's life changing!
Step 2: Assemble enchilada casserole
The next step is to assemble the enchilada casserole in a baking dish. It's super easy when you break it down into logical layers!
Layer 1: corn tortillas
Layer 2: meat sauce
Layer 3: shredded cheese
Layer 4: corn tortillas
Layer 5: meat sauce
Layer 6: shredded cheese
Here come the step-by-step photos:
Layer 1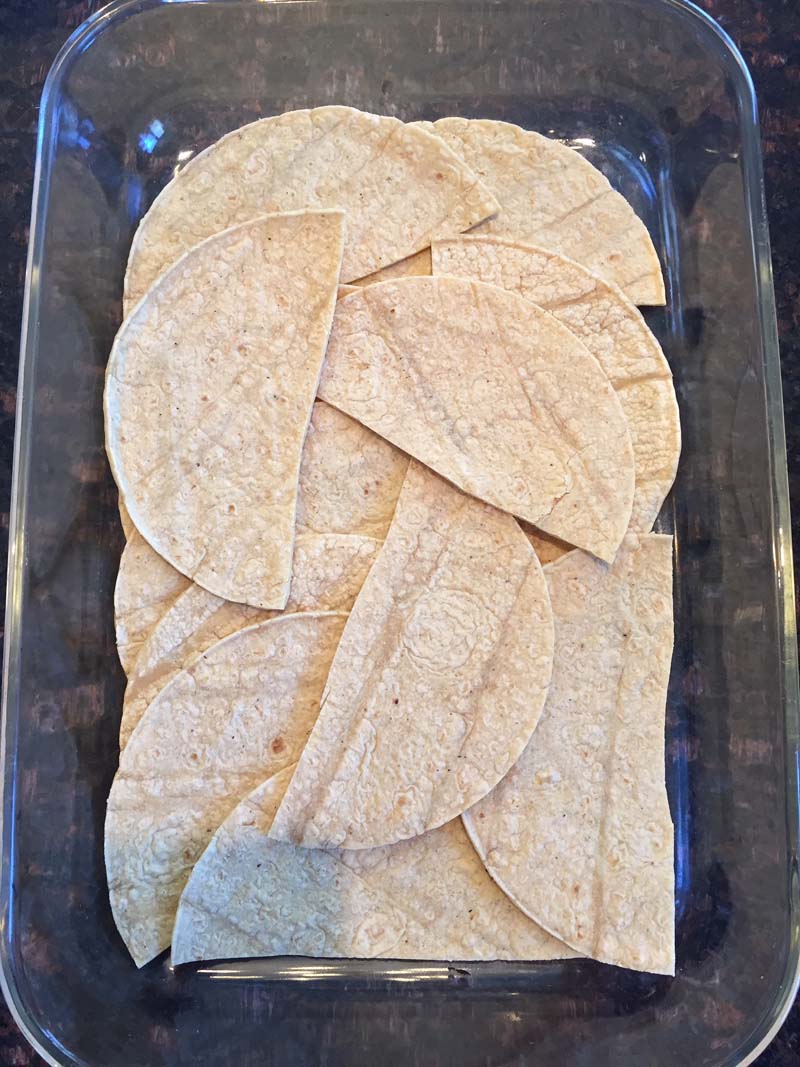 Layer 2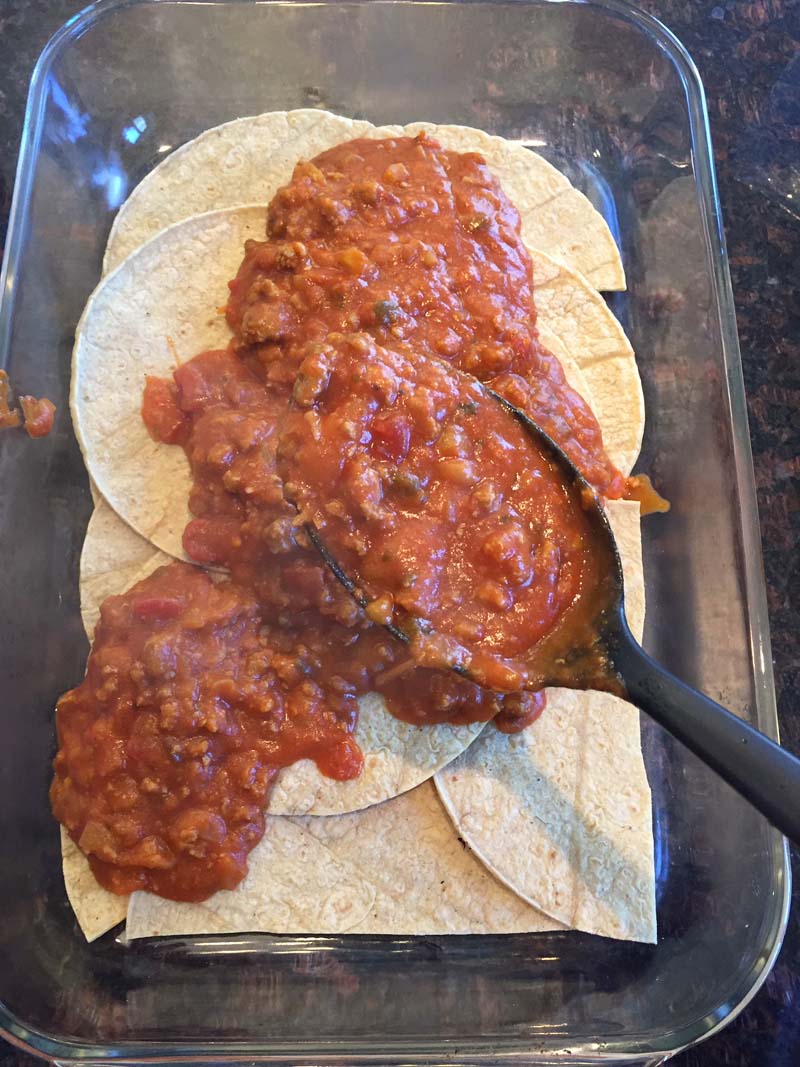 Layer 3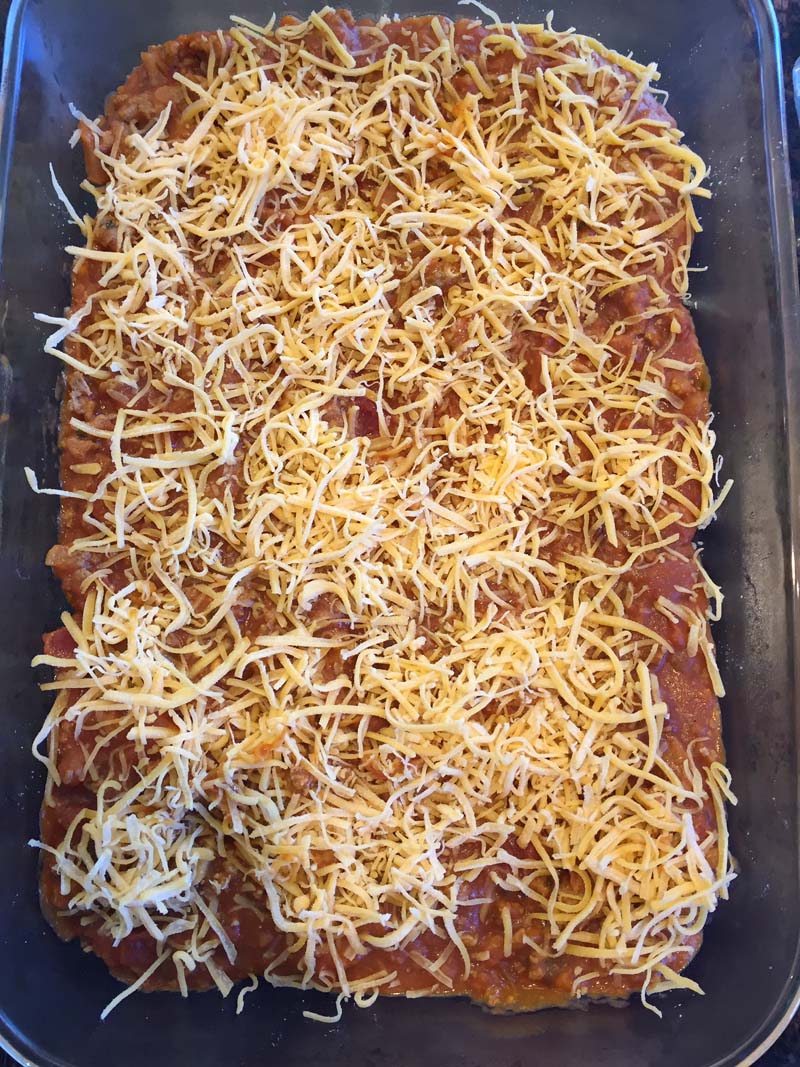 Then repeat with layers 4-6 :) Now this easy Mexican enchilada casserole is ready for baking!
Step 3: Bake in the oven
Bake the enchilada casserole in a pre-heated 350F oven for 30 minutes, or until fully heated through and cheese is melted.
Sprinkle with chopped green onion, slice and serve. Enjoy!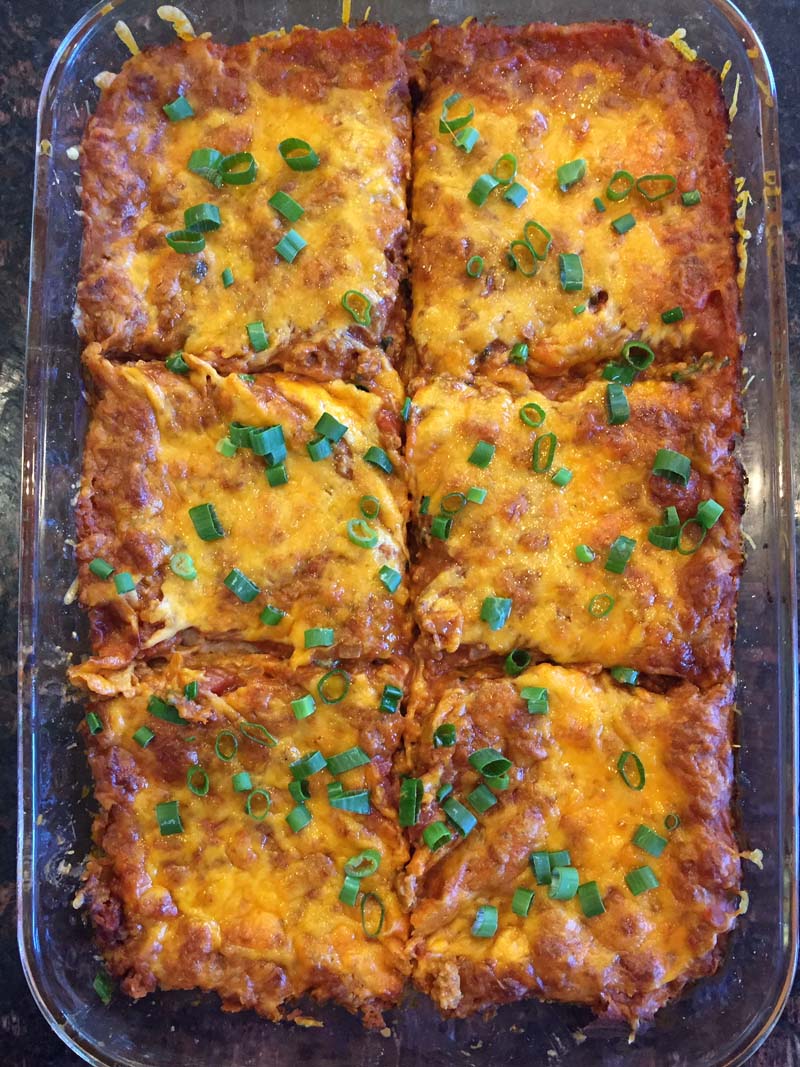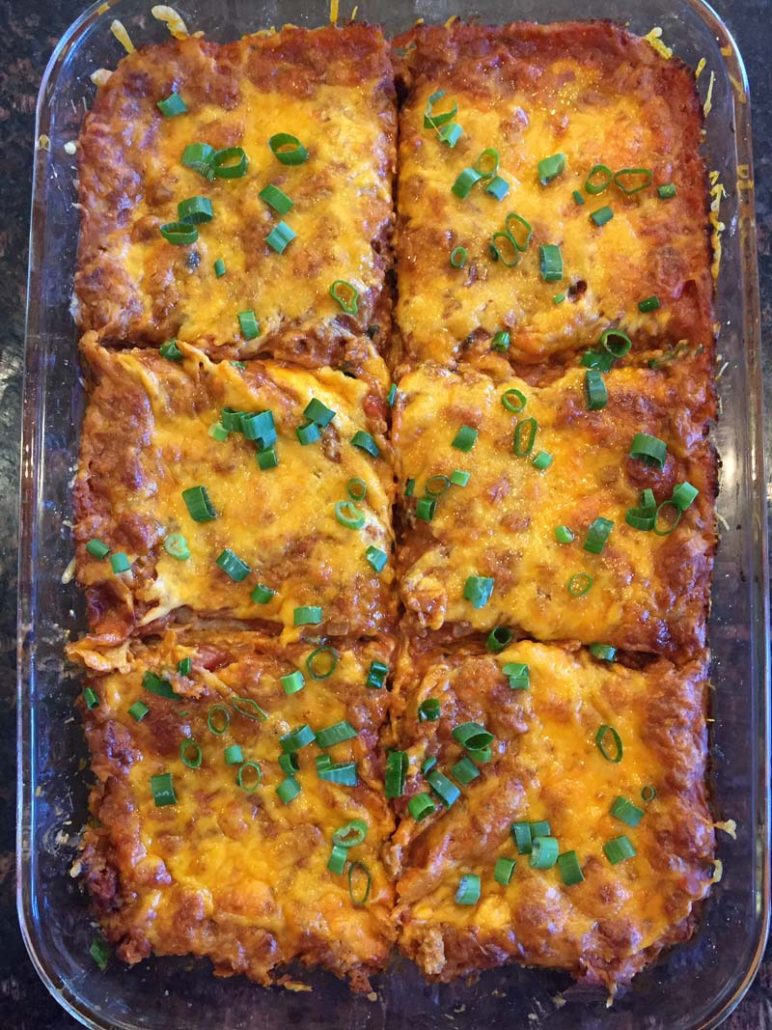 Enchilada casserole for a crowd
This recipe makes a 9×13 baking dish of enchilada casserole, which is 6 very generous servings for hungry people :) If you are making it for a party and there are other appetizers and salads on the table, this casserole can serve 8 to 10.
To make this enchilada casserole for a bigger crowd, just double the recipe and use 2 baking dishes :) You can bake 2 enchilada casseroles on 2 oven shelves at the same time, just add 5-10 minutes to baking time.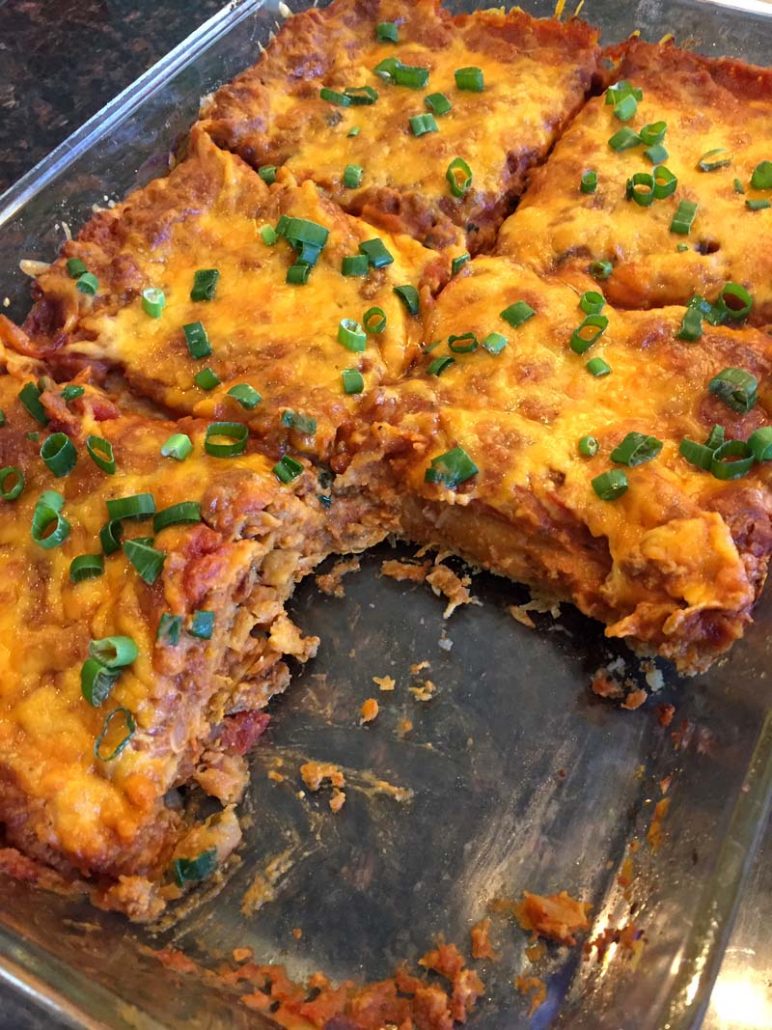 Can you freeze enchilada casserole?
Yes, this recipe is very freezer friendly! You can freeze assembled unbaked enchilada casserole for up to 6 months. To reheat frozen enchilada casserole, just use the oven – it will reheat it and bake it to perfection! Nobody will tell a difference between enchilada casserole that was made today or frozen and reheated.
The best way to thaw it is in refrigerator overnight, then bake as usual. If you forgot to thaw it overnight, don't worry – you can still have a spontaneous Mexican enchilada casserole dinner by baking it straight from frozen for 1 hour (check to make sure that it's hot inside in the middle, if not, allow more baking time).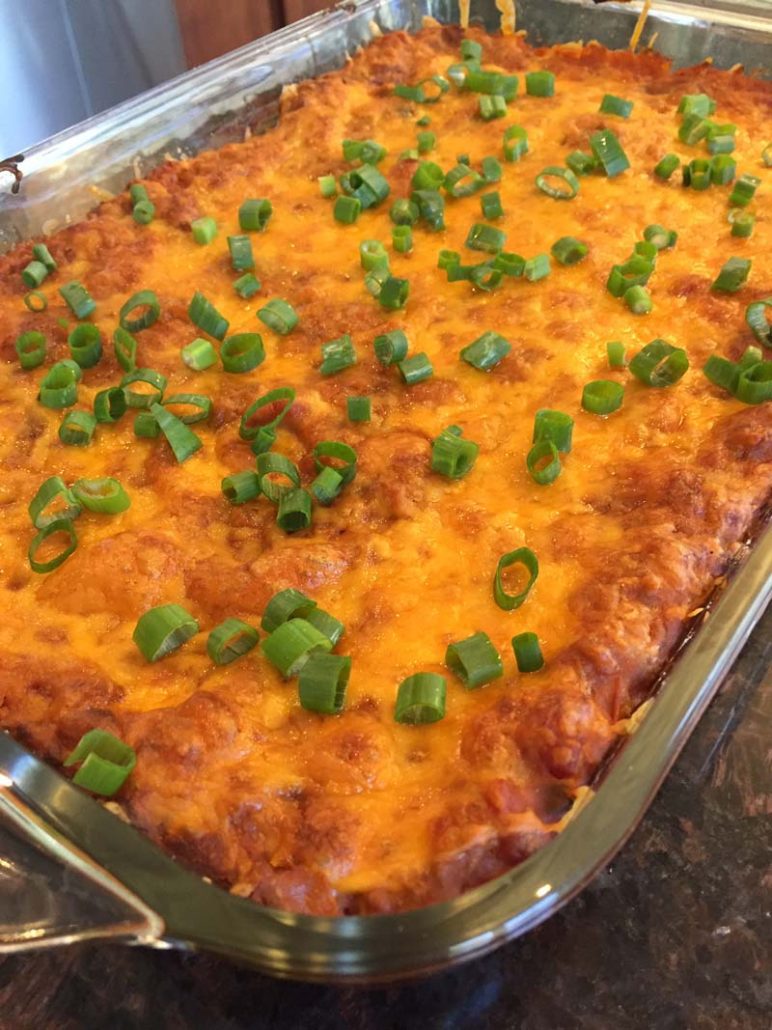 Can you make enchilada casserole ahead?
Yes, you can store assembled unbaked enchilada casserole in a refrigerator for up to 5 days! When ready to bake, put it in the oven and bake for 45 minutes (15 minute time increase due to the fact that it takes longer to heat it through when the filling is cold from the fridge versus just made).
What goes with enchilada casserole?
OMG my mouth is already watering! Here are the links to my easy recipes that pair with Mexican enchilada casserole perfection:
And here's another recipe that's always a hit at Mexican-themed gatherings: Mexican Shrimp Ceviche. Enjoy!
Click Here To Pin This Recipe
Enchilada Casserole
This easy Mexican enchilada casserole is amazing! So easy to make and truly mouthwatering! This recipe is a MUST for your easy dinners collection!
Instructions
Preheat the oven to 350F.

Spray a large non-stick skillet with cooking spray and heat oven medium-high heat. Add ground beef, onion and garlic and cook, stirring occasionally, for 5 minutes, or until the beef is cooked. Drain excess fat.

Add Taco seasoning, refried beans, salsa and tomato sauce to the meat mixture in the skillet, and mix until combined. Cook, stirring every 30 seconds, for 5 minutes. Add salt and pepper to taste if needed.

Spray a non-stick 9x13 baking dish with cooking spray (or grease with butter).

Layer half of corn tortilla pieces on the bottom of the baking dish.

Spread half of the meat sauce over the tortilla layer.

Sprinkle the meat sauce layer with half of the shredded cheese.

Layer the remaining tortilla pieces on top of the cheese, followed by a layer of remaining meat sauce and remaining shredded cheese.

Put the enchilada casserole in the oven and bake for 30 minutes.

Remove the enchilada casserole from the oven and sprinkle with green onions.
Nutrition
Calories:
549
kcal
|
Carbohydrates:
41
g
|
Protein:
30
g
|
Fat:
29
g
|
Saturated Fat:
14
g
|
Cholesterol:
93
mg
|
Sodium:
1476
mg
|
Potassium:
716
mg
|
Fiber:
8
g
|
Sugar:
8
g
|
Vitamin A:
1010
IU
|
Vitamin C:
6.5
mg
|
Calcium:
390
mg
|
Iron:
3.8
mg
Save This Recipe
Save this for later on your social media:
Get Melanie's FREE Recipes In Your Inbox!
https://www.melaniecooks.com/wp-content/uploads/2019/04/enchilada_casserole_easy2.jpg
1067
800
Melanie Mendelson
https://www.melaniecooks.com/wp-content/uploads/2015/11/logo-new2.png
Melanie Mendelson
2019-05-18 07:35:50
2019-05-19 13:53:21
Enchilada Casserole With Ground Beef And Refried Beans