Russian Eggplant Caviar Recipe (Baklazhannaya Ikra)
This post may contain affiliate links (disclosure).
This authentic Russian "eggplant caviar" recipe will get you addicted! Sweet, spicy and garlicky eggplant spread is mouthwatering!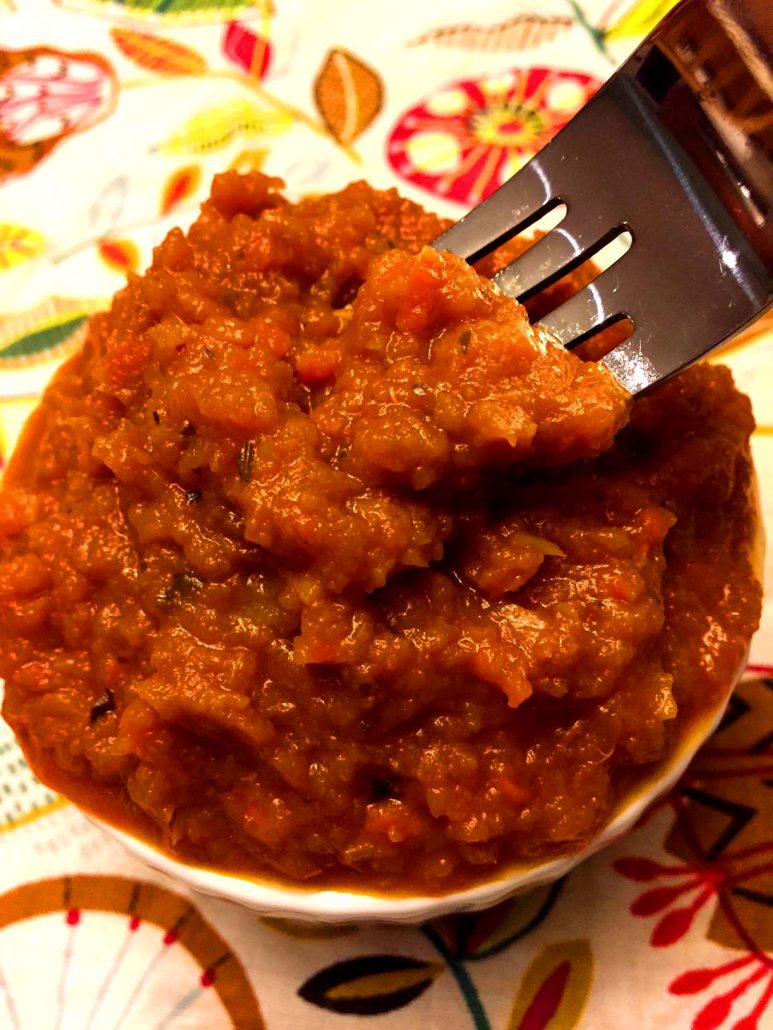 Look at this tastiness! An eggplant spread made with pan-fried eggplants, onions, carrots, tomatoes and bell peppers, seasoned with ketchup, vinegar, sugar, garlic and red pepper – amazing! This stuff is super addictive, you just can't stop eating it!
The name "eggplant caviar" (Baklazhannaya Ikra in Russian) comes from the fact that in Russia people who couldn't afford real caviar made this eggplant spread as a poor man's caviar substitute. Instead of spreading bread slices with real caviar, they topped them with eggplant caviar! To be honest, I prefer the taste of this eggplant spread to the real caviar :) Yes, I just have the taste of a peasant!
This eggplant caviar is so good for you as it is full of healthy nutritious vegetables. As the vegetables cook, they shrink, and then the eggplant caviar is processed in a food processor into a dip texture, making it so easy to get multiple servings of vegetables in one sitting! This stuff is so delicious, it definitely doesn't feel like "eating vegetables" :) You'll be eating it and eating it, until there is no more eggplant caviar left!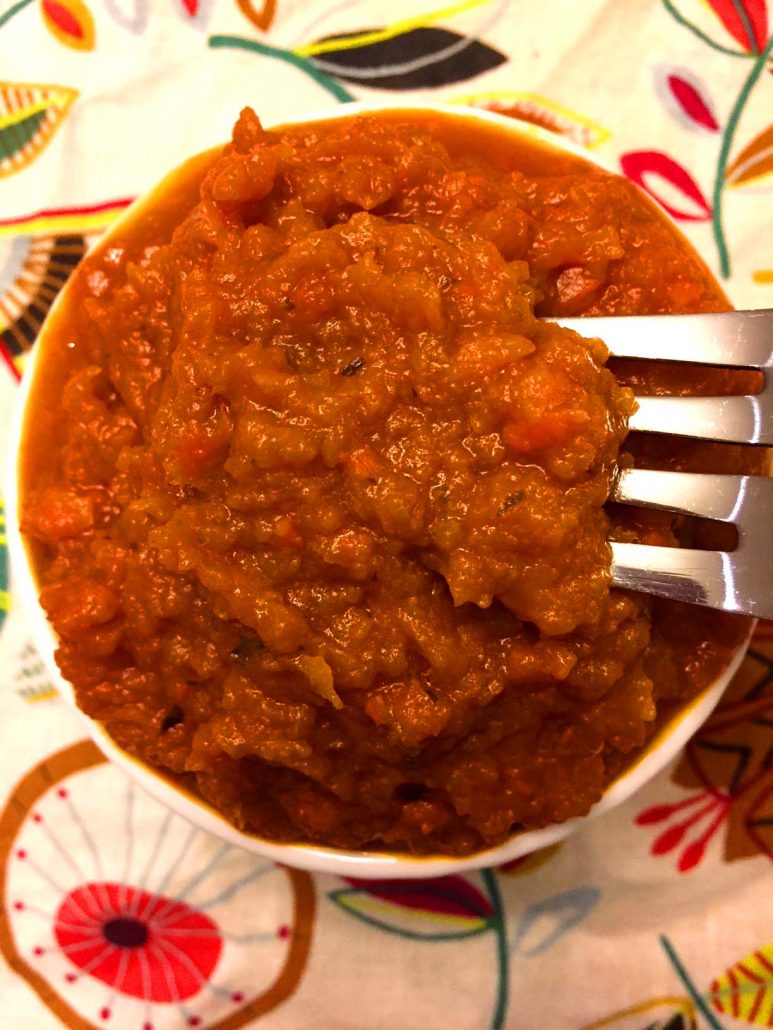 In Russia people used to make huge batches of this eggplant caviar in the summer and use the canning process to preserve it for the winter. If you have a bumper crop of veggies in your garden, there is no better way to use them up then to make a yummy eggplant spread. Having cans of homemade eggplant caviar in your pantry would be so wonderful!
This eggplant caviar is very versatile – you can eat it as a spread on top of bread, you can use it as a dip, you can use it in sandwiches, you can use it as a vegan main dish on top of rice, you can use it as a simple side with meat or fish. There are so many ways to eat this yummy Russian eggplant spread – and of course, you can eat it straight out of the bowl with a spoon!
Here are some more delicious recipes you will love:
Russian Chebureki Street Food
Russian Sharlotka Apple Cake
Russian Golubtsy Stuffed Cabbage Rolls
Click Here To Pin This Recipe
Russian Eggplant Caviar (Baklazhannaya Ikra)
This authentic Russian "Eggplant Caviar" recipe tastes amazing! Eggplant caviar is full of vegetables and super healthy, and is so full of flavor and is extremely addictive! It is great as a spread, dip or side!
Instructions
Heat the oil in a large pot over medium-high heat. Add eggplant, onion, carrots, tomatoes and bell pepper and cook, stirring occasionally, for 15 minutes, or until vegetables are soft.

Put ketchup, sugar, vinegar, red pepper flakes, minced garlic and salt in a cup and mix until combined. Add the ketchup mixture to the vegetables and mix until combined. Bring to simmer, reduce heat to Low, cover and cook, stirring occasionally, for 5 minutes. Add more salt to taste if needed.

Let the eggplant caviar cool, the transfer to the food processor and pulse until smoother consistency (but some chunks still remain).

Serve the eggplant caviar cold, as a spread, dip, sauce or side dish.
Save This Recipe
Save this for later on your social media:
Get Melanie's FREE Recipes In Your Inbox!
https://www.melaniecooks.com/wp-content/uploads/2017/11/eggplant_tomato.jpg
1632
1224
Melanie Mendelson
https://www.melaniecooks.com/wp-content/uploads/2015/11/logo-new2.png
Melanie Mendelson
2017-11-26 07:18:02
2021-12-08 09:00:55
Russian Eggplant Caviar Recipe (Baklazhannaya Ikra)