Russian Stuffed Cabbage Rolls (Golubtsy) Recipe
This post may contain affiliate links (disclosure).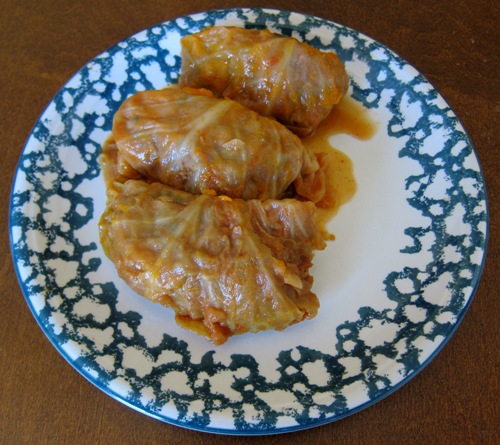 This is a Russian recipe for stuffed cabbage rolls. In Russian, these cabbage rolls are called "Golubtsy". Golubtsy consist of ground meat and rice rolled inside the cabbage leaves, then simmered in tomato sauce. Stuffed cabbage rolls is a great one-dish meal that has the meat, starch and vegetable all in one.
Traditional Russian recipe for stuffed cabbage rolls requires boiling the whole head of cabbage in a pot of boiling water for 15 minutes before separating the leaves. Dealing with the big cabbage in a pot of boiling water is quite messy! Fortunately, in modern times there is an easier way to soften the cabbage – use the microwave! My easy stuffed cabbage rolls recipe has you cook the cabbage in a microwave, so you can now enjoy the stuffed cabbage rolls without the hassle of boiling the cabbage.
Click Here To Pin This Recipe
Russian Stuffed Cabbage Rolls "Golubtsy" Recipe
This is the authentic Russian stuffed cabbage rolls recipe called "Golubtsy". The mixture of ground beef and rice is wrapped in cabbage leaves and cooked in tomato sauce. Give Golubtsy a try - you'll love them!
Instructions
Wrap the cabbage in paper towels and put it in the microwave. Microwave the cabbage on High for 15 minutes. Let stand for 10 minutes, as the cabbage will be very hot.

In a bowl, combine the ground beef, cooked rice, egg and chopped onion. Sprinkle with salt and pepper, and mix until everything is combined.

Carefully separate the leaves from the cabbage (you can cut the bottom of the leaves from the cabbage with scissors).

Take a handful of meat mixture and put it inside the cabbage leave, then roll like a burrito (first fold the ends over the filling, them roll into a tight roll).

Put the cabbage rolls in a large non-stick pot, seam side down. You can put them in the pot in several layers on top of another another.

Pour the tomato sauce over the cabbage rolls. Add enough water so the cabbage rolls are covered with liquid.

Bring to a boil, then reduce heat to low, cover and simmer the stuffed cabbage rolls for 1 hour.
Save This Recipe
How To Make Stuffed Cabbage Rolls In A Slow Cooker
You can also cook these stuffed cabbage rolls in a slow cooker. Follow the same recipe to assemble the cabbage rolls, but instead of putting them in a pot, put them in a slow cooker. Cook for 8 hours on Low or 4 hours on High.
Here are some more yummy recipes with stuffed vegetables: easy stuffed grape leaves recipe and easy stuffed peppers recipe.
Save this for later on your social media:
Get Melanie's FREE Recipes In Your Inbox!
https://www.melaniecooks.com/wp-content/uploads/2012/11/stuffed-cabbage.jpg
445
500
Melanie Mendelson
https://www.melaniecooks.com/wp-content/uploads/2015/11/logo-new2.png
Melanie Mendelson
2012-11-25 12:51:30
2021-12-08 09:16:00
Russian Stuffed Cabbage Rolls (Golubtsy) Recipe