Homemade Caramel Popcorn Recipe
This post may contain affiliate links (disclosure).
This homemade caramel popcorn is mouthwatering! This is the only caramel corn recipe you'll ever need!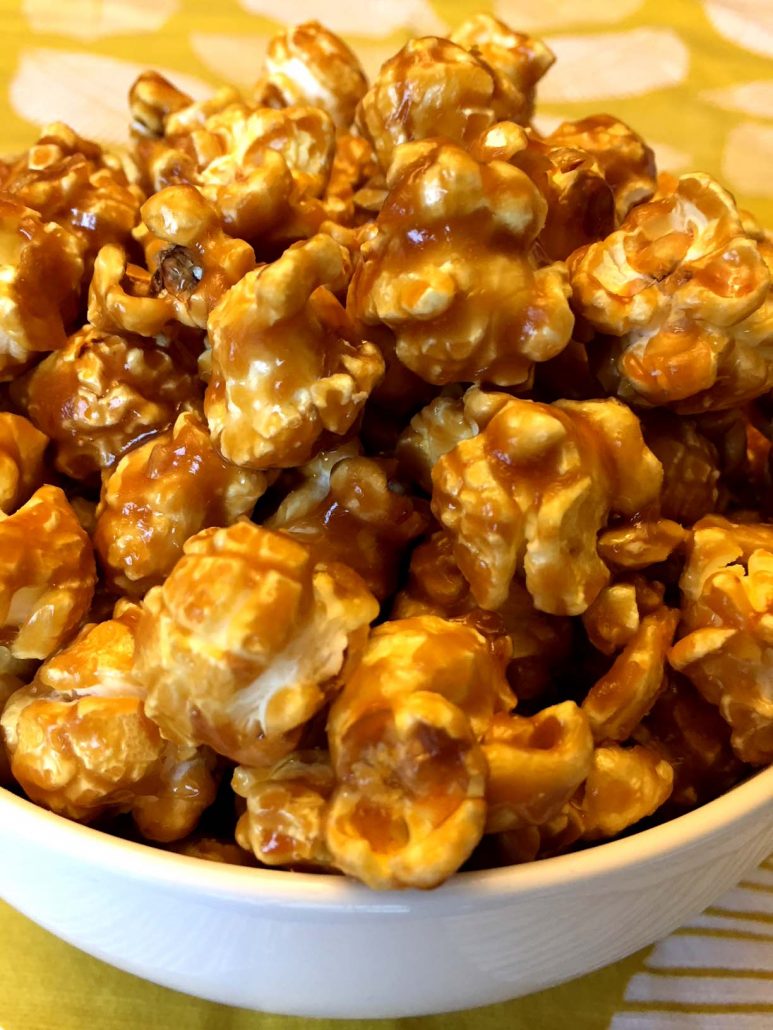 This epic caramel corn is the king of homemade popcorn! So crunchy, caramelized and sweet, you can taste the caramel flavor in every bite!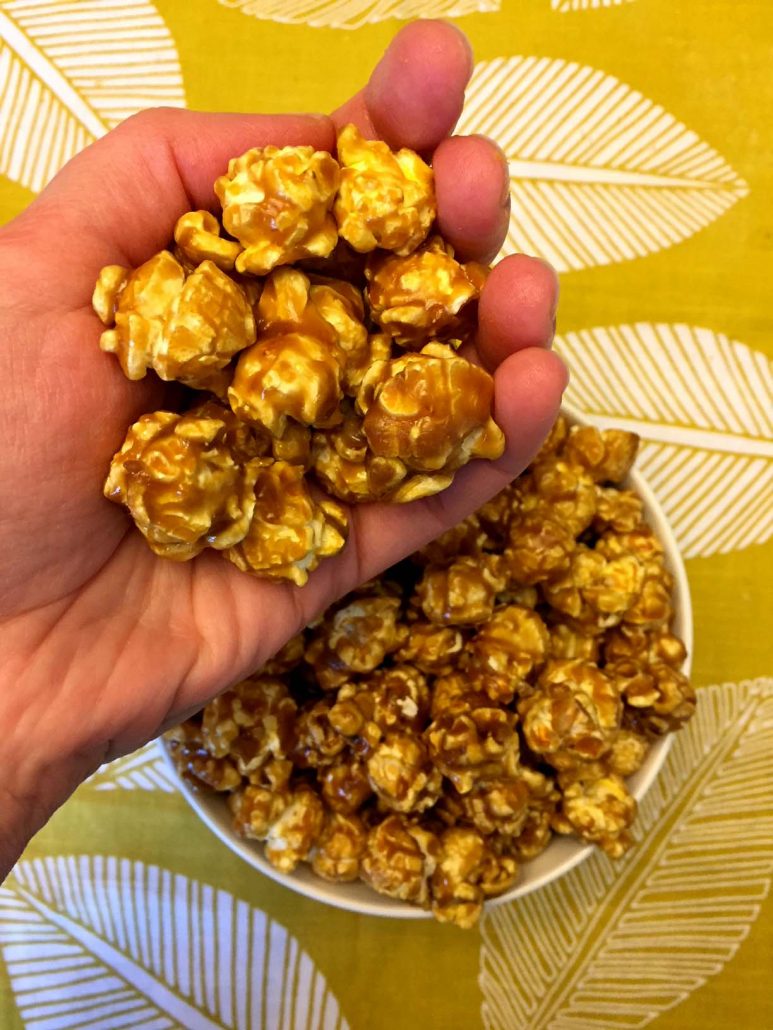 It rivals the one from a popcorn shop! Once you learn how to make this caramel corn, people will be asking you to open your own gourmet popcorn shop and sell this creation :)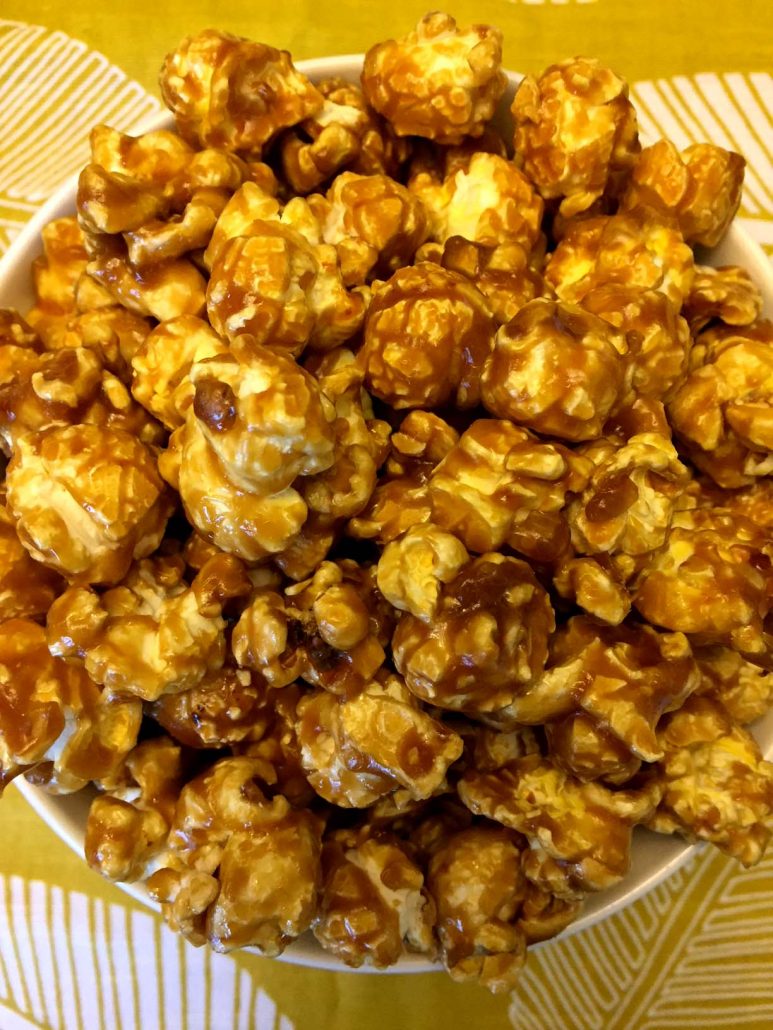 What are the ingredients of homemade caramel popcorn? Caramel ingredients are brown sugar, butter, salt, corn syrup, vanilla extract and baking soda. Is there a way to avoid corn syrup? Unfortunately not, as the caramel popcorn recipe variations without corn syrup that you'll find on the Internet simply don't work. I always try to get rid of the corn syrup (as in my pecan pie without corn syrup) but in this case you truly need it. Hey, everything in moderation, right? :) The closest thing to caramel corn without corn syrup is cinnamon brown sugar popcorn – you get the caramel taste but the coating is more like melted sugar clumps instead of smooth caramel all over.
Homemade caramel coating is made in a pot by simmering together brown sugar, butter, salt and corn syrup. When the caramel finishes cooking, vanilla and baking soda is stirred in, making the caramel foam. Next, plain popped popcorn is tossed in the caramel coating and baked in the oven for 1 hour at 250F to harden the caramel and make this caramel corn super crunchy.
This homemade caramel corn makes a great food gift! You can make a huge batch and then package it in clear plastic gift bag with a pretty ribbon on top. It doesn't cost much to make and will look super impressive!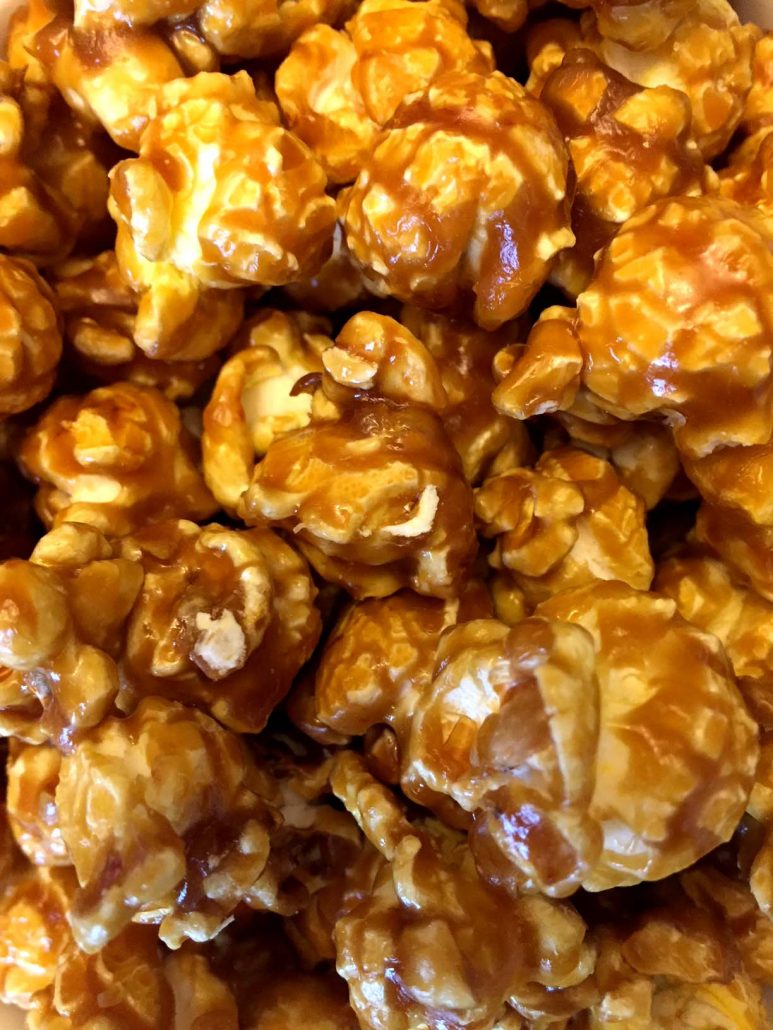 If you like homemade caramel corn, you will also love these easy yummy recipes:
Cheese Popcorn Recipe – this homemade cheese popcorn is super addictive with a deep Cheddar flavor!
Honey Candied Pecans – everyone loves these sticky candied nuts! So easy to make and so yummy!
Cinnamon Popcorn – another awesome homemade popcorn recipe, I can never get enough cinnamon with brown sugar!
Mexican Street Corn Salad – not popcorn but fresh corn :) This corn salad is EPIC, you'll want to eat every single crumb!
Easy Cinnamon Roll Cake – the shortcut version of a cinnamon roll! Cinnamon roll flavor in a cake form – super easy to make and so delicious!
Click Here To Pin This Recipe
Homemade Caramel Popcorn Recipe
This homemade caramel popcorn is amazing! Tastes exactly like the caramel corn from a gourmet popcorn shop!
Instructions
Preheat the oven to 250F. Line 2 baking sheets with parchment paper.

Put popcorn in a large bowl.

Put butter, brown sugar, corn syrup and salt in a saucepan. Bring to a boil over medium heat. Reduce heat to simmer and cook, stirring constantly, for 5 minutes.

Remove the saucepan from heat, add baking soda and vanilla and stir to combine.

Pour the mixture over the popcorn immediately, and quickly toss the popcorn so all of it is coated with caramel.

Put the caramel popcorn on the parchment-paper-lined baking sheets in a single layer. Put in the oven and bake for 1 hour.
Save This Recipe
Save this for later on your social media:
Get Melanie's FREE Recipes In Your Inbox!
https://www.melaniecooks.com/wp-content/uploads/2018/02/caramel_popcorn_recipe.jpg
1632
1224
Melanie Mendelson
https://www.melaniecooks.com/wp-content/uploads/2015/11/logo-new2.png
Melanie Mendelson
2018-03-06 07:15:40
2021-12-08 07:51:57
Homemade Caramel Popcorn Recipe