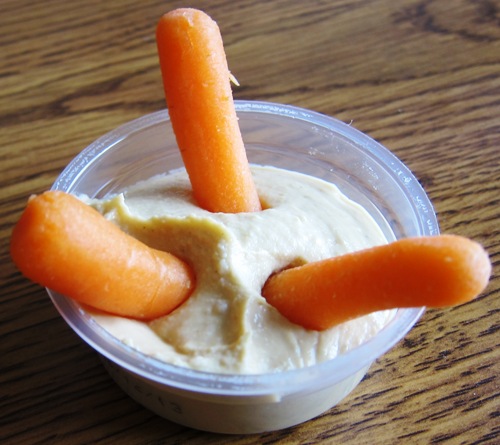 If you are looking for new ideas for healthy and tasty snacks, try carrots and hummus!  Baby carrots dipped in hummus are very yummy, super healthy and pretty filling!
Carrots and hummus make a great combination.  Crunchy carrots and creamy hummus go really well together.  Carrots alone won't make you very full, but when they are dipped in hummus, they'll really fill you up.
When you are hungry for a snack, don't reach for the sweet stuff that will make you even hungrier.  Stock up on healthy snacks like carrots and hummus, and have an idea of what you are going to eat for a snack before you get too hungry.
I buy individually packaged Sabra hummus singles in Costco – it's a perfect hummus to go!  Each package has an individual serving of hummus, and it's sealed, so you can easily pack this portable hummus in a lunchbox.
I keep a box of those hummus singles in the refrigerator, along with the bag of baby carrots.  If I need a healthy snack, hummus and carrots are waiting.  On the top picture is the opened Sabra individual hummus cup with the baby carrots in it 🙂
Of course can also make hummus from scratch, or buy the big tub of store bought hummus if you can't find the single serving hummus in the store.  And of course, you can dip other vegetables in the hummus, not just carrots – other yummy and healthy vegetables to dip in hummus are cucumber spears, celery sticks and cauliflower and broccoli florets.  Also, hummus goes so well with homemade pita chips!
Carrots And Hummus For A Snack
What you need
Carrots (baby carrots, or large carrots that are peeled and cut into sticks)
Hummus (store-bought or homemade)
Happy snacking!
Dip the carrots in the hummus and crunch away 🙂
Another great dip for carrots and other vegetables is tzatziki.  If you like dipping baby carrots in hummus, you must give tzatziki carrot dip at try – you'll love it!
http://www.melaniecooks.com/wp-content/uploads/2013/04/hummus-carrots.jpg
445
500
Melanie Mendelson
http://www.melaniecooks.com/wp-content/uploads/2015/11/logo-new2.png
Melanie Mendelson
2013-04-26 11:26:56
2013-07-09 17:30:35
Carrots And Hummus For A Snack