Dried Cranberries And Nuts For A Snack
This post may contain affiliate links (disclosure).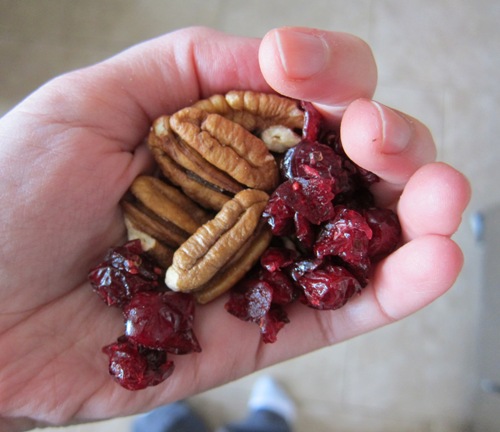 When I'm hungry between meals, my favorite go-to snack is dried cranberries and nuts. Dried cranberries with nuts is a great combination. I really like dried cranberries on their own, and I really like nuts on their own… and I like them even more when they are combined!
Dried cranberries provides the sweet and sour taste that's really yummy. I much prefer dried cranberries over raisins – raisins are just way too sweet and one-dimensional for me. The sour notes in cranberries make them burst with flavor!
Eating dried cranberries alone will not make you full, since they don't have protein – you can just keep eating them and eating them non-stop, consume way too many calories and still be hungry. To make dried cranberries a filling snack, the addition of the nuts will do the trick!
Nuts provide the protein that will make this a filling snack. Pecans or walnuts are the best tasting types of nuts for this combo. Combined with cranberries, the richness of nuts is injected with the sweet and sour flavor, and it just tastes so good and fills you up right away. One handful of the nuts and cranberries mixture is enough to fill satisfied. It really is a power snack.
The cheapest source of pecans and dried cranberries is Costco. In Costco, the dried cranberries are labels "Craisins" and are sold in big packages. The pecans are sold in the nut section, also in big packages. I haven't seen dried cranberries and pecans anywhere for a cheaper price than in Costco.
In my pantry, I have a large plastic jar of pecans and another large plastic jar of cranberries. I open the lids from the jars, scoop some nuts from the nut jar, then scoop the cranberries from the cranberry jar… this makes a delicious handfull of goodies, and I pop them in my mouth! Yum – what a snack!
Save this for later on your social media:
Get Melanie's FREE Recipes In Your Inbox!
https://www.melaniecooks.com/wp-content/uploads/2011/05/nuts-cranberries-handful.jpg
432
500
Melanie Mendelson
https://www.melaniecooks.com/wp-content/uploads/2015/11/logo-new2.png
Melanie Mendelson
2011-05-29 20:02:36
2011-10-20 11:30:49
Dried Cranberries And Nuts For A Snack