This post may contain affiliate links (disclosure).
Toasted Sugared Slivered Almonds are amazing as a salad topping or a cake topping! They are so crunchy and addictive – you just can't stop eating them!

If you are looking for a perfect salad topping, you must try these toasted sugared slivered almonds. They transform any ordinary salad into an exciting gourmet dish! Deep toasted nutty flavor with caramelized sugary crunch – what can be better than that? Just warning you – if you prepare these in advance before the salad, there might be none left by the time you get to the salad making!
Toasted sugared slivered almonds are a dangerous thing to have in your pantry closet. You will be walking by, putting your fingers in a jar and grabbing a handful, then licking the crumbs off the palm of your hand – these almonds just taste so amazing!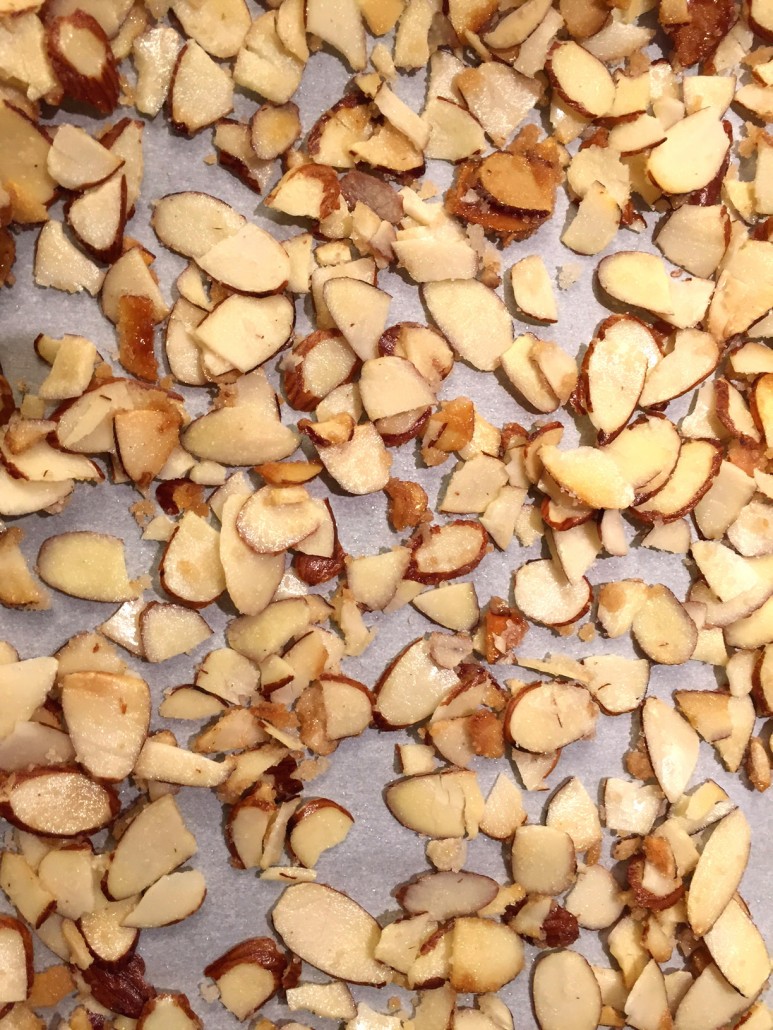 These almonds are perfect in any green salad – no matter what other ingredients are in it, these crunchy sweet almonds will fit right in. I especially like adding them to salads that have bitter leafy greens, such as kale, collards and arugula. The sweetness and nuttiness of the sugared almonds perfectly balances out the strong taste of the bitter greens and elevates the salad to the whole new level. If you are not a fan of dark leafy greens, you must give them another try with these toasted sugared almonds – you will be an instant convert!
In addition to using these delicious almonds as salad topping, you can use them for topping cakes and other desserts. You can also serve them in a bowl as an appetizer or snack – let your guests decide what to sprinkle them on :) Toasted sugared slivered almonds are also a great addition to a cheese tray!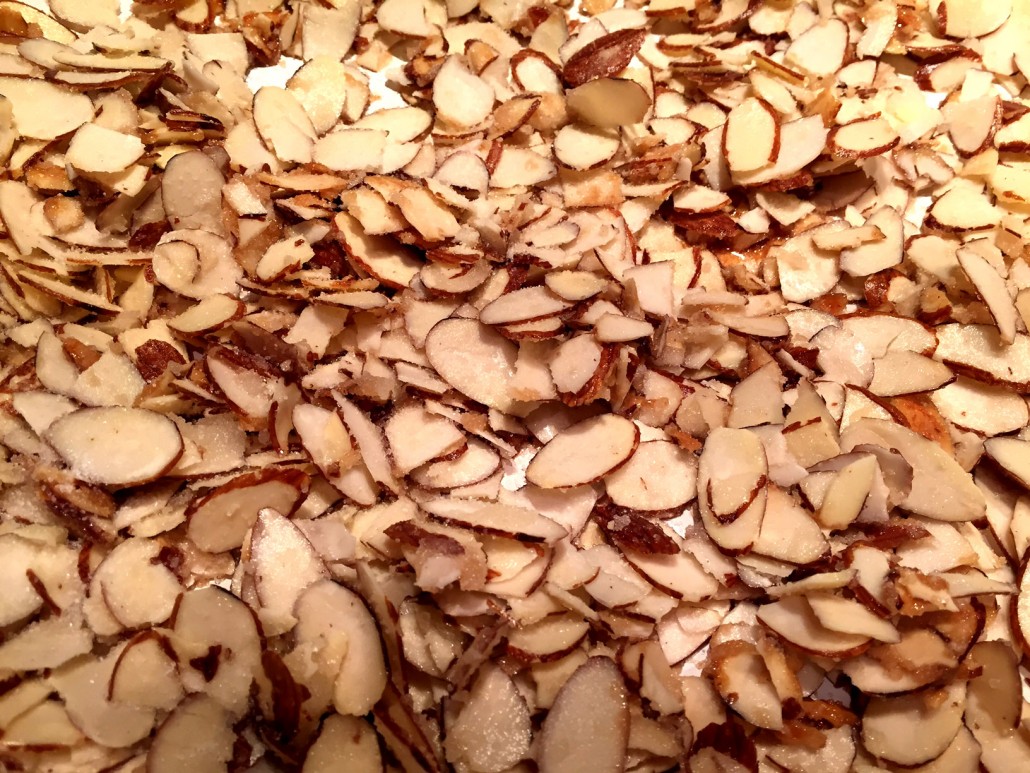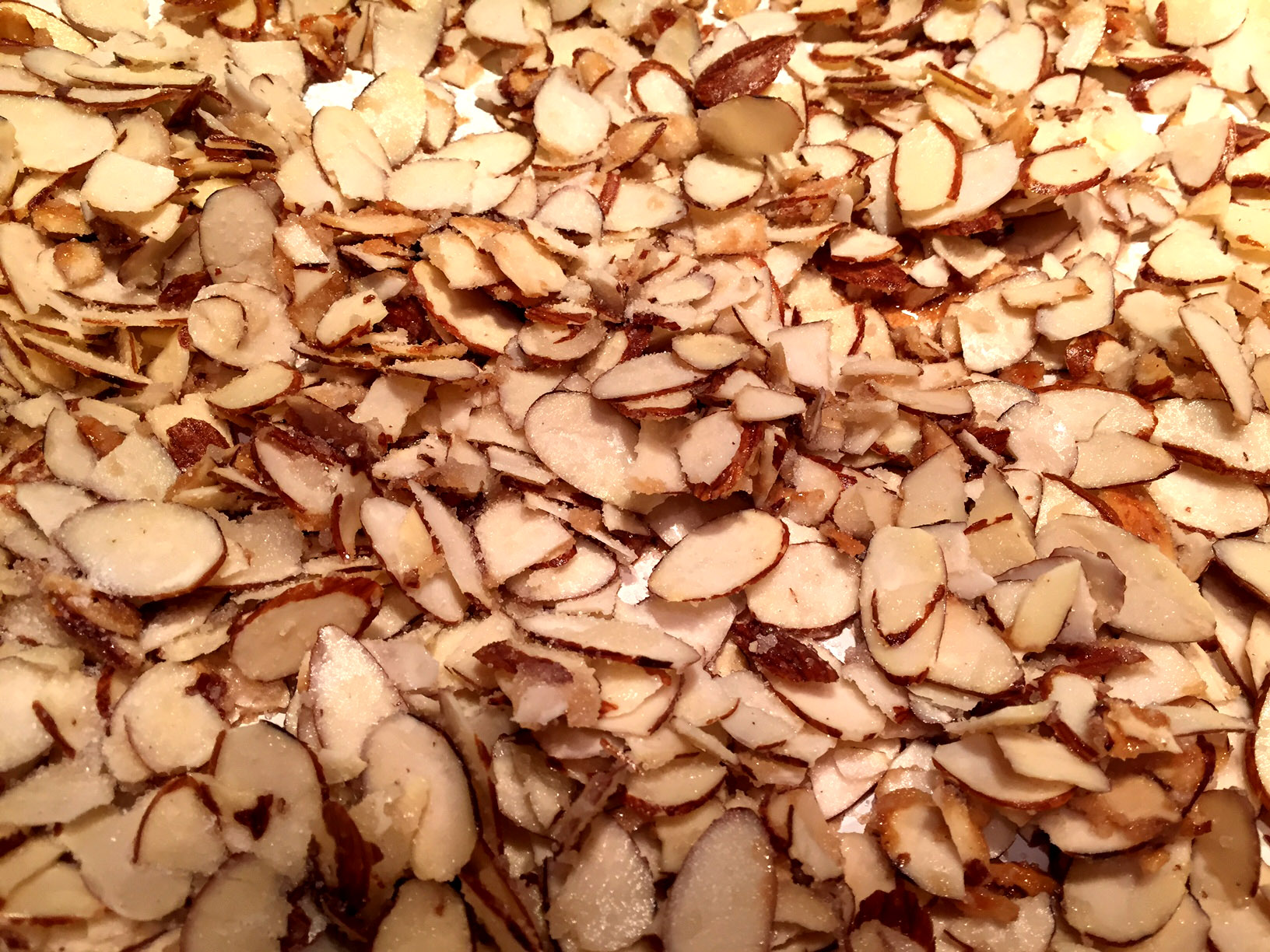 If toasted sugared almonds sounds too fancy for you and you are just not the type of person who normally makes this kind of stuff, I have great news for you: making these almonds is very easy and takes about 5 minutes from start to finish! You don't need any special equipment – all you need is a non-stick frying pan. There are only 3 ingredients that you need: almonds, butter and sugar. Melt the butter in a frying pan, add sugar, then add almonds and toss until they start to brown – that's all there is to it. Give this recipe a try – you'll be glad you did!
Click Here To Pin This Recipe On Pinterest
Toasted Sugared Slivered Almonds Recipe
Slivered almonds are coated with caramelized sugar and toasted - crunchy, nutty and sweet! Perfect as salad topping, cake topping or a snack!
Ingredients
1

package

8 oz slivered almonds

1

tbsp

butter

1/4

cup

sugar
Instructions
Line a baking sheet with parchment paper.

Melt butter on a non-stick frying pan over medium heat.

When the butter is melted, add sugar and stir to combine.

Add the slivered almonds and cook, stirring every 30 seconds, for 4 minutes, or until slightly browned.

Remove the toasted sugared almonds from a frying pan onto the parchment paper and spread in a single layer.

Let the almonds cool, then transfer to a serving dish.
Click Here To Save This Recipe On Pinterest
Save this for later on your social media:
Get Melanie's FREE Recipes In Your Inbox!
https://www.melaniecooks.com/wp-content/uploads/2015/12/toasted_sugared_slivered_almonds_howtomake.jpg
1632
1224
Melanie Mendelson
https://www.melaniecooks.com/wp-content/uploads/2015/11/logo-new2.png
Melanie Mendelson
2015-12-21 07:21:13
2021-12-08 09:13:42
Toasted Sugared Slivered Almonds Recipe