Easy Taco Salad Recipe In Crunchy Taco Shell Bowls
This post may contain affiliate links (disclosure).
This easy taco salad recipe has all your mouthwatering taco fixin's in a salad form – healthy and delicious! Seasoned ground meat, onions, corn, lettuce, shredded cheese, salsa and guacamole – served in an crunchy baked taco shell bowls!
Have you ever made taco salad? If you only make regular tacos but not the taco salad, it's now time to think out of the taco shell box :) You are going to love all the yummy taco ingredients in a big bowl, so you can eat them all at once uninterrupted!
You are absolutely going to appreciate how much easier the taco salad is to eat than tacos! No trying to keep the taco shells from falling sideways on your plate, and no spilled taco filling! The taco salad ingredients aren't going anywhere from the salad bowl. Taco-taco, you aren't going to run away :) Seasoned spicy meat, fried onions, yellow corn, crispy lettuce, zesty salsa and amazing guacamole are only going to one place – your mouth!
Any healthy-concious food lover will rejoice about how healthy this taco salad is! All ingredients are fresh, natural and good for you! You can use extra-lean ground turkey for a healthy meat option, and all the veggies are packed with nutrition!
This taco salad recipe is served not in the ordinary ceramic salad bowl, but in an edible taco shell bowl! Yes, you eat the bowl too! These fantastic edible bowls create a stunning presentation of this taco salad, so if you are serving this salad at the party, it will certainly wow your guests!
You can use taco shell bowls from a purchased taco bowl kit (found in the supermarket refrigerator isle next to canned dough), or make your own! See my recipe for step-by-step instructions how to make taco shell bowls.
The taco shell bowls are very easy to make out of the flour or corn tortillas by baking them in the oven – yes, the crunchy taco shell bowl is baked, not fried! And of course, making the taco shell bowls is completely optional – if you want to save time, just omit the edible bowls and use regular bowls instead :) And if you want to cut the carbs out of this taco salad, omit the taco shell bowls and corn, and then this taco salad recipe will have virtually zero carbs!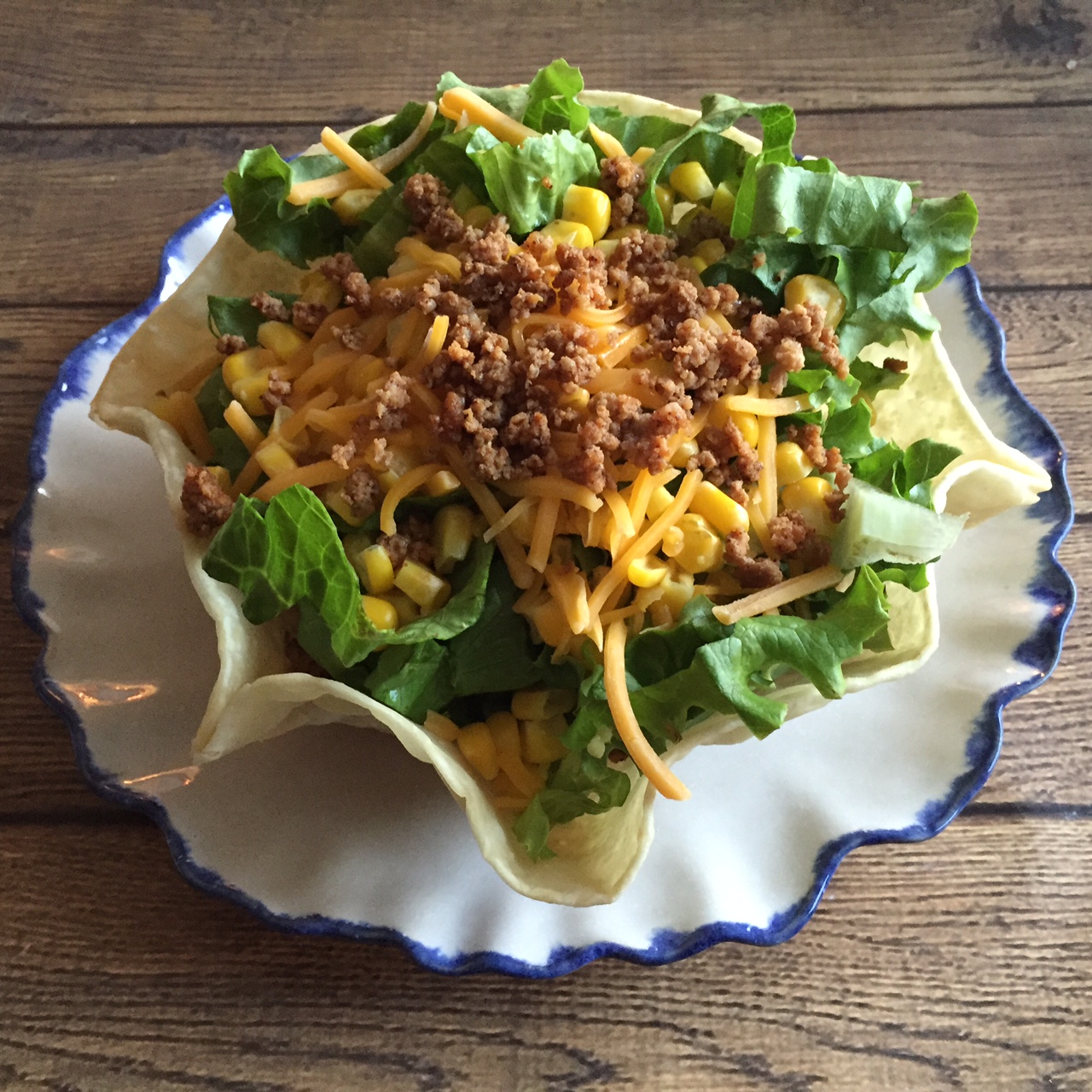 Click Here To Pin This Recipe
Easy Taco Salad Recipe In Taco Shell Bowls
This amazing taco salad is fresh, healthy and delicious! All your favorite taco ingredients in a salad form, served in crunchy baked tortilla bowls! Very easy to make and tastes so good!
Instructions
Make the taco shell bowls
Preheat oven to 375F.

Microwave the tortillas for 30 seconds until soft.

Brush the flour tortillas with 1 tbsp olive oil on both sides.

Put 4 oven-safe cups upside-down on a baking sheet.

Drape each tortilla over the cup, put in the oven and bake for 10 minutes.

Remove from the oven, let cool, then remove the taco bowls from the cups.
Make the taco salad ingredients
Heat a 1 tsp of oil in a non-stick frying pan over medium-high heat. Add the ground meat and taco seasoning, and cook, stirring every minute, for 5 minutes, or until cooked through. Remove the cooked meat into a bowl.

Add 2 tsp of oil to the frying pan and add the onions. Cook, stirring every minute, for 5 minutes. Remove the onions into a separate bowl.

Peel the avocados and remove and discard the pits. Put the avocados in a bowl, squeeze the lime over them, then mash with a fork until smooth. Sprinkle with salt and pepper to taste.
Assemble the taco salad
Divide all ingredients between 4 taco shell bowls.

First add the meat to the taco shell bowl, then onions, followed by salsa, corn, guacamole, lettuce and shredded cheese.
Save This Recipe
Save this for later on your social media:
Get Melanie's FREE Recipes In Your Inbox!
https://www.melaniecooks.com/wp-content/uploads/2016/05/taco_salad_easy.jpg
1280
1280
Melanie Mendelson
https://www.melaniecooks.com/wp-content/uploads/2015/11/logo-new2.png
Melanie Mendelson
2016-05-03 09:08:20
2021-12-08 09:11:59
Easy Taco Salad Recipe In Crunchy Taco Shell Bowls