Baked Pesto Chicken Recipe With Parmesan Cheese
This post may contain affiliate links (disclosure).
This baked pesto chicken is the easiest chicken recipe ever and so delicious! Chicken breast is slathered with pesto and shredded Parmesan cheese and baked in the oven to perfection – amazing!
This baked pesto Parmesan chicken is extra moist, soft and juicy. This is because the Parmesan cheese creates a crust that prevents the chicken from drying out! Underneath the Parmesan crust there is super flavorful pesto and tender mouthwatering chicken – that's a winner!
This is the perfect easy recipe for busy weeknights. All you need to do to make baked pesto chicken is spread the pesto on top of the chicken breasts, top with shredded Parmesan cheese and bake in the oven. It takes 25 minutes for the chicken to bake and there is only 5 minutes of easy prep! Throw the chicken in the oven and let the oven do all the work while you relax! This yummy pesto Parmesan chicken will be ready in 30 minutes from start to finish!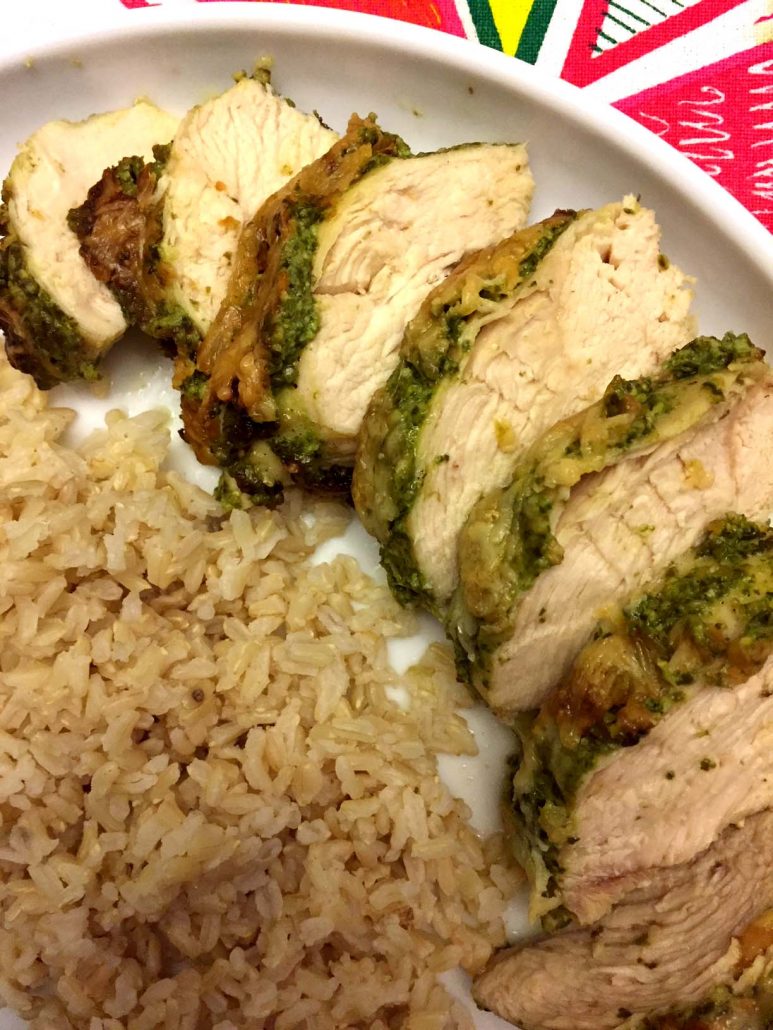 Pesto and Parmesan are my two favorite savory flavorings. Pesto is so bright and zesty, it really makes the plain chicken breast come to life! And what doesn't taste better sprinkled with Parmesan? If you are like me and put Parmesan on everything, you gotta check out this roasted Parmesan cauliflower – it's amazing!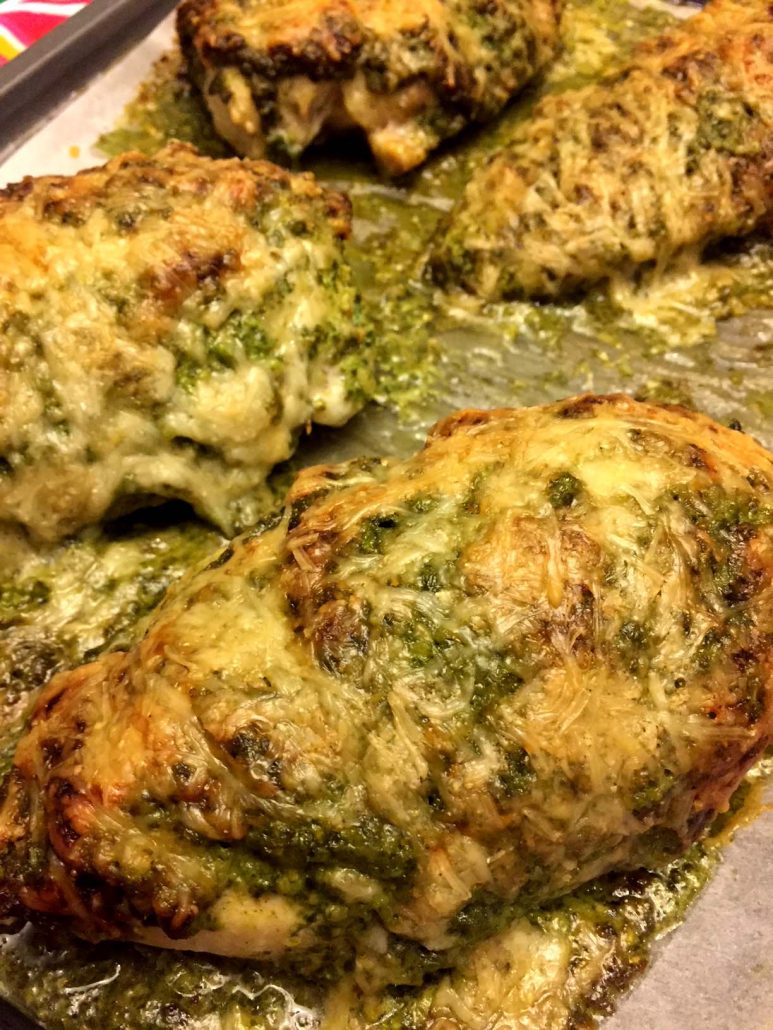 You can use any type of pesto for this recipe – homemade or store-bought. If you never made homemade pesto, you must give it a try – it only takes 5 minutes to make in the food processor and tastes so much better than store-bought! Check out my super easy fresh basil pesto recipe – you'll love it!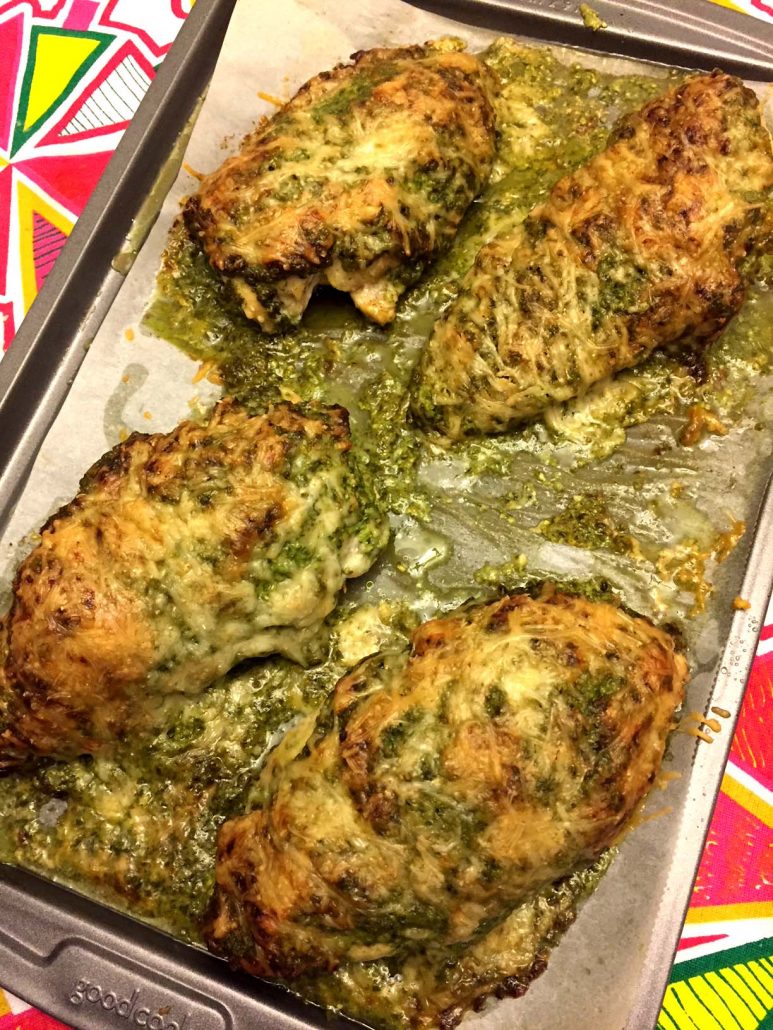 How To Make Baked Pesto & Parmesan Chicken
Step 1: Put chicken breasts on a baking sheet and sprinkle with salt and pepper.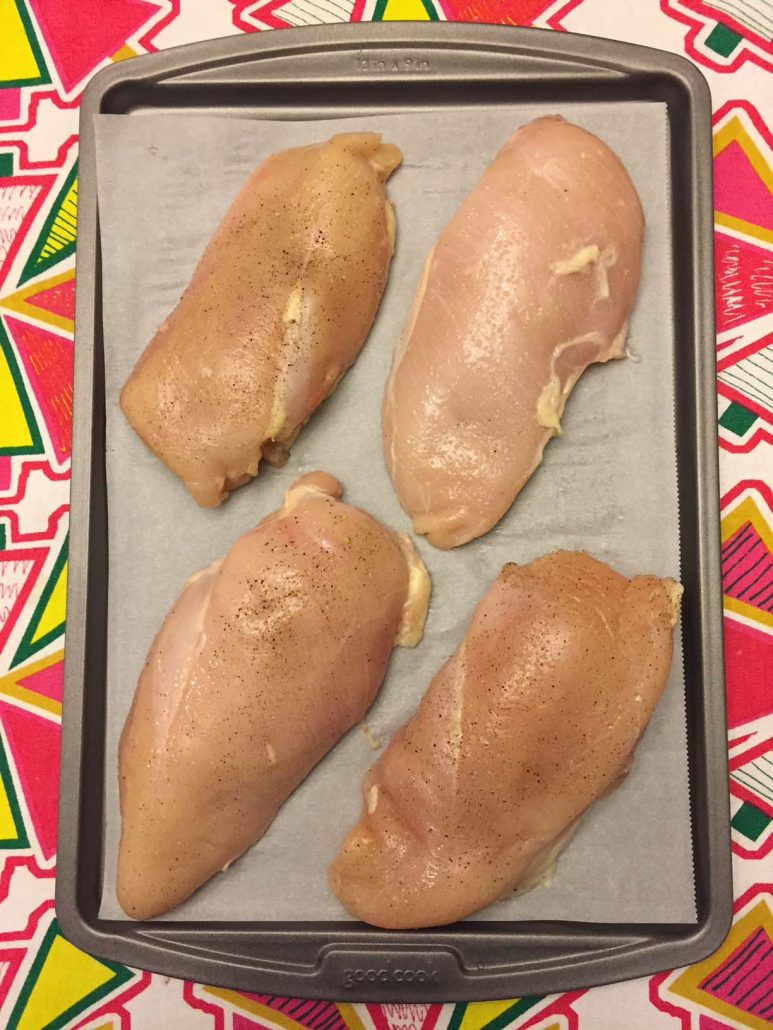 Step 2: Spread pesto on top of chicken.
Put a heaping tablespoon of pesto on top of each chicken breast: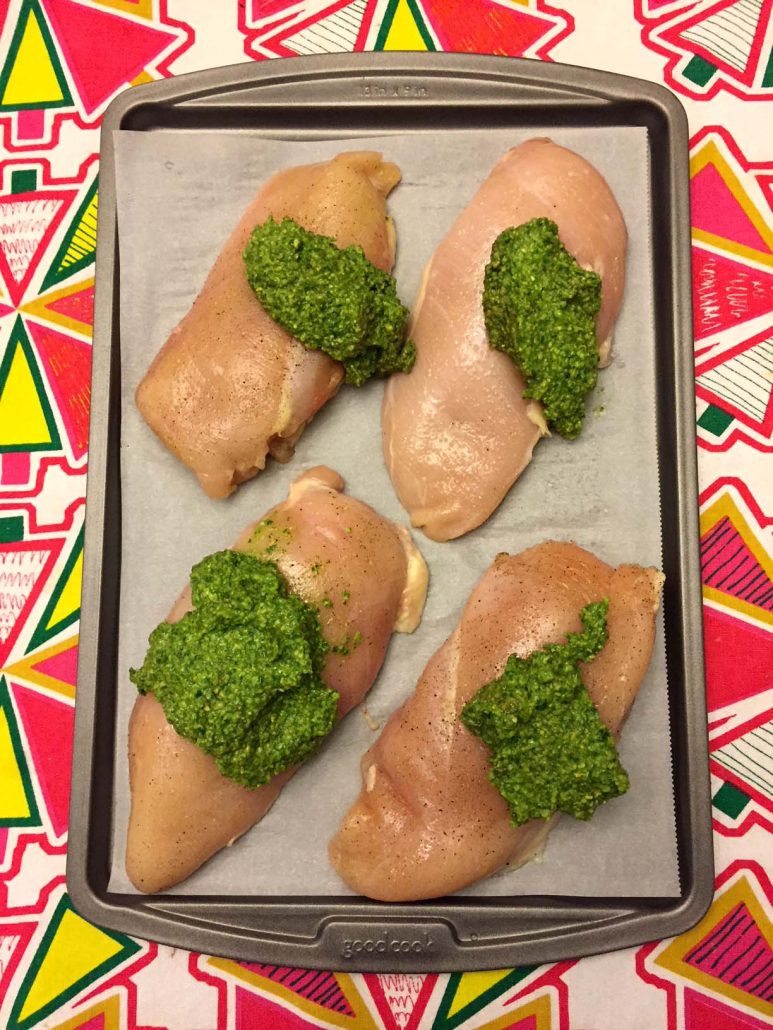 Then spread the pesto to cover the chicken: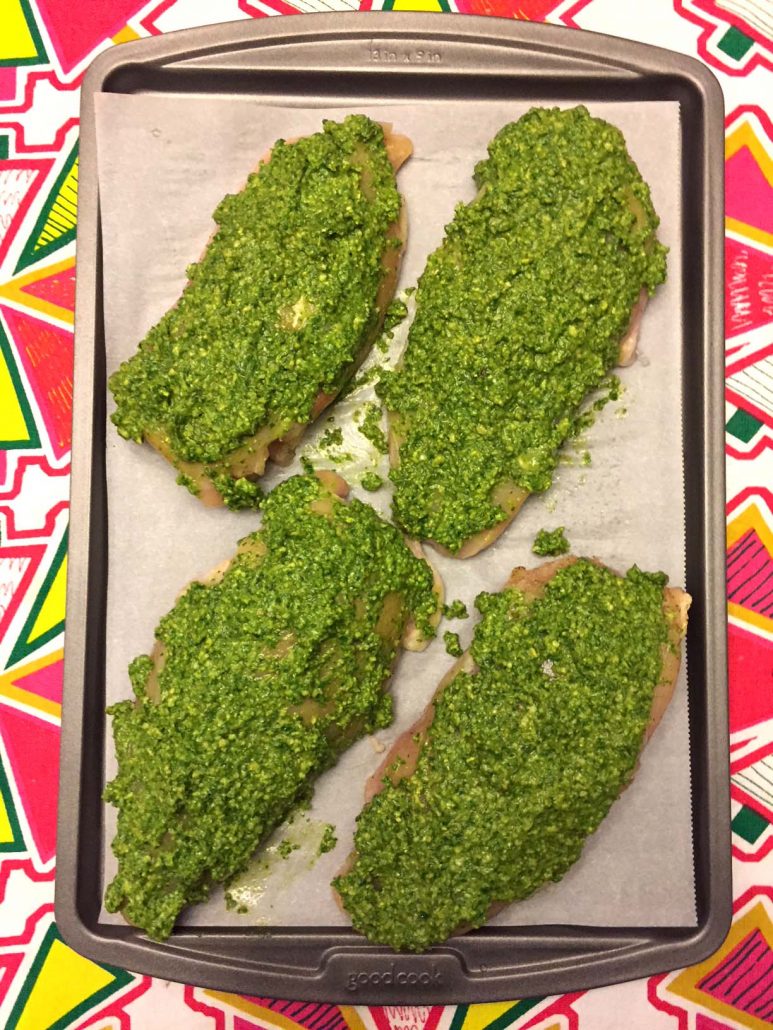 Step 3: Sprinkle the chicken breasts with shredded Parmesan cheese.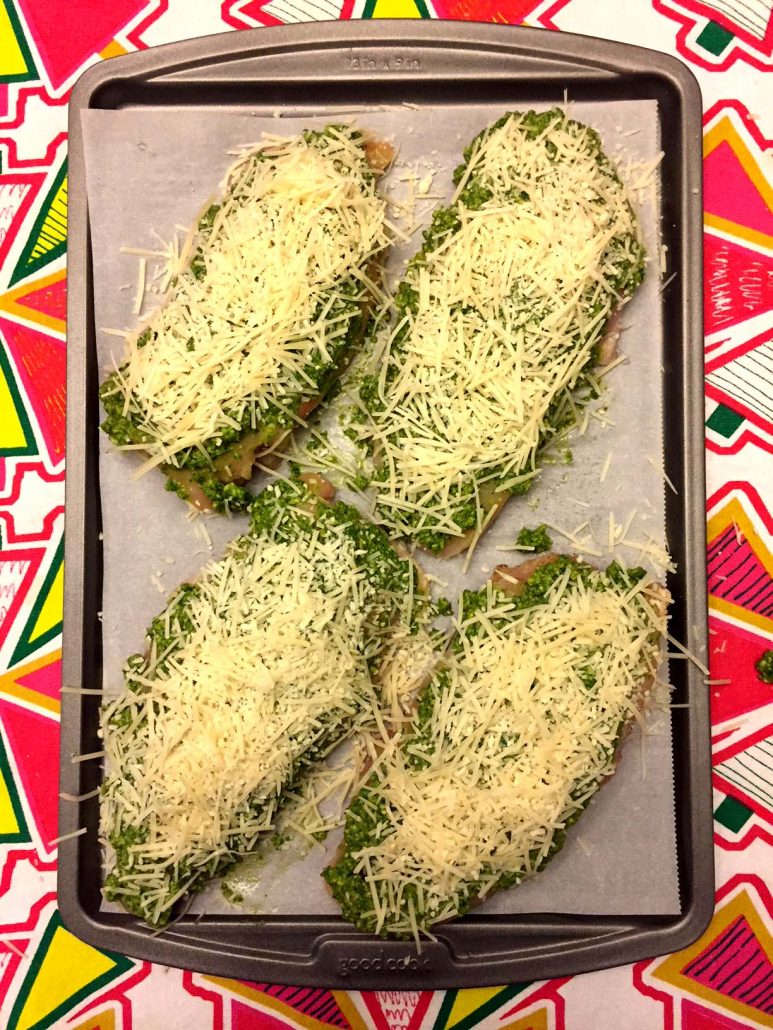 Step 4: Bake pesto chicken in pre-heated 400F oven for 25 minutes.
If you like this easy baked pesto chicken with Parmesan, you will also love these recipes:
Easy Homemade Pesto – this is the best pesto ever to put on this baked chicken!
Italian Chicken Parmesan – classic baked Italian chicken Parmesan is always a hit!
Parmesan Garlic Zucchini Oven Fries – made with zucchini, that's the healthiest fries ever!
Sweet & Spicy Baked Chicken Breasts – another awesome easy baked chicken recipe!
Baked Chicken Fried Rice Casserole – chicken fried rice in the oven, so easy!
Click Here To Pin This Recipe
Baked Pesto Parmesan Chicken Recipe
This baked pesto parmesan chicken recipe is amazing! So easy to make with just 3 ingredients and so full of flavor! Slather chicken breast with pesto, sprinkle with Parmesan cheese and bake to perfection! This will totally become your favorite easy weeknight dinner!
Ingredients
Instructions
Preheat the oven to 400F. Line a baking sheet with parchment paper or foil.

Sprinkle the chicken breasts with salt and pepper and put on a baking sheet in a single layer.

Spread the pesto on top of the chicken.

Sprinkle the chicken with Parmesan cheese.

Put the chicken in the oven and bake for 25 minutes.
Save This Recipe
Save this for later on your social media:
Get Melanie's FREE Recipes In Your Inbox!
https://www.melaniecooks.com/wp-content/uploads/2017/12/chicken_baked_pesto_recipe.jpg
1632
1224
Melanie Mendelson
https://www.melaniecooks.com/wp-content/uploads/2015/11/logo-new2.png
Melanie Mendelson
2018-01-01 08:12:49
2021-12-08 07:55:02
Baked Pesto Chicken Recipe With Parmesan Cheese