Sweet and Spicy Baked Chicken Breasts Recipe
This post may contain affiliate links (disclosure).
This sweet and spicy baked chicken breast will tickle your taste buds and make you drool! So easy to make and so full of flavor!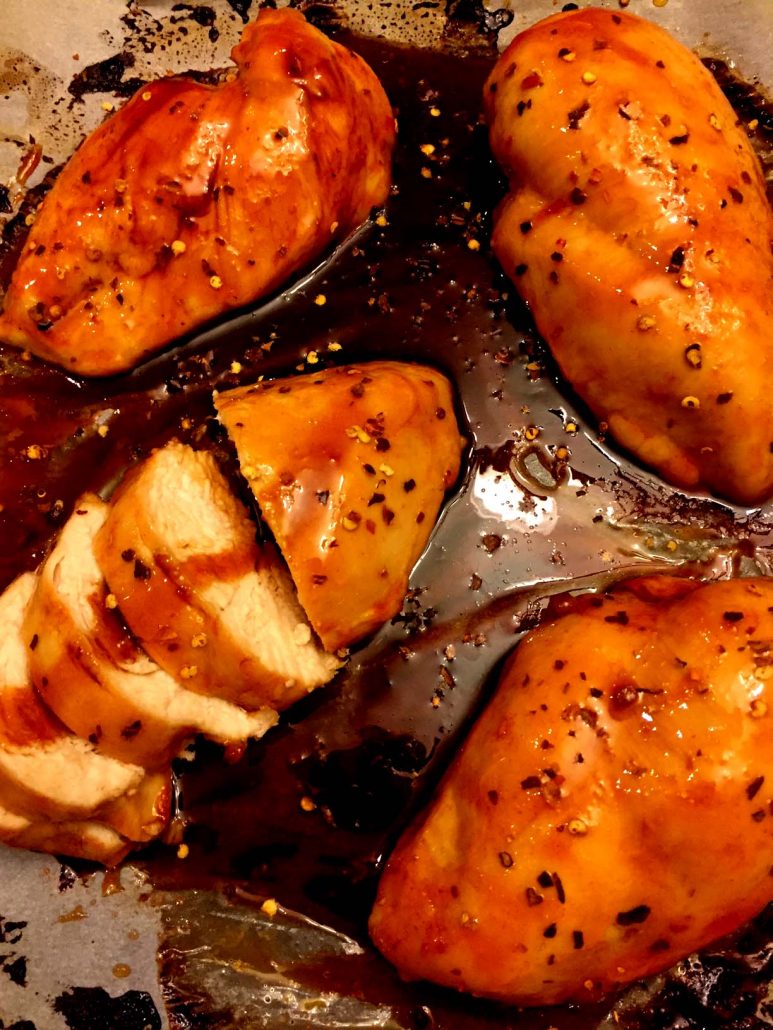 This sweet and spicy baked chicken breast is an explosion of flavor! Not just sweet and spicy, but also a bit salty and sour – mmm! The sauce on this amazing chicken is like pure magic! Sometimes I make this sauce separately as a sweet & sour dipping sauce, and it's truly awesome on baked chicken!
Chicken breast is usually the blandest food ever, but that truly changes when it's baked with this addictive sweet and spicy sauce! The chicken breast is baked just enough to make it cooked through – make sure you don't overcook it so it doesn't turn rubbery. I bake regular sized chicken breasts at 400F for 20 minutes. If you are using small chicken breast, it might be done in 10-15 minutes, check early and if it's not fully cooked, just return to the oven for another 5 minutes. If you have a package of chicken breasts of uneven thickness, pound them so they are even, otherwise the small ones will cook quicker than big ones. Overbaked chicken = tough chicken, and we surely want to avoid this scenario!
The sweet and spicy sauce is made by simply mixing brown sugar, hot sauce, garlic powder, vinegar, salt, water and red pepper flakes, and bringing the mixture to boil so the sugar dissolves. Put the chicken on a parchment-lined baking sheet, rub with some of that sauce, bake to perfection, then pour the remaining sauce of the chicken. So finger-lickin' good!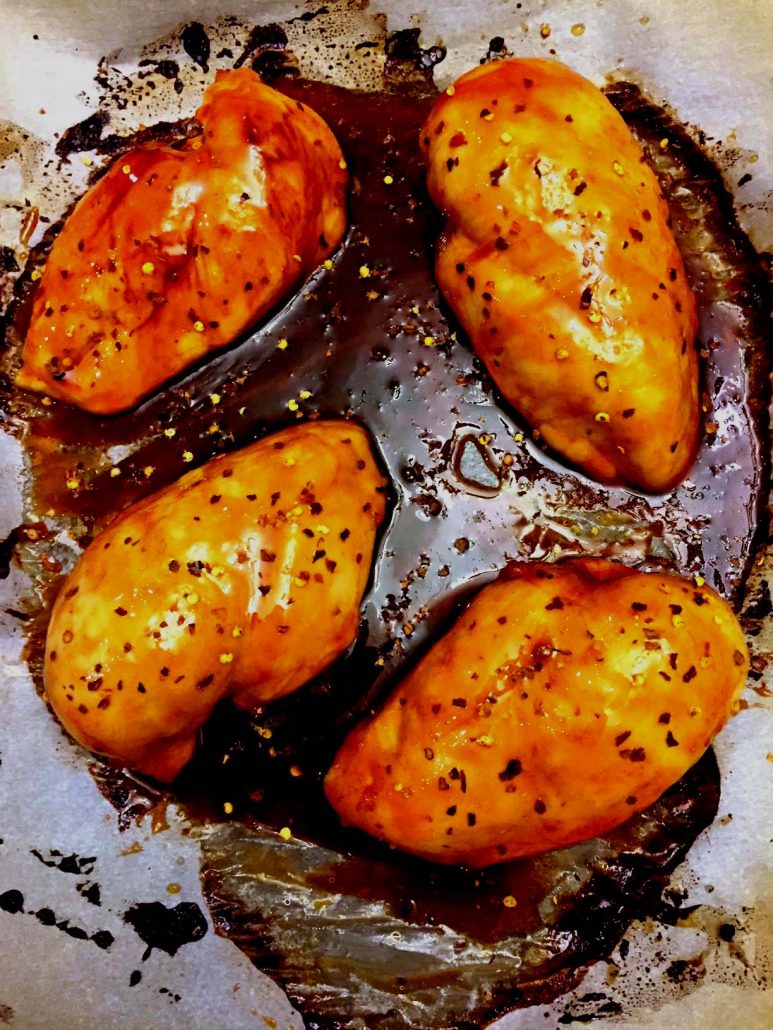 This recipe is so easy, you will make it from start to finish in 30 minutes! You don't need to brown the chicken first – just slather in sauce, put in the oven and bake. Perfect!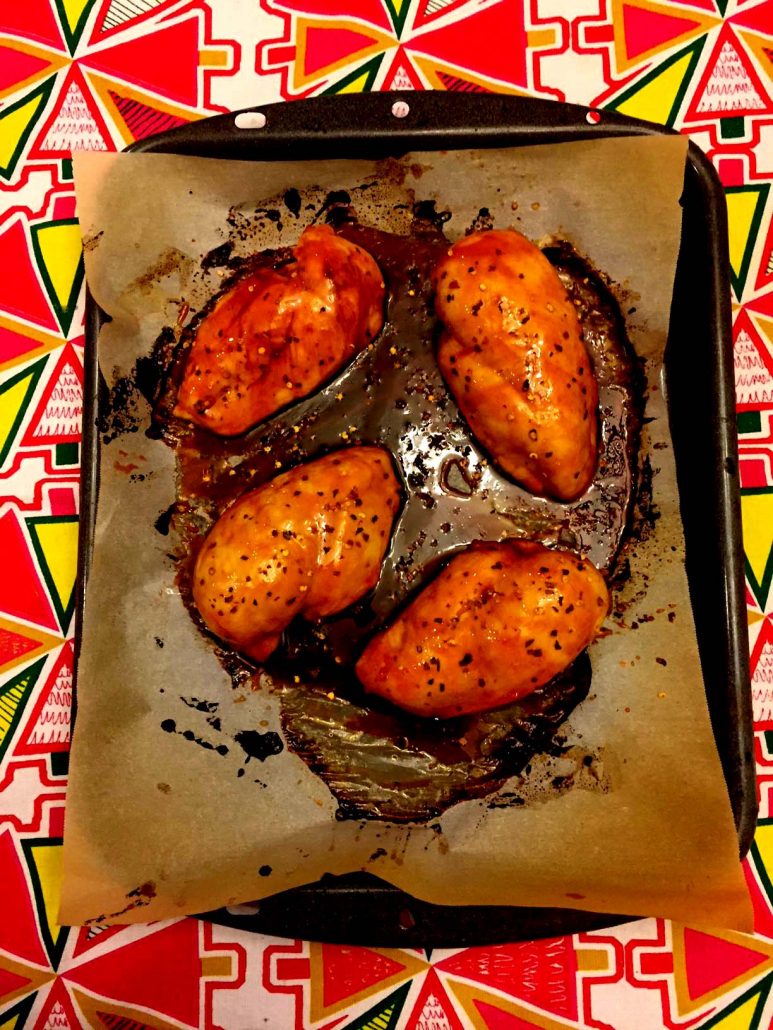 The hot & sweet sauce is very sticky, so don't skip the parchment paper unless you want to spend the time scrubbing the baking sheet! Parchment paper is non-stick and makes for a super-easy cleanup!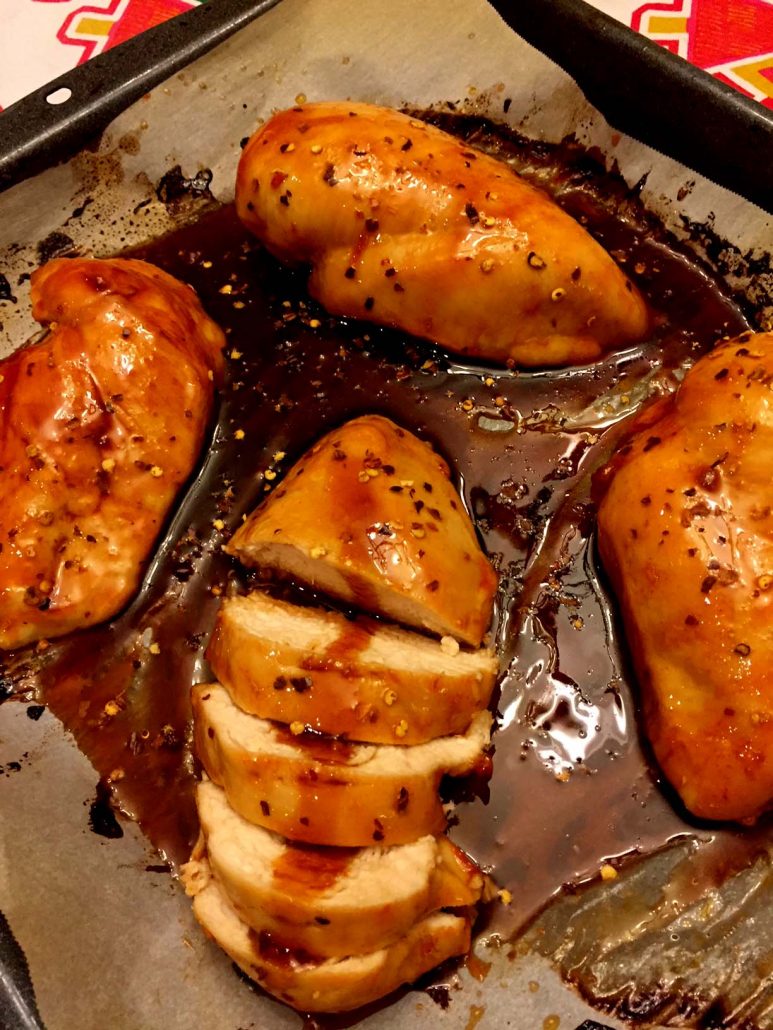 This sweet and spicy baked chicken breast is so good, even people who usually don't like white meat eat it all up! Of course, you don't have to use chicken breast, you can make this exact recipe with chicken thighs, drumsticks or wings – it will be just as delicious! Enjoy! I love to serve this chicken with extra sauce over cilantro lime rice.
Here are some more chicken recipes you'll love:
Spicy Chicken And Vegetables Stir-Fry
Softest Poached Chicken Breast Recipe
Click Here To Pin This Recipe
Sweet and Spicy Baked Chicken Breasts
This sweet and spicy baked chicken breast is so juicy and tender! Super flavorful with the homemade sweet and spicy sauce, amazing! So easy to make in just 30 minutes, perfect for a weeknight dinner!
Instructions
Preheat the oven to 400F. Line a baking pan with parchment paper.

Put brown sugar, hot sauce, garlic powder, vinegar, salt and water in a saucepan. Bring to boil over medium heat, then reduce the heat to Low and stir with a spoon for 1 minute or until the sugar is fully dissolved.

Brush the chicken with some of the sauce on all sides (1 tbsp of sauce for each chicken breast), reserving the rest of the sauce for later.

Put the chicken breasts on a baking sheet in a single layer, put in the oven and bake for 20 minutes, or until cooked through.

Pour the rest of the sweet and spicy sauce over the chicken, sprinkle with red pepper flakes and serve.
Save This Recipe
Save this for later on your social media:
Get Melanie's FREE Recipes In Your Inbox!
https://www.melaniecooks.com/wp-content/uploads/2017/11/chicken_breast_sriracha_sauce.jpg
1632
1224
Melanie Mendelson
https://www.melaniecooks.com/wp-content/uploads/2015/11/logo-new2.png
Melanie Mendelson
2017-12-05 07:54:58
2021-12-08 09:00:43
Sweet and Spicy Baked Chicken Breasts Recipe