Instant Pot Chicken Adobo Recipe
This post may contain affiliate links (disclosure).
Make authentic Filipino Chicken Adobo in your Instant Pot – so delicious! This Instant Pot Chicken Adobo is so full of flavor and cooks in 15 minutes!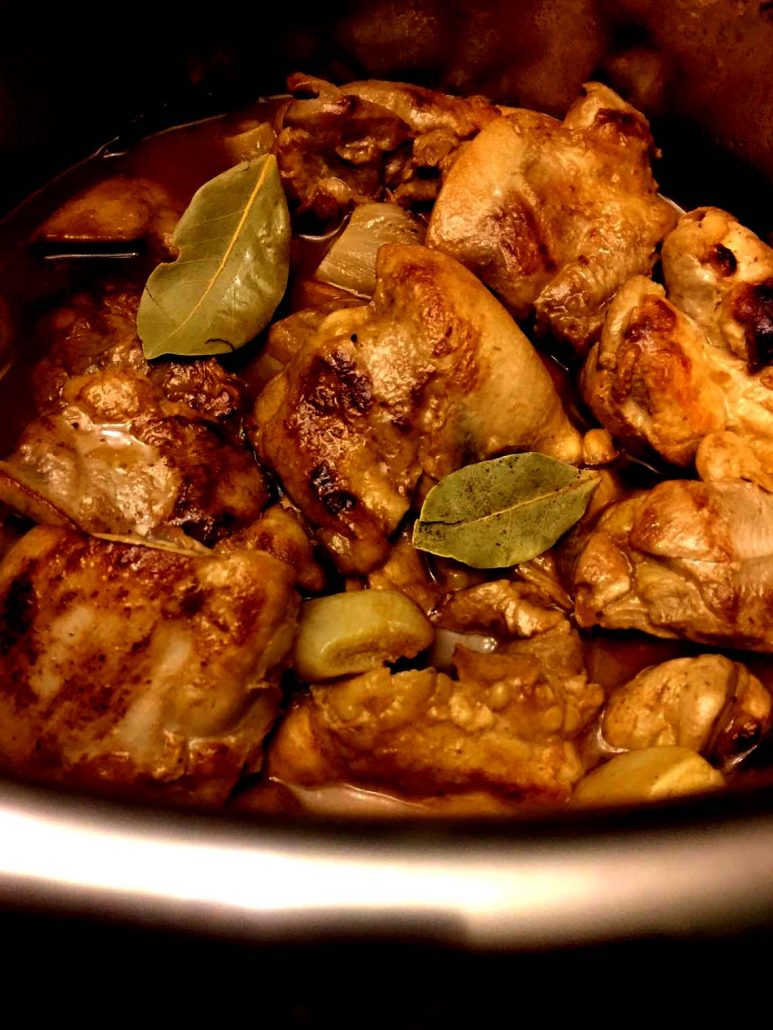 Filipino Chicken Adobo is a great recipe to cook in the Instant Pot! Instant Pot allows you to brown the chicken in the same pot and also cooks the chicken in 15 minutes instead of 40!
No Instant Pot? No problem! You can make chicken Adobo in a crockpot or on the stove with my classic chicken Adobo stovetop and slow cooker recipes!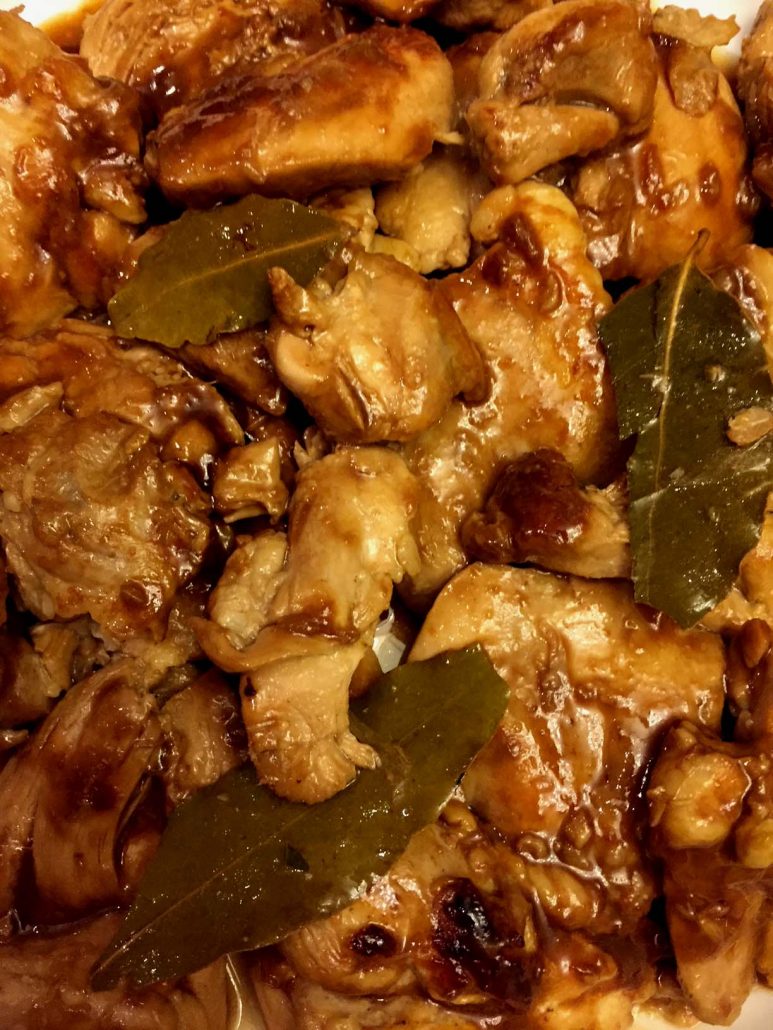 A classic Filipino Chicken Adobo recipe calls for marinating the meat, then browning it before cooking in a marinade. If you are short on time or like to keep things simple, you can skip the marinating and/or browning! You can make this into a "dump dinner" by simply dumping the chicken, garlic, bay leaves, soy sauce, vinegar and water into the Instant Pot and pressure cooking it for 15 minutes! Dinner is ready!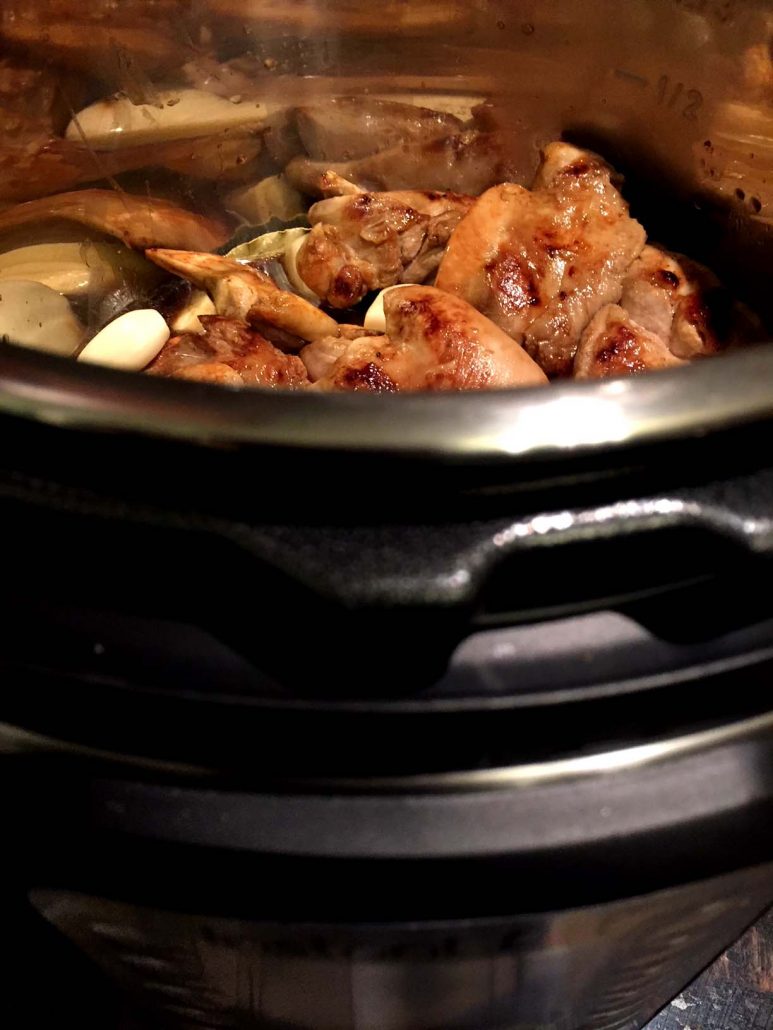 The best cut of chicken for making chicken Adobo is the chicken thighs or chicken legs. You can use bone-in or boneless. Or you can use the whole cut-up chicken!
I usually use boneless skinless chicken thighs as I usually have them on hand. They are so tasty, tender and juicy!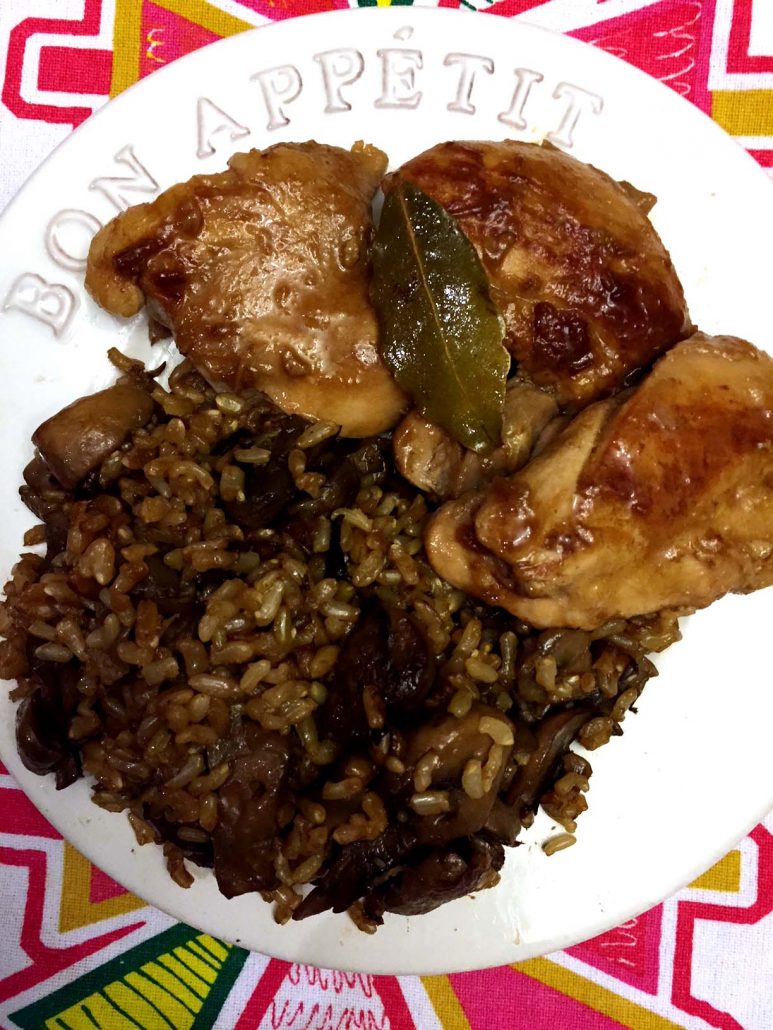 On the picture above, Chicken Adobo is served alongside mushroom rice. If you'd like the recipe for this rice, check out my easy mushroom rice. Chicken Adobo goes really well with rice in general! Did you know you can cook perfect rice in your Instant Pot? Check out my Instant Pot White Rice and Instant Pot Brown Rice recipes.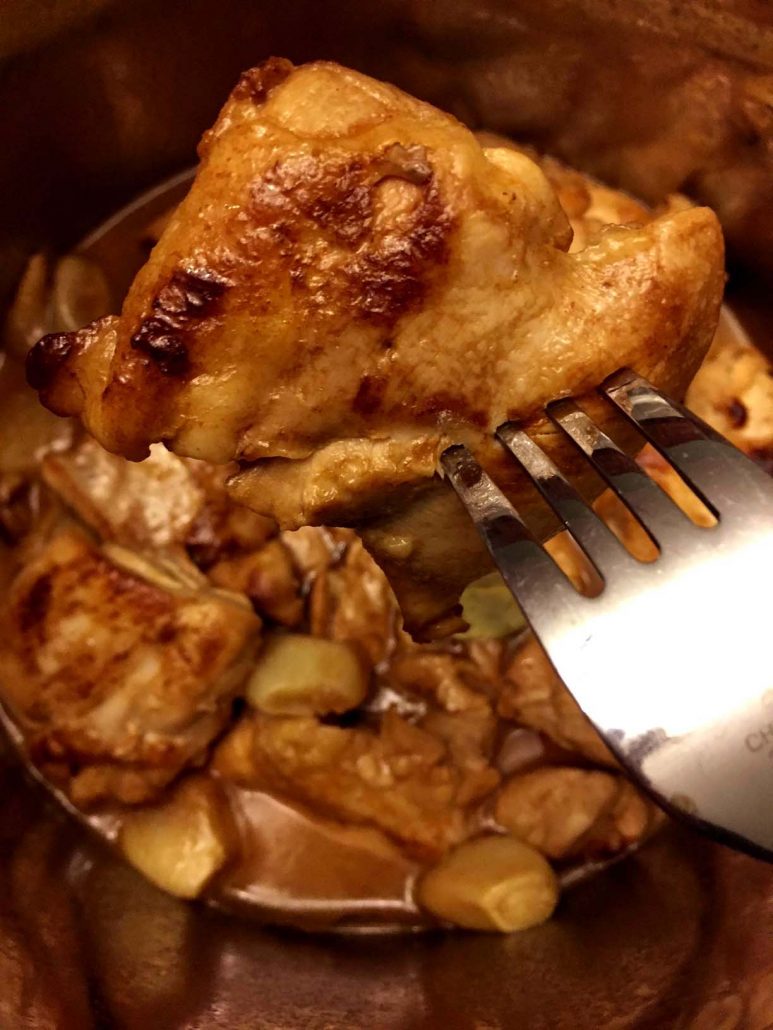 How To Make Instant Pot Chicken Adobo
First, make the Adobo marinade by mixing equal parts of white vinegar, soy sauce and water. Add chicken thighs, a whole head of peeled garlic cloves and several bay leaves and marinate in Adobo overnight. You can also marinate for 20 minutes on the counter instead, or skip the marinating altogether!
The next step is to brown the chicken to seal in the flavor. A great thing about the Instant Pot is that you can brown meat directly in the pot! This way you won't have to wash another frying pan :) Brown the chicken in some oil for 2 minutes per side. If you are in a rush, you can just skip this step as well!
Next, cook the chicken in the Adobo marinade in the Instant Pot. Instant Pot does a perfect job of cooking the chicken quickly and making it tender and juicy! The chicken cooks completely in 15 minutes, and it's so soft and full of deep Adobo flavor!
After the chicken is cooked, remove it from the pot and switch the Instant Pot to a Saute mode. Cook the Adobo sauce on a saute mode until it thickens and reduces to a desired consistency. Spoon some of the Adobo sauce over the chicken.
If you like this Instant Pot chicken adobo, you will also love these other easy & yummy Instant Pot recipes:
Instant Pot BBQ Chicken – you can make this recipe with chicken breasts or thighs, it's super easy and tastes amazing!
How To Cook Frozen Chicken Breast In Instant Pot – Instant Pot is a life-saver for people who forget to defrost meat in advance :)
Instant Pot Lemon Garlic Chicken Legs – you can cook them directly from frozen! Just dump and cook! So simple you won't believe it!
Instant Pot Meatloaf – cut the meatloaf cooking time in more than half by making it in the Instant Pot! This is the easiest meatloaf recipe ever!
Instant Pot Meatballs – meatballs in the Instant Pot are so tender and juicy! Ready in 15 minutes!
Click Here To Pin This Recipe
Instant Pot Chicken Adobo Recipe
This Instant Pot chicken adobo recipe is amazing! Make an authentic Filipino chicken adobo right in your Instant Pot! So quick and easy and full of flavor!
Instructions
Marinate the chicken
Mix the vinegar, water, soy sauce and pepper in a cup to make Adobo marinade.

Put the chicken in a bowl and pour Adobo marinade over it. Add garlic cloves and bay leaves to the bowl. Marinate the chicken in refrigerator overnight (or for 20 minutes on the counter).
Brown the chicken (optional)
Put the Instant Pot on a Saute setting. Add the oil in the Instant Pot. Take the chicken pieces out of the sauce and saute right in the Instant Pot in batches until the chicken is just browned (2 minutes per side).
Cook the chicken
Add browned chicken, Adobo sauce, garlic and bay leaves to the Instant Pot. Close the lid and turn the valve to Sealing position.

Press the "Manual" or "Pressure Cook" button and set the time for 15 minutes on High Pressure. When it's done cooking, do the Quick Release (QR) of the steam.
Reduce the sauce (optional)
Remove the chicken from the pot and switch the Instant Pot to a Saute mode. Cook the Adobo sauce for 5 minutes, or until it's thickened and reduced to a desired consistency. Spoon some sauce over the chicken.
Save This Recipe
Save this for later on your social media:
Get Melanie's FREE Recipes In Your Inbox!
https://www.melaniecooks.com/wp-content/uploads/2018/02/chicken_adobo_authentic_instant_pot.jpg
1632
1224
Melanie Mendelson
https://www.melaniecooks.com/wp-content/uploads/2015/11/logo-new2.png
Melanie Mendelson
2018-02-18 12:27:29
2021-12-08 07:52:35
Instant Pot Chicken Adobo Recipe