This post may contain affiliate links (disclosure).
How many times have you let a pineapple spoil because you were too lazy to cut it? ;) Most people think that cutting a pineapple is hard simply because they don't know how to cut a pineapple the right way!
I have seen people struggle with cutting a pineapple many times. I saw so many really awkward ways of cutting a pineapple, I couldn't believe someone could think of something like that! I've even seen someone trying to peel a whole pineapple by cutting off its skin :)
In reality, cutting a pineapple is really easy. All you need to do to cut a pineapple is first cut off the green top, then cut the pineapple lengthwise into quarters, then cut off the hard middle core, and then separate the slices from the skin.
Grocery stores are making a killing by selling pre-cut pineapples at inflated prices. Even if money is not an issue, many times those pre-cut pineapples are simply not fresh! They sit in the store refrigerator for many days, losing their freshness and flavor. When you buy a whole pineapple and cut it yourself, you will save money and will get a better tasting pineapple!
No more struggling with a pineapple – you will be an expert in cutting a pineapple if you do it according to my step-by-step instructions!
Step 1:
Cut off the green top of a pineapple. Just one slice with a sharp knife will do it :)
Step 2:
Cut the pineapple in half lenghwise.
Step 3:
Halve each pineapple half lengthwise (now you'll have pineapple quarters).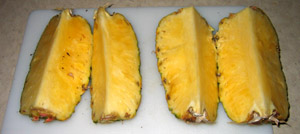 Step 4:
Halve each pineapple quarter lengthwise again. Now you'll have the pineapple cut into 8 long pieces.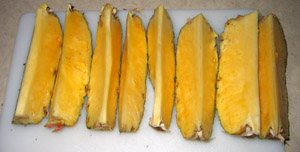 Step 5:
Cut out and discard the tough core from each slice (on the picture below, the core is on the right side).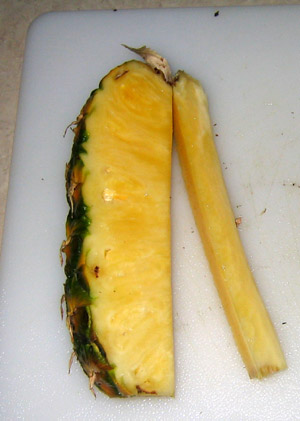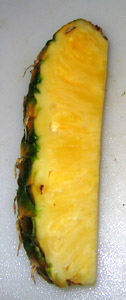 Step 6:
Cut off and discard the outer skin from each pineapple slice.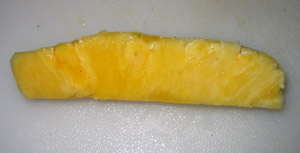 Step 7:
Cut each pineapple slice into chunks.
You are done! Your pineapple is now all cut and is easy to eat. Enjoy your pineapple :)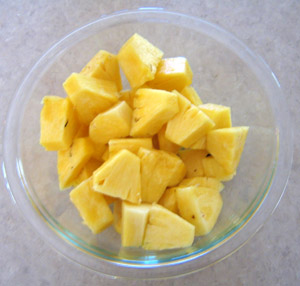 For more easy ways to cut fruits, see my instructions for cutting a watermelon, how to cut a mango and how to cut a melon.
Save this for later on your social media:
Get Melanie's FREE Recipes In Your Inbox!
https://www.melaniecooks.com/wp-content/uploads/2008/05/pineapple1.jpg
131
300
Melanie Mendelson
https://www.melaniecooks.com/wp-content/uploads/2015/11/logo-new2.png
Melanie Mendelson
2008-05-11 07:24:08
2019-12-03 14:09:55
How To Cut A Pineapple