This post may contain affiliate links (disclosure).
This is a very easy beef stew recipe made in a slow cooker. This crock pot beef stew uses just 3 ingredients: beef, potatoes and onions. If you have beef in the freezer and potatoes and onions in the pantry, you have all you need to make this delicious dinner of a hearty beef stew!
All the cooking for this beef stew recipe is done in a slow cooker (crockpot). You just put the beef stew ingredients in a slow cooker, press the Start button, and forget about it until dinner time. When the slow cooker beeps, this easy beef stew is ready.
To sum it up, here are the things that make this beef stew recipe so great:
1) Only 3 ingredients make this delicious meal
2) Beef stew is a one-dish meal – no need to make a separate side dish
3) This beef stew recipe is very cheap to make, as it doesn't use any expensive ingredients. If you are on a budget, beef stew is a great dinner to make without spending much money.
4) This beef stew recipe ingredients are very common and readily available. No need to hunt for rare ingredients! Beef, potatoes and onions – can it really get simpler than that?
5) Almost no work is needed on your part to make a beef stew slow cooker recipe, since the slow cooker does the work for you. Crock pot beef stew is a perfect dinner recipe for a busy cook!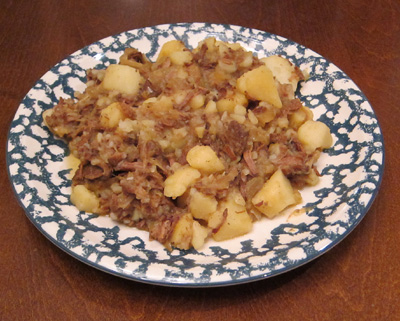 Ingredients For The Beef Stew Slow Cooker Recipe:
2 lbs cut-up beef (packages labeled "Beef Stew" in a supermarket)
8 medium onions
6 large potatoes
2 tsp salt
1/2 tsp pepper
Directions How To Make Beef Stew In A Slow Cooker:
Peel and slice the onions into thin slices (I use the food processor for slicing the onions). Peel and cut the potatoes into 1-inch chunks. Sprinkle the meat with 1 tsp of salt and potatoes with another 1 tsp of salt. Sprinkle meat and potatoes with pepper.
Put potatoes, onions and meat in a slow cooker. Cook on 4 hours on High setting or 8 hours on Low setting. Mix the beef stew thoroughly before serving. Enjoy this delicious and hearty beef stew!
Save this for later on your social media:
Get Melanie's FREE Recipes In Your Inbox!
https://www.melaniecooks.com/wp-content/uploads/2010/11/beef-stew.jpg
321
400
Melanie Mendelson
https://www.melaniecooks.com/wp-content/uploads/2015/11/logo-new2.png
Melanie Mendelson
2010-12-08 10:02:30
2011-06-25 20:28:30
How To Make Beef Stew In A Slow Cooker: Crock Pot Recipe