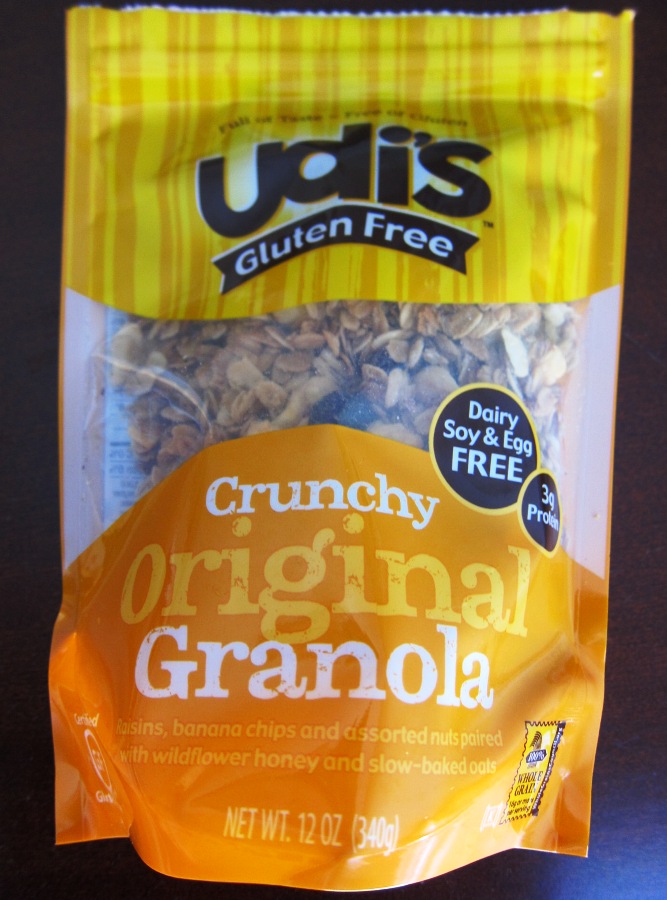 I enjoy trying different kinds of cereal for breakfast, so when I saw this Udi's Gluten Free Crunchy Original Granola at Whole Foods, I wanted to give it at try right away.  What attracted me to this granola at the full-size nuts in it that I could see through the package!  I love nuts and often eat them for a snack, and cereal with big nuts in it sounds tasty to me 🙂  Another great thing about nuts is that they really keep you full for a long time, and any breakfast that keeps me full until lunch is a winner!
Udi's Gluten Free Crunchy Original Granola is described on the package as consisting of raisins, banana chips and assorted nuts paired with wildflower honey and slow-baked oats.  Banana chips – yummy yum!  In addition to being gluten free, this cereal is dairy-free, soy-free and egg-free, so if you have allergies to those foods (but not to nuts), it's another reason to get this particular cereal.
Here is the nutritional information for Udi's Gluten Free Crunchy Original Granola: serving size 1/4 cup, 140 calories, 6 g fat, 1 g saturated fat, zero trans fat, zero cholesterol, zero sodium, 21 g total carbohydrate, 2 grams of fiber, 7 grams of sugar, 3 grams of protein, 2% calcium and 6% iron.  The ingredients are certified gluten-free oats, wildflower honey, canola oil, raisins, banana chips (banana, coconut oil, sugar, natural flavor), walnuts, cashews, almonds, pistachio nuts.
This cereal is not too sweet – even though it's lightly sweetened with honey (much better than corn syrup!), it doesn't taste as sugary as many other cereals.  It has just the right amount of sweetness from the raisins, and lots of flavorful and hearty nuts.  Some cereals that claim to have nuts really skimp on them – not this one, it has plenty of nuts in every bite.  My favorite part of this cereal are banana chips – they are really delicious!
Here's the closeup picture of Udi's Gluten Free Crunchy Original Granola: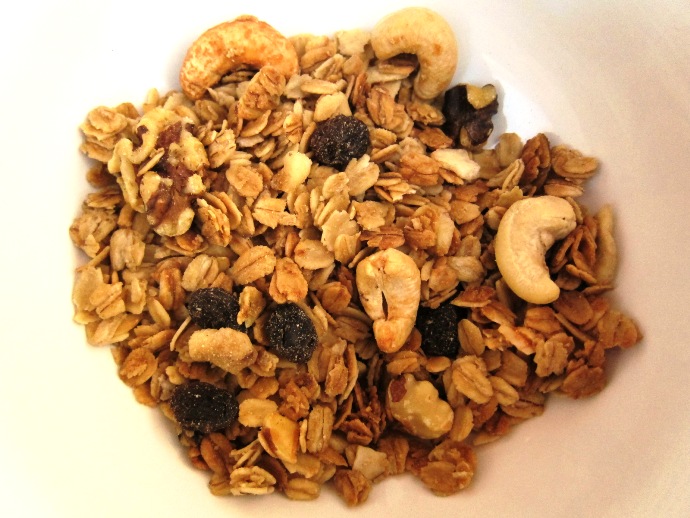 This cereal makes a very healthy and tasty breakfast that give you lots of energy really keeps you full.  I'll be definitely buying Udi's Gluten Free Crunchy Original Granola again.  For more tasty granola in the cereal section of Whole Foods, check out Love Crunch granola – this one is also delicious!
http://www.melaniecooks.com/wp-content/uploads/2014/02/udis-granola.jpg
900
667
Melanie Mendelson
http://www.melaniecooks.com/wp-content/uploads/2015/11/logo-new2.png
Melanie Mendelson
2014-02-18 13:13:44
2014-02-18 13:13:44
Udi's Gluten Free Organic Granola