Easy Homemade Nut-Free Granola Bars Recipe
This post may contain affiliate links (disclosure).
These homemade nut-free granola bars are the best ever! Once you try these, you'll never want to eat store-bought granola bars ever again!
These homemade granola bars taste amazing! They are chewy, sweet, filling and so delicious! They have the absolutely perfect texture and are so satisfying to chew! Full of natural goodness, these granola bars are so healthy and yummy!
If you have a nut allergy, it's extremely hard to find good nut-free granola bars. Since nuts provide the main protein for regular granola bars, simply leaving them out would defeat the purpose of granola bars which is to provide a filling snack. The nut-free bars that they sell at the store usually have almost no protein, so they don't even make you full! Granola bars without protein are basically junk food!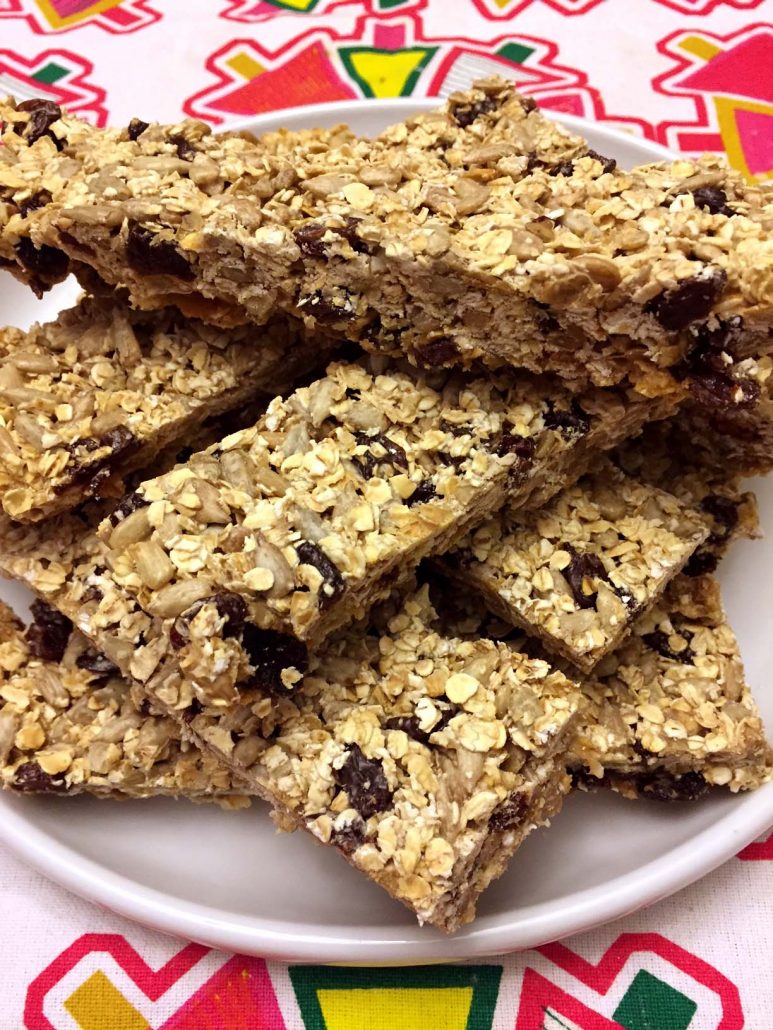 These homemade nut-free granola bars are using sunflower seeds for the protein instead of nuts. Just like Sunbutter instead of peanut butter :) Sunflower seeds have the perfect size and texture for granola bars. They are small, so they don't need to be chopped, making it so easy to use them! You can find peeled sunflower seeds at the bulk section of most large supermarkets – just ask the staff to show you where they are.
A great thing about these granola bars is that they don't have any chemicals or preservatives – they are all natural and are made with simple healthy ingredients. Oats, seeds, nuts and raisins are held together using sticky sweetened condensed milk and baked, then cut into bar shapes.
Best of all, these homemade granola bars are super filling. One bar is all it takes to make you full! When I first tried these granola bars, I was shocked at how filling they are. Store-bought bars never fill me up, but these homemade ones keep me full for hours. They are so filling, they actually make a great breakfast, as they'll keep you full until lunch!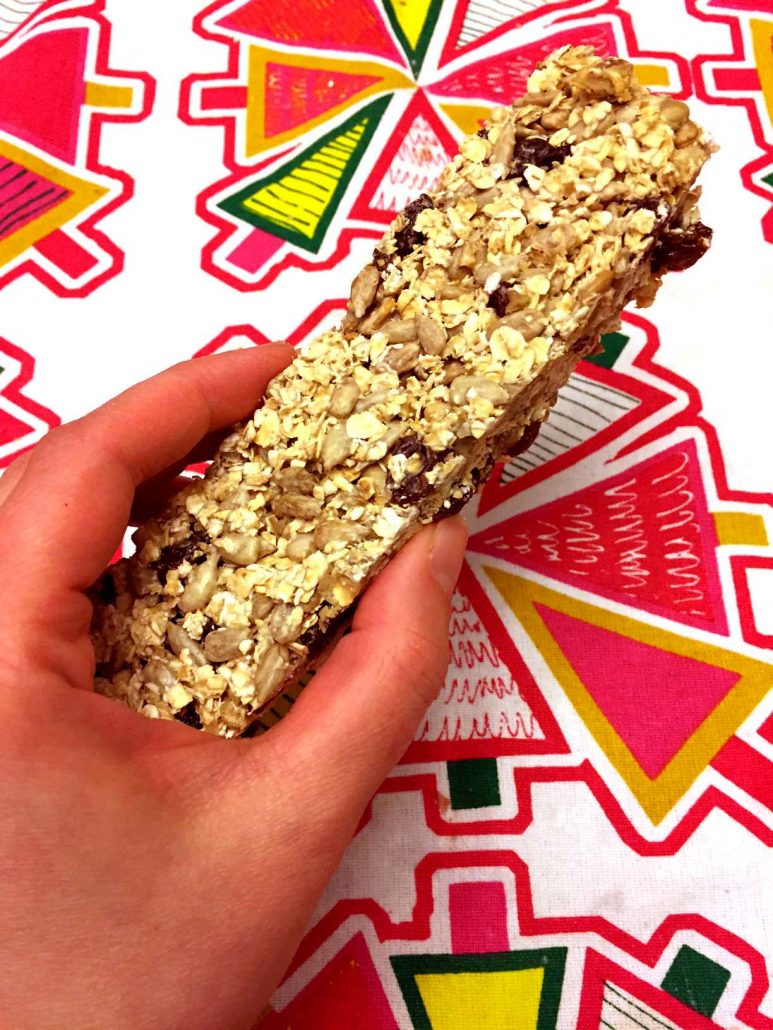 Make-ahead and portable breakfast ideas are always a great find, and here you have it! These nut-free granola bars make a perfect grab-and-go breakfast – doesn't get easiest than that! Make a batch of these amazing bars and you've got yourself a breakfast for the week!
How To Make Nut-Free Granola Bars
Homemade granola bars are really easy to make! You'll be surprised on how easy it is and will wonder why you haven't done is sooner. All you need to do is combine the ingredients and bake – anyone can do it!
The first step in making the granola bars is to line the 9×13 inch baking dish with parchment paper. Since the granola mixture is really sticky, if you don't line the dish with parchment paper, the granola will stick. Parchment paper ensures easy release of the bars from the baking dish.
Next, mix all ingredients (oats, sunflower seeds, raisins and sweetened condensed milk) in a bowl. Transfer the mixture to the lined baking dish and press to make an even layer. Bake at 250F for 1 hour, then cut into bars. That's all :) ENJOY!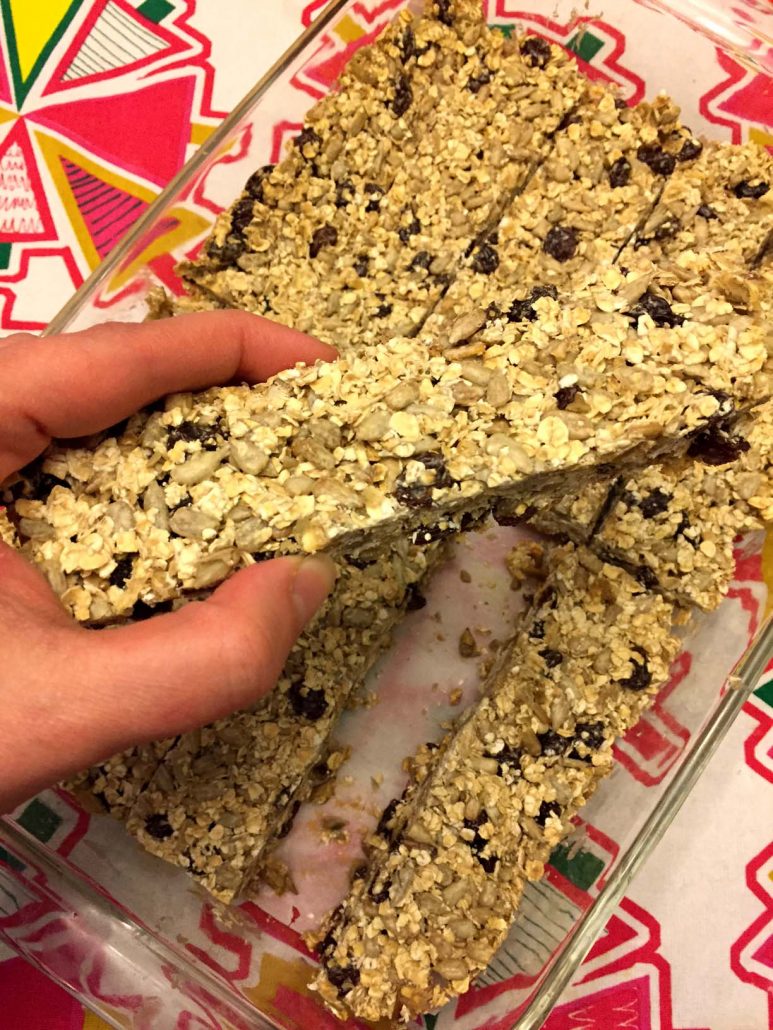 Click Here To Pin This Recipe
Easy Homemade Nut-Free Granola Bars
These homemade nut-free granola bars are amazing! Even though they are made without nuts, they are full of protein and are extremely filling! Perfect texture, sweet, chewy and delicious! This is my favorite granola bar recipe!
Instructions
Preheat oven to 250F.

Line a 9x13 baking dish with parchment paper. This is a required step, as granola will stick to the dish unless you use parchment paper.

In a large bowl, mix rolled oats, sunflower seeds and raisins. Add sweetened condensed milk and mix with a spoon until combined.

Put the mixture in the baking dish, spread it evenly and press on top with your hands - make the top as smooth as possible.

Bake for 1 hour. Remove from the oven, let cool for 15 minutes and slice into bars.
Save This Recipe
Save this for later on your social media:
Get Melanie's FREE Recipes In Your Inbox!
https://www.melaniecooks.com/wp-content/uploads/2017/04/granola_bars_recipe.jpg
1632
1224
Melanie Mendelson
https://www.melaniecooks.com/wp-content/uploads/2015/11/logo-new2.png
Melanie Mendelson
2017-04-05 08:40:21
2021-12-08 09:08:41
Easy Homemade Nut-Free Granola Bars Recipe